To plan an event properly, utilize tents to gather your guests. The seating arrangements, type of event, open floor area, and other factors affect tent size.
A perfectly sized tent may improve the organization and charm of your gathering. You will be able to select the ideal tent for you.
So, to find your solution for In this area, the query "what size tent do I need for 40 guests?" read our entire article. 
What Size Tent Do You Need For 40 Guests?
You will need a tent that is 20′′ x 20′′ if you are anticipating 40 guests or fewer.
It will provide room to host your visitors while allowing you to move about, dine, and unwind.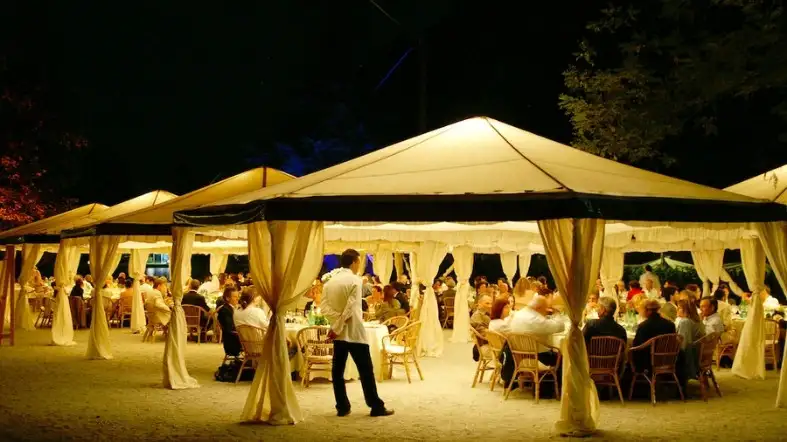 You will need more sq ft if you need to fit other things underneath the tent, such as a bar, a buffet line, or a stage.
For more, see the following chart.
| Tent Size | Capacity |
| --- | --- |
| 10×30 (300 sq. ft) | Small |
| 20×20 (400 sq. ft) | Perfect |
| 20×30 (600 sq. ft) | Large |
How To Calculate Tent Size For 40 Guests?
To calculate the tent size needed for 40 guests, you'll need to consider several factors:
Type of event:
The type of event will determine how much space you need for seating and any other activities that will be taking place.
Seating arrangements:
Will guests be seated at tables or in rows? This will affect the amount of space needed.
Equipment and amenities:
Will you need space for catering equipment, a dance floor, or other amenities? This will affect the amount of space needed.
>> tent dimensions and capacity?
Weather conditions:
If the event is outdoors, you'll need to consider the potential for wind, rain, or other weather conditions that may affect the size of the tent needed.
Assuming that guests will be seated at tables, here is a general guideline for tent size:
For a sit-down dinner, you'll need approximately 10-12 square feet per person.
For a cocktail-style event with limited seating, you'll need approximately 8-10 square feet per person.
Based on these guidelines, for 40 guests at a sit-down dinner, you'll need a tent that is at least 400-480 square feet in size.
For a cocktail-style event, a tent that is at least 320-400 square feet in size would be sufficient.
>> What tent size for 75 guests?
What Type Of Tent Is Best For 40 Guests?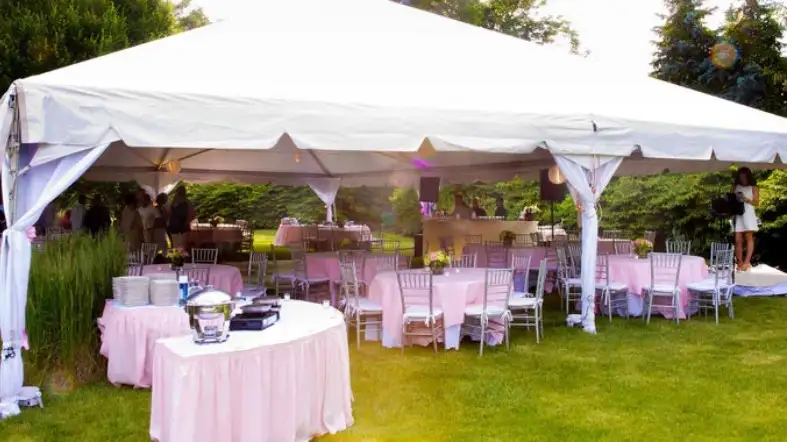 When choosing the tent size, you will need for your outdoor event, the seating arrangement is just as crucial as the number of people for an outdoor wedding.
Consider the activities you have planned for the gathering while choosing the right size tent for 40 people. 
Theater Style Seating
A sit-down meal can only hold half as many people as theater-style seating.
Since there is not much room for tables, this seating arrangement enables intimate seating.
Remember that this only applies to wedding ceremonies and other outside-staged events and does not include tables or dining places.
>> What size tent for 100 people?
Cocktails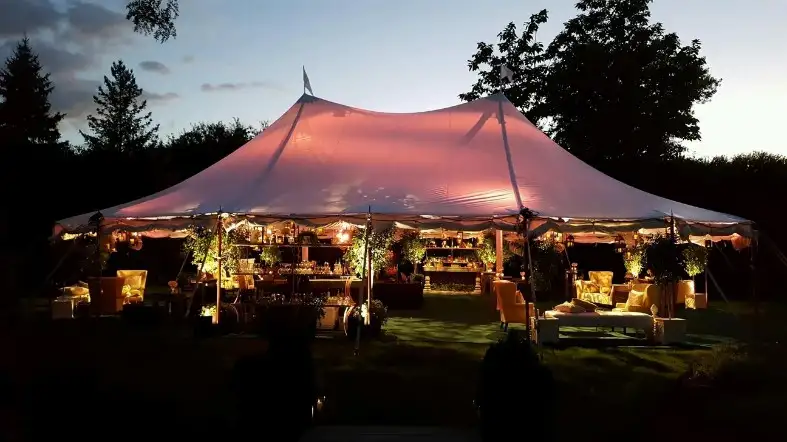 Some couples choose to have a cocktail-only wedding, serving only appetizers in place of a full buffet or dinner.
Visitors only require approximately 8 sq. ft. per person for this seating arrangement.
If you want to incorporate a cocktail area at your event or organize an entire cocktail-style event, you can still fit a big gathering of people without a large tent.
Banquet Seating
Whether you're organizing a significant event, a medieval-themed party or a small wedding, banquet-style seating is ideal for you.
Long tables are typically used in this arrangement, which provides an open, family-style dining environment for your guests.
If your event will feature a buffet, this is the ideal choice since the long buffet tables will fit well in your setup.
Sit-Down Dinner,
A sit-down supper is preferred for many weddings, workplace picnics, and celebrations.
Due to the circular tables, your guests will be seated; this arrangement requires the most significant amount of room.
you will require around 12 sq. ft. for visitors in this environment. A sit-down dinner guest count is used to determine the tent size.
>> What size tent for 60 guests?
How To Select The Appropriate Tent Size For 40 Guests?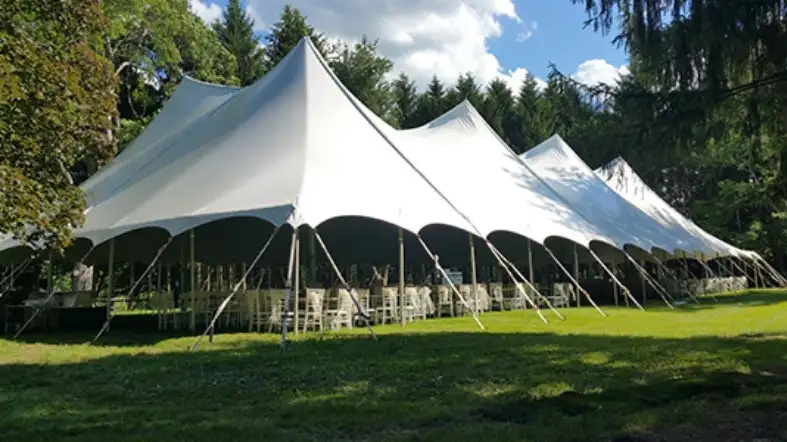 Party and event tents can be used for various purposes, but you must choose the one that best suits your requirements.
It can cover the seats, become an outdoor ballroom, or even make an indoor space look more glamorous.
Size Of The Venue
You will need more than enough room for your tent. Consider event tent sizes.
Make sure the location has plenty of room for covert installation, particularly away from the party's direct line of sight.
Number Of Guests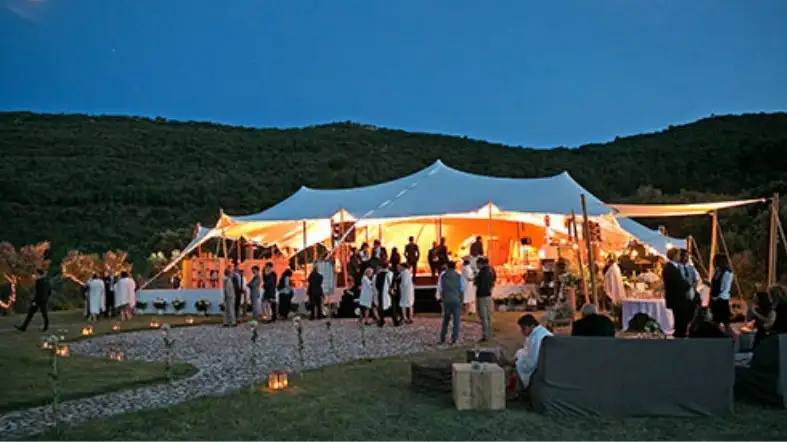 Depending on the event and the number of attendees, many different tent sizes are available.
Consult a tent specialist to discuss different party tent sizes and which would work best for your next event.
Weather And Location
You'veYou've put a lot of time and effort into preparing for your event, so you don't want to postpone it if the weather is terrible.
Consider how much room you will need if lousy weather prevents your guests from leaving the warmth of the tent.
Your Goal
Close your eyes and picture the occasion of your dreams. You must ensure you have enough room in your tent to realize your vision, whatever it may be.
Calculation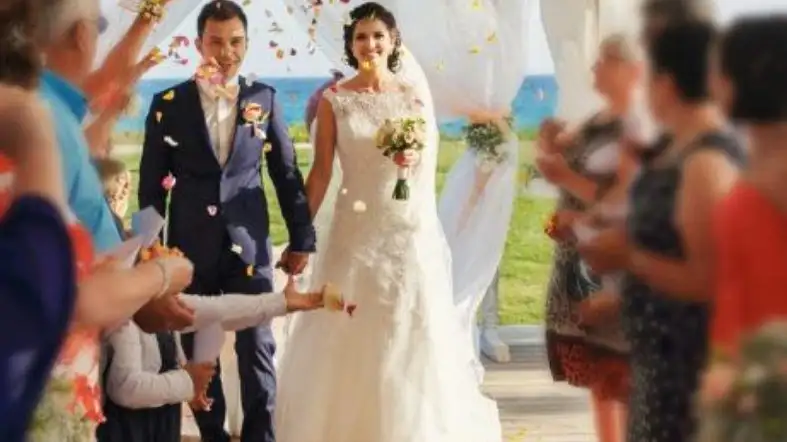 Determine the total square footage of space required for the scenario using the information you know.
The outcome of the computation is the absolute minimum requirement for your space.
Your guests will spend the whole night bumping elbows with one another if you choose a tent that is smaller than this one.
Your 'Guests' Meals
Whether you're organizing a sit-down dinner or a brunch buffet, you should consider what size tent you will need.
Even if you anticipate light hours that call for drinks, you will still need room for a spread and a bar.
You will need space for fruit plates, coffee and tea stations, and warming trays.
FAQs About The Right Size Tent For 40 Guests
Does The Tent Size Depend On The Event Type?
The kind of event that occurs determines how much room is needed.
A seated dinner might require up to 12 square feet per person for a buffet or reception.
Calculate 8 square feet per person for dinner tables and cocktail gatherings where attendees are standing.
What Should One Do If A Storm Is Approaching When A Tent Is Up?
You can do a few things to get ready if a storm is approaching while camping.
Verify that your tent is securely staked down, and relocate your campground to a more level area.
Don't forget to bring loose things, such as chairs, coolers, and bicycles, inside the tent.
How Big A Tent Will I Require For 40 Guests?
A standard recommendation on message boards is 20 square feet of space for each person sleeping in the tent when purchasing.
Treating that recommendation as the bare minimum size is a good idea.
The Final Thought
When considering tent sizes, it's essential to consider other things and how you want to seat your guests.
So, figure out the needed area and the goal of the tent, and then follow the easy tactics we've covered here.
Knowing the equations can help you determine the correct size tent for 40 guests.