Great Danes are pretty popular among the common people nowadays. 
If you own one of these gentle and sophisticated giants, it's critical that you also possess the equipment necessary to accommodate the size of your lovely Great Danes.
Crates may be very valuable protection and training equipment, even if they aren't always completely essential.
But if you want to buy one, you must know what size crate is for Great Danes.
What Size Crate For Great Dane?
The crate size varies from 48″x36″ to 72″x36″.  The purpose of a crate shall always be to ensure optimal ease for the Great Dane.
That's why the size of the crate always depends upon the weight and height of the Great Dane.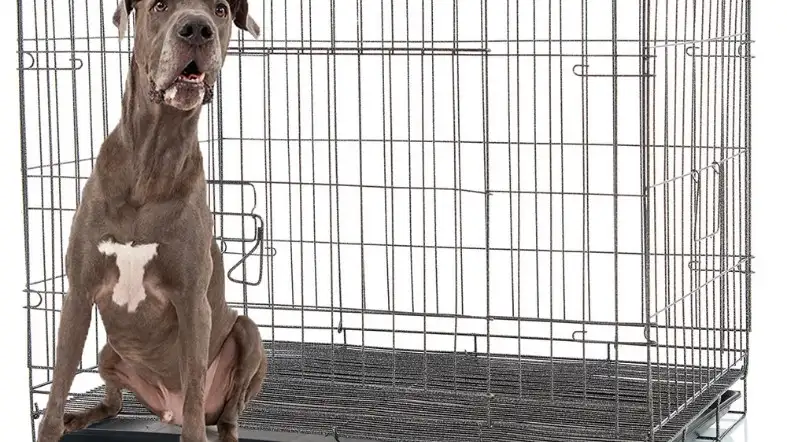 Great Danes sizes:
Great Danes are large dogs, and throughout their formative years, they develop swiftly. Crossbred Great Danes can sometimes be smaller than usual.
The size of an individual Great Dane can vary significantly depending not only on their lineage but also on their gender in the first place.
So, based on the various factors, the average sizes of purebred ones are:
| | | |
| --- | --- | --- |
| Gender | Height | Weight |
| Male | 30-34 inches | 120-200 pounds |
| Female | 28-32 inches | 98-130 pounds |
Great Dane Crate Sizes: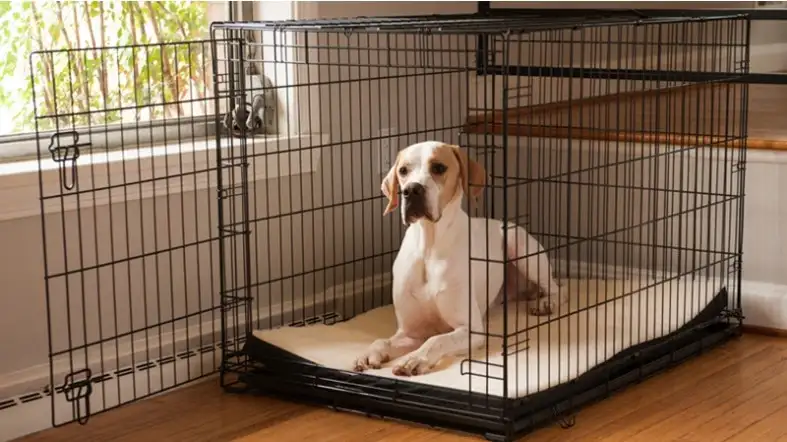 Selecting the ideal crate for your Great Dane is vital to guarantee a pleasant experience from the very first day, despite the fact that there are several sizes to take into account.
So, based on the height and weight, the ideal crates will be as follows:
| | | |
| --- | --- | --- |
| Wight of the Great Dane | Crate Size | Crate Length |
| Up to 100 pounds | 2XL | 48″x36″ |
| 100-160 pounds | 3XL | 60″x36″ |
| 160-200 pounds | 4XL | 72″x36″ |
Crate for Great Dane puppies:
The dog crate size for a typical purebred Great Dane is 48-54 inches at the very least. 
In comparison to other dog breeds, the growth period for Great Danes is somewhat longer, at 18 months. 
It is sometimes recommended that you get a dog cage that is designed for the adult size of a Great Dane rather than the present puppy size of the dog.
You may not want to spend a lot of money on many cages for your dog because these pups grow so quickly.
Things To Consider While Buying A Crate For Your Great Dane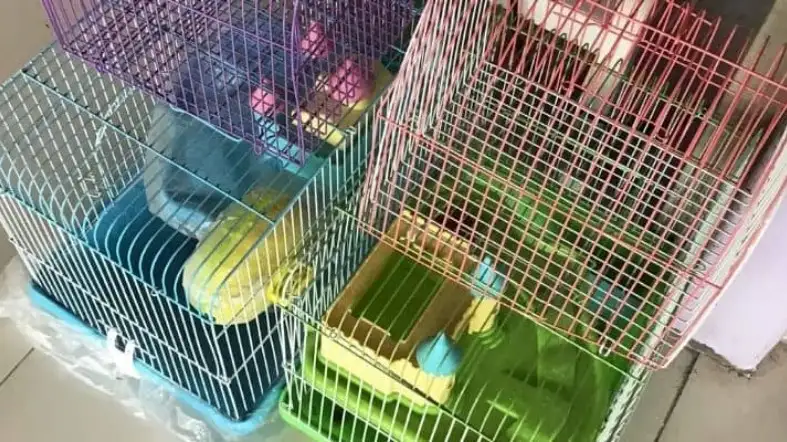 The crates for dogs may be useful in many situations regardless of the breed.
When selecting a cage for your large furry friend, it is essential to take a few things into consideration.
The utmost priority should always be your dog's happiness and satisfaction.
The size of the crate:
It is the most vital consideration here. Always take into account your Great Dane's age, weight, and height to determine the case size. 
The majority of Great Danes will require a crate that is 54 inches in length and has enough headroom due to its height. 
You can also start with a 48-inch crate, but you will have to change it in most cases.
Even if your Great Dane is a puppy, it is in your best interest to acquire the size of crate that your dog will require when it is fully matured and fully grown up. 
In case you have a big one for your puppy, consider the downside as well. But, you may simply make use of crate dividers to prevent any accidents.
While inside their crate, your dog should have sufficient space to sit upright, lie down, and turn around without difficulty, and there must be at the very least 4 inches of headroom.
>> What crate size for a shih tzu?
Strength of the Crates: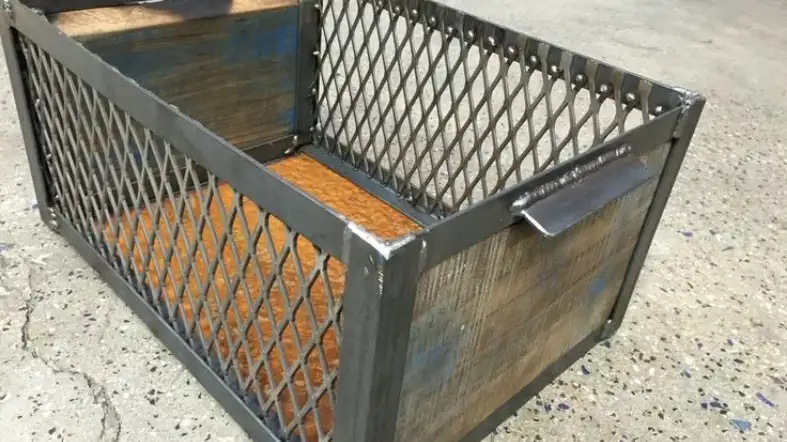 Because Great Danes are powerful animals, they must have sturdy crates in which to reside. 
Great Danes may do quite well in wire crates since these dog crates are extremely breathable while maintaining their structural integrity.
Selecting a high-quality wire crate is essential; cheap, flimsy wire crates should be avoided at all costs.
The last thing you want is a jailbreak by your dog when you come back home.
Weight of the crate:
Crates for Great Danes are likely to be on the heavier side because of their huge size.
Comparing crates' weights might not be a high priority for many owners, but it's still something to think about before making a purchase.
When attempting to move these mammoth containers, it is strongly recommended that you have an additional set of hands available.
Needed accessories:
Make sure the new kennel you got for your Great Dane is nice and comfy!
Even if your dog can sleep on the plastic cage floor, he or she will undoubtedly appreciate having a comfy place to rest their head at night.
In fact, it is an ideal option for Great Danes as Great Danes frequently suffer from arthritis and various types of hip dysplasia. 
You may also consider bringing a chew toy that is made of tough material as well as warm towels and blankets or towels so that your Great Dane can feel completely at home.
Removable Trays:
Removable trays make it easy to clean your dog's crate, keeping it fresh and comfy.
Removable trays aid in house-training pups and senior dogs with incontinence.
A detachable tray can make maintenance straightforward if your dog spills his water bowl
Extra features:
You may prefer a portable crate that has wheels and a handle if you don't want to disassemble your box every time you travel.
Multiple doors are convenient and make it easy for your dog to enter and exit the cage. Multiple-door crates also offer additional positioning freedom.
FAQs about what size crate for great Dane:
Can A Great Dane Fit In A 48-Inch Crate?
Great Danes may rest well in the 48-inch crates if your Great Dane is still a puppy.
A few of the adult female purebred Great Danes that weigh less than 100 pounds may also fit in these crates as well.
Can A Crate Be Too Big For A Dog?
Yes, it can be big and may as well lead to accidents from time to time.
You don't want your dog to use a specific area as a poo space for a too-large crate.
Your dog will not learn to hold it and thus housebreaking will become more difficult.
How Do I Know If My Crate Is Too Small?
If your dog cannot stand inside it comfortably and its back touches the top of the crate, then it is too small.
The dog shall be able to stand, turn around and move comfortably inside.
How Long Can You Leave A Great Dane In A Crate?
Anything more than six to eight hours spent in crates for an adult dog could be harmful to the Great Dane.
Puppies over the age of 17 weeks or more can only handle 4-5 hours max.
While A dog's emotional and physical health might suffer if they are left at home alone in a cage for longer than this amount of time.
Final Words:
Alike any other dog, the crates are a comfortable and safe place for the Great Danes.
The use of a dog cage affords the Great Dane the opportunity for some solitude and shields them from any danger. 
But the crate shall not itself be a trouble for your Great Dane.
Follow our all-inclusive guide and buy the ideal crate for your Great Dane. It will allow your dog to thrive.