Crates are ideal for providing dogs with their private area, a location in which they can sleep, rest, or simply hang out. All the dogs really want this.
As most people don't know what the perfect size is they waste a lot of money and end up buying multiple crates.
A wrong-size crate is harmful to your cockapoo as well. So, let's figure out what size crate for a cockapoo you need.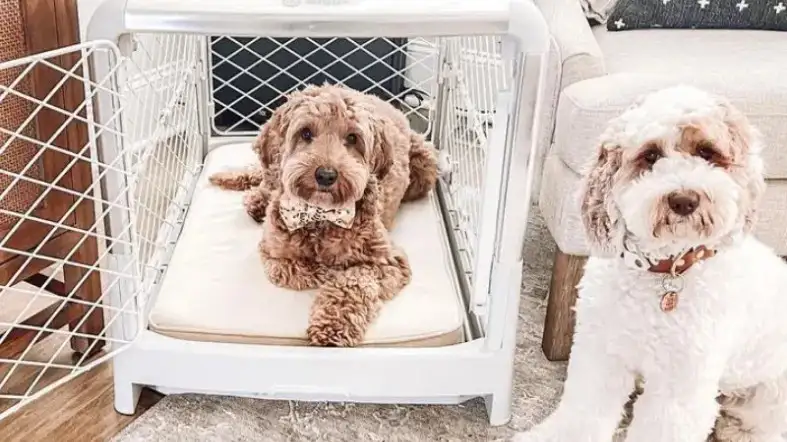 What size crate for a cockapoo?
For a Cockapoo, a crate size of around 24 to 30 inches is ideal, ensuring enough space for comfort, movement, and sleep. You can place some dividers so one area serves as a sleeping space while the other section is where your pup can play with their toys
Cockapoo Crate Size Chart:
| Cockapoo Size | Recommended Crate Dimensions | Preferable Model |
| --- | --- | --- |
| Toy | 24″ L x 18″ W x 21″ H | Midwest iCrate |
| Mini | 30″ L x 19″ W x 21″ H | Frisco Fold & Carry Crate |
| Standard | 36″ L x 23″ W x 25″ H | Precision Pet ProValue |
Different Types of Crates Suitable for a Cockapoo
Wire Crates
Wire crates are a popular choice for many dog owners. They are lightweight, easy to clean, and provide good ventilation. They also allow your dog to see outside the crate, which can help reduce anxiety.
However, they may not be as durable as other types of crates and may not be suitable for dogs who like to chew.
Plastic or Hard-Sided Crates
Plastic or hard-sided crates are another popular option. They are sturdy, durable, and provide good protection for your dog. They also offer more privacy than wire crates, which can help reduce anxiety.
However, they may not provide as much ventilation as wire crates and may be more difficult to clean.
Soft-Sided Crates
Soft-sided crates are lightweight and easy to transport. They are also comfortable for your dog to lie in and provide good ventilation.
However, they may not be as durable as other types of crates and may not be suitable for dogs who like to chew.
Wooden Crates
Wooden crates are a stylish option that can blend in with your home decor. They are also sturdy and durable. However, they may not provide as much ventilation as other types of crates and may be more difficult to clean.
Heavy-Duty Crates
Heavy-duty crates are designed for dogs who like to chew or who need extra security. They are made from strong materials such as steel or aluminum and can withstand a lot of wear and tear.
However, they may be heavier and more difficult to transport than other types of crates.
Travel Crates
Travel crates are designed specifically for use during travel. They are lightweight, easy to transport, and often meet airline regulations. However, they may not be as sturdy or durable as other types of crates.
Decorative or Furniture-Style Crates
Decorative or furniture-style crates are designed to blend in with your home decor. They can double as end tables or other pieces of furniture and provide a stylish option for crate training your dog.
However, they may not be as sturdy or durable as other types of crates.
Guide to the perfect size crate for a cockapoo
As cockapoo sizes vary widely, it is important to determine the crate size that suits your cockapoo.
The crate itself will be a source of many problems including, additional cost, disturbance for the dog, faulty training, etc. So, here is what you have to do.
Measure Your Beloved Cockapoo
The first and most important step is to know the size of your cockapoo. This alone determines what size crate you would need. 
The Length Of The Cockapoo
Take a measuring tape. Now, make your dog stand upright on a level surface.
Set one end of the tape in your hand on the tip of your dog's nose. Then drag down the tape to the dog's tail base. 
Measure from the tail base to the tip of the nose. This will give you an accurate reading of their height.
The Height Of The Cockapoo
Get your canine companion to stand up straight like before.  Use a measuring tape and measure from the ground to the very top of his or her head.
Add A Few Inches To The Dog's Measurement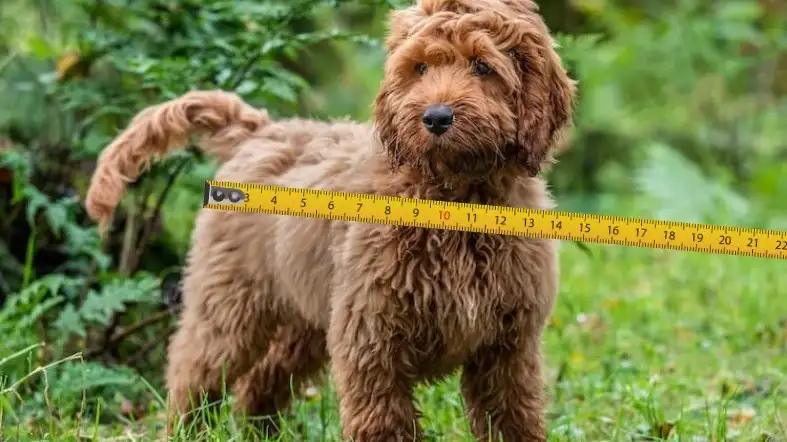 Now that you have the measurement of your dog, you are set to buy a crate.
But, it's unwise to buy a crate using measurement data. Add a few more inches to both the length and height to make sure the dog has enough space and a positive experience.
Carte Divider
Now, this particular trick is to save you a lot of money.
Some people just buy multiple crates for their dog as the dog goes to adulthood from a puppy. This feels like a huge waste of money to me. 
This happens because the first one they purchase isn't always the correct size or type.
When your Cockapoo is still a puppy, you can feel that a huge cage is too big for him or her.
You should fight the impulse to purchase a smaller crate for the puppy. If you do so, you will need to purchase a new one after your pet has outgrown the current crate.
How A Crate Divider Helps You
You may make a huge cage more comfortable for a puppy by choosing one that includes a divider.
This will allow you to reduce the size of the area in the crate for your puppy. 
Keep the size reduced when the cockapoo is smaller and increase the space as the puppy grows. So simple a technique to save money and resources.
Things To Consider For Buying A Crate For A Cockapoo (Buying Guide)
When buying a crate for your cockapoo, it's vital to consider more factors than just size. It must be a place where your dog feels at home or protected.
Material
Metal and wire crates are the most common types of containers.
If you want a crate that will last a lifetime for your puppy, we recommend metal since it is strong and cannot be chewed through by your dog.
These crates are perfect for both outdoor and indoor activities. They're perfect if you want to relocate the crate.
The next option is material soft boxes. These crates are ideal for travel because of their small size and low weight.
But these crates don't offer as much visibility as the wire options offer.
Plastic crates are also available. They lack the openness of wire boxes and are more commonly employed for travel. So, this is not suitable for house crates.
>> What size pen for a shih tzu?
Locking Mechanism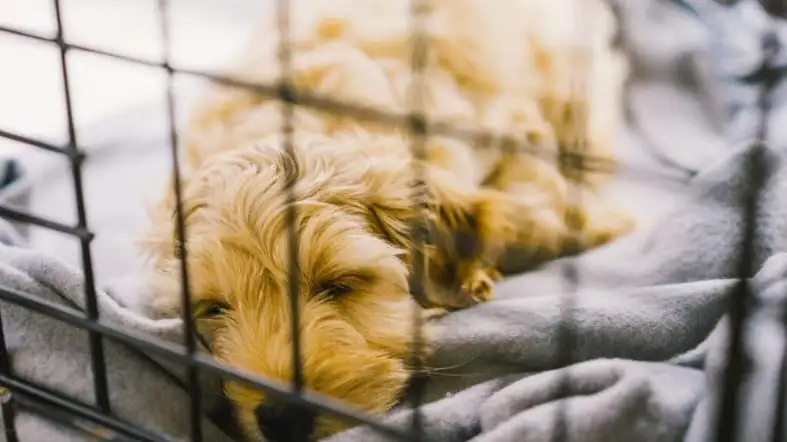 If you have a hyperactive dog that gets into everything, you may have a hard time leaving your dog alone at home. This is where a locking mechanism really helps. 
Poor locking mechanisms have been reported in some crate brands, allowing the dog to escape while its master is not at home or asleep. So, be careful.
Doors
Many boxes have 2 doors, which is convenient. If you want to relocate or travel with your crate, get a 2-door model. It provides you with longer-term alternatives.
Handle
Some boxes now come with a handle, although not all of them. If you're going to do a lot of traveling, this can be a good option for you.
Therefore, medium size crates don't need any handles.
Crate Covering
Nowadays, crates are so common that you can really decorate them to make them match your home better. 
Additionally, it might make your dog feel cozier. Although not necessary, a box cover may be something to think about. A blanket is also very useful.
Other Accessories
If the crate doesn't have an attached bowl, your dog may walk or tip over the bowl and end up with no water supply.
So, having an attached water container in your crate is very handy.
Crate bedding makes your crate cozier. You want something simple they won't chew on. It won't cost much money.
We also recommend getting a disinfectant that is safe for pets. It's a good idea to get some if you don't already have as it makes sure your puppy remains healthy and safe.
>> What size crate for a cockapoo dog?
FAQs about what size crate for a cockapoo
Is a 36-inch Crate Big Enough For A Cockapoo?
A 36-inch crate is big enough for all the adult cockapoos.
Irrespective of their size, all of them can accommodate a 36-inch crate with great ease.
That's why this is the standard size and experts recommend this simultaneously.
Is A 30-Inch Crate Enough For A Cockapoo?
Many adult dogs with less than typical size may use a 30-inch dog crate very well.
Considering the standard poodle, it may not be a bigger size, yet may be sufficient.
Measure your cockapoo's size, and consider other factors to eventually get the ideal size.
How Do I Know If The Crate Is Perfect For My Cockapoo?
That's pretty simple to understand. If your dog a super comfortable inside it.
It can stand, move, and change direction inside it, it is of perfect size. 
What Is The Ideal Height In Width Of A Crate For A Cockapoo?
When we say the ideal size is 36 inches, we refer to the crate length.
So, considering this, in perfect proportion, the width and height shall be respectively 25 inches and 23 inches.
Overall inches, the dimension is 36L x 23W x 25H.
How Long Can You Leave A Cockapoo In A Crate?
Your dog should like getting into the crate, so make sure it is a pleasant experience for him.
If their overall experience is positive, if they regard the crate as a comfortable place to sleep, you can put the dog in for 4-5 hours.
Final Words
The appropriate size crate for a Cockapoo depends on its size and weight. Generally, a crate that is 24 to 30 inches long is suitable for a fully-grown Cockapoo.
It's important to ensure that the crate is large enough for the dog to stand up, turn around, and lie down comfortably, as well as being secure and well-ventilated.
Choosing the right size crate can provide a safe and comfortable space for your Cockapoo, whether at home or on the go.