What Size Crate For A Husky?
We may earn affiliate fees for purchases using our links (at no additional cost to you).
Husky is the cutest and one of the most active dog breeds which prefer a crate. Here you may ask, " what size crate for a husky?"
The good health and comfort of your pet vastly depend on the size of its crate. So, you must ensure that you are bringing the right-sized crate for your husky.
Scroll the article to know your answer as well as to get some necessary information about the crate size for a Husky.
What size crate for a Husky?
Large Huskies should have a 48-inch dog crate, which is the average size of a purebred dog. A 42-inch dog crate can be big enough for a female Husky or a smaller male Husky.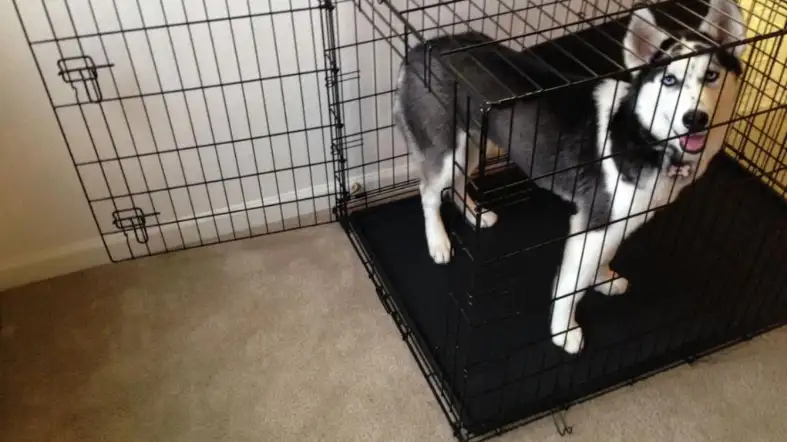 These dogs are constantly excited and have a great deal of energy, so it may be best to give them a bit more space than less.
Always get a dog kennel large enough for your Husky as it grows.
The initial six months of a husky's existence are the most formative. At about one year of age, however, they achieve their maximum size.
| Gender of Husky | Height  | Weight | Crate size |
| --- | --- | --- | --- |
| Male | 21-24 inches | 44-60 lbs | 48 inches  |
| Female | 20-22 inches | 35-51 lbs | 42 inches |
How to choose the right size crate for your Husky?
Step 1: Determine where and how you will use your dog's crate.
Before selecting a crate size and  model, consider the following critical questions:
Do I intend to use this box solely for the vehicle?
Is this a crate for a truck bed?
Is this crate only for usage at home?
Will my dog use this kennel daily, or will it only be used for vet visits and traveling?
Is a comfortable crate required for my pup's vet-recommended crate rest?
Is a strong strength crate required to replace my dog's damaged plastic or wire kennel?
Is this going to be my puppy's kennel when they grow up?
Is my vacation going to necessitate flying my dog in a crate?
Do I want a crate for general use?
Do I intend to stack multiple crates?
Is it possible to fit boxes side by side in a car?
Is an escape-proof kennel required to keep my dog secure while I'm away?
What Size Crate For Goldendoodle? All You Need To Know!
Step 2: Determine the temperament of your dog.
Unless your husky is a young puppy or was recently adopted, you should know your dog's personality by now. The size of the crate will vary based on this.
The more active your dog is, the bigger crate you will need. You may also be aware of what he or she is capable of. Think about the following factors,
Do you trust your husky to remain out of mischief when left alone?
Is your dog at ease in his or her crate when left alone for short or lengthy periods?
Is your dog more likely to sleep in his crate? 
Does your husky opt to spend time in his box on his own? 
Is your husky displaying signs of separation anxiety?
>> What Size Dog Crate For A Great Pyrenees?
Step 3: Select the best crate model for your needs.
Now that you've considered every crate option, it's time to limit down your choices to the best crate model for your dog and your lifestyle. 
When selecting a dog kennel, the safety of your dog comes first. When selecting a crate model, consider your dog's level of crate anxiety. 
Each Impact Crate model serves a distinct purpose. For example, if your husky requires a heavy-duty dog cage, consider our High Anxiety crate. 
If your dog is calm in crates, she may be happy with the Stationary type instead of extra features to keep her from getting out.
The Collapsible Dog Crate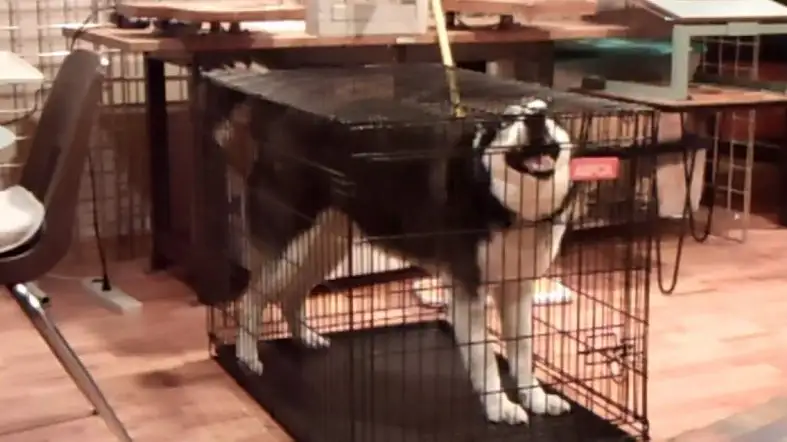 Ideal for storing and transporting in tiny spaces. In briefcase shape, it folds down to less than 8 inches in less than a minute.
Typically used as a crate for flights and overnight journeys, particularly for sport and show dogs.
The Collapsible crate accessories are specifically developed for airline compliance. 
This crate can also be utilized with wheel carts and door guards. Optional front and back doors are included.
Collapsible crate sizes for husky breeds range from 34 to 48 inches.
Please keep in mind that the Collapsible type is not suitable for pets who have anxiety disorders, destructive tendencies, or escape inclinations.
Consider the High Anxiety crates that include a 10-year Dog Damage Protection Warranty.
>> What Size Crate For French Bulldog?
The Stationary dog crate
The best dog kennel for general use. Typically utilized as permanent transport crates in autos and truck beds, as well as daily household containers.
This crate is ideal for those who wish to move multiple crates in a single vehicle. It is just as lightweight as the Collapsible version, making it more portable.
Completely assembled and flight-ready, with optional airline rail attachments. The sizes of stationary crates for husky breeds range between 34 and 48 inches.
The Stationary Side Door Dog Crate
The only difference between this crate and the standard stationary crate is the side door for convenient access.
This is the only model of crate available with front, rear, and side doors.
The Side Door crate is often used as a permanent dog travel crate in SUVs and other vehicles. Side Door crate sizes range from 34 to 42 inches for husky breeds.
>> What Size Crate For Golden Retriever?
The High Anxiety Dog Crate
This crate is popular among husky breeds, owing to their escape-artist inclinations.
The High Anxiety crate is specially developed to safeguard Houdini dogs, crate chewers, dogs with storm phobia, and puppies with separation anxiety. 
If your dog has previously broken out of at least one crate, we highly recommend this crate. This crate is a long-lasting solution for your dog's separation anxiety.
 It is our ONLY crate model that comes with a 10-year dog damage protection warranty and is made of double the thickness of aluminum. Accessory door guards are available.
Husky cage sizes for high anxiety range from 34 to 48 inches.
We recommend selecting the size that is closest to your dog's measurements or contacts to our support team for advice.
Step 4: Measuring the ideal dog crate size for your Husky
There are two alternatives for selecting the optimal crate size for your husky:
Measure your dog's length (tip of snout to the base of the tail, not including tail) and height to estimate crate sizing for your husky breed (from floor to top of ears).
If you have a mixed breed husky or a smaller/larger-than-average dog of a given breed, this method is useful for sizing.
If you intend to use the cage for pet cargo on airlines, we recommend measuring your dog. A dog's ideal aircraft crate allows them to stand up, turn around, and lay down comfortably.
Once you've determined your dog's length and height, visit our size page to view all crate dimensions.
Another option for determining the optimal crate size is to consider dog breeds. Many sales representatives are pleased to make size recommendations based on your husky's breed.
If you wish to travel your husky as pet cargo, first read this: Everything you need to know before flying with your dog.
If you intend to carry your dog in this cage, first measure the cargo area of your vehicle and then compare the crate dimensions.
You can downsize your dog's crate to fit better in your vehicle, as your dog will most likely not be spinning about in his crate, and having less excess room in the event of an accident can also be safer.
Stationary crates work the best side by side in cars without the optional airline rails.
>> What Size Crate For German Shepherd?
What things should I consider while selecting the size of my Husky's crate?
Don't forget that they need enough room in the crate to stand up, turn around, and lie down. We suggest measuring from the tip of their nose to the base of their tail and then adding 2 to 4 inches.
If you have a puppy, get a crate that is about the same size as the dog will be as an adult. You can use a divider to change the space inside as the puppy grows.
Don't leave too much room. Getting an extra-large dog crate for your medium-sized dog might seem like a nice way to treat them, but that much space to roam could lead to accidents, especially if they're still getting used to the crate.
You can help your dog get used to their new home by putting things in the crate like their favorite dog toy or blanket. Accessories like a soft crate pad or mat can help them feel more at home and make the crate feel more like a den. So, ensure enough space for them.
FAQs about the crate size for a Husky
What Is The Best Crate Size For My Husky?
Crates come in pretty standard sizes, and huskies usually need either a 36-inch or a 42-inch one. You can measure the length of your husky to figure out the size of the crate. 
To do this, measure from the tip of their nose to the base of their tail, but leave the tail out of the length. This is a great way to figure out how big your husky is and what might work best for them.
 If your husky is almost 36 inches tall, it's probably best to get a 42-inch crate so they have room to move around and are comfortable. You can get a 36-inch model if your husky is on the small side.
Final Thoughts
Now you know the answer to the question, " what size crate for a Husky?"  The perfect size for yiur Husky mostly depends on its height and what type of crate you need.
We hope our given information will help you to pick the right size crate. Also, you can contact a specialist in need.