What Size Crate For Goldendoodle? All You Need To Know!
We may earn affiliate fees for purchases using our links (at no additional cost to you).
Goldendoodles are social, intelligent, yet energetic breeds, and crating them can be necessary, especially for their well-being, security, and safer travel.
But don't go out shopping if you don't know what size crate for Goldendoodle as the wrong one can bring discomfort and anxiety. 
Instead, read the guide, learn what the right size crate is for your Goldendoodle, and then make the final call for their healthier lives and comfortable rest and sleep.
What Size Crate For Goldendoodle?
A Goldendoodle is an energetic breed. For a standard Goldendoodle, a 32-42 inch long crate will be a perfect choice. It will ensure a cozy fit without restricting their movement. However, doodles can be of various sizes, so slightly smaller sizes can also be sufficient.
Right size crate for Goldendoodle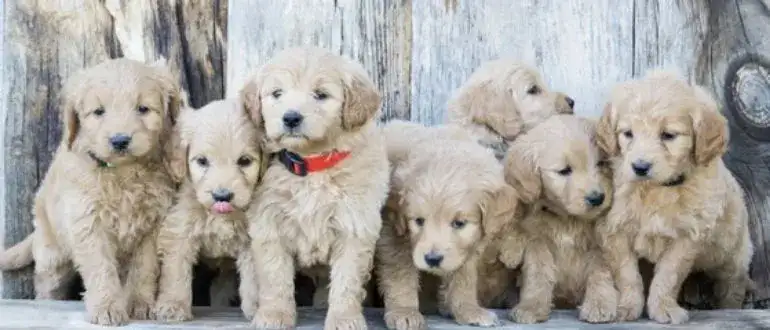 A right-sized crate is essential for the health and well-being of the Goldendoodle dog.
While a too-small crate can make the pet uncomfortable and suffocate, a too-large crate won't let the pet enjoy a cozy feeling.
Even a larger crate will encourage the dog to sleep in the corner and use the other side as a toilet.
The perfect way to determine the right size crate for your Goldendoodle is to measure it.
Measure your pet from the top of the head to the paw, keeping them seated, and add 4 inches to the result to get the appropriate crate height.
Then measure the length from the bottom of the tail to the tip of the nose and add four inches.
>> What is the best size dog crate for a jack russell terrier?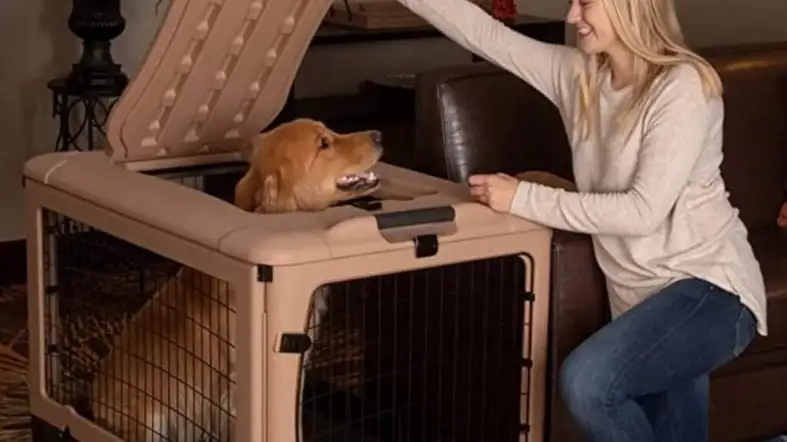 It's better to offer a slightly bigger crate to the Goldendoodle so they can stand up and turn around comfortably without hitting their heads.
It also lets the doodle lie on any side by stretching out its paws in front of them.
Apart from that, determining the right size crate for a Goldendoodle puppy is tougher than for a Goldendoodle adult.
Fortunately, there is a standard crate size recommendation for the Goldendoodle puppy, as well as some helpful hints.
So the right size crates for Goldendoodles are:
For a standard-sized Goldendoodle, you should buy a 42-inch crate. And it's considered a large-sized crate.
For the mini Goldendoodle, choose a 36-inch crate as this will be sufficient.
For the puppy, consider a large-sized crate with a divider.
It will let you offer the required space throughout the growth of the puppy. Once the pet turns into an adult, simply remove the divider.
The right time to crate the Goldendoodle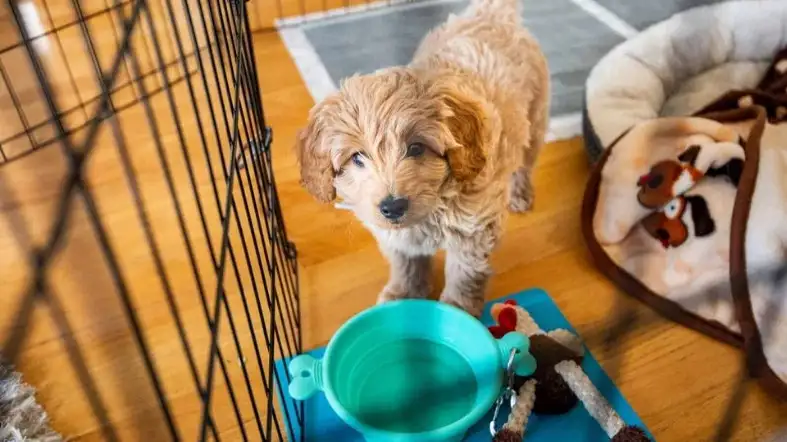 There are plenty of times and situations when you should crate the dog. It also improves their well-being.
Firstly, keep your pet inside of the crate when you won't be available to supervise them.
So if you need to go to an office or maintain the yard, simply crate your Goldendoodle. But don't forget to offer them food or other essentials.
This way, you can keep them safe and keep the house from destruction.
Another appropriate time to crate your doodle is if they get excited. In this situation, crate-ing them will help cool them down.
But don't behave with them as a punisher. You can also offer them some toys while they are in the crate so they feel comfortable instead of afraid.
Traveling is another vital reason to crate the dog. Taking the pet for a long walk in a crate helps keep them safe and allows them to carry it easily as well.
Lastly, crating a new puppy is beneficial, especially if you have an older pet. Goldendoodle puppies are energetic and can disturb other pets as well.
So, a crate will not only give a break to the older pet but also keep the puppy safe.
>> What crate size for a 50 lb dog?
Wrong Time To Crate The Goldendoodle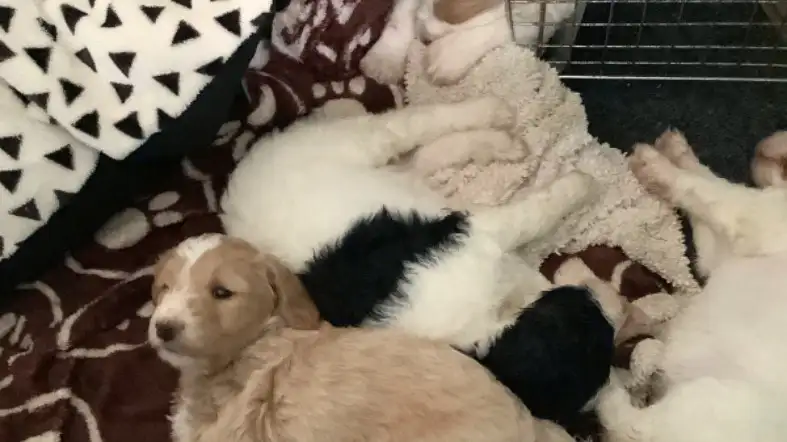 The most important thing to remember is that you should not crate your Goldendoodles for more than 5 hours per day.
Otherwise, it can bring plenty of difficulties.
For example, Goldendoodles are a highly social breed, and social interaction makes them happy.
Crating them for an extended period of time or on a regular basis can cause depression and increase their risk of behavioral issues.
You shouldn't leave them in the crate for any longer than their ability to hold their bladder.
However, if you need to leave the house for an extended period of time, enlist the assistance of a family member, friend, or dog walker to keep the dog company.
Apart from that, you shouldn't crate the Goldendoodle if they suffer from separation anxiety, as doing so will worsen the condition.
Chipped claws or broken teeth are also clear signs of keeping the pet away from the crate.
This indicates that the doodle isn't feeling happy inside the crate and is trying to escape. Even you should talk to the vet if you notice such behaviors.
Lastly, you should not crate the doodle if the vet doesn't appreciate it because of medical issues like inflamed joints or arthritis.
Overall, getting the right size crate and crate training for the dog is a handy process to offer them a positive experience. Remember, your pet shouldn't be afraid of the crate.
FAQs About Right Size Goldendoodle Crate
How To Crate Train A Goldendoodle?
Convince the doodle that the crate is a good thing and entice them into the crate using a treat. Teach them to sit and lie in the crate. For five minutes, close the door and leave him/her alone. 
How Long Can You Crate A Doodle Puppy?
In the initial stage, leave the doodle in the crate for a few hours. But don't leave the puppy, or even an adult Goldendoodle, in the crate for more than 5 hours. However, you can leave the pet throughout the night in the crate.
How Long Does Crate Training Take For A Mini Goldendoodle?
Crate training and potty training can both take around 6 months or even longer. So it's a time-consuming process and you should be patient.
Final words
In the end, you have got all the essential information to decide what size crate for Goldendoodle. Choosing the right size crate for your goldendoodle should be a straightforward task for you.
But after getting the crate, don't force your pet to enter the crate. Instead, crate trains your dog and introduces them to their new home in the most stress-free way.