Understanding what size crate for Jack Russell is pivotal for the well-being of this vivacious breed. If chosen incorrectly, it may lead to stress and undesirable behaviors in your pet.
This article will explore the meticulous process of determining the ideal crate size, discuss the various types available, and guide you through the installation process, ensuring a comfortable and secure environment for your Jack Russell.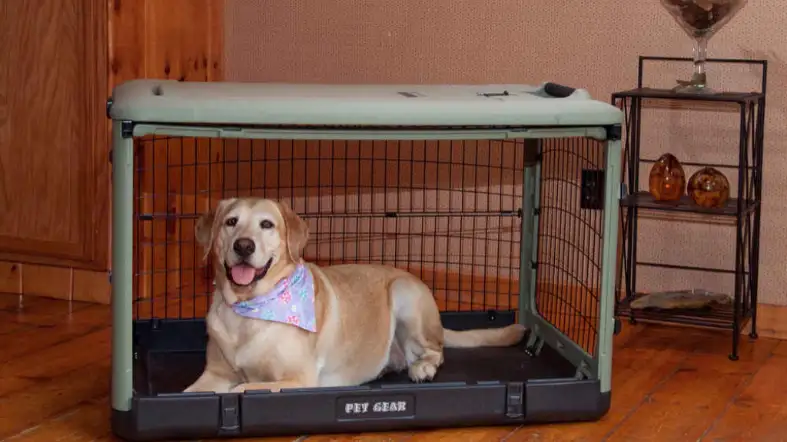 What Size Dog Crate For Jack Russell?
For a Jack Russell Terrier, a crate that is approximately 30"L x 19"W x 21"H is suitable, providing ample space for the dog to stand, turn around, and lie down comfortably. The crate shouldn't be too large to avoid the dog feeling insecure or too small to prevent discomfort and stress.
Jack Russell Dog Crate Size Chart:
| Dog's weight  | Dog's height  | Crates dimension | Size |
| --- | --- | --- | --- |
| 12-13 pounds  | 13" | 24″ x 18″ x 19″ | Small |
| 14-15 pounds | 13.5" | 24.5″ x 18″ x 19.5″ | Medium  |
| 16-17 pounds | 15" | 25″ x 18.5″ x 21″ | large |
Types of Crates Suitable for Jack Russells
Wire Crates
Wire crates are a popular choice for Jack Russells. They provide good ventilation and allow your pet to see their surroundings. Some models come with a divider, which can be useful for adjusting the crate size as your Jack Russell grows.
However, they can be less cozy than other types, so adding a comfortable mat is a good idea. A recommended model is the MidWest Homes for Pets Dog Crate.
Plastic Crates
Plastic crates are lightweight and portable, making them great for travel. They can also feel more den-like, which some dogs prefer.
However, they offer less ventilation and visibility compared to wire crates. The Petmate Sky Kennel is a well-regarded model in this category.
Soft-Sided Crates
Soft-sided crates are the most portable option, ideal for frequent travelers. They're typically easy to set up and break down.
However, they might not stand up to Jack Russell's energetic nature or their sharp claws. The EliteField 3-Door Folding Soft Dog Crate is a top pick in this category.
Heavy-Duty Crates
Heavy-duty crates are designed for dogs that are particularly strong or prone to escaping. They're typically made of stronger materials like steel.
While they're not necessary for all Jack Russells, they can be useful for those with these tendencies. The SMONTER Heavy Duty Dog Crate is a highly-rated option.
Furniture Crates
Furniture crates, also known as crate end tables, blend in with home decor and serve dual purposes. They can be more comfortable and attractive than other types, but might not be as durable or easy to clean.
The Casual Home Wooden Pet Crate is a popular choice.
How to Choose the Right size crate for your Jack Russell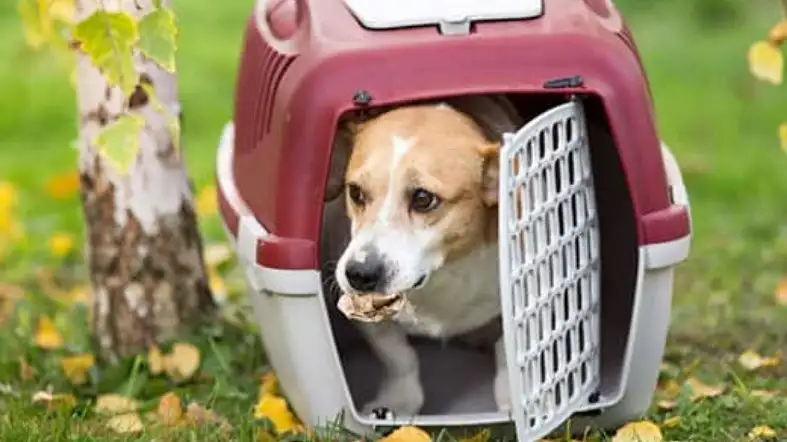 Measure the anticipated size of your dog
If you want your dog to be able to grow into the crate even though it is still too small for it now, you should measure how big you anticipate it will get. 
Talking to the breeder of your dog or observing other dogs of a similar size will help you get an idea of how big your pet will be when it is completely grown.
Make sure to leave an extra 5 to 10 centimeters on each side of the crate so that your dog has enough room to stand up and spin around without striking the sides.
This makes it easier for your dog to settle in and feel at home.
Take into account anything else that will be placed within the crate, and factor that into your measurements.
This comprises utensils for eating and drinking, such as bowls, as well as bedding, pillows, and playthings.
>> What size crate for a cavapoo puppy?
Measure The Current Size Of Your Dog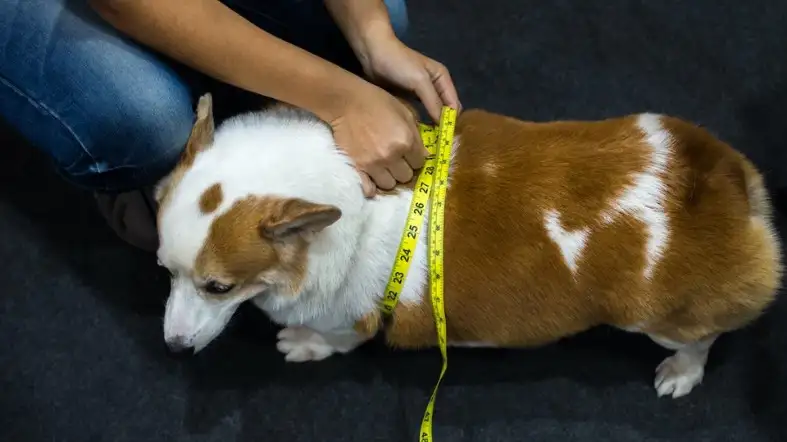 If you haven't gotten your puppy yet, you should inquire with the breeder or another dog professional about the puppy's weight, height, and, if you know it, the size of its parents. 
As was mentioned above, if you just intend to crate your dog while it is still a puppy, you should inquire as to how much they anticipate your puppy will develop in the first two to three months.
If you do not have access to a dog professional, you can acquire an estimate of the adult size of your dog's youngster by researching the breed of your dog online.
If you already have your puppy, you have the option of weighing and measuring him or her yourself or taking him or her to a trainer or veterinarian to have these things done.
 How to determine the height of your dog
Put your dog in a standing position against the door or a wall. Because of this, a fixed place will be provided.
Use a measuring tape or a piece of string to measure from the bottom of your dog's paws to the very top of his or her head in order to determine your dog's head height.
It is important to keep in mind that the majority of height measurements that are published are measured to a dog's withers, which is another name for the dog's shoulders. In these circumstances, you will additionally need to take into consideration the height of your dog's head.
To determine the length of your dog, measure him or her from the point of his or her nose to the end of his or her tail. To this measurement, you need to add between 2 and 4 inches ensuring additional room
Take careful measurements in inches, as this is the unit of measurement that is most frequently used for determining the size of dog crates.
If you intend to add a dog crate pad or bed, you need to make sure that you take into consideration the additional height that these things will bring to the interior of the cage.
For instance, if you intend to use a tiny Snooze pad with the small Revol, you will need to add one to two inches to the height of your dog.
Tips To Determine The Weight Of Your Dog
You need only employ the utilization of a normal scale.
You can step on the scale together with your canine companion, and then deduct your weight from the total.
It is important to keep in mind that regardless of the scenario you choose, you may only have a few seconds to weigh your dog because he or she may not want to stay on the scale.
Consider the location of your dog crate
When selecting a crate size, it is essential to take into consideration the location of the crate as well as the dimensions of the area in which it will be stored.
If the crate is going to be used inside your home, you should measure the space where you intend to put it to ensure that it will accommodate the crate.
Think about whether you will always be in the same location, or whether you will be moved about on a more frequent basis.
The majority of automobiles can only accommodate the Large 36-inch Crate or crates that are smaller in length.
Because every vehicle is unique, you should always measure your own to be sure.
Think about how the opening of your boot looks. To enter the vehicle, will the crate be able to pass through the opening in the door?
Factors Influencing the Selection of Dog Crate Size for Jack Russells
Dog's Size and Weight
The crate should be large enough for your Jack Russell to stand, turn around, and lie down comfortably. But, it shouldn't be too big that they might use a corner as a bathroom.
Dog's Age and Growth Potential
If you're getting a crate for a puppy, consider their adult size. Some crates come with dividers to adjust the space as your dog grows.
Crate Purpose
If the crate is for house training, it should be just big enough for them to lie down, stand up, and turn around. If it's for traveling, check the airline's pet carrier guidelines.
Available Space at Home
The crate should fit comfortably in your home. Measure the area where you plan to place the crate before purchasing.
Portability and Storage
If you travel often, a lightweight and foldable crate can be beneficial. Some crates have handles or wheels for easy transport.
Safety and Security
The crate should have a secure latch that your Jack Russell can't open. Check for any sharp edges or points that could hurt your dog.
Dog's Health Considerations
If your dog has any health issues like arthritis, consider a crate with a low entry point and soft bedding.
Budget and Pricing
Crates can range in price depending on their size, material, and features. Choose one that fits your budget but doesn't compromise on quality.
Local Regulations and Animal Welfare Standards
Some areas have regulations about crate sizes. Make sure your choice complies with local animal welfare standards.
Material and Durability
Choose a material that can withstand Jack Russell's energy. Metal crates are typically more durable than plastic or fabric ones.
>What size crate for a German Shepherd?
Where in the house should I put the Jack Russell's crate?
We would suggest putting the crate in a room other than the one where you sleep. This is helpful in a few ways.
You will still be able to sleep the first few nights that your Jack Russell is in the crate and crying.
You won't feel guilty like you do when you first put a Jack Russell puppy in a crate. opening the door and giving in during these first few nights is a big mistake, so do what you have to do to avoid this.
Being away from you will help your Jack Russell Terrier in the long run.
You probably have jobs and other things to do besides your Jack Russell.
The sooner they understand this, the less trouble you'll have with bad behavior in the crate and separation anxiety.
FAQs about dog crate for Jack Russell
Can I place a crate in my bedroom for my Jack Russell?
Yes, you can place the crate in your bedroom if it helps in making the dog feel more secure and comfortable.
Is it necessary to have a crate with dividers for a Jack Russell puppy?
Having a crate with dividers can be beneficial as it allows you to adjust the crate size as your Jack Russell grows, but it's not absolutely necessary.
Are heavy-duty crates recommended for all Jack Russells?
No, heavy-duty crates are typically for dogs that are particularly strong or prone to escape; they are not necessary for all Jack Russells.
Does the crate size vary if my Jack Russell is still a puppy?
Yes, puppies may require a smaller crate, but it's practical to choose a crate that will accommodate them as they grow, potentially with the use of dividers.
Are furniture crates a good option for Jack Russells?
Furniture crates can be a good option as they blend with home décor and can be more comfortable, but durability and ease of cleaning should be considered.
Final Thoughts
Discerning the appropriate What Size Dog Crate For Jack Russell is crucial for your pet's overall well-being and contentment.
A correctly sized, comfortable, and secure crate can significantly reduce stress and behavioral issues, ensuring a harmonious coexistence and a happier, healthier life for your Jack Russell Terrier.