What Size Dog Crate For Jack Russell?
We may earn affiliate fees for purchases using our links (at no additional cost to you).
Jack Russell has become a popular dog breed to adopt and they need a crate to remain comfortable. Here you may ask, " what size dog crate for Jack Russell?"
A dog cage will usually give your dog greater space and ventilation, allowing them to observe everything going on around them. So, you need to be very careful about its size.
This article will let you know the answer and help you to pick the perfect dog crate for your Jack Russell.
What Size Dog Crate For Jack Russell?
Your Jack Russell Terrier should have a crate that is at least 24 inches in length,18 inches in width, and 19 inches in height.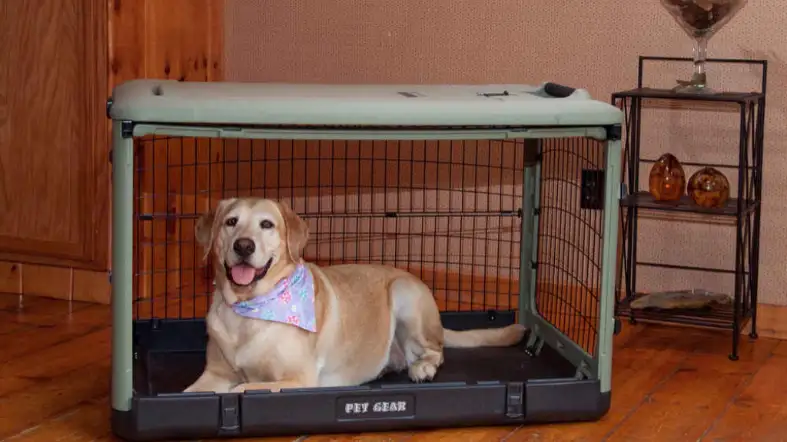 This size crate is good for both Jack Russell Terrier puppies and full-grown Jack Russell Terriers.
Most Jack Russells only get to be 13 to 17 pounds.
If you choose a crate with the above-mentioned dimensions and dividers, you can keep your dog without any hustle. Here is a convenient table for you
| Dog's weight  | Dog's height  | Crates dimension | Size |
| --- | --- | --- | --- |
| 12-13 pounds  | 13" | 24″ x 18″ x 19″ | Small |
| 14-15 pounds | 13.5" | 24.5″ x 18″ x 19.5″ | Medium  |
| 16-17 pounds | 15" | 25″ x 18.5″ x 21″ | large |
How to Choose the Right size crate for your Jack Russell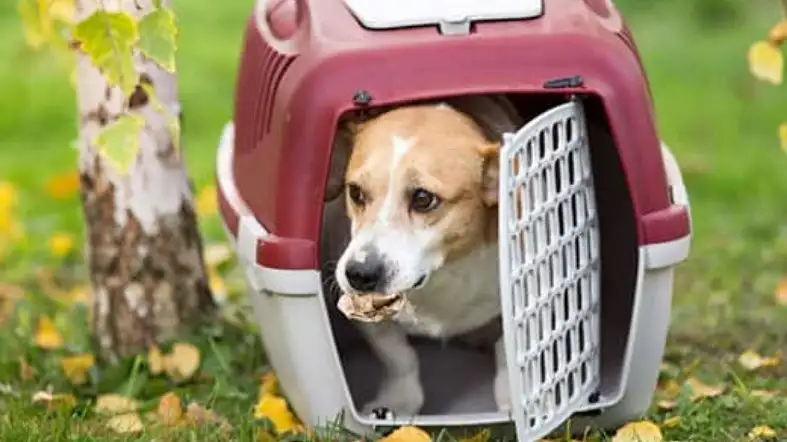 Measure the anticipated size of your dog
If you want your dog to be able to grow into the crate even though it is still too small for it now, you should measure how big you anticipate it will get. 
Talking to the breeder of your dog or observing other dogs of a similar size will help you get an idea of how big your pet will be when it is completely grown.
Make sure to leave an extra 5 to 10 centimeters on each side of the crate so that your dog has enough room to stand up and spin around without striking the sides.
This makes it easier for your dog to settle in and feel at home.
Take into account anything else that will be placed within the crate, and factor that into your measurements.
This comprises utensils for eating and drinking, such as bowls, as well as bedding, pillows, and playthings.
>> What Size Dog Crate For A Great Pyrenees?
Measure The Current Size Of Your Dog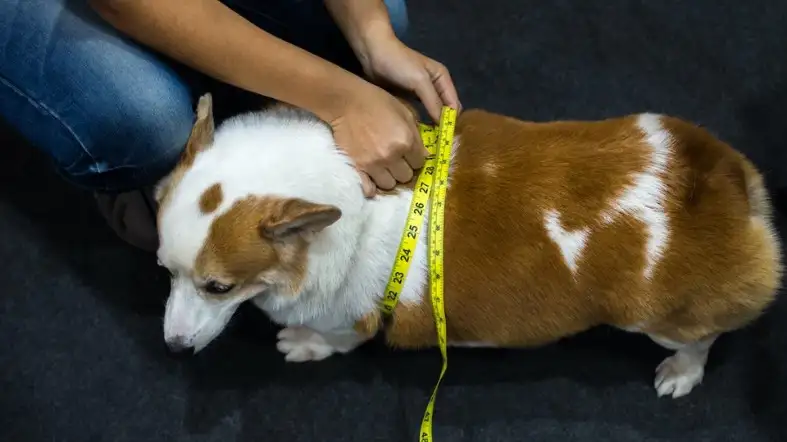 If you haven't gotten your puppy yet, you should inquire with the breeder or another dog professional about the puppy's weight, height, and, if you know it, the size of its parents. 
As was mentioned above, if you just intend to crate your dog while it is still a puppy, you should inquire as to how much they anticipate your puppy will develop in the first two to three months.
If you do not have access to a dog professional, you can acquire an estimate of the adult size of your dog's youngster by researching the breed of your dog online.
If you already have your puppy, you have the option of weighing and measuring him or her yourself or taking him or her to a trainer or veterinarian to have these things done.
>> What Size Crate For A Husky?
 How to determine the height of your dog
Put your dog in a standing position against the door or a wall. Because of this, a fixed place will be provided.
Use a measuring tape or a piece of string to measure from the bottom of your dog's paws to the very top of his or her head in order to determine your dog's head height.
It is important to keep in mind that the majority of height measurements that are published are measured to a dog's withers, which is another name for the dog's shoulders. In these circumstances, you will additionally need to take into consideration the height of your dog's head.
To determine the length of your dog, measure him or her from the point of his or her nose to the end of his or her tail. To this measurement, you need to add between 2 and 4 inches ensuring additional room
Take careful measurements in inches, as this is the unit of measurement that is most frequently used for determining the size of dog crates.
If you intend to add a dog crate pad or bed, you need to make sure that you take into consideration the additional height that these things will bring to the interior of the cage.
For instance, if you intend to use a tiny Snooze pad with the small Revol, you will need to add one to two inches to the height of your dog.
>> What Size Crate For 50 Lb Dog?
Tips To Determine The Weight Of Your Dog
You need only employ the utilization of a normal scale.
You can step on the scale together with your canine companion, and then deduct your weight from the total.
It is important to keep in mind that regardless of the scenario you choose, you may only have a few seconds to weigh your dog because he or she may not want to stay on the scale.
Consider the location of your dog crate
When selecting a crate size, it is essential to take into consideration the location of the crate as well as the dimensions of the area in which it will be stored.
If the crate is going to be used inside your home, you should measure the space where you intend to put it to ensure that it will accommodate the crate.
Think about will it always be in the same location, or will it be moved about on a more frequent basis.
The majority of automobiles can only accommodate the Large 36-Inch Crate or crates that are smaller in length.
Because every vehicle is unique, you should always measure your own to be sure.
Think about how the opening of your boot looks. To enter the vehicle, will the crate be able to pass through the opening in the door?
>> What Size Crate For A 40 Lb Dog?
Where in the house should I put the Jack Russell's crate?
We would suggest putting the crate in a room other than the one where you sleep. This is helpful in a few ways.
First, you will still be able to sleep the first few nights that your Jack Russell is in the crate and crying.
Second, you won't feel guilty like you do when you first put a Jack Russell puppy in a crate. opening the door and giving in during these first few nights is a big mistake, so do what you have to do to avoid this.
Next, being away from you will help your Jack Russell Terrier in the long run.
You probably have jobs and other things to do besides your jack Russell.
The sooner they understand this, the less trouble you'll have with bad behavior in the crate and separation anxiety.
In the end, you can put the box anywhere you want. Still, if you want the best results and the least amount of guilt, choose a room that is a good distance from where you sleep.
FAQs about dog crate for Jack Russell
Should I Cover The Crate For Jack Russell?
This will depend on your Jack Russell Terrier, in particular, if your Jack Russell does better in their crate when it is covered, I would suggest covering it.
Some Jack Russells will bark and whine more if the crate isn't covered. A covered crate will help them get a better night's sleep. Some Jack Russells, on the other hand, will act in the opposite way.
If you do cover the crate, I would always make sure it doesn't get too hot inside for your Jack Russell.
Aside from that, watch how your Jack Russell acts when you use both methods, and use the method that works best for you and your Jack Russell.
Which Things Should I Consider While Choosing The Right Size Crate For My Jack Russell?
Weight is less important than size. Dog owners often ask us what size a 12 kg dog should be, but a French Bull and a Sheltie, which are both 12 kg, look very different.
The crate should be at least 6 inches longer than their body length and at least 6 inches higher than their shoulder height to make sure they are comfortable and can move around.
If your dog is still a puppy or is fully grown, you might want to buy a crate that fits their adult size so it will last for a while. This means that your dog won't have to leave their favorite place to sleep.
Final Thoughts
We have tried to satisfy you with the answer to the question, " what size dog crate for Jack Russell? "
Your dog's natural instinct is to be in a den, and a right-sized crate lets it do that. 
Our given information will hopefully help you to pick the proper dog crate for your Jack Russell.