What Size Crate For German Shepherd In 2023?
We may earn affiliate fees for purchases using our links (at no additional cost to you).
German shepherds are active working breeds and grow quickly, so it's a bit tough to find the right size crate.
So if you want to determine what size crate for german shepherds you have to research their ages, size ranges, and nature deeply, this is time-consuming.
But reading the guide, you can do your homework quickly, as we have discussed the German shepherd and their required crate size briefly.
Therefore, choosing the right size crate for your German shepherd will be a straightforward task.
What Size Crate For German Shepherd?
German shepherds are a large dog breed, and they need a large space inside the crate. Thus, a crate for the adult German shepherd should be at least 36 inches long, while 42 inches is preferable. Generally, the crate dimensions for an adult German shepherd are 42L x 28W x 31H.
German Shepherd Size Guide
The German shepherd is an increasingly popular breed and is famous for its intelligence, obedience, and loyalty.
In fact, these endearing personalities make crate training quite easy. But first of all, you will need to choose the best size crate for a German shepherd.
Generally, the crate size for a German shepherd relies on the size of these breeds. They are large dog breeds and take up to 36 months to reach their adult weight.
The shoulders of the German shepherd can be 22 to 26 inches tall, and their weight can go up to 50 to 90 pounds.
Male German Shepherds are generally weighty than females.
Some dogs can also have different sizes and weights than others. So the best thing to do will be to look at their parents to determine the adult size of the puppy.
But is the size of the German shepherd the only deciding factor? No.
The Right Size Crate for a German shepherd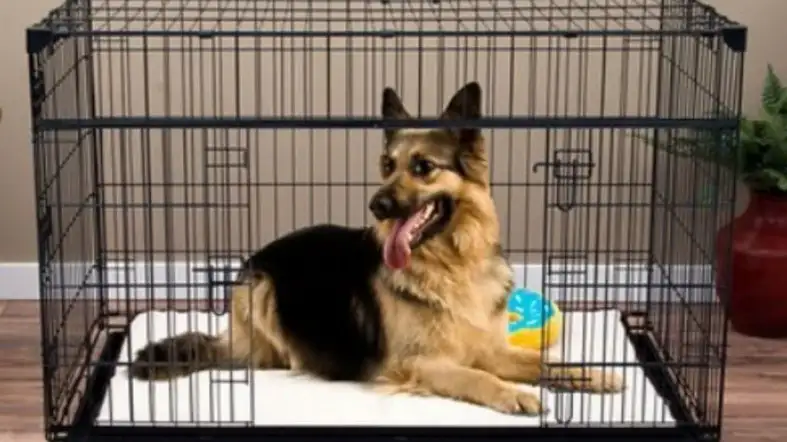 The right size dog crate should allow these to the German shepherd:
Turn around fully
Lie on their side stretching out the paws.
Sit up without crouching the head
It seems you will need a big crate for your German shepherd.
When it comes to the right size crate, 42 inches is the minimum length, but 48 inches is the most preferable.
It is especially true for an adult or male German shepherd.
You can also consider an even larger dog crate, as the dog crate for a German shepherd goes up to 72 inches in length.
>> What size kennel for a 40 pound dog?
Stick With The Perfect Size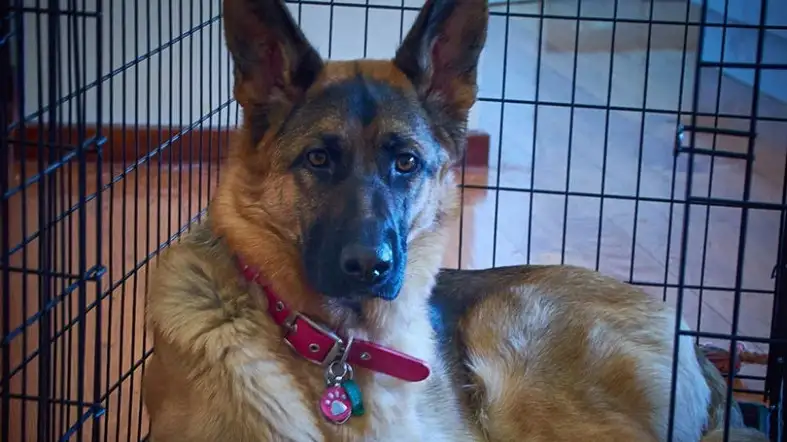 You may be wondering why you should not go for a larger size when such a large selection is available. Choosing larger dog crates can bring plenty of difficulties.
Firstly, you will require enough space for the larger crate. It's quite difficult to manage a larger space for placing the dog crates.
During housetraining, your German shepherd can use half of the crate as a toilet instead of using the whole crate for sleeping.
Conversely, crate training is much easier in the right-sized crate. Thus, it's better to use the appropriate size crate.
Does a German shepherd puppy need a crate?
While researching German shepherd crate size, you should consider whether you require a crate for a puppy or not. The reason is that many people adopt puppies.
Though you can raise your German shepherd without a crate, using a crate can bring plenty of benefits.
A German shepherd crate can aid your puppy with toilet training, wild behavior, excitability, and even harsh tendencies.
If you are interested in a crate for your German shepherd puppy, you should remember that the crate size for a puppy is quite different from an adult.
>> What kennel size for golden retriever?
German shepherd Puppy Crate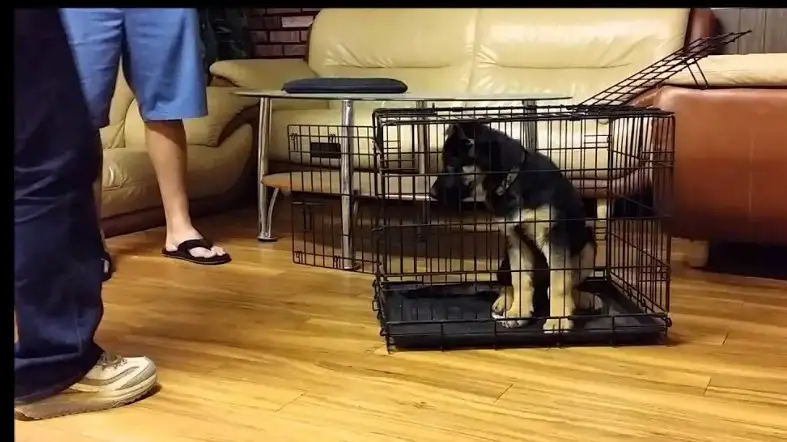 So, what size crate is best for a German shepherd puppy? While 42– 48″ is perfect for an adult German shepherd, choosing the right size crate for the puppy is quite tough.
The reason is that puppies grow quickly and offering something too small can cause discomfort, and something too big will lead them to soil the crate.
Even buying an exact size crate can be expensive as you will need to change the crate every few weeks.
So the best thing you can do is to get a full-size dog crate with a divider.
The divider is a sheet that is made of metal or plastic and allows you to strict the room for the dog.
It means you can customize the crate to provide the exact size for the puppy at various ages as they grow.
Doing so will save large amounts of money that may cost multiple crates. At that time, the dog will have the perfect size crate doer their proper training.
>> What size crate for a Goldendoodle?
Uses of a Dog Crate
Dog crates have some incredible uses. The following are four key reasons for buying a crate for a German shepherd:
Crate Training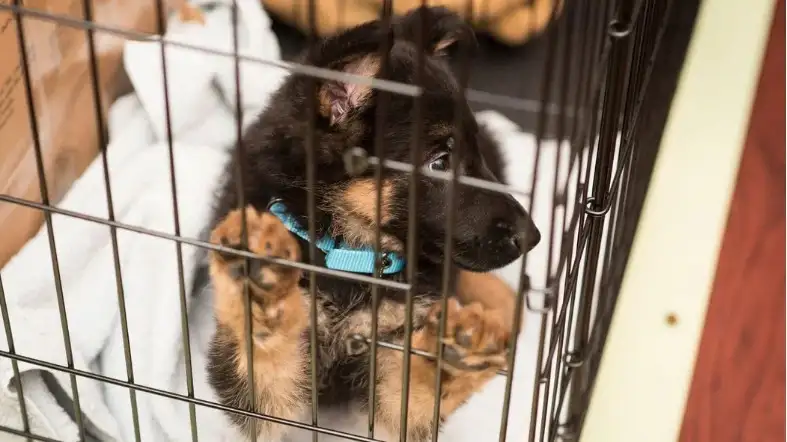 Planning for German shepherd training? Housetraining is the main target for most pet owners.
The puppy will accept the right-sized crate as a resting area and won't spoil it by using the crate as a toilet.
You can also add blankets, cushions, or cover the bottom with a sheet to let the pet use the crate as a resting area.
Cool Down Area
As an experienced pet owner, you should know that a puppy can get over-excited at a certain point, especially during playing with kids, friends, or other dogs.
A dog crate is a handy solution to calm the puppy down if they get over-excited.
It will also let you isolate your German shepherd from the excitement of the house and keep them cool.
Their Own Space
Sometimes, dogs require a peaceful place to rest. So, offering a crate to a German shepherd will let them relax whenever they want.
In fact, dogs are also naturally denning animals
Avoiding Destruction
Closing the German shepherd in the crate can also offer you a safe house.
A dog crate will be a lifesaver to prevent destruction if your pet tends to chew or dig at things.
A crate will also prevent the dog from accessing your private areas, especially when you aren't around them.
>> What size crate for a 50lbs dog?
FAQs About German Shepherd Crate
Is A Crate Good For A German Shepherd?
Yes, German Shepherds do well in crates. Even teaching the German shepherd to use a crate aids in keeping them calm in new situations. It also offers them a comfortable place to rest and sleep.
Where Should Your German Shepherd Sleep?
If your German shepherd is a puppy, it should sleep in the crate. An adult German shepherd can sleep outside or whether they feel good, but the crate is the best place for a puppy.
How To Crate Train A German Shorthaired Pointer?
To encourage your German shorthaired pointer to go into the crate, throw a treat in the crate. Make sure your German shorthaired pointer sees it. To let the pet go inside, speak their name. Practice this command regularly to let the dog make it a habit.
Final words
Crate training is an important yet helpful step in housetraining a German shepherd, but it can be tough without using the right size crate.
Therefore, determining what size crate for German shepherds is vital for their proper training and comfortable sleeping.
After reading the guide now you should be able to pick the right size crate whether it is for puppy medium or adult German shepherd.