When it comes to finding the perfect crate for your golden retriever, size definitely matters.
After all, you want your furry friend to have plenty of space to move around and be comfortable, but you also don't want a crate that's too large and overwhelming.
So, what's the ideal size crate for a golden retriever?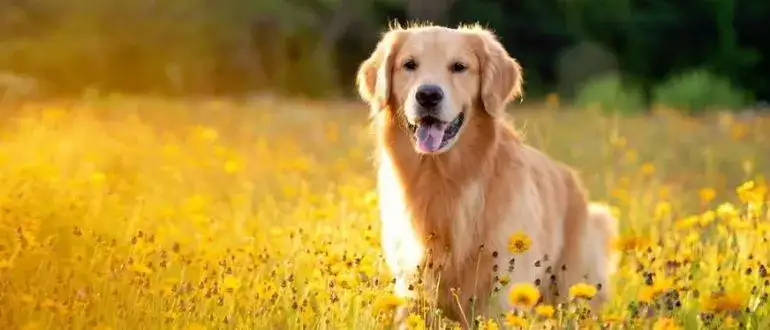 What Size Crate For Golden Retriever?
For a Golden Retriever, a crate that is 42 inches long by 28 inches wide by 31 inches high is generally suitable. This size allows enough space for the dog to stand, turn around, and lie down comfortably.
Crate size chart for Golden Retriever:
| Age | Weight | Height | Crate Size |
| --- | --- | --- | --- |
| 8 weeks | 10-15 lbs | 9-11 inches | 24 inches |
| 16 weeks | 30-40 lbs | 14-16 inches | 30 inches |
| 6 months | 50-60 lbs | 18-20 inches | 36 inches |
| Adult | 65-75 lbs | 21-24 inches | 42 inches |
What Are the Different Crate Types for Golden Retrievers?
These are some of the most common types of crates:
Wire Crates
Wire crates are made of metal wires that form a cage-like structure. They are very sturdy, durable, and easy to clean.
They also provide good ventilation and visibility for your dog. You can fold them flat for storage or transport. Wire crates are usually cheaper than other types of crates.
Plastic Crates
Plastic crates are made of hard plastic with a metal door. They are lightweight, portable, and easy to clean. They also provide more security and privacy for your dog.
Plastic crates are ideal for traveling by car or plane, as they meet most airline requirements.
Soft-Sided Crates
Soft-sided crates are made of fabric with a metal or plastic frame. They are very lightweight, flexible, and easy to carry.
They also provide a soft and cozy environment for your dog. Soft-sided crates are great for short trips or indoor use.
Heavy-Duty Crates
Heavy-duty crates are made of strong metal or aluminum with reinforced doors and locks. They are very tough, secure, and durable.
They also provide good ventilation and visibility for your dog. Heavy-duty crates are perfect for dogs who are escape artists or destructive chewers.
Furniture Crates
Furniture crates are made of wood or other materials that blend in with your home decor. They are very stylish, elegant, and functional.
They also provide a dual purpose as a crate and a piece of furniture. Furniture crates are ideal for dogs who are well-behaved and crate-trained.
>> What size cage for a Great Pyrenees?
Determining the Right Crate Size for Your Golden Retriever
To do this, measure your dog and compare it to the crate dimensions. Here's how: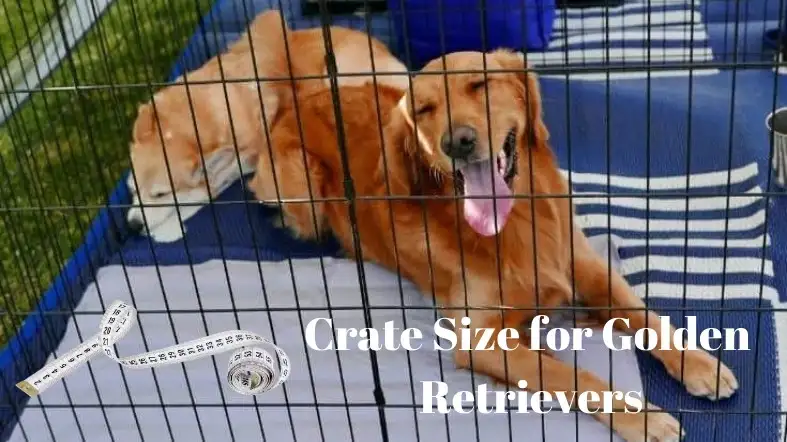 Step 1
Measure your dog's length from the tip of their nose to the base of their tail. Add 2-4 inches to this measurement. This is the minimum length of the crate you need.
Step 2
Measure your dog's height from the top of their head to the floor. Add 2-4 inches to this measurement. This is the minimum height of the crate you need.
Step 3
Measure your dog's width from the widest point of their body. Add 2-4 inches to this measurement. This is the minimum width of the crate you need.
Step 4
Compare your measurements with the crate dimensions and choose the one that is closest to your dog's size. If your dog is between two sizes, go for the larger one.
>> What crate size for a 50 pound dog?
Factors to Consider When Choosing a Crate for a Golden Retriever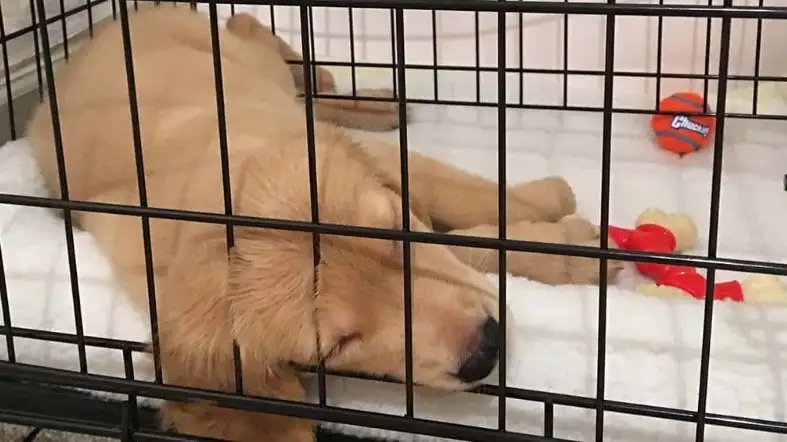 Age and Size of the Dog
When choosing a crate, consider your dog's age and size. Puppies need a crate with a divider panel. This lets you adjust the crate's size as the puppy grows.
Adult dogs might need more durable crates, like heavy-duty or furniture crates. These are stable and ensure your dog won't break out or damage it.
Purpose of the Crate
The purpose of the crate is a crucial factor. House training requires a crate that's easy to clean with good visibility, like wire or plastic crates.
For traveling, opt for lightweight and portable crates. Soft-sided or plastic crates are ideal as they comply with most airline regulations.
Sleeping or relaxing needs a cozy, stylish crate, such as furniture or soft-sided crates.
Material and Durability
Focus on material and durability when choosing a crate. For chewers, metal or aluminum crates are tough and resist damage.
Dogs who prefer comfort may like fabric or wood crates more. These crates are soft and warm, and make dogs feel secure and comfortable.
Ventilation and Visibility
Ventilation and visibility are crucial. In hot climates, choose a crate like wire or plastic one with good ventilation.
In darker areas, a fabric or wood crate might be more suitable. These crates keep your dog warm and cozy.
Accessibility and Portability
Dogs who need frequent access require crates with simple latches or locks, such as wire or plastic crates.
For occasional access, a heavy-duty or furniture crate with secure locks is suitable.
Frequent travelers should choose lightweight and foldable crates, making transport and storage easy.
Cleaning and Maintenance
Dogs who shed a lot or are messy need easy-to-clean crates, like wire or plastic ones.
For those who are less messy, fabric or wood crates may suffice. These require less frequent cleaning.
Safety and Comfort
Safety and comfort are paramount. Chewers need safe and sturdy crates, like metal or aluminum ones, with chew toys or bones added.
Dogs who like comfort may prefer fabric or wood crates. Adding bedding or blankets can make these crates more comfortable.
Price and Warranty
If on a budget, affordable and reliable crates like wire or plastic ones are ideal. Look for good warranty terms or money-back guarantees.
Those with flexible budgets might opt for higher-end crates, such as heavy-duty or furniture crates with longer warranties or lifetime guarantees.
3 Best Crate For Golden Retriever
1. ICrate Double Door Folding Metal Dog Crate Large Dog
Large Dog Crate 1542DDUMidWest ICrate Double Door Folding Metal Dog Crate Large Dog, Black, 42-Inch w/ Divider
ICrate the 'All Inclusive Dog Crate' Includes Free divider panel, durable dog tray, carrying handle, 4 'roller' feet to protect floors and the midwest quality guarantee 1 year warranty
Large double door folding dog crate ideal for dogs w/ adult weight of 71 to 90 pounds, convenient divider panel allows crate to expand as your dog grows, mesh 1.5 x 7 7/8 inch; crate size 42 length x 28 width x 30 height inch
Your dog's home while you're away from home: Durable design creates a safe place for your pet while you're away and caters to your dog's natural "den" instincts
Safe and Secure Home: Two heavy duty slide bolt latches firmly locks dog crate door in place, keeping your dog safely inside their dog crate; ABS plastic pan Included provides a flat floor for the comfort of Your dog, plus it is WaterProof and will contain Spills if he has an accident
Easy assembly and portable design: Sets up in seconds w/ no tools required for assembly and folds flat for convenient storage or travel, Roller feet protect hardwoods, make repositioning easy
Black electro-coated finish
Check Latest Price On Amazon
2. New World Double Door Folding Metal Dog Crate
3. KELIXU Heavy Duty Dog Crate Ultra-High Hardness Enhanced Steel Pet Kennel Playpen
KELIXU 46″ Heavy Duty Dog Crate Ultra-High Hardness Enhanced Steel Pet Kennel Playpen with Two Prevent Escape Lock, Large Dogs Cage with Four Wheels, Upgraded, Black
Absolutely safe & reliable: The heavy duty dog crate is made from corrosion-resistant,surface non-toxic steel and welded parts,which means KELIXU dog kennel can prevent the most aggressive canines from escaping.
Different from the regular one: If your dog is very destructive(an escape expert), we recommend that you choose the updated dog cage,because its lock is more secure.And the tube of the upgraded dog cage is thicker than the regular, which can effectively prevent the dog from biting through the dog cage.
Optimal ventilation & visibility:The sturdy metal frame and one single door not only allow you to interact with your dog, but also provide optimal ventilation and visibility which offer your dog a comfortable environment.
Easy to clean & move : Removable (slide-out) plastic tray and 360 degree rotated locking casters help you to catch the fallen dog food and excrement, and allows you to wipe and clean easily.
Installation & aftersales service: All hardware pack and assemble instructions with pics included, Just takes 2-4 minutes to complete.Overall Dimensions: 37.5″L X 25.5″W X 32″H. If your dog cage has a problem within three years, we will be responsible for it
Check Latest Price On Amazon
FAQs About Right Size Golden Retriever Crate
Is A 36-Inch Crate Too Large For Golden Retriever?
The 36-inch crate is the perfect size for a female golden retriever.
When Do You Stop Keeping The Golden Retriever In The Crate? 
If your golden retriever has grown up fully and reached two years of age, you can stop keeping them in the crate.
Do Golden Retrievers need a lot of space?
Golden Retrievers are relatively active dogs, so they will need a fair amount of space to run and play.
How can I get my Golden comfortable staying in their crate?
Use treats and praise to reward voluntary crate entry and make it a positive place. Never force them in or use them as punishment.
Final words
It's a bit difficult to decide what size crate for golden retrievers as these breeds grow quickly.
Consider a 42-inch long crate as the golden retriever doesn't grow larger than this size.
But if you have a puppy or growing retriever, use a divider to offer them the perfect room at every stage of their age and finally remove it if they are grown-up.
Make sure the dog crate is sturdy, comfortable, and provides enough security.