If you're in the market for a new pet and are considering a 40 lb dog, you'll need to make sure you have a crate that's the right size.
Too small and your dog will be cramped and uncomfortable, too large and your dog will be able to potty and sleep in one spot.
So, this article will let you know what's the right size crate for a 40 lb dog. 
What Size Crate Do I Need For A 40 Lb Dog?
A crate that is 24-36 inches long should be the right size for a 40 lb dog. It is important to remember to measure your dog before purchasing a crate to ensure that it is the right size.
Find out the crate sizes for a 40 lb dog from the below chart.
How To Know The Right Size Crate For A 40 Lb Dog?
When determining the proper size crate for a 40 lb dog, all you need to know about the exact size of your dog.
Measure the dog's height from top to bottom and the length from nose to tail. Then add 4 inches more to the dog's size for the optimal crate size. 
It shouldn't be too large or too small because too small will not fit the dog, and too large will waste money.     
What Are The Benefits Of Having A Crate For A 40 Lb Dog?
A crate satisfies your dog's natural want to be in a case, preventing difficulties that uncrated dogs experience.
Also, it will create a peaceful environment around you. There are also some other benefits. Have a look. 
>> What size crate for a Siberian husky?
Happy Travelling 
You won't want your dog to roam around you wherever you go, and also, you will enjoy your dog carrying to anywhere you want.
So, make your travel hassle-free with a perfect size crate for your dog.
Calmness Around You
Dogs are barking a lot. That can bother you a lot. So, keep it calm, and for a peaceful environment, a crate will definitely help you.
Keep it in its proper size crate with some food or toy when it bothers you. 
Making A Space For The Dog
Dogs also need a proper place to rest. It is very important for an excited dog. A correct size crate can be that place for a dog. 
Controlling
Often, dogs become so excited that they can lead it to bite someone. Also, sometimes they chew or make cracks in the furniture.
That is why it is safe to keep the dog inside the crate.
>> What size carrier for a Great Pyrenees?
How To Choose The Best Size Crate For A 40 Lb Dog?
Choosing the best size crate for your 40 lb dog can be trouble-free by following these below factors. 
Types
The crate types will depend on the size, nature, and the purpose of keeping the dog. 
Soft-sided Crate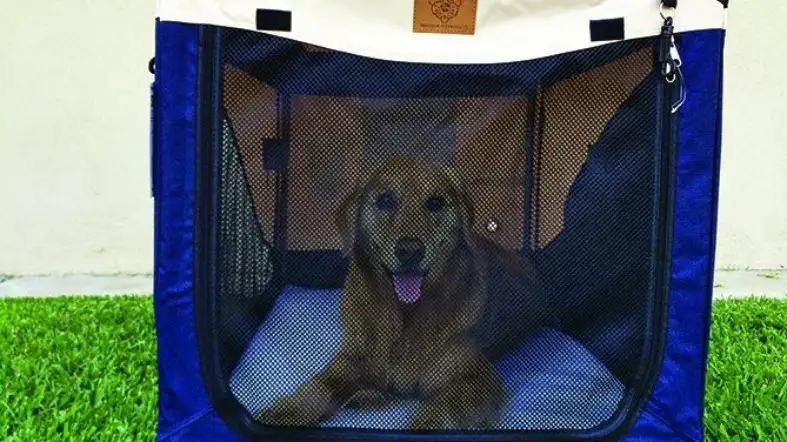 These crates are composed of soft mesh or material with comparable properties to mesh.
They are simple to use with your dog for aircraft travel because most airlines allow these cages to be used in cabins.
Plastic-made Crate
These are more durable than soft-sided crates and provide your dog with greater privacy than wire dog crates.
They are simple to clean and are accepted by the majority of airlines. They are also firm and cannot be damaged by dogs.
Metal-wire Crate
It is pretty sturdy and lets your dog see what is going on around it. They allow air circulation and allow your dog to participate in family activities.
Wooden Crate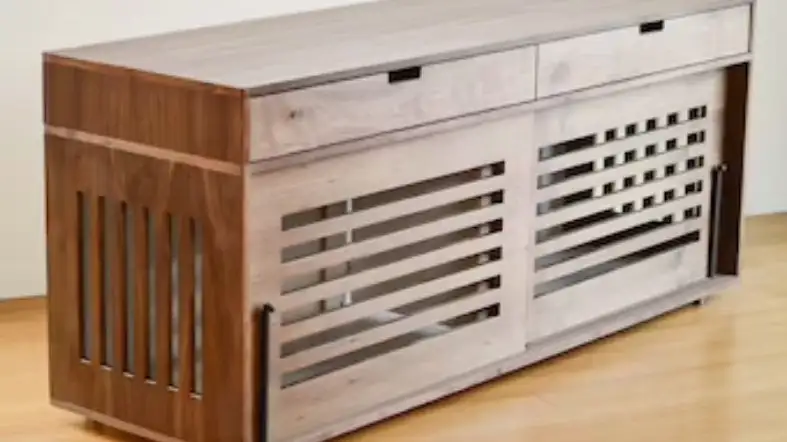 These are the most appealing of the crates, and the varied tones of brown will complement your décor. They are ideal for indoor use.
You may select various types and sizes, such as a crate serving as an end table.
Combination Crates
These cages combine the benefits of both metal dog crates and plastic or wooden crates, and they are available in a variety of sizes.
They include wheels on the bottom to make transportation more manageable and easy-access doors.
Purpose
Choose a crate that can endure different weather conditions to avoid replacing your dog's crate regularly.
If you want to utilize your dog's crate as a mode of transportation, search for something portable and comfy.
>> What size crate for a Siberian husky?
Accessories
After choosing your crate, you may need to add a few extras to make it ideal for your dogs, such as crate trays, dog crate coverings, casters, and other accessories. 
Storage
Soft-sided and wire dog crates are excellent alternatives since they are simple to assemble and disassemble.
Plastic dog crates are more challenging to put up and tear down, but they may be utilized if you have enough storage space.
A wire crate will promote air circulation in warmer climates, keeping your dog cool.
The size of your container will also impact the convenience of storing, so keep that in mind.
Best Dog Crate For A 40 Lb Dog
1. MidWest Folding Metal Dog Crate w/ Divider Panel
MidWest I Crate 1524 -24 Inch Folding Metal Dog Crate w/ Divider Panel, Small Dog Breed, Black
ICrate the 'All Inclusive Dog Crate' includes free divider panel, durable dog tray, carrying handle, 4 'roller' feet to protect floors & the Midwest quality guarantee 1 year warranty
Small single door folding dog crate ideal for dog breeds; Dog weight 11 to 25 pounds; Convenient divider panel allows crate to expand as your dog grows, iCrate measures 24 length x 18 width x 19 height inches
Your dog's home while you're away from home: Durable design creates a safe place for your pet while you're away & caters to your dog's natural "den" instincts
Safe & Secure Home: Heavy duty slide bolt latch firmly locks dog crate door in place, keeping your dog safely inside their dog crate
Easy assembly & portable design: Sets up in seconds w/ no tools required for assembly & folds flat for convenient storage or travel, roller feet protect hardwoods, make repositioning easy
Check Latest Price On Amazon
2. Amazon Basics Foldable Metal Wire Dog Crate with Tray
Amazon Basics Foldable Metal Wire Dog Crate with Tray, Single Door, 30 Inch
Dog crate with a single front door entry; designed with your pet's safety, security, and comfort in mind
30-inch indoor dog crate made of durable metal wire; sturdy base tray and top handle included
Reliable manual locking mechanism for safe and secure containment
Folds flat for easy portability and compact storage; removable plastic base tray for easy cleaning
Product dimensions: 30 x 19 x 21 inches (LxWxH)
Your dog should be able to stand up and turn around while in the crate. Measure your dog from nose to hind end while they are standing, and from the top of their head to the floor. Add 4 inches to those measurements to confirm optimal crate height and length.
Assembly and safety instructions are included; please read all safety instructions prior to use.
Check Latest Price On Amazon
3. Petmate Vari Kennel Heavy-Duty Dog Travel Crate
Petmate Vari Kennel Heavy-Duty Dog Travel Crate No-Tool Assembly, 36″ Long, 50-70 lb, Taupe/Black
TRAVEL KENNEL: This medium dog travel kennel features tie-down strap holes, wire vents for ventilation a raised interior to keep pets safe and comfortable Perfect for dogs 50-70 lbs Measures: 36″
AIRLINE-ADAPTABLE: This extra large dog crate meets most airline cargo specifications Made with heavy duty recycled plastic material The travel crate features an easy-open front latch to quickly access pets
KENNELS HOUSES: Crate kennel training is vital for dog safety comfort We provide traditional travel carriers, wire training exercise kennels, play pens, barn-style dog houses more
Petmate: For over 50 years, we at Petmate are passionate about our dogs, cats furry friends in general Starting with the very first dog kennel, we've produced plenty of eco-friendly products that pets will love
JUST FOR PETS: Petmate makes a variety of pet products for dogs, cats, chickens other small furry friends Check out our brands such as Aspen Pet, Arm Hammer, Booda, Chuckit, Jackson Galaxy more
Check Latest Price On Amazon
FAQs About The Right Size Crate For A 40 Lb Dog
Will My Right Size Crate Allow Me To Cage My 40 Lb Dog For 12 Hours?
You can keep your 40 lb dog for 12 hours a day, but it will be harmful to the dog. A dog can sleep through the night in his crate, but it should not be crated for 12 hours during the day.
Can I Keep Two Same-Size Dogs In A Crate For One?
The answer is no. Because there will not be enough space for them in the crate of 24" to 36". And keeping two dogs together can be dangerous. 
Can I Have A Bed For My 40 Lb Dog In The Crate? 
Yes, you can have a bed in the crate for your 40 lb dog if it likes to have one. When adequately trained up for laying on the bed, bring a bed for the dog. 
The Final Verdict
Dog's crate is similarly necessary to the dog's food. And a crate with the perfect length and height is all the required way. 
So, bring the right size crate for a 40 lb dog by following this article.