A curling iron is for short hair, always confusing as they all look similar.
There are some very fantastic curling irons out there, especially if you're searching for one that will make your short hair amazing.
So, depending on your hair length and style, the following advice will help you determine the iron size for your short hair.
What Size Curling Iron Do I Need For My Short Hair?
For short hair, you will need ⅜" curling iron. But the sizes vary with the short hair length.
Let's check out which size is perfect for different hair lengths.
What makes a curling iron ideal for short hair?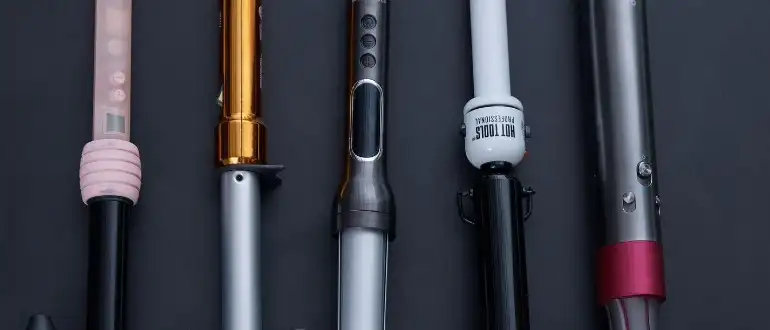 The hairstyle you wish to create will play a factor in finding the ideal curling iron for your short hair.
Short hair is difficult to curl. You can use a smaller barrel, a higher heat setting, and begin with tighter curls since strands will loosen under their weight.
How To Choose The Best Size Curling Iron For Short Hair? 
To clear your confusion about curling iron you can go through with some considerations such as Barral size, heat, metal, and so on.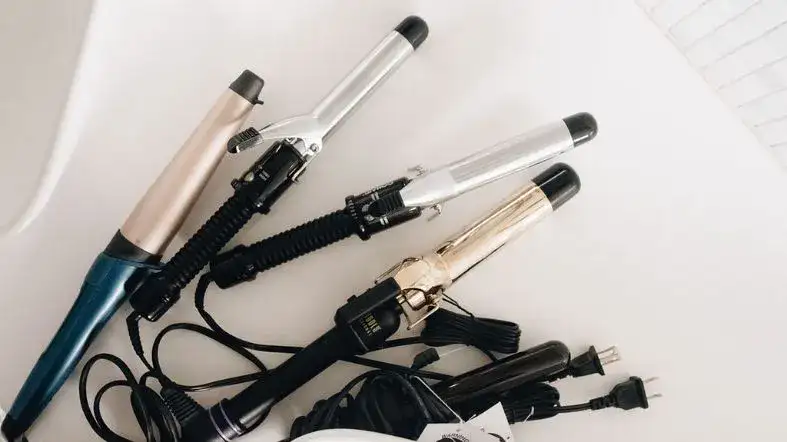 Consider The Size Of The Barrel
Your barrel size should be determined by how tight or loose you want your curl.
The general guideline is that the tighter the curl, the smaller the barrel size. Shorter hairstyles benefit from smaller barrels, which provide volume and curl.
>> What curling iron size for thick locks?
Find The Best Metal
You should choose your curling iron carefully. As it curls, a tourmaline iron infuses hair with a little amount of steam, which adds shine.
Titanium may also be found on retail shelves. 
Adjustable Heat
If you have fine-treated hair, you should keep the temperature below 300 degrees.
Normal, medium hair can withstand temperatures ranging from 300 to 380 degrees, also, thick strands require temps ranging from 350 to 450.
>> What size curling wand for long hair?
Type
Consider if you like to curl your hair with a wand or an iron before getting a curling iron. 
A clip holds the curl in place with an iron, but a wand needs you to keep the curl in place. Both can provide the same outcomes, so it's just your personal choice about choosing.
Spend Money On Extras
Curling iron accessories may make your life simpler and can be worth the extra money.
A spinning barrel ensures that the curling process is error-free. You may also seek a wand with a replaceable clip. There are also irons with replaceable barrels, and so on. 
>> What curling iron size for loose curls?
What Size Curling Iron Do I Need For Different Short Hair Fashion?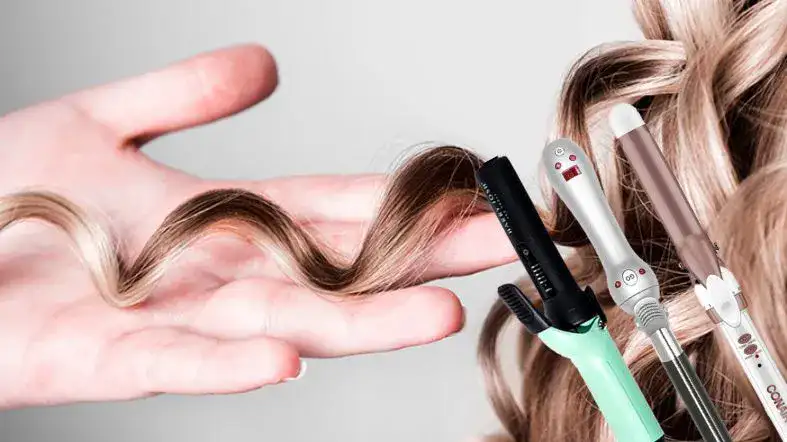 It might not be very difficult to curl your short hair with various sizes of a curling iron.
Because your hair may have a different cut and style. It depends on what your hair is comfortable with.
Curling Iron for Beachy Waves
Summer hairstyles are all about beachy waves. The 1 ¼ " curling iron Barrel is acceptable for practically all hair lengths (shoulder length).
This barrel size is ideal for creating any kind of waves or curls.
Curling Iron for Pixie Cut
It would be absurd to style a pixie cut with a curler with a large barrel.
Curling iron barrel sizes ⅜"- to ½ " are suggested for adding curls to your crown. Short hair with tiny barrels is easy to style.
Best Curling Iron For My Short Hair
Perfect For Short Hair: Hot Tools Pro Artist 24K 3/8 Inch Gold Curling Iron/Wand
Hot Tools Pro Artist 24K Gold Curling Iron/Wand | Long-Lasting, Defined Curls, (3/8 in)
SIGNATURE GOLD: This versatile gold curling iron and wand is the tool of choice for professional stylists. Barrel helps you create super tight curls.
LONG-LASTING: Go for the gold for gorgeous curls. Heats up quickly and holds heat evenly. That means faster styling and locked-in results.
VERSATILE STYLING: Whether you choose to use as a traditional curling iron or wrap hair around the barrel to use as a wand.
ALL HAIR TYPES: A high heat reach of up to 430℉ provides beautiful results for all hair types from thin to coarse and in between.
EASY STORAGE: Foldaway safety stand for easy storage. Enjoy free range of movement with 8ft. of a tangle-free swivel cord.
SYLISTS PREFERRED: Hot Tools heritage is rooted in the professional community. We're proud we've been a trusted, stylist-recommended brand since we began in 1990.
Check Latest Price On Amazon
Chin-Length: Tyche Professional 5/8 Inch Ceramic Curling Iron
Short Bob Or Chin-Length: Hoson Professional 1/2 Inch Curling Iron
Hoson 1/2 Inch Curling Iron Professional, Ceramic Tourmaline Curl Wand Barrel, Hair Curler Iron for Long & Short Hair
NO HAIR DAMAGE TOURMALINE CERAMIC TECHNOLOGY CURLING IRON: The 1/2 inch curling iron with tourmaline ceramic coating barrel will eliminate static and keep moisture by releasing millions of negative ions instantly while working, creating loose and soft hair styles with less frizz. Making curls last for a whole day. The curling iron uses long barrel design(8.3 inch), is suitable for medium and long hair.
60S FAST& EVENLY HEAT-UP HAIR IRON: Tired of always long-hour waiting? The curling iron with Dual PTC heater inside, button on, the iron will rapidly heats up to 225°F in only 60s for instant styling. The barrel also provides heat evenly with less hair damage effectively.
ACCURATE INTELLIGENT TEMPERATURE CONTROL: The curling iron adopts LCD display control function to achieve stable heating and precise temperature adjustment from 225°F to 450°F, which may suit thin, normal even thick, coarse hair conveniently.
SAFE & BETTER USABILITY: The curling iron with anti-scald insulated wand tip makes styling your curls easier and more convenient. 360° swivel cord long enough(78 inch) to create curls flexibility. 60 mins auto shut-off and built-in clip holder makes this curling iron more safe.
24 HOURS PERFECT CUSTOMER SERVICE: This curling iron providing dual voltage compatible 100V-240V for worldwide use and it's suitable for family use. Hoson provides Life-time product service, if there are any problems, we are always at your service.
Check Latest Price On Amazon
Almost Any Hair Length: REVLON Perfect Heat 3/4 Inch Ceramic Curling Iron
Short Hair: T3 – SinglePass Curl 1 Inch Professional Ceramic Curling Iron
Shoulder Length: FHI HEAT 1 ½" Ceramic Professional Curling Iron
How To Use The Right Size Curling Iron For My Short Hair? 
If you opted to go short for summer after lusting over the trendiest summer hairstyles but now have no idea how to curl
You may curl freshly washed and blow-dried hair or hair from the day before.
Wash your hair for 1-3 days before curling it. This causes natural oils to accumulate, making your hair seem lustrous and helping it to maintain curls better.
Before utilizing any tools, apply a heat protection spray to your hair.
To give your roots more volume, use a  texturized.
Plug up your curling iron near a suitable area, and let it heat up for 2-3 minutes.
Use a hot barrel [according to the length of your hair] without the clip, roll the hair around it, and let loose.
Hold the hair on the iron for 10 seconds before releasing it.
For added grip and definition, have to use a texturizing spray.
To release curls, flip hair over and shake it out.
If your curls need a moisture boost, apply a pea-sized quantity of hair oil to them.
FAQs About The Right Size Curling Iron For Short Hair
Is Curling Iron Good For Short Hair? 
If you have a perfect size (smaller)  barrel, according to your hair longer then it is better to use a curling iron for your short hair.
The tool will be easier to operate with a smaller barrel, and you will be able to wrap a full section of hair around it.
Can I Use A Rotating Curling Iron For My Short Hair?
Rotating curling iron can bring a perfect wave to your short hair. Tight curls, loose beachy waves, and glam waves are three different styles you may achieve through this rotating curling iron. 
Which Is The Smallest Size Of Curling Iron For Short Hair?
A ½ " curling iron is that the smallest size among all of them used for short hair. It is used for too short hair, like, short bob, or chin-length hair to gain extremely tight curl hair. 
The Final Verdict 
Women are nowadays very conscious about their fashion and also what they are buying.
This article is for those who are very careful about their furbishing item. 
Here we clear you what size curling iron for short hair, and also, give you various tips about this.
So, don't be late, bring your best size curling iron and make your day more stylish.