Due to the multiple benefits of crates poodle owners frequently buy them. When you are buying a poodle crate size is the most important factor.
It will help you to pick the best and most comfortable crate for both poodles and money.
So what size crate is for a standard poodle? Poodle is the most famous dog breed which is stylish but a bit temperamental.
So it is better to crate train your puppies. Let's jump into the article to know the crate size to keep your poodle safe.
What Size Crate For Standard Poodle?
A standard poodle typically needs a 42-inch crate with 30 inches in height.
You should measure the poodle and check the weight to choose the right size crate.
The standard poodle size remains between 18-24 inches and the weight is nearly 40-70 pounds. So if you buy a 42-inch crate it will be ideal for them.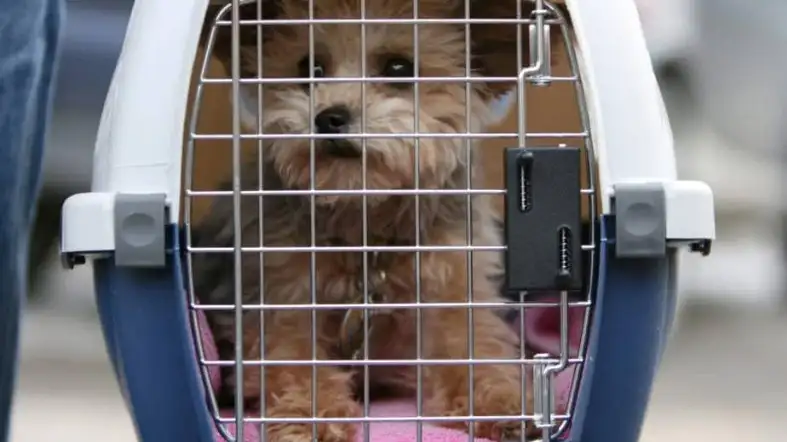 Here's a table on What Size Crate For Standard Poodle:
| Size | Dimensions | Suitable For |
| --- | --- | --- |
| Small | 24″L x 18″W x 21″H | Standard Poodle puppies |
| Medium | 30″L x 19″W x 21″H | Standard Poodles up to 50 lbs |
| Intermediate | 36″L x 23″W x 25″H | Standard Poodles between 50-70 lbs |
| Large | 42″L x 28″W x 30″H | Standard Poodles between 70-90 lbs |
| Extra-Large | 48″L x 30″W x 33″H | Standard Poodles over 90 lbs |
How do I measure my poodle for the crate?
To measure your Poodle for a crate, you should follow these steps:
Measure your Poodle's height:
Stand your Poodle up and measure from the floor to the top of its head or the tallest point on its body.
Add 2-4 inches to this measurement to ensure your Poodle has enough headroom when inside the crate.
Measure your Poodle's length:
Measure your Poodle from the tip of its nose to the base of its tail. Add 2-4 inches to this measurement to ensure they have enough room to stretch out inside the crate.
Measure your Poodle's width:
Measure the widest part of your Poodle's body, typically around its chest or shoulders.
Add 2-4 inches to this measurement to ensure your Poodle has enough space to move around comfortably.
Choose the appropriate crate size:
Once you have all of your Poodle's measurements, compare them to the dimensions of the crates available.
Choose a crate that is at least as tall as your Poodle's height, as long as their length, and as wide as their width.
Test the crate size:
Once you have selected a crate, test it out with your Poodle to make sure they have enough space to move around comfortably.
They should be able to stand up, turn around, and lie down without any issues. If the crate is too small, your Poodle will feel cramped and uncomfortable.
If it is too large, they may not feel secure inside.
How To Choose The Best Crate For A Standard Poodle?
You should consider several factors before buying a crate. In the market, you will find a wide range of crate options that the poodle needs to settle with. 
So you need to ensure a perfect crate for your loving poodle that gives maximum comfort, durability, and security.
To balance all these features you can follow the below guide.
Size
Your poodle needs enough space to move and stand inside the crate.
If you buy a small size crate that won't give sufficient space will give your an uncomfortable feeling to your poodle. Even it can make them angry or temper.
You should not buy a too big crate. You need the right size crate according to your poodle size.
A standard to medium size poodle needs a 42 inches crate of 30 inches in height. So first measure your poodle and choose a crate according to its need.
Built-Quality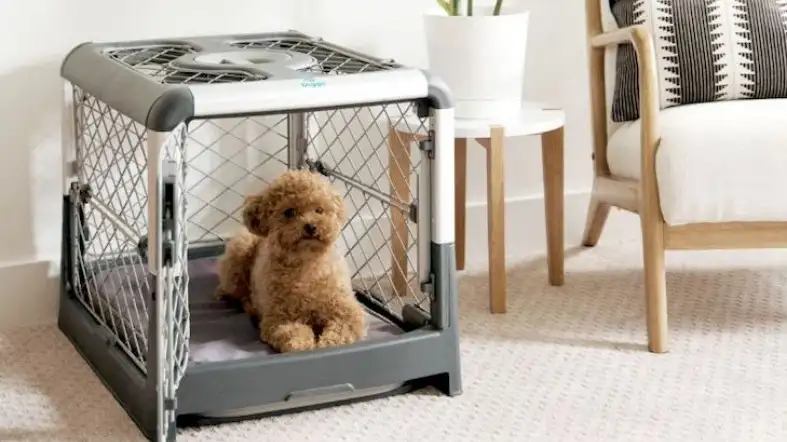 A good quality crate is available in the market. But it is more expensive than the flimsy crate.
So you should invest a standard amount of money to buy a solid-built crate. Go for a sturdy and well-built crate so that the poodle can't chew the crate.
It is better to pick a crate that is made with strong metal wire to ensure proper security.
This type of crate is not breakable. So if you are not home yet your poodle is safe. For the active dog, you must need the strongest crate.
So if you have a temperamental poodle then thick metal crates are the best option. Luckily this type of crate is highly durable so it is worth the cost.
Comfort
There is no doubt that the dog is not found crate as a comfy place. Yet you should try to give proper comfort inside the crate so that it won't become angry.
You can use mattress-style beds inside the crate to give the puppy the comfiest places to lay.
If your poodle is a high comfort lover you can also add a small pillow to train the crate.
Some good-quality crate comes with a bed as a package. So you don't need to buy an extra bed.
Activity
Don't be fooled by the stylish teddy bear outlook of your poodle. Yet it looks pretty It is one kind of hunting dog that is too energetic and active.
As poodle is super active when you try to train them to crate it is essential to ensure that you give them time for proper exercises. 
The poodle will be anxious inside the crate and do destructive activities.
You will damage your crate and causes injuries to your favorite poodle. So don't forget to balance your exercise routine before training your crate.
Using purpose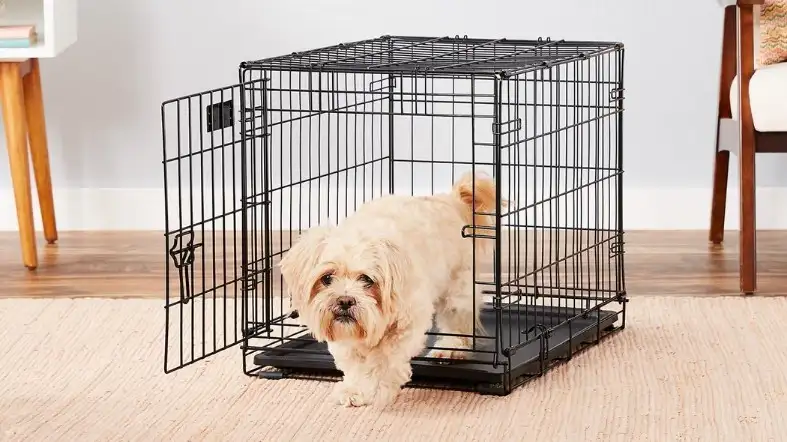 In the market, three types of crates are available: metal crate, soft side crate, and furniture style crate.
The best type of crate depends on your requirements. So you first decide the purpose of the crate.
Suppose you need a crate for home then the best type is a metal crate.
But if you are concerned about comfort and appearance then the furniture style is most suitable for you.
On the other hand, travelers need soft-sided crafts. So depending on your purposes the type of crate varies.
If you are Newbie then it is better to buy a crate with a divider. So that you can balance the crate size with your dog's growth.
FAQs About Standard Poodle Crate
What size crate for a standard poodle puppy?
Generally, a standard poodle puppy needs a 42 inches crate.
But you should measure your poodle before buying a crate to avoid wrong purchases.
How to crate train your poodles?
Poodles need to be train crate strategically to avoid unwanted injury.
Follow the below steps:
1. Make the crate attractive and comfortable
2. Ensure proper space
3. Introduce the crate to the poodle positively
4. Don't force the puppy to lie inside
5. Place some toys inside the crate
6. Start feeding inside the crate
7. Every hour take out the poodle outside
When to spay a standard poodle?
You should spay a standard poodle between 3 to 9 months of age.
It is better to neuter the dog before it comes into heat.
Which trimmer is best for a poodle?
To get a perfect trimming experience and give a stylish shape and length to your poodle hair you need a powerful trimmer.
Wahl pro corded and cordless clipper kit is best for poodles.
Final verdict
Now you know what size crate is for a standard poodle.
Besides, the size we also discuss some other important factors that you should consider while buying a crate.
Follow the buying tips to buy the best budget crate for your dog.
Don't forget that a poodle is a hunting dog that can be destructive if you force it to lie in the crate.
So train the crate gradually and carefully to avoid disaster.