What Size Crate For A Shih Tzu? Find Out The Best One!
We may earn affiliate fees for purchases using our links (at no additional cost to you).
The Shih Tzu, or Chrysanthemum Dog, is the 17th most popular breed in the USA.
Though they are fantastic companions, they can nip and bite the children at home, which can be avoided by applying proper crate training.
In this case, you must know what size crate for Shih Tzu is to ensure successful crate training and comfortable home. 
Following we have revealed the right size crate for Shih Tzu and included all the information related to picking the best crate for Shih Tzu.
What Size Crate For A Shih Tzu?
Most adult Shih Tzu prefer a crate that is 24 inches long, 18 inches wide, and 19 inches high. You can offer the same size crate to your puppy Shih Tzu and limit their area with a divider.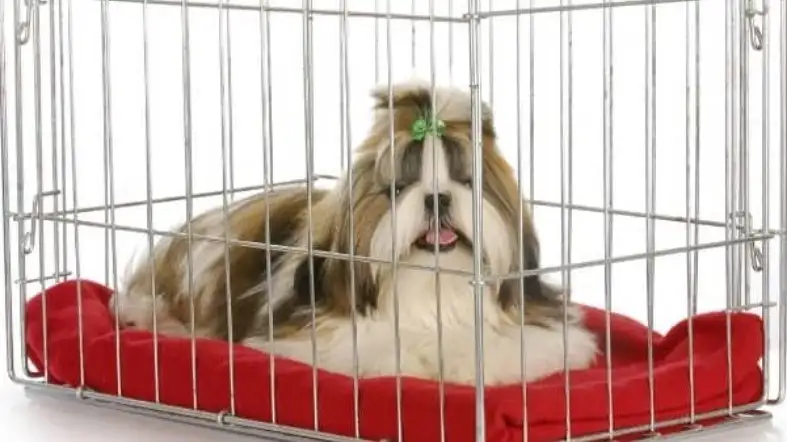 How to determine the right size crate for a Shih Tzu
The right size crate means it should allow you and your Shih Tzu to lie down and turn around comfortably.
However, the crate should be neither too small nor too big. While too small a crate will limit the movement of your pooch, too large a crate won't feel secure, making crate training very difficult. 
Even your Shih Tzu can start leaving poop in one corner of the crate. That's why it's very important to offer the right size crate for a certain breed.
When it comes to Shih Tzu, the recommended crate dimensions are 24L X 18W x 21H or 24L x 18W x 19H.
It means the crate should be 24 inches in length and 18 inches wide, and the height can vary from 19 to 21 inches based on the size of the Shih Tzu.
But it's still better to measure your Shih Tzu to get the exact size crate for your certain aged and sized furry friend.
>> What Size Crate For Great Dane?
Measure your Shih Tzu
To pick the ideal size crate for your Shih Tzu, you have to measure his height, and length.
Keep the dog in a sitting position and measure the height between the floor and his head.
Then add an extra three to four inches to the measurement so your pooch can stand up inside the crate without hitting the roof.
Then they measure from the tip of the nose to the end of the tail of your Shih Tzu to find out his original length.
I like the height. Add four inches to the measurement to ensure enough room inside of the crate so the Shih Tzu can turn around comfortably.
>> What Size Dog Crate For Jack Russell?
Other Things To Consider Before Buying A Crate For Shih Tzu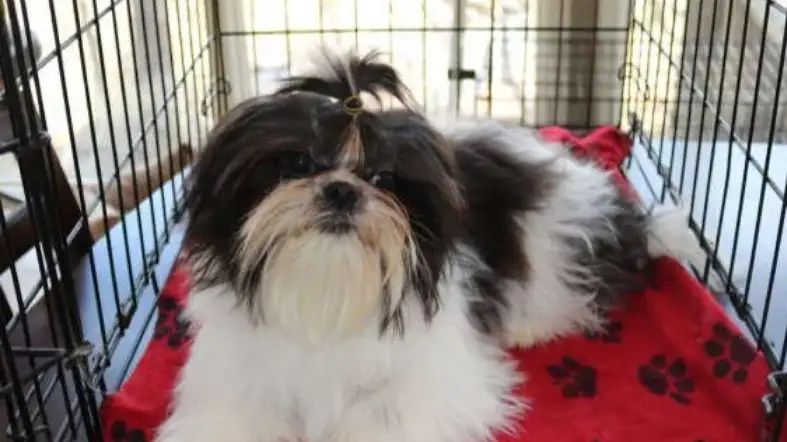 Size isn't the only crucial consideration while searching for the best crate for Shih Tzus. The following are some aspects that are worth checking:
Material
Crates are usually made of different materials, including metal, plastic, and wood. Though wire and metal crates are common options, plastic crates are perfect for traveling.
Conversely, stainless steel crates are, overall, the best option to choose.
Adjustable Divider Panel
This is a smart feature to have in a large crate, especially for growing pups.
This will prevent you from buying several crates along with the growth of the Shih Tzu and ensure the right amount of space based on their size.
What Size Dog Crate For A Great Pyrenees?
Portability
Shih Tzus are a small dog breed, and many pet parents prefer to take them in a crate for transportation.
If you have a plan to travel with your little furry friend, buy a collapsible crate.
You can pack it flat when you don't need it, and this lightweight crate is perfect for moving around.
A crate with soft rubber rollers or wheels is also a handy option to move the crate over the floor without leaving any scratches.
No Sharp Edges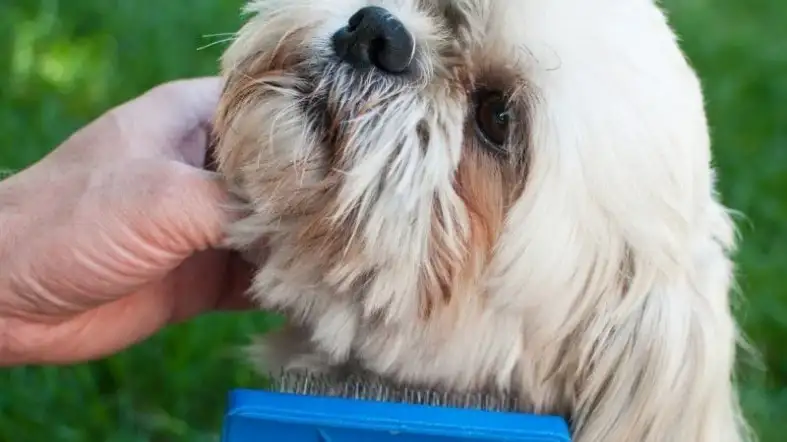 Many normal crates contain sharp edges, which can injure your little pooch while moving around. To avoid this hassle, make sure your crate doesn't have any sharp edges.
What Size Crate For Goldendoodle? All You Need To Know!
Slide-Out Tray
Your Shih Tzu can suffer from stomach upset and start using the potty while in the crate. This can make the floor dirty, and it will be an irritation for you to clean. 
That's why a crate with a slide-out tray would be a smart solution to keep the home environment clean even if your Shih Tzu suffers from diarrhea or other diseases.
FAQs
Should You Put The Shih Tzu In A Crate?
The Shih Tzu is a small and calm dog breed. Unlike a guard dog or hunting dog, they need to feel secure, especially during the night. As a result, a crate is an excellent solution for feeling secure and sleeping soundly at night.
Is Crate Training To Shih Tzu Time-Consuming?
Not at all. It can take around 6 months to fully crate train your Shih Tzu dog. After that, you can confidently leave your little furry friend at home and they will remain happy and safe. However, the crate training must be positive.
Final words
Shih Tzus are small dog breeds but can be aggressive without proper crate training and socialization.
And successful crate training largely depends on the crate and where you'll train them.
That's why knowing what size crate for a Shih Tzu is so important.
Apart from the crate size, the related considerations will also help you pick the best crate so your little furry friend can feel secure and sleep comfortably in his new home.