Want to install a water heater to prepare for the upcoming winter but worry about safety?
In this case, a circuit breaker is a smart idea, but it needs to know what size breaker for a hot water heater.
A right-size circuit breaker is a must to protect the electrical system from shock circuits or other serious difficulties.
Following, we have broadly discussed breakers, water heaters, and a formula to determine the size of a breaker, along with examples.
The working principle of a circuit breaker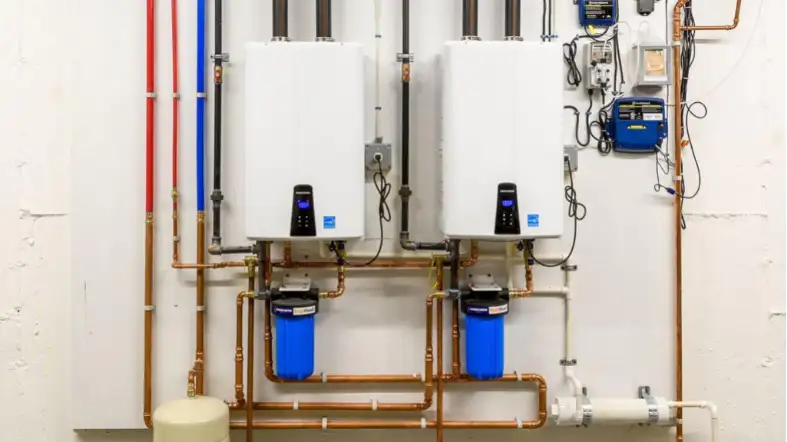 An electric circuit breaker maintains the safety mode of all electrical connections, particularly if there is an event of a short circuit or overcurrent.
It stops the current flow to prevent circuit damage that can end up causing fires and failure of the whole electrical system.
A circuit breaker is a safety device that also prevents electric shock or trouble with the operation of the water heater.
Basic Knowledge About Water Heater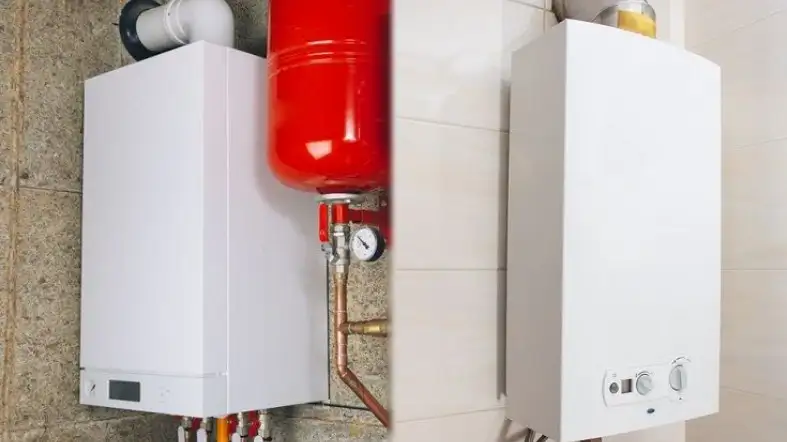 Most homeowners don't check the amperage of their water heaters. Some water heater brands mention the watt and voltage requirements but not the ampacity.
Thus, it's better to check the water heater specifications from the manufacturer as it is essential to determine the right size breaker.
Despite this, other factors to consider are:
Voltage
The voltage of a boiler is a must to check specs to pick a healthy circuit.
Most standard water heaters require a 220 or 240-volt outlet depending on their wattage and tank size.
>> What wire size for electric stove?
Wattage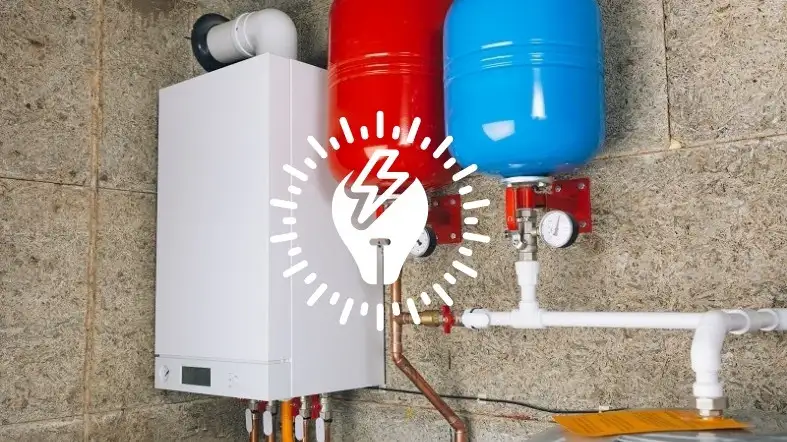 Knowing the wattage requirement will help you pick a suitable breaker, especially if your heater pulls a huge amount of power for its tank.
Wire Size
Find out what type of cable is compatible with your water heater's breaker.
Otherwise, using the wrong wire will increase the risk instead of securing the heater and breaker.
Formula to determine the right size breaker for hot water heater
If you only know the voltage and wattage of your water heater, following this formula will help find out the Ampere:
I (amps) = P (watts)/ V (volts).
So, if you have 4,000-watt heater tanks that require 120-volt power, the amp it will need is:
Solution: I = P/V
I = 4000 watts / 120 volts
I = 33.3
But the calculation isn't over yet. The next consideration is over-tripping and overloading.
According to the regulations of the National Electric Code (NEC), you must consider 125% of the maximum continuous load.
It will help you get the safest amount while picking the right size breaker for your water heater.
So after applying the continuous load, the amp requirement will be 33.3 x 125% = 41.2. Get 45 amps, which is the nearby amp size.
Right Size Breaker for 40 and 80-Gallon Water Heater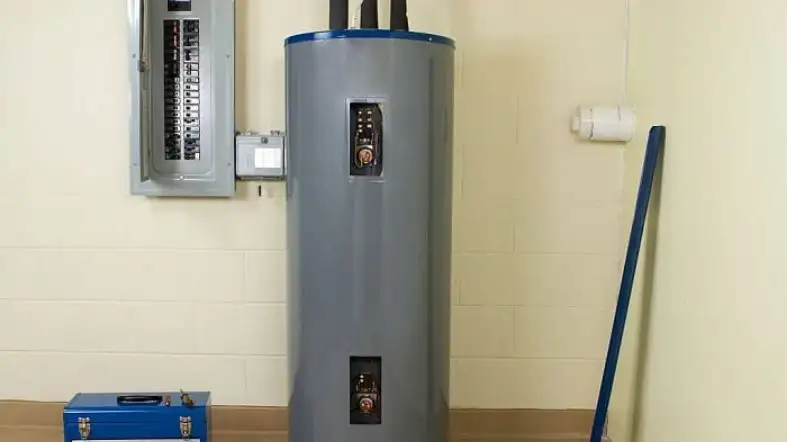 40 to 80 gallon water heaters are two of the most commonly used tank sizes.
Following the earlier formula, you will require the wattage and voltage of the tank to determine the right size breaker.
For a 40-gallon water heater, the average wattage is 4500 and requires 240 volts. So the Amp it will require:
I = 4500W/240V = 18.75 amps.
Adding the continuous load = 125% x 18.75A= 23.4 amps.
It means your 40-gallon water heater will require a minimum 25-amp breaker, but 30-amps is preferable for better safety.
For an 80-gallon water heater, the average wattage is 5500, and it also runs on 240 volts. So the amp requirement is:
I = 5500W/240VX1.25 = 28.64 amps.
So a 30-amp circuit breaker will be good enough for the 80-gallon water heater.
Preventive Measures When Choosing A Circuit Breaker Size For A Water Heater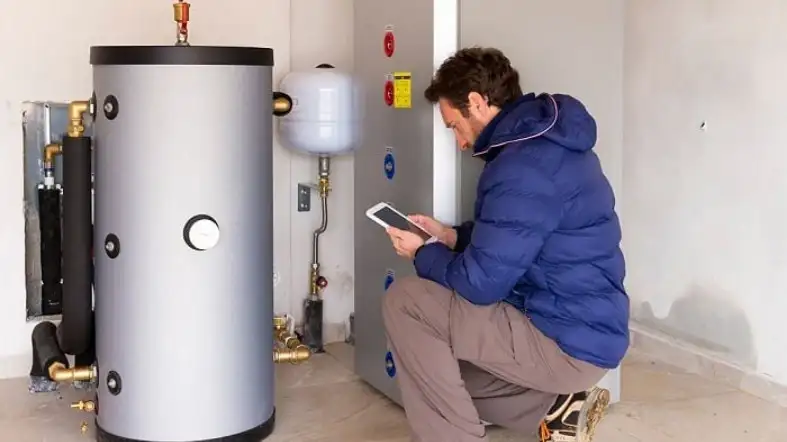 When deciding what size breaker to use for a hot water heater, you should be careful about the difference between the water heater and the breaker.
A breaker of the proper size is a safe option because too large or small a breaker can cause electrical hazards.
A breaker too small compared to the ampere requirement for the water heater will cause the CB to trip continuously.
Due to being on and off frequently, the internals of the water heater can also get damaged.
That's why you shouldn't share the heater's circuit breaker with other appliances.
Conversely, a too large circuit breaker won't keep the heater safe.
If the tank gets short-circuited or overloads suddenly, the breaker will avoid this situation instead of protecting the heater.
The other safety tips to remember are:
125% calculation is only applicable for continuous loads, and the water heater operates on a 240-volt circuit.
If you want to use the heater irregularly, use a 100% rated circuit.
A 30 Amp circuit breaker will require 10 gauge wire, and you can use both devices in 204V heaters.
If you desire to attach other devices to your heater's breaker, add their amps to the total current draw.
Bad wiring can cause trips and break circuit breakers easily.
A faulty thermostat will encourage a breaker to draw more power and trip.
You shouldn't use a larger breaker than the ampacity of the wire unless the load current is higher.
Use a double amount of circuit breaker than the amount required in a water heater.
Use a breaker that fits with the existing panel.
FAQs
What Size Circuit Breaker Is Required For A 220 Hot Water Heater?
You should use a 25- or 30-amp breaker. A 30 amp breaker is universally compatible with an appliance that requires at least 220 volts.
Is It Safe To Use A 40 Amp Breaker For A 30 Amp Water Heater?
You can replace a 30A breaker with a 40A circuit breaker. This will allow the electrical system to run 33% over its rated capacity.
What Is The Right Size Circuit Breaker For A Dual 4500-Watt Water Heater?
A dual 4500-watt heater requires a 30 Amp dual pole breaker to ensure safety.
Final words
It's a straightforward task to determine what size breaker for a hot water heater if you can collect all the required right information.
And the information you need to calculate the size of the circuit breaker is wattage, voltage, and Amp.
The rest you have already learned from this post along with examples of the most commonly used water heater.
But don't ignore those safe tips for circuit breakers we have mentioned to avoid unexpected situations.