An electric stove is one of the most used kitchen appliances which needs the proper wire and breaker to cook properly. Here you may ask, " what size breaker and wire for the electric stove?"
The proper size of breaker and wire is the precondition of hazard-free cooking. So, you must know the proper size of them before installing your electric stove.
This article will answer your question and help you to choose the proper breaker and wire.
What Size Breaker For Electric Stove?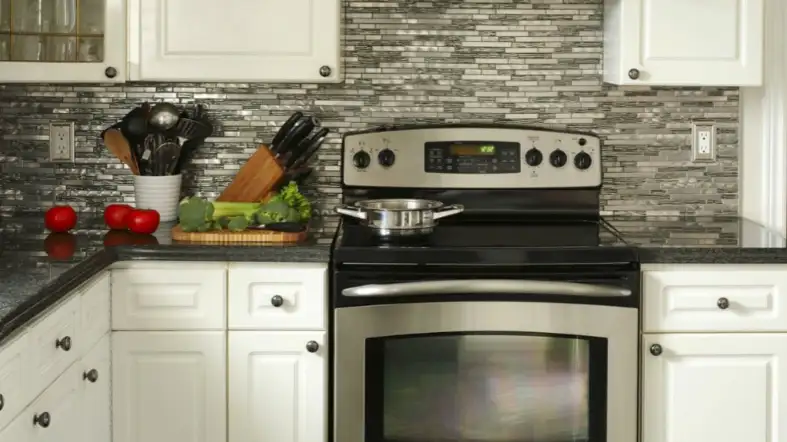 As the majority of stoves are 240 volts, it is advisable to install a double-pole circuit breaker on a dedicated circuit in your electrical system.
Generally, electric stoves require a 30 to 60 amp circuit breaker. The size you need for your individual equipment is determined by its power consumption.
You can find this information about your specific stove type online or in the packaging.
The great majority of contemporary electric stoves require a 50 amp circuit breaker. Smaller or older stoves have 30 or 40 amp circuit breakers and consume less power.
Larger industrial electric ranges normally require a circuit breaker capable of handling 60 amps or more.
Older stoves are smaller and consume less energy, whereas industrial machines demand substantially more.
In conclusion, there is a vast range of electric stove sizes and power requirements.
>> What size fuse for hot water heater?
What Size Wire For The Electric Stove?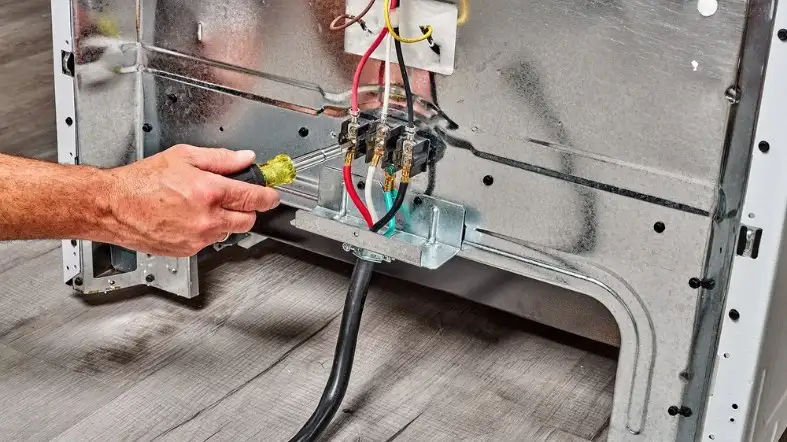 The wire size for electric stoves should be # 8 AWG copper or # 6 AWG aluminum, and the circuit breaker should be able to handle 40 amps of current. 
If you have a smaller or older electric stove on a 30 amp or 40 amp circuit breaker, you should use #10 or #8 copper wire, correspondingly.
 Larger 60-amp stoves typically require #4-gauge aluminum AWG, however, some are wired with #6-gauge copper AWG.
This is suitable for the majority of plug-in ranges that have an oven below the burners and burners on the top.
How to install an electric stove outlet?
Turn off the electricity of your home
In order to install the outlet for your electric stove, the first thing you need to do is turn off the power supply to your home. 
This should be done whether you do it yourself or ask a professional to do it. It will ensure that there are no interruptions to the flow of electrical currents.
Your home's electrical panel, also known as the circuit box, may be located in a number of different rooms or even in the garage or basement. 
After you have located it, turn off the switch that controls the main disconnect to turn off the power to your home.
On the panel of the box, this switch is normally the one that controls the largest circuit breaker.
>> What size wire for 50 amp 220v?
Check That Your Power is Totally Off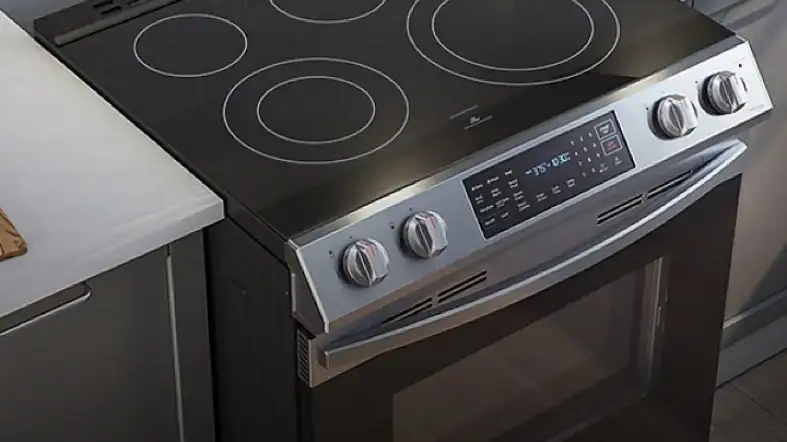 There are a variety of problems that can disrupt the flow of electricity to a residence.
Before you begin installing your new outlet, you must first determine whether or not the power has been successfully turned off in your home.
This procedure is as easy as trying to turn on your television or checking the light switches in your home.
If you do this, there is a lower chance that you will become electrocuted while you are working on your wiring. 
If you have a partner, you can ask them to let you know as soon as the power goes out so that you can prepare accordingly.
Before moving on to the next step, you should also test the actual outlet that you are working on by using a straightforward multimeter.
When you are sure that all of the power has been turned off in your home, you or an electrician can begin installing the circuit breakers, cables, and outlets required to make your electric stove operational.
>> What gauge wire for 200 amp service?
Set up Circuit Breakers, Cables, and Power Outlets
In order to control the new electric stove outlet, you will need to install a new breaker switch in the circuit box. You need to take. Check to see if there is sufficient room to install a double-wide circuit breaker switch in accordance with the specifications provided by the manufacturer.
When you are finished positioning the breaker switch, you will need to insert a connector into the side of the circuit box. This will allow you to connect the necessary cables within the box. If you find that this process is too complicated for you to handle, you may consult an electrician to look over the connector and the breakers to make sure the installation goes well.
After you have prepared the box, you will need to thread the cables through the walls going to the location where you intend to install the outlet for your electric stove. When moving the cables through the walls, it is essential to steer clear of any other wires and utility systems that may be present.
When you are finished aligning the wires, make sure that the piece that is the longest is kept outside of the last hole. After that, remove the insulation from the cable's end, and attach it to the outlet before you screw it into the wall. Soon after you have completed fastening the electrical outlet, you will be able to put it to the test.
Connect  the Cords and Perform a Self-Inspection on Your Electric Stove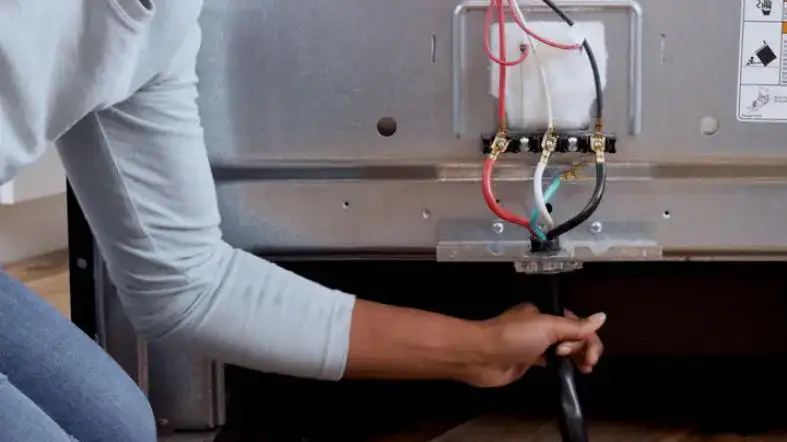 The very last thing that needs to be done is for you to feed the cable from the outlet through the connector on the circuit box and then wire it into your circuit breaker.
In addition to this, you need to calculate how much wire you will require in order to connect it to the ground and neutral bars.
After you have connected the grounding, neutral, and hot wires to the corresponding screw terminals, you should double-check that everything is wired properly and is in the correct location.
If the range cable does not have stable support, it is also a good idea to secure it.
Before you turn on the electricity in your home, make sure the breaker for the electric stove outlet is turned off.
This will prevent the circuit from becoming overloaded. Check the power at each outlet once the electricity has been restored inside your home.
If you have a multimeter on hand, you can use it to determine the currents or voltages that are coming from the outlet.
After ensuring that the power coming from the outlet is consistently 220 volts, you will be able to plug in your electric stove.
This procedure could be different for you based on the instructions that come with your circuit box or outlet.
If you require assistance, you should consult an electrician for assistance with the installation.
>> What gauge wire to run 500 feet?
What If I Don't Use The Correct Size Circuit Breaker For An Electric Stove?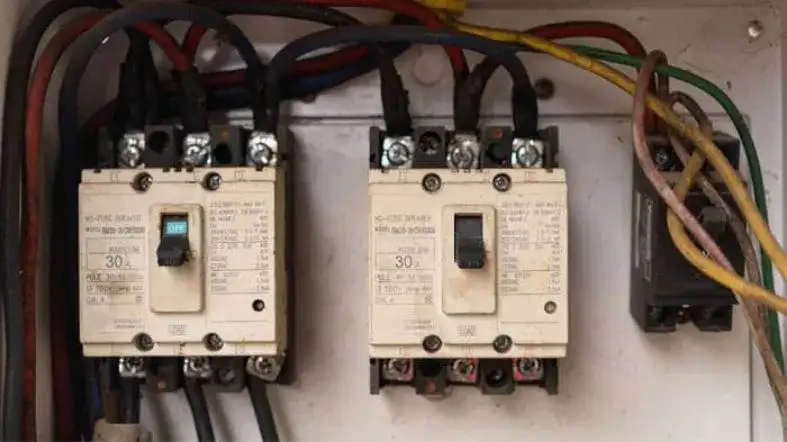 If you install a circuit breaker with a lesser capacity than your electric stove, the breaker will repeatedly trip as you use the appliance.
While this is typically not a safety problem, a frequently tripped breaker can be quite frustrating and prevent you from using your stove.
Using a circuit breaker with a greater amp rating can cause severe complications.
If your electric stove takes 50 amps and you install a 60 amp circuit breaker, you run the risk of sparking an electrical fire.
>> What gauge wire for 220v ac unit?
FAQs about breaker and wire for electric stove
Can I Use A 3 Wire On A 4 Wire Stove?
Yes. A 3-wire on a 4-wire range will fit side by side in the outlet, the burners, and the oven.
When three wires are inserted into a two-wire outlet, the range will not operate.
Copper wire is utilized within electric ovens. Electric range wire size requires a 50 amp receptacle on the circuit breaker side of the range. 
Most contemporary stoves and stovetops feature two unused 12-volt plugs on the back that allow for two heat elements.
Can A 50 Amp Breaker Be Used With A 40 Amp Stove?
No. If you have the correct wire size for the stove and the same type of stove, you can use a 50 amp breaker, but you cannot use a 50 amp breaker on a 40 amp wire for a resistive load such as a stove.
What Type Of Wire Is Required For A 220 Stove?
A standard 220 Volt / 30 Amp electric dryer requires a cable with #10 copper conductors, while a 220 Volt / 40 Amp electric stove requires a cable with #6 aluminum conductors.
Can A 30 Amp Breaker Be Used For An Electric Stove?
As long as your electric stove's amp demand is compatible with your installed circuit, a 30 amp breaker and the right wire size will not cause a broken circuit.
For a 30-amp circuit breaker, the ideal wire gauge is 10 gauge.
Can A 40 Amp Breaker Be Used With A 50 Amp Stove?
No, installing a 50A breaker on 40A wiring, which is not meant to withstand so much electricity, can cause a house fire.
Wrapping words
Now you clearly know what breaker and wire for electric stove you need.
If you are familiar with stoves, industry standards, and the power requirements for a stove, selecting the correct circuit breaker is easy. 
We hope that our given information will help you to pick the right ones. Never underestimate the amount of energy your range will consume.