An air fryer is a handy kitchen appliance to fry food in a wide variety of recipes with perfection, making it a must-have for any kitchen.
But before going out to shop for an air fryer, you must know what sizes do air fryer comes in.
This will give you a complete idea of the variation in the capacity of the air fryer. 
Hence, you can pick the right size for your kitchen and individual or family needs.
Following, we have briefly discussed the air fryer size guide along with their capacity to hold food as well as some top recommendations.
What Sizes Do Air Fryers Come In?
The air fryer comes in a wide variety of sizes to meet various personal and family demands.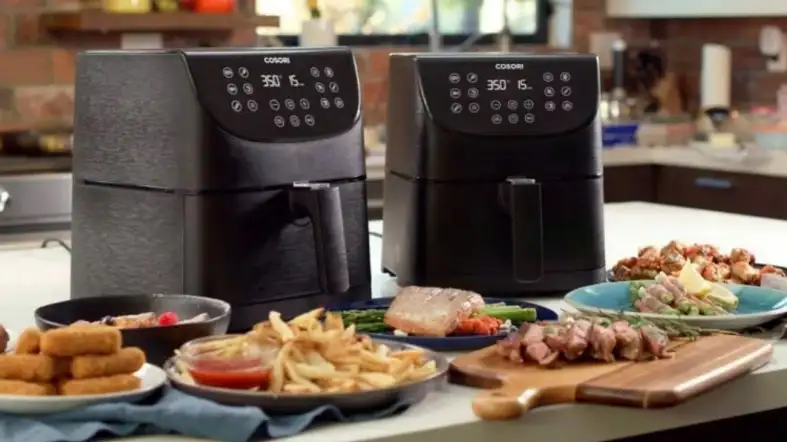 It's a bit difficult to find the right sized air fryer, especially with the wide variation in sizes.
We have categorized the air fryer in different sizes to make the job simpler. 
| Category | Size Ranges  |
| --- | --- |
| Small | 1 to 3 quarts |
| Medium | 3 to 6 quarts |
| Large | 6 to 16 quarts |
Though some variations are available, you will find most of the fryers existing online or in appliance stores of this size.
Even after having these measurements, it can still be difficult to determine the most accurate air fryer size for certain needs.
In this case, following the section will help you pick the right-sized air fryer by shortening the research time on numerous models.
Small Air Fryers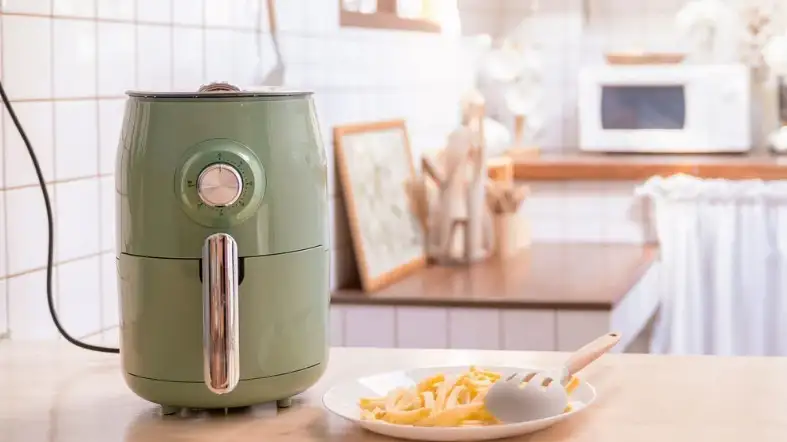 If you live alone or want an air fryer to cook some snacks, go for the small-sized models.
The small-sized air fryer ranges from 3 quarts and ideal choice for an apartment with a small kitchen.
The small-sized air fryers are significantly cheaper than their larger counterparts, making them perfect for low-budget people to enjoy air-fried food.
This sized air fryer is also ideal for those who are unsure about how to use an air fryer.
Despite its 1-2 quart capacity, the air fryer is capable of cooking two chicken breasts at the same time.
For an individual, its basket is large enough to hold a chicken breast and some fries or potatoes. When it comes to preparing snacks, this size air fryer can cook for two people.
If you have a little more demand, you can consider the upper range of the small-sized air fryer and the range of 2 to 3 quarts in size.
These air fryers can hold up to 6 chicken wings at a time, or even sometimes 7.  The air fryer that is below 3 quarts can cook for two people.
It is also a convenient size for a single and busy person to cook large batches and eat them in small portions by storing them. So,
1.0 – 2.0 Quart air fryers
Small cooking capacities.
Suitable for 1 person.
Perfect for frying snacks and other smaller foods.
2.2 – 3.0 Quart air fryers
Have larger cooking capacities.
Suitable for two-person.
Fry small snacks for 3-4 persons.
Medium 
These sizes of air fryers are most suited to families with 3 or more people.
The lower range of medium-size air fryers is 3 to 4 quarts, and these don't have enough capacity to cook a whole chicken.
However, you can cut the chicken into pieces and place it in the basket to cook. These medium-sized air fryers are good enough for cooking French fries for up to 4 people.
The upper ranges of medium-size air fryers are 5 to 6 quarts, which is sufficient for cooking up to 5 chicken breasts at a time and fries for a max of 7 people.
3.0 – 5.0 Quart air fryers
Most common size air fryer available in the market.
Large enough to cook for a family with max of 5 members.
Provides more options.
Allow experimenting with larger items.
Suitable for cooking two things at a time conveniently.
5.0 – 6.0 Quart air fryers
Quite a large size.
Fit enough food to cook for a max of 5 people.
Perfect for cooking different things at once.
Fill two trays with french fries, nuts, and vegetables.
Often have an armada of accessories to allow upgrading.
Large Air Fryers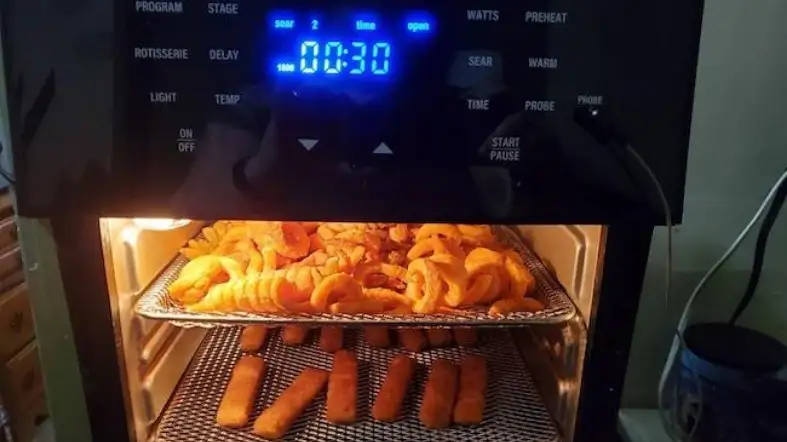 At 6 quarts or above, air fryers have some limitations when talking about size.
Some of these larger air fryers offer sufficient space to host up to three grill racks and two pans.
These types of air fryers are highly versatile, and their extra space allows you to cook any food you desire.
6.0 – 10.0 Quart air fryers
Accommodate large families.
Suitable for cooking larger items like whole turkeys, chickens, and pizzas.
Perfect for cooking baked food, as it includes a spacious chamber.
Can also dehydrate food, including trays.
16-quart air fryers
Suitable for large family gatherings, and backyard festivities.
What size air fryer should you buy?
The smartest way to pick the right size air fryer is to consider the type of food you want to fry and the number of people you will cook for.
For example, if you need to cook for 6 people, buying a small-sized air fryer will leave you disappointed.
You should also consider the budget, as larger-sized air fryers cost slightly more. The larger model air fryer also requires more material.
In the end, choose the size of air fryer that best meets your needs and comes within your budget.
>> What is the best air fryer for 6 people?
Right size Air Fryers for 1 Person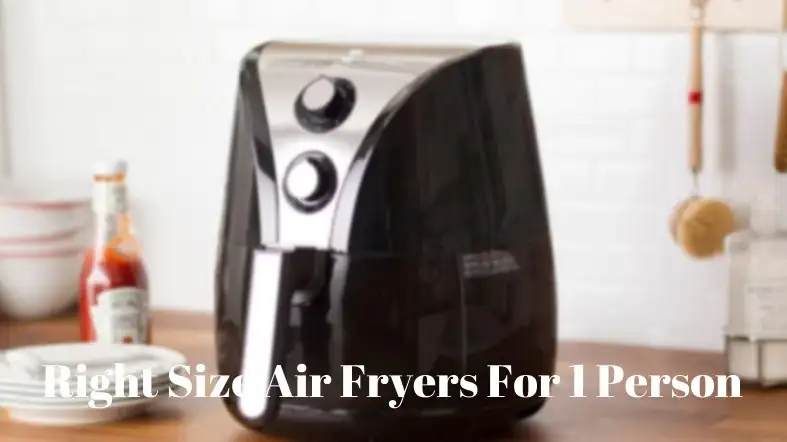 If you want an air fryer mostly to cook for yourself, check the size range of a small air fryer. These will let you cook 1 to 3 quarts, making them suitable for solo meals.
Instead of cooking a whole chicken at once, this will let you cook a range of snacks.
However, some smaller-sized air fryers come with extra functions like a toaster oven or dehydration.
The smaller size air fryer designed for a single person is very cheap. So you can buy a smaller one for trial and upgrade in the future. Some of the best small air fryers for a single person are:
Aria Premium 2 Qt.
CHEFMAN 2 Qt.
Yedi 2 Qt.
Right size Air Fryers for 2-3 People
You can choose freely when it comes to buying an air fryer for 2 to 3 people.  Most of the small to medium-sized air fryers are perfect for a family of 2 to 3 people.
So it won't be demanding to find the right size air fryer for such a family.
For this family, a 2 to 4-quart air fryer will be sufficient enough. Plus, most of the air fryers of this size are relatively affordable.
Some of the best air fryers for a family with 2 to 3 people are:
GoWISE USA GW22632 2.75-Quart.
BELLA6 Quart Air Convection Fryer.
GoWISE USA 3.7-Quart.
Right size Fryers for Families of 4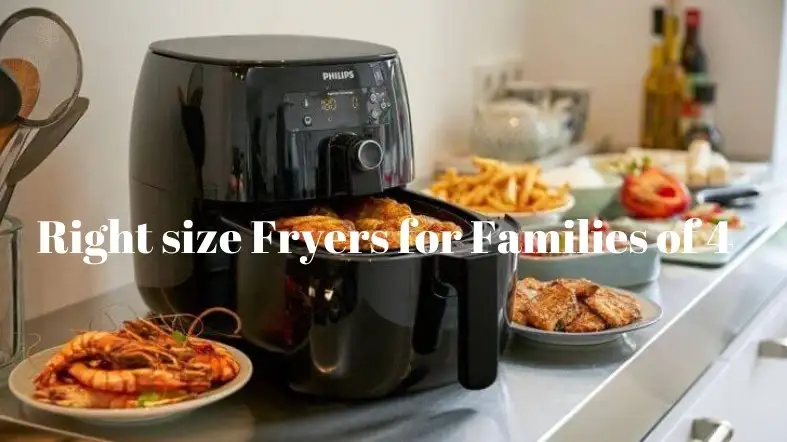 The air fryer design for a family of four people is mostly top-end, so a family of four can feel lucky.
Among the other sizes of air fryers available on the market, this size is the most popular.
Most of the reputed brands manufacture air fryers for a 4-person family, so it won't be a tricky task to pick the best one for the money.
When looking for an air fryer for a four-person family, make sure it has a 4 to 5.5-quart capacity.
This site will provide you with sufficient space to cook for the whole family at a time and help you avoid handling larger models.
Some of the best-sized air fryers for a family of four are:
Ultrean Air Fryer, 4.2 Quart.
Philips Premium Digital Airfryer.
GoWise USA 5.8qt.
Right-size Air Fryers for Families Of 5-6
For a family with 5 to 6 members, find the largest-sized air fryer.
Typical air fryers are mostly designed to serve 2 to 4 families. So these won't fit your large family demands.
When it comes to size, choose an air fryer that has a minimum 8-quart cooking capacity.
This will hold enough food for a 5 to 6-person family. Some top recommendations for the best air fryer for a large family are:
PowerXL 8 QT Family Sized Power AirFryer Pro
Dash Deluxe Electric Air Fryer
Best Air Fryers for Large Groups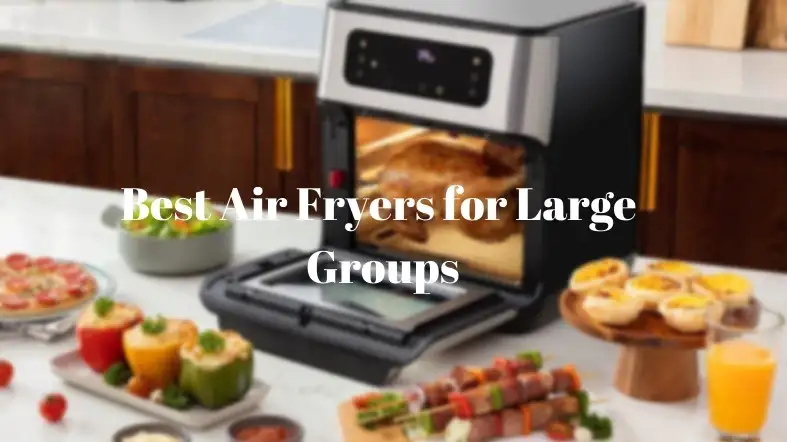 It's a bit hard to choose the best air fryer for large groups, especially if you want to avoid the commercial type.
In this case, go for an air fryer with an 8 to 9-quart capacity, while you can opt for a 16-quart commercial air fryer too.
A commercial air fryer is mainly recommended for those people who struggle to find a suitable product in the non-commercial category and have a sufficient budget to spend.
In fact, commercial air fryers are mostly used in restaurants to cook for a large number of people in a single batch.
To buy the best commercial air fryer, visit specialist cooking stores and take your time to make the right decision.
FAQs
What Size Air Fryer Is Perfect For Cooking A Whole Chicken?
An air fryer with a minimum capacity of 6 quarts will perfectly fit the whole chicken. This size is also perfect for a family of five people to serve fries and snacks in large amounts.
Is A Large Air Fryer Pricy?
The price of a large air fryer varies depending on the brand and the type of model. Still, you have to be prepared to spend around $100-300 to buy a large air fryer.
At $100, you will have an air fryer with multiple parts, while a $300 air fryer is more functional, and includes flashy things.
Still, a $100 air fryer will offer everything required to cook food. It is worth remembering that both models of air fryer, whether they are cheap or expensive, follow the same working principle to cook food.
How To Determine The Right Size Air Fryer?
The air fryer size is measured in quarts, pounds, or even liters. It means a 1-quart air fryer can hold 0.94 liters, which is around 21 pounds.
So, find out the amount of food you want to prepare at a time and go for the size of an air fryer that meets your demands.
Final words
Understanding what sizes do air fryers come in will give you a basic idea of their capacity.
This will help you decide the best size air fryer, whether it is only for you or a family with a certain number of people. 
However, our recommendation is to go for a little larger size than the size you measured.
This will give you the versatility to try different recipes whenever you want and come with lots of accessories to make the cooking job easier.