What Size Air Fryer Do You Need To Cook A Whole Chicken?
We may earn affiliate fees for purchases using our links (at no additional cost to you).
Do you want to cook a whole chicken but don't know what size air fryer to buy? Don't worry, I've got you covered.
In this blog post, I'll talk about the different sizes of air fryers and what size is best for cooking a whole chicken. I'll also give you some tips on how to cook a whole chicken in an air fryer.
What Size Air Fryer Needs For A Whole Chicken? 
You can choose any size air fryer based on your chicken quantity. Usually, an average chicken size can be 5-7lbs. For this quantity, a 6-10 quarts air fryer is an ideal size to cook the whole kitchen.
Here is a table that shows what size air fryer do you need to cook a whole size chicken based on chicken size and people:
Right Size Air Fryer Guide To Cook A Whole Chicken
Although, the above table shows the sizes and capacities of an air fryer to cook based on the number of servings.
But you should know which size is an out and out to cook a whole chicken.
Small Capacity Air Fryer 
If you have a family of 2 to 3 members or more, you may need 1- 2½ pounds of chicken if you are not that much foodie. 
To cook this quantity of chicken, you need 2-3 quarts air fryer as I mentioned above.
It's an ideal size for a small happy family.
Medium Size Air Fryer 
A medium-size air fryer is totally fit for a family of 4 to 6. This size can capture a whole chicken of 4-5 pounds. And that's enough for this family lunch or dinner. 
Large Size Air Fryer 
A large-size air fryer is absolutely fit for 5-8 people when cooking a whole chicken of 5-7 pounds. 
It's the average size of cooking a whole chicken.
>> What size air fryer for 6 people?
Extra Large Air Fryer 
If you have a family occasion or a festival then you can choose an extra-large air fryer. You can cook 7-9 pounds of chicken in it. 
So choose which one air fryer you need for a whole chicken based on your need.
Which Category of Air Fryer Is Suitable For Cooking A Whole Chicken? 
An air fryer is a mini-powerful convection oven, not a fryer. And Its beautifully designed structure gives it two categories.
Both are the same, however, there are some differences. Let's have a look at which one is best for cooking a whole chicken. 
Basket Air Fryer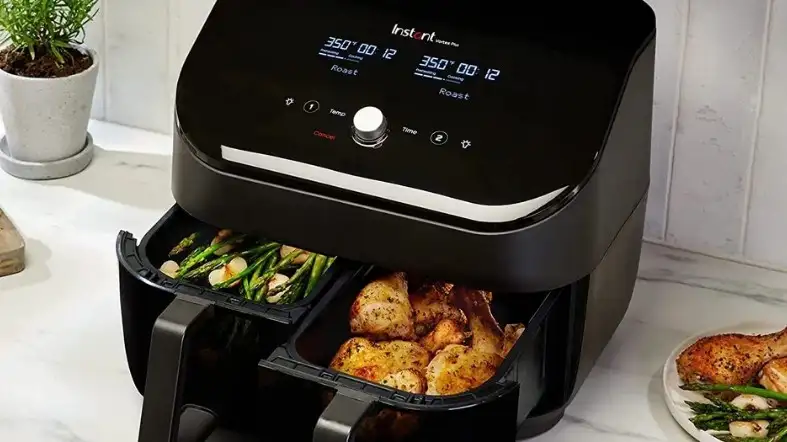 First, come with the basket air fryer. It is easy to use and works fast, that is why it is very popular. It has a pullout basket where you can put your food to cook.
It is appropriate to cook French fries or any other small quantity food but you can not make a whole chicken in a basket air fryer. 
>> What size air fryer for one person?
Convection Oven Air Fryer 
An air fryer can cook any food faster. Although a basket air fryer can cook faster than a convection oven air fryer.
And when it comes to cooking a whole chicken then a convection oven air fryer is the perfect one. It also has a pullout tray which can adjust to allow more or less food.
So, it is worth saying that both categories of an air fryer are best from different perspectives but for a whole chicken, a convection oven air dryer is more suitable.
How To Cook A Whole Chicken In An Air Fryer? 
Making a juicy, fork-tender whole chicken roast loaded with flavor is every cook's desire.
With the best size air fryer, anybody can cook a whole chicken roast following some easy steps. Let's check them out.
>> What range of sizes do air fryers come in?
Preheat The Air Fryer
To make a whole chicken you need to preheat the air fryer first. To cook fast, preheat it to 350°F/180C. 
Seasoning- A Dry Rub
Prepare your chicken with seasoning to enhance its flavor. Rub the chicken with salt and necessary spices inside out so that the spices can reach inside the chicken and make it juicy and loaded with flavor. Then spray oil over the chicken. 
Prepare To Cook
Place the chicken into the tray of the air fryer. Then set the time and temperature. It will probably take 18-20 minutes to cook. A few minutes later flip the chicken. 
At last, take it out of the air fryer. 
Ready To Serve 
Place the chicken roast on a plate.  Serve it with potatoes and salad or whatever you like. 
Can I Cook A Frozen Whole Chicken In An Air Fryer?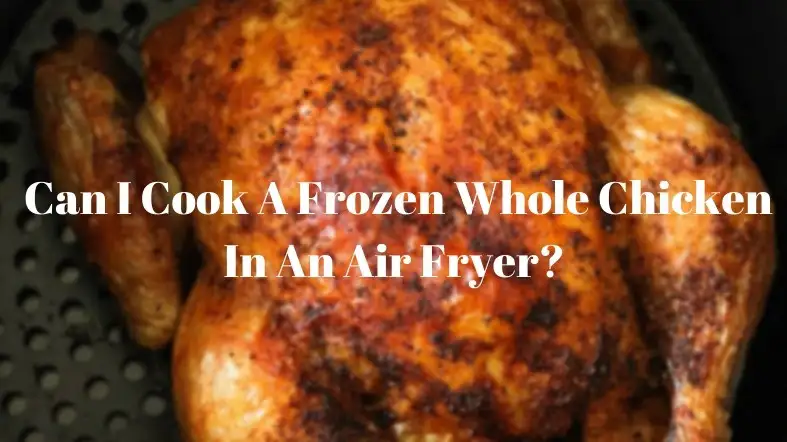 We see that cooking a whole chicken in an air fryer is not a tough thing. What about a frozen whole chicken? Is it possible? 
Yes, it is possible, and as like you make a normal whole chicken in an air fryer.
There are some additional things that you need to do but the remaining processes will be the same.
You just have to put the frozen chicken at room temperature for 30 minutes to make it normal.
Although it may still be frozen inside. And you need some extra time to cook so that it can fry deeply, like 20-25 minutes extra. Then serve it on your dining table. 
That is all about cooking a whole frozen chicken in an air fryer. 
How Can I Choose The Best Size Air Fryer For A Whole Chicken? 
Having the necessary equipment and ingredients is the beauty of any kitchen. If you have everything you need for your kitchen it is pleasurable for a cook.
So having the best size air fryer in your kitchen is not ultimately a waste of money. 
Finding the best size air fryer to cook a whole chicken is not a tough job. All you have to do is go to the market and choose the best one based on your quality. 
There are many brands available with versatile designs. Check the materials before you buy. There are few materials available such as glass, ceramic, metal, or silicon.
All I can suggest to you is to buy a silicon air fryer. It is healthy and doesn't let the chemicals get inside the food. Also, it cools down quickly. 
Again, the choice is up to you which one air fryer you will buy to cook a whole chicken.
>> What size air fryer for 5 people?
Best Air Fryer To Cook A Whole Chicken In An Air Fryer
1. PowerXL 5 Quarter Air Fryer Vortex – Multi Cooker with Roast
PowerXL Air Fryer Vortex – Multi Cooker with Roast, Bake, Food Dehydrator, Reheat Non Stick Coated Basket, Cookbook (5 QT, Black)
Air Fryer and multi cooker from PowerXL with Vortex Rapid Air Technology gives you even more air fry crisping power. Your meals cook to maximum crispiness inside a turbo-charged whirlwind of superheated hot air, eliminating the unhealthy oil of a deep fryer. Air Fry your favorite fried meals like onion rings or French fries with a golden-brown crisp and crunch on all sides – not just on the top and bottom. You can also bake, roast, and broil using less or no oil. Easy to use and easy to clean.
#1 Best Selling Air Fryer Brand*: PowerXL high performance airfryers are designed to simplify everyday life. When life keeps you busy, PowerXL's home and small countertop appliances are your functional experts – those go-to products that help you excel. *Source: The NPD Group/Retail Tracking Service
10 cooking pre-sets are one-touch easy for extra crispy air frying and even more types of cooking: air fry roast, air bake, broil, dehydrate, reheat & more. Dehydrated snacks like fruit leather and jerky are fast and easy bake your favorite desserts, and even roast chicken, meats, vegetables, and more. Use the air fryer recipes cook book or program your own time and temperature.
Timer with Auto Shut-Off with Digital Display Panel. Choose effortlessly from 10 digital pre-sets for precise heating on almost any meal or program the time and temperature you want. No matter what you're cooking, PowerXL Vortex Airfryers makes it easy. Discover the new solution for busy families who don't have a lot of time to cook.
Check Latest Price On Amazon
2. CHEFMAN Large Air Fryer Max XL 8 Qt With 4 Cooking Functions
CHEFMAN Large Air Fryer Max XL 8 Qt, Healthy Cooking, User Friendly, Nonstick Stainless Steel, Digital Touch Screen with 4 Cooking Functions, BPA-Free, Dishwasher Safe Basket, Preheat & Shake Reminder
EASY COOKING: Cooking meals for the family has never been this easy. Four presets make it simple to serve French fries, chicken, meat, and fish at the push of a button, and adjust both the time and temperature easily with the simple touch control. The digital display makes it easy to monitor cook times and ensures evenly fried foods with the LED shake reminder.
EASY CLEANING: The 8-quart non-stick basket and flat frying tray are both top rack dishwasher safe, making clean-up easier than ever. Never worry about messy frying ever again, achieve perfect, crispy results with none of the mess from grease.
CRISPIER & HEALTHIER: Serve all of the delicious fried foods your family loves right at home with none of the excess oil or grease. Healthy cooking starts with air frying, and with presets for easy cooking and a temperature range from 200-400°F, the Chefman Air Fryer is your number one tool for a crispy, fried finish using at least 98% less oil than traditional fryers. Air fry vegetables, pizza, frozen foods, and even leftovers to a perfect crisp in minutes.
ELEVATE YOUR COUNTERTOP: With the sleek, square shape and nonstick stainless steel finish, this air fryer was designed with your kitchen counter in mind. The compact, easy to store build makes this the ideal fryer for families with big appetites and limited counter space. The dishwasher safe basket allows for easy cleaning and quick storing, saving space on your counter; perfect for any small kitchen, dorm, office, RV, and more!
RESOURCES: cETL approved with advanced safety technology for long lasting durability, & 1-year warranty provided by Chefman, so you can purchase worry-free – we've got your back! For information on how to use your product, scroll down for a PDF User Guide. 1700 Watts/120 Volts – RJ38-SQSS-8T
Check Latest Price On Amazon
3. NuWave Brio 15.5-Quart Large Capacity Air Fryer Oven + Grill
NuWave Brio 15.5-Quart Large Capacity Air Fryer Oven + Grill; Patented Integrated Digital Temperature Probe; 1 Stainless Steel Tray; 1 Rack; Drip Tray; Rotisserie Kit; 100 programmed presets; Sear, Stage, Pre-Heat, Delay, Warm, Rotisserie
Best Selling Air Fryer with Accessories and Cookbook, Large Capacity NuWave BRIO Countertop Air Fryer- Oven and Grill, Includes Rotisserie Kit, 1 Rack, 1 Tray and a Temperature Probe, 15.5-Quart with rapid heating technology for quick and easy meals. Based in Chicago, IL offering a world of cooking benefits for over 25 years!
Fully Certified: The air fryer is ETL Listed 900W, 1500W, or 120V/1800W and a temperature range of 100°–400°F. Please note that this voltage only applies to the US and Canada
Free Rotisserie Kit: Rotisserie function allows for a 7 lbs chicken to be crispy on the outside and juicy on the inside.100 Pre-sets and functions to choose from for the perfect results in every meal. Pre-sets are included in the easy to read Quick-Start Guide!
Wide Range of temperatures to keep warm or sear your meats, veggies, or desserts. Don't worry about overcooking or undercooking with the temperature probe! Plug the Probe, Set the temperature and rest easy!
Convenient Design: The air fryer produces crispy results in less time than a conventional oven with dishwashable parts. Preheat the air fryer before adding your ingredients for improved texture.
Check Latest Price On Amazon
FAQs About Cooking A Whole Chicken In An Air Fryer
1. Is it healthy to cook a whole chicken in an air fryer?
Ans: It is undoubtedly healthy to cook a whole chicken in an air fryer. It needs sight oil to cook, which cuts calories by 70% to 80% and decreases fat. So it is healthier to eat less oil than heavy oil food. 
2. Can I Clean My Air Fryer? 
Ans: It is obvious work to clean an air fryer after every use. You can use your hand to clean it or you may have some instructions with your air fryer on how you will clean it.
3. Is an air fryer very expensive? 
Ans: If you want to buy the best quality product, obviously it will cost. It is totally upon the fact which quality air fryer you buy.
Final Verdict 
Making a crispy, juicy whole chicken roast for your family dinner nothing can be so wonderful than that. And with a perfect size air fryer, it will be easy and delicious. 
So a good selection of a good size air fryer can make your kitchen complete.