Choosing the right size air fryer when you're cooking for one person might seem like a minor decision, but it holds immense importance. Understanding "What Size Air Fryer For 1 Person" can save you from the frustrations and inefficiencies of having the wrong appliance in your kitchen.
In this article, we'll delve into the process of determining the perfect size, explore various types of solo-cooking air fryers, and provide insights into the installation process.
Stay tuned to make sure your culinary journey remains hassle-free and enjoyable.
What Size Air Fryer For 1 Person?
For a single person, a compact air fryer with a capacity of 2-3 quarts is perfect. It's ideal for preparing single servings and smaller meals efficiently without taking up excessive counter space. To cook food for a quest, a single person can choose a 3-quart air fryer.
1 Person Air Fryer Size Chart:
| Size (Quarts) | Capacity | Suitable for |
| --- | --- | --- |
| 1-2 | 0.95-1.9 liters | Single servings, small kitchens |
| 3-4 | 3-4 liters | Small families, couples |
| 5-6 | 5-6 liters | Large families, meal prep |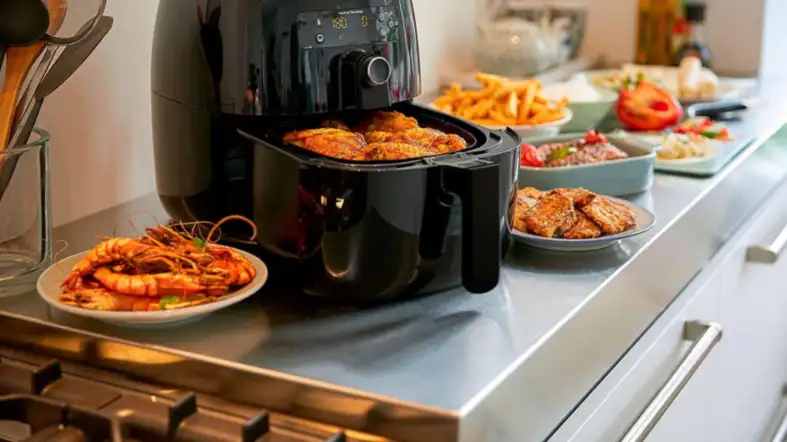 Different Types of Air Fryer Suitable for Single Person
Compact Air Fryers
Compact air fryers are an excellent choice for solo cooking. A prime example is the Dash Compact Air Fryer. These air fryers are small, user-friendly, and easy to clean.
However, their compact size might not be suitable for cooking thick slices of food. Despite this minor drawback, their size is perfect for one person and they don't take up much counter space.
Air Fryer Ovens
On the other hand, Air Fryer Ovens offer versatility with the ability to bake, broil, toast, and more. They usually come with digital settings and may include programmable buttons for added convenience.
A popular model in this category is the Instant Vortex 2QT 4-in-1 Air Fryer Black. However, these models can be a bit pricier and take up more counter space compared to compact air fryers.
The right size air fryer for a single person
As a single person, if you mostly cook for yourself and occasionally for a guest, you don't need to purchase a large air fryer.
Instead, opt for a compact-sized air fryer that can cook for one or two people. In this case, a small capacity air fryer that holds 1 to 2 quarts will be a good choice.
This size air fryer will let you cook 2-3 chicken breasts, 2-3 servings of fries, chicken tenders, and a couple of egg rolls,
Apart from these, if you desire to make appetizers for your friends or want to cook a meal with lots of leftovers, you should choose a 3-quart air fryer.
A smaller and more compact air fryer is beneficial to a single person in various ways.
For example, it only requires around two minutes to clean to offer you a new-looking air fryer.
After cleaning, you can store a compact-sized air fryer under the kitchen counter.
The smaller-sized air fryers also heap up quicker than their larger counterparts because of their smaller chamber.
It means the appliance requires less air for the heating element to perform.
However, it's worth remembering that the smaller-sized air fryers don't have many more convenient functions than the larger sizes.
A still smaller air fryer is capable of delivering a deliciously crispy outer layer.
>> What size air fryer should i get?
How to Know the Size of an Air Fryer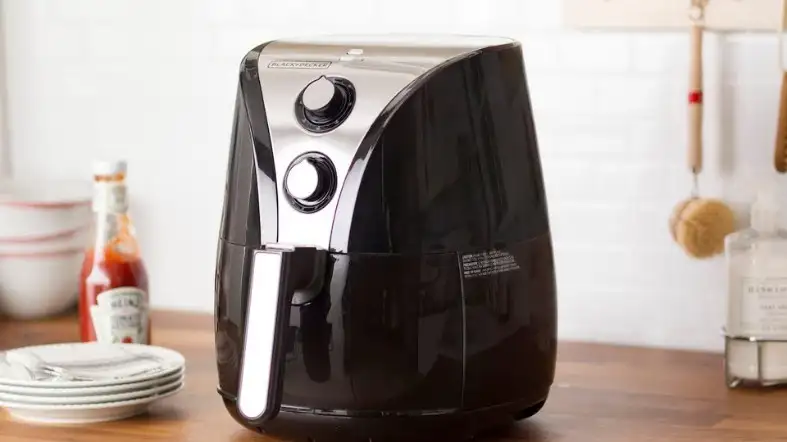 It's quite a difficult task for a bigger individual to determine how big a 3-quart air fryer actually is simply by looking at its image or description.
In general, a quart is measured in liquid capacity, with one quart equaling one-quarter gallon. It means a quart is equal to 1.13L in the UK and 0.94L in the US.
But unfortunately, an air fryer isn't always considered in quarts and is sometimes measured in liters or pounds as well.
When the size of an air fryer refers to liters or pounds, it is also stated in a quart.
For example, the Philips HD9240 air fryer has a capacity of 2.65 pounds, which is equal to 3.5 QT according to the product description.
Conversely, a 4QT model air fryer can hold 3 pounds of food at a time.
Another popular air fryer brand is Chefman, and they state their air fryer size in both quarts and liters.
A Chefman 6.8-quart air compressor can cook 6.5 liters of food in one season.
Note: The size stated inline is only a suggestion that gives you an idea about the capability of certain air fryers.
Whether its size is appropriate for your needs or not, depends on the item you will cook.
Foods like chicken breast require more space than vegetables, potatoes, or French fries.
Aspects To Consider While Choosing The Right Size Air Fryer For 1 Person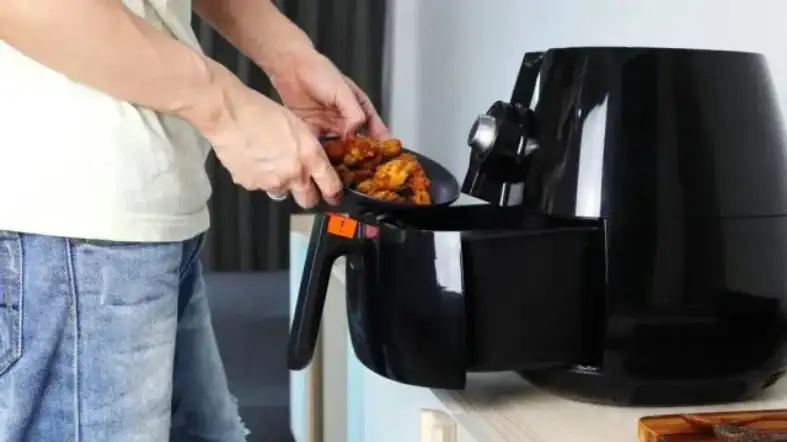 Choosing a compact-sized air fryer for a single person's needs is quite challenging.
The reason is that ints need to sacrifice some convenient features. Still, the aspects you shouldn't compromise on are:
Quick cook time
Single people are most often in a hurry and don't want to wait long to prepare food.
So the air fryer you buy should have the ability to cook food within 10 minutes, so you can get the meal quickly on the table.
Easy to clean
Kitchen appliances that take a lot of time and effort to maintain can make the individual boring.
But an air fryer with a removable basket will help you cut down on the time and effort it takes to clean the fryer.
Features
Features like automatic shut-off or digital display will make the cooking process easy.
You can also expect a recipe book or tongs with the air fryer to try something new whenever the mood is on.
Price
Luckily, a single person doesn't need to spend much on an air fryer. Most compact air fryers are available for between $30 and $200.
FAQS 
Is A 2-Quart Air Fryer Good For 1 Person?
A 2-quart air fryer is ideal for singles and couples. It also fits in a small kitchen properly and allows for cooking a sufficient amount of food in a short time.
Is A Larger Air Fryer Too Big For A Single Individual?
A larger-sized air fryer is a luxury choice for a single person. It won't be worth the money. Instead, a single person chooses a maximum of 3 quarts of an air fryer.
What Is The Best Brand Of Air Fryer For One Person?
The brands a single person can trust for air fryers are- Black+Decker, Philips, and Ninja. They have a reputation for offering high-quality air fryers and getting a greater number of positive feedback from users.
Can Compact Air Fryers Accommodate Thick Slices of Food?
Compact air fryers, due to their limited space, may struggle to cook extremely thick slices of food efficiently.
Does the Quart Size of an Air Fryer Affect its Heating Speed?
Yes, smaller quart-sized air fryers typically heat up faster due to their smaller cooking chambers.
Final words
Air fryers are a smart choice for a single person who leads a busy life. It brings a quick and easy way to prepare food avoiding hassles.
But after going out shopping, the biggest concerning thing arises is what size air fryer for 1 person.
But after reading the guide, hope now you can pick the right size air fryer based on your needs.
Don't overlook those convenient features while searching for the best air fryer for a single person.