What Size AC Unit For 1300 Square Foot House?
We may earn affiliate fees for purchases using our links (at no additional cost to you).
When constructing a new home or modifying an existing one to include central air conditioning, it is important to avoid making the assumption that all systems are the same. 
There are a lot of different things to think about, but the most crucial thing to take into account is the size of the central air unit.
So, today, let's find out what size ac unit for 1300 square foot house you need.
What Size Ac Unit For 1300 Square Foot House?
In order to achieve optimal efficiency and functionality of the system in your 1,300 square foot home, the base option is to use a unit of 23,000 BTUs per hour of air conditioning power.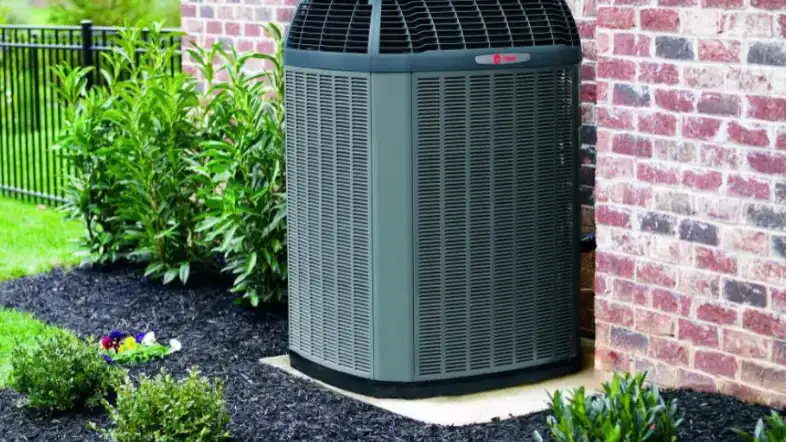 But there is no need to opt for a unit that produces more than 24, 500 BTUs.
Other suitable options for you:
The first thing to keep in mind is that the output of the cooler, rather than its physical dimensions, should be used to determine the size of the central air unit.
The needed output depends on the overall climate condition, insulation, the amount of space, air sealing, and so on.
So, here is a chart that can be utilized while choosing the central air unit in your house.
| BTU | Tons |
| --- | --- |
| 23,000 | 1.9 |
| 24,000 | 2 |
| 24,500 | 2.04 |
What is BTU?
BTU is a short form for British Thermal Units. The dimensions of a central air conditioning unit are unrelated to the unit's size in any meaningful way.
Instead, the size is indicated by the number of British Thermal Units that it generates.
The British thermal unit (BTU) is the industry standard for measuring the ability of air conditioners to cool.
The amount of energy contained in one British thermal unit (BTU) is equivalent to the amount of energy necessary for raising the temperature of one pound of water by one Fahrenheit degree.
You'll use this standard to establish the size of the central unit and its capabilities.
What Size AC Unit For 1000 Square Foot House?
How to determine the perfect size AC unit for your home?
Know The BTUs And Tons Measurement Units: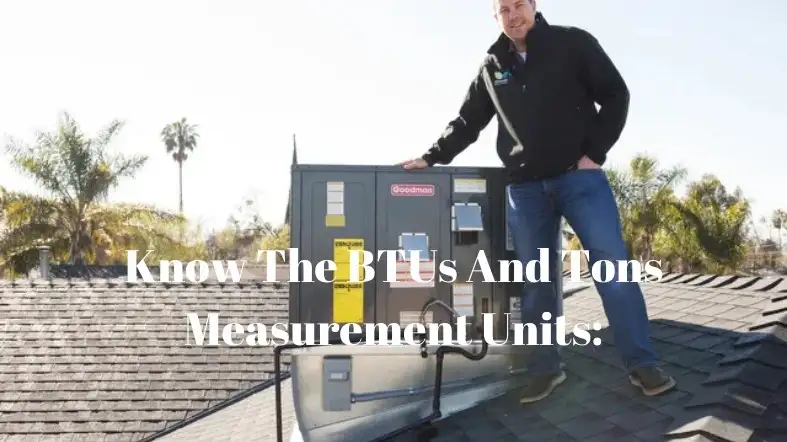 There are 12, 000 BTUs in every ton of the AC.
So, if an air conditioner has written 24, 000 BTUs on it. It refers to 2 tons.
24,000 Btu's/12,000 Btu's per ton = 2 tons
Know the climate zone:
The next is the climate zone. The number of BTUs you need per square foot essentially depends on your climate zone.
We will discuss this later. But, for now, you have to know your climate zone.
For instance, take the climate zone 1 of the USA, which consists of the southern part of the United States and parts of Arizona, Nevada, New Mexico, and California.
And take the climate zone 5, which consists of the northern part of the nation.
| Climate Zone | BTUs per square foot |
| --- | --- |
| 1 | 30 – 35 Btu's per square foot |
| 5 | 50 – 60 Btu's per square foot |
So, very clearly, if you know your climate zone, you will be able to determine the perfect ac unit for your home.
Know the heating efficiency: The search for the perfect unit doesn't rest with the BTUs or climate zone.
The efficiency rating is of great significance. There is no unit that will heat at 100% efficiency. So, how to check it out?
For instance, take a Unit of 10, 00 BTU that has an efficiency rating of 93%.
10,000 BTUs
(X) .93 efficiency rating
The actual BTUs output stands at: 9,300 BTUs.
Take another instance of a unit of 23, 000 BTUs, which ensures an efficiency rating of 89%.
23, 000 BTUs
(X) .89 efficiency rating
The actual BTUs output stands at: 20, 470 BTUs.
What Size Generator To Run Central Air Conditioner?
What To Consider Before Buying An Air Conditioner?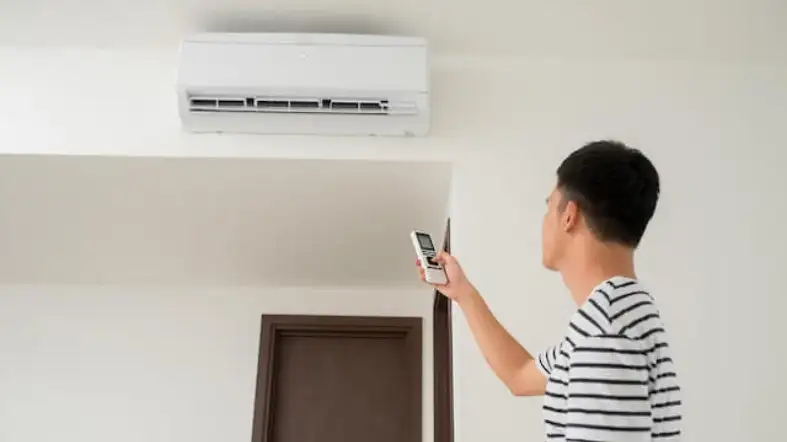 BTUs:
The short for British Thermal Units, BTS, is a unit to determine how much energy is necessary to produce heat in a certain given condition. 
The amount of heat energy necessary to raise the temperature of one pound of water by one degree Fahrenheit is equal to one BTU.
Seasonal Energy Efficiency Ratio:
The second most important thing to determine the most efficient central air unit for you is the Seasonal Energy Efficiency Ratio, SEER. 
The BTUs will give you an overall idea, but to know how it will function in the toughest/hottest weather condition, you need to know about the SEER.
Put simply, this ratio indicates how efficient your system is even when it's operating in the hottest temperatures possible.
The unit for your 1,300-square-foot home shall have at least a SEER of 11.6. 
However, the good thing is that in today's world, the newest models of air conditioners in the market have more than an 11.6 rating.
Because, with a rating less than that, the authority doesn't even allow the marketing of such air conditioners. 
So, nowadays, a SEER of 13 is the minimal standard for efficient functioning.
>> What Size Air Conditioner Do I Need For A Trailer?
Design and location of your house:
Think about other factors that might make it more difficult or simpler to maintain a comfortable temperature in your house. It's possible that a home with a lot of shadows will demand 10 percent less electricity to cool. 
On the other hand, the presence of a large number of windows, a lack of shade, and a climate characterized by abundant sunshine will exactly do the opposite.
Cooling speed:
The pace of the cooling depends on the thermostat and fans, which work together to help you achieve varied temperatures at various times of the day.
A unit having an adjustable thermostat is everyone's top priority nowadays.
The ability to establish varied pre-defined temperatures assists in enhancing the efficiency of the cooling system, which in turn minimizes the amount of energy that is used.
Heat Generating Appliances:
Appliances that produce heat might also have an effect on the dimensions.
When you use your kitchen frequently for cooking, the amount of energy required to maintain a comfortable temperature in the room might grow dramatically. 
This effect can also be caused by a large number of other heat-generating gadgets that you use on a regular basis.
Air Quality:
When purchasing a new air conditioner, consider the quality of the air in your home. In order to improve your home's indoor air quality, you'll need an air conditioner with a decent filter. 
In addition to cleaning dust and bacteria, the AC's air filters may also remove smoke and smells.
A good air filter also prevents dust and grime from reaching the evaporator coil, which improves the AC's performance and efficiency. 
If you're looking for an air conditioner, search for one with a decent dehumidification unit. 
Moreover, you will experience superior cooling and comfort with air conditioners that also have effective dehumidification systems.
>> What Size Air Conditioner For A 14×70 Mobile Home?
Installation and maintenance:
The optimal outcome of an AC is also dependent on the AC's installation.
A poorly installed air conditioner can have a negative impact on both its efficiency and its components. Compared to a split AC, installing a window AC is a breeze. 
To avoid problems, it's essential to have the air conditioner installed by a certified service shop or a professional.
Ensure the needed maintenance intervals for the system as well, to ensure that the air conditioner continues to function well.
The longevity of your AC may be increased by ensuring that it is installed correctly and that it receives routine maintenance.
FAQs About The Right Size Ac Unit For 1300 Square Foot House
Is 3.5 Ton AC Too Big For A 1300 Sq Ft House?
As a matter of fact, it is. For a 1300 sq. foot house, you would need 23000 BTUs, which amounts to approximately 1.9 tons. So, choose wisely following the chart given above.
Can I Install My AC Myself?
To put it more succinctly, the answer is no; you should never try to do so. Even if you have the necessary expertise to install an air conditioning unit, the operation is inherently dangerous due to the numerous electrical components that must be dealt with.
Do I Need HVAC Experience For Choosing The Perfect Size?
Any professional can help you with this. It takes a lot of nuanced expertise working with heating, ventilation, and air conditioning systems to guarantee that you purchase the ideal size AC unit for your home.
Final Words:
So, based on the physical dimension of your house, the geographical location, and the size of your central air unit varies.
That's why you should consider the size and attempt for a suitable option irrespective of the initial cost.
 Consider every aspect discussed above before you opt to determine the BTUs of your ac and ensure the optimal result.