What Size AC Unit Do I Need For My Garage?
We may earn commission from links on this page at no extra cost to you. We only recommend products we back!
Planning for an AC unit for your garage to continue working long days on summer holidays? It's a good idea to increase the productivity of the garage, but you must pick the right size AC unit for the garage to keep the atmosphere cool. If you ask me what size AC unit do I need for my garage, I would say you should determine it on your own. 
So if you need the right process to determine the perfect size of AC unit for your garage, you can help yourself out. Following, we have mentioned an appropriate formula along with all the tips so you can hack the right size AC unit for the garage, whatever the size of it.
What Size AC Unit Do I Need For My Garage?
The right size AC unit for any garage depends on its area and BTU requirements. In general, for a 400-square-foot garage, you will need an AC unit with a minimum of 9,000 to 10,000 BTU following the Energy Star.
Determining the right size AC unit for a Garage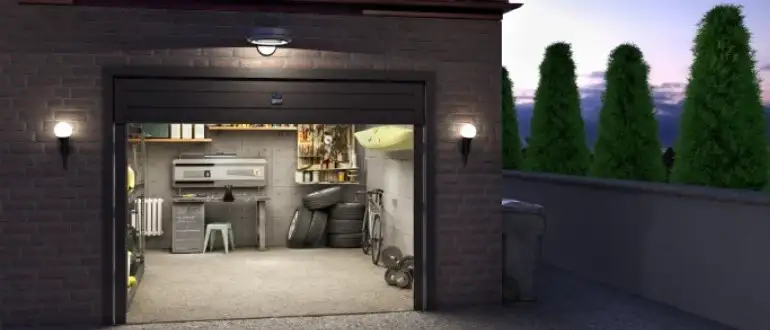 A simple space AC unit for a garage is the best solution to keep it cool. But determining the right size AC unit can reward you with more of it. Some garage owners become frustrated after installing AC as they don't get a proper cool atmosphere.
The most potential reason is that they failed to pick the right size. A ductless air conditioner, whether it is a window unit or portable, can only cool a specific space considering its design. AC units are rated in BTUs, which indicates the amount of heat they can get rid of from a closed area.
Measure the garage area
To pick the right size AC unit for your garage, you have to measure the garage area first. For example, if your standard two-car garage is 25 feet wide and 25 feet long, then the garage has a 625 square foot area.
For this size home garage, you will need around 9,000 to 10,000 BTU air conditioners to follow the energy start recommendation.
Read More: What Size AC Unit For 2000 Square Feet?
BTU Calculator
Using a BTU calculator, you can easily determine the right size AC unit for your garage. However, some other factors should also be considered. For example, if your garage is in a heavily shaded area, you should consider using 10% less BTU than the area of your garage that is under direct sunlight.
Placement Of The AC Unit In The Garage
Apart from that, the potential placement of an AC unit is also a vital factor. If you want to place your garage AC close to the center and away from the corner, you should go for a ductless AC unit.
A window AC unit will work best if you place it near the garage wall center. Conversely, a portable AC unit ensures impressive portability while allowing it to be placed along a wall to save some space.
Read More: What Size Ac Unit For 16×80 Mobile Home?
The Right Size AC Unit For A Garage
As mentioned above, simply multiply the width of the room with the length to get a square foot measurement of your garage. The next step is multiplying the sq ft area by 25 BTU. Choosing the AC unit based on this result will ensure a sufficiently cool garage in any season, whether it is rainy or sunny.
For example, if you have a 15 foot wide and 15-foot long garage, then its area is 15×15= 225 square feet. Now multiply this area with 25 BTU and you will get 225×25= 5625, which is the minimum BTU air conditioner required for your garage.
Let's check some different size garage and their BTU recommendation:
| | | |
| --- | --- | --- |
| Garage size ( square feet) | Number of cars | Recommended BTUs |
| 150 to 250 | 1 Car | 8,000 |
| 250 to 350 | 1.5 Cars | 10,000 |
| 350 to 450 | 2 Cars | 12,000 |
| 450 to 550 | 2 or 2.5 Cars | 14,000 |
| 550 to 650 | 3 Cars | 16,000 |
| 650 to 750 | 3 or 3.5 Cars | 18,000 |
| 750 to 900 | 3.5 or 4 Cars | 20,000 |
Notes: You may need to add more BTUs than the recommendation if your garage meets the following factors:
Add 2,000 to 4,000 BTUs if your garage isn't insulated.
Add 1,000 to 2,000 BTUs if the garage is built facing the west or south. 
Add an extra 1,000 BTUs if your living area is very sunny.
Add 1,000 to 2,000 BTUs if you live in the Northeast or Southeast where the climate is very humid.
If you live in Buffalo, NY, and your garage faces east or north, buy a 14,000 BTU AC unit.
If you live in Atlanta, GA, and the garage faces west or south, you should buy an AC unit that has a minimum of 18,000 BTUs, while 20,000 to 24,000 BTUs is preferable.
Don't Choose A Too Smaller A Size
Are you interested in a smaller size AC unit than this recommendation? Remember, an AC unit with fewer BTU than this will need to run continuously to keep your garage cool, increasing the electricity bill. What would be the experience with a larger-sized AC unit? Let's find out in the next section.
Too Larger Size Is Also A Bad Idea!
A too-large AC unit can be overkill. Let me explain. Along with cooling the atmosphere, an ac unit needs to extract the moisture from the air as we can feel hot and sticky.
But a too-large air conditioner will cool your garage more quickly. And therefore, it may not let the ac unit cool for enough time. If you do so, the AC unit won't be able to extract the moisture from the air effectively, and you may feel clammy and foggy in the garage.
Despite this, a too-large AC unit will frequently cycle off and on. So it's better to measure the garage area, calculate the BTU requirement, and get the right-sized AC unit.
You can also get help from your local heating and cooling center to pick the right size AC unit for the garage. Remember, both too little and too big an AC unit is equally bad for your garage.
Caution Regarding Central Air Conditioning
Don't tap into the home's AC unit to cool the garage. You may feel it's logical, but it's a bad idea for ample of reasons:
A garage doesn't have much air to return back into the HVAC system. So, extending the central air duct into a garage can cause unusual pressure in the garage. Therefore, the pressure of the home will be reduced as the air in the garage won't be able to return to the air return.
You won't sense this change in pressure except for the slight breeze that will happen due to keeping the garage door open. Despite the negative pressure the house tries to relieve somehow, and during this operation, the house collects air from outside.
As a result, the allergens and pollutants build up easily. It also makes it difficult for an AC unit to keep the home cool. The home garage produces fumes when you warm up the car or operate a mower.
Another difficulty you will face when connecting the house air conditioner to the garage is that harmful fumes will enter the house through the ductwork. Though some of the fumes smell odd, the carbon monoxide that comes from the exhaust is deadly.
Final words
A climate-controlled garage is expensive and may not be the right decision for everybody. But if you need to spend a long summer in the garage, installing an AC unit can be worthwhile.
Indeed, you must know what size AC unit do you need for your garage to keep the atmosphere cool without wasting any bucks.
As we have explained an effective and appropriate formula for picking the right size AC unit for any garage, hopefully picking the right size won't be an issue for you.