When it comes to purchasing a new air conditioning system, one of the first questions you should ask is what size air conditioner you require.
All you need is the proper size so that it will fit in your space. And, we will let you know, the best size of AC unit for your 2400 sqft area. 
What Size AC Unit Do I Need For 2400 Sq Ft Area?
A 5 ton or 60,000 BTU AC unit is considered the right size for 2400 sqft. Your air conditioner will run more effectively if it is the correct size for your home.
Here a table is given below about the measurements of AC units for 2400 sqft. 
Does Too Large Or Too Small AC Matter For 2400 SQFT?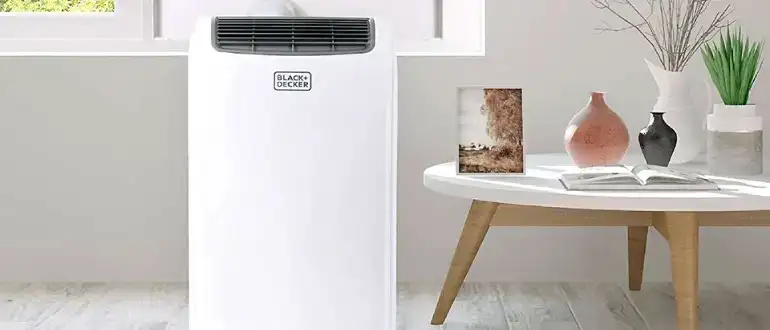 The summer heatwave is generally the reason many choose a larger air conditioner than is required for their home, while some people choose a smaller one to save money.
Let's see what kind of problems will accrue when you buy a too large or too small AC unit for 2400 sqft.
Buying A Too Large AC Unit 
Buying a too-large AC unit for 2400 sqft can cause a lot of problems. 
More Costly
Larger air conditioners are more expensive than smaller units. That implies your air conditioning bills will be high from the start, even before the equipment is installed.
What is the right size air conditioner for a 14×70 mobile home?
Consume More Energy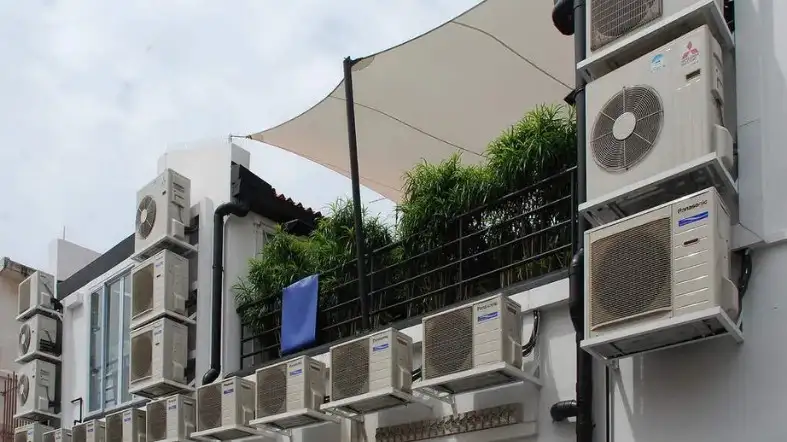 As oversized air conditioners consume more energy to cool your home, they nearly always result in higher energy bills.
Because they short-cycle more frequently. Short cycling refers to how an AC compressor cycles on and off in rapid intervals, which is inefficient.
Lifespan
The short cycling that occurs with a large air conditioner causes a lot of wear and tear on the unit, which reduces its total lifespan.
Buying A Too Small AC Unit
Air conditioners that are too tiny for your home, on the other hand, might cause a variety of problems.
Little Cooling Capacity
Your home is never cold enough no matter how hard it tries, an undersized air conditioner will keep struggling to cool an area that is too large for it.
The best it can possibly accomplish is cool one portion of the home while keeping the rest warm.
Cause High Energy Bills
While the capacity of an air conditioner usually corresponds to the amount of energy it consumes, an undersized air conditioner will consume more energy simply because it is more likely to operate continually, hardly cooling the room.
Lifespan
An undersized unit experiences the same wear and tear as a too-large unit.
The stress of your undersized AC unit's near-constant running leads to more frequent and expensive repairs, as well as a shorter overall lifespan.
Which Types Of AC Units Do I Need For 2400 SQFT?
Air conditioners are divided into three categories, and each of them cools similarly.
Your home is most likely equipped with a ductless air conditioner, packaged air conditioner, or split-system air conditioner.
Split-system air conditioners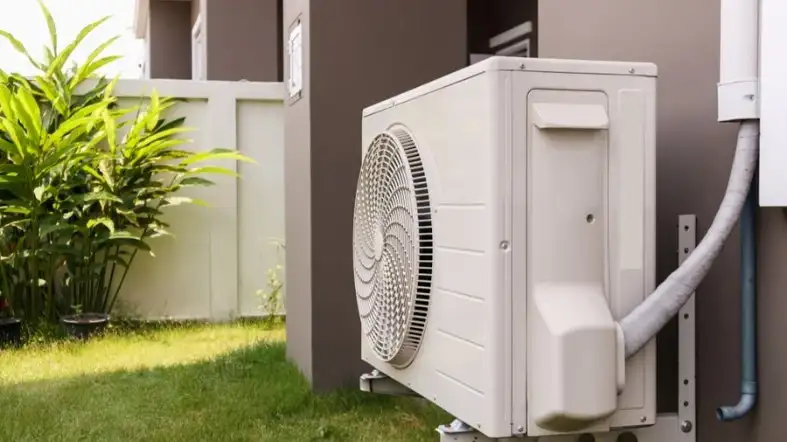 Split-system air conditioners are the most common type of unit system.
An outdoor unit and an indoor unit work together to cool and adjust the humidity level in your house using this system.
With this style of air conditioner, you have a lot of alternatives.
You may select a split-system air conditioner from markets depending on your desired energy efficiency, noise level, and budget.
Ductless air conditioner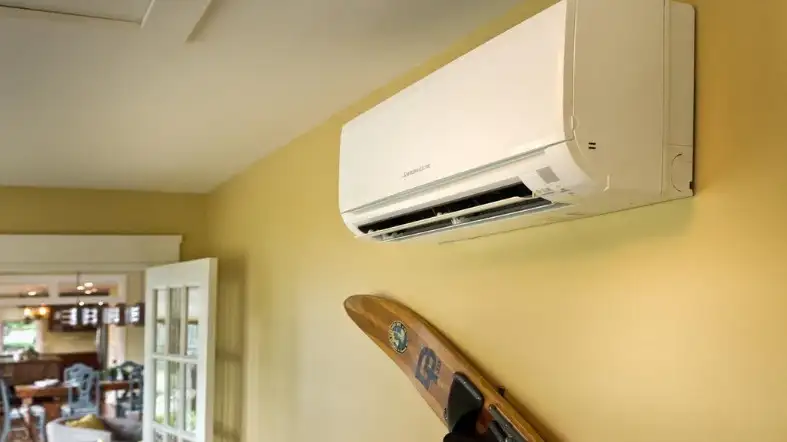 One outdoor unit connects to one or more inside units in a ductless air conditioner. The interior units have a unique design.
These systems are appropriate for homes that desire or require various temperatures in each space since the indoor units are meant to cool one room.
Because each room has its unit located on the ceiling, wall, or floor, you may make one room significantly colder or warmer than another.
Packaged Air Conditioner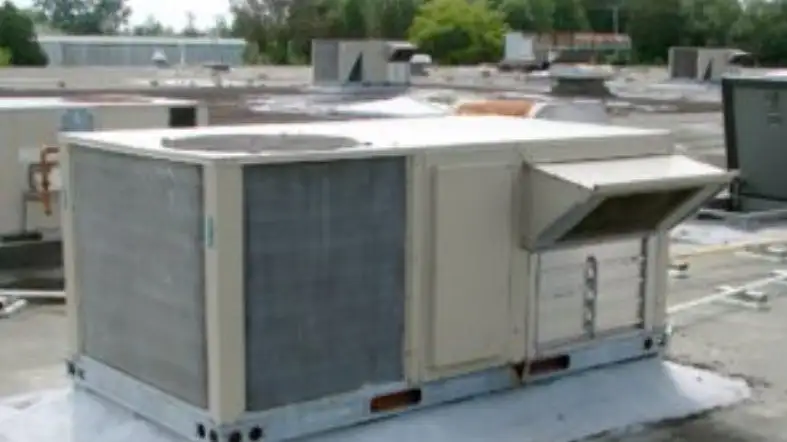 A packaged air conditioner system is made up of only one outdoor unit.
The unit contains all required mechanical components, such as the evaporator coil, compressor, and condensing coil.
The bundled system uses the ducting in your house to cool the right areas.
You may pick between single-stage and two-stage systems, depending on your demands and desire for an energy-efficient machine.
Best AC Unit for 2400 SQFT
1. Senville SENA-36HF/Q Quad Zone Mini Split Air Conditioner Heat Pump, 36000 BTU
Senville SENA-36HF/Q Quad Zone Mini Split Air Conditioner Heat Pump, 36000 BTU, Works with Alexa, White
PERFECT FOR MULTIPLE ROOMS: Comes with multiple indoor air handlers for individual rooms and a single outdoor unit. Enjoy individual temperature controls in each room for ideal climate control.
ALEXA ENABLED: Use voice or app control to control your air conditioner from anywhere. Use routines to adjust temperature settings while you are away and enjoy energy savings of up to 40%.
ULTRA HIGH EFFICIENCY: AHRI Certified Air Conditioner and Arctic Heat Pump (Up to -22°F/-30°C) Uses 208-230V, UL Listed, Works with Alexa
DESIGNED FOR HOME & BUSINESS: Powerful performance and dependable durability with high quality design for an attractive appearance. Great for bedrooms, additions, living rooms, and even commercial applications like stores, restaurants, and warehouses.
10 YEAR WARRANTY: Backed by an industry leading manufacturer's warranty, with 5 years on parts replacement and 10 years on compressor. Trusted quality and design by Senville, with free technical & installation support included.
WHAT'S INCLUDED: Includes indoor air handlers, outdoor condenser and installation kit with 16ft. line set and communication wire. Important note: requires professional installation.
Check Latest Price On Amazon
2. PIONEER Air Conditioner Inverter++ Split Heat Pump, 48,000 BTU, 208-230 V
PIONEER Air Conditioner Inverter++ Split Heat Pump, 48,000 BTU, 208-230 V, White
Ultra high efficiency DC Inverter+ Ductless Split Heat Pump system. Floor Standing or Ceiling Suspended Mounting
Complete system set consisting of; Indoor Unit, Outdoor Unit, and Installation Kit
48, 000 BTU/h Cooling Capacity with 17. 8 SEER High Efficiency Rating
50, 000 BTU/h Heating Capacity with 11. 0 HSPF High Efficiency Rating
Voltage: 208~230 VAC, 60 Hertz, 1 Phase. For other specks see all pictures provided
Check Latest Price On Amazon
3. Cooper & Hunter 60,000 BTU Universal Floor Ceiling Ductless Mini Split Air Conditioner 230V With Wall Thermostat
Cooper & Hunter 60,000 BTU Universal Floor Ceiling Ductless Mini Split Air Conditioner 230V With Wall Thermostat
Cooper&Hunter 60,000 BTU Universal Floor Ceiling Ductless Mini Split AC/Heating system with Remote controller, Wall Thermostat
Uses 208-230V, ETL Intertek Approved, AHRI Certified. Works for heating with ambient temperature up to 5F°
4-in-1 System Featuring: Cooling, Heating, Dehumidification, and Fan. Whisper Technology for Quiet Operation, Great for Bedrooms, Additions, Living Rooms, and Commercial Applications.
A copper line set 3/8″ – 3/4″ is required for the installation but is not included. This listing is only for indoor handlers and outdoor condensers
You are well protected by a 7 year warranty on the compressor, a 5 year parts warranty, and free technical support should you ever need assistance. Professional installation is required.
Due to the size and weight system is shipped palletized with an arranged freight delivery service. An appointment for delivery is required. Please, verify your contact details before ordering.
Check Latest Price On Amazon
What To Look For In The Right Size AC Unit for 2400 SQFT?
Although square footage-based size calculations are useful for giving you an idea of what to expect, there are numerous additional things to consider when appropriately measuring your air conditioning unit.
Energy Efficiency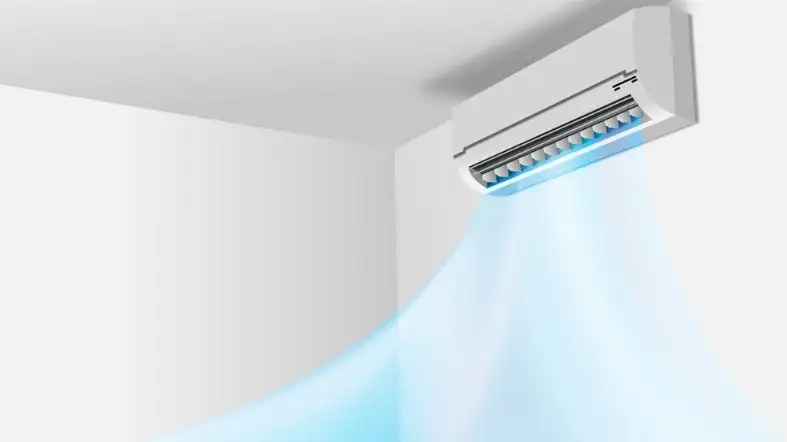 You'll spend more up-front for energy efficiency, just as you will for cooling capacity.
However, you may quickly recoup that expense through energy savings during the unit's lifetime.
The Energy Efficiency Ratio (EER) is calculated by dividing the cooling capacity by the electrical power required to run the unit. The EER of most 115V units is 9 or 10.
Any unit with a value of more than ten is regarded as exceptionally efficient, and genuine energy pioneers are in their low twenties.
Controlling Features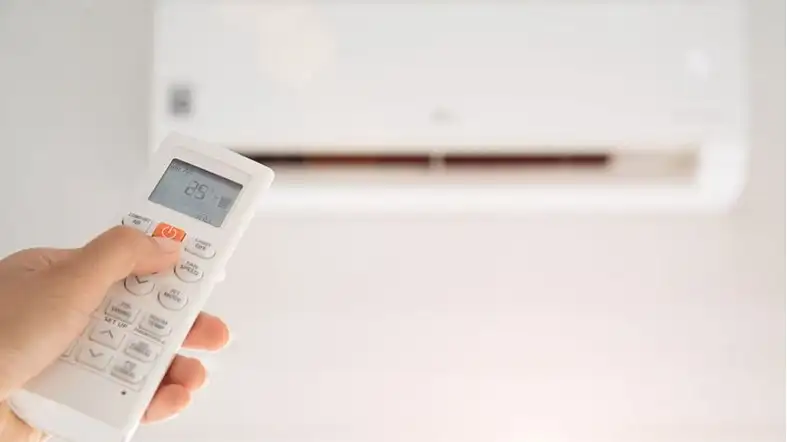 It can be simple to stay cool this summer if you choose the correct control features. Look for fans with many speeds and temperatures that can be adjusted.
Both allow you to fine-tune the output for the best possible comfort. They also allow you to cool the room and then reduce the temperature for quieter operation. 
Digital controls
Digital controls, provide accurate temperature control as well as a timer for turning the electricity on and off according to a predetermined schedule.
Whether Controls
Another consideration is whether controls are situated at the top, bottom, or sides of the device.
If the unit will be positioned in a window at waist level, top controls will be the simplest to reach.
For a through-the-wall machine put it at the shoulder or head level, bottom or side controls are best. 
Installation 
Instructions for placing the AC unit in space are also important. It is better to install AC over a window.
To install an AC you can follow these instructions which are given below. 
Measure the width and opening height of the window it will be installed in before purchasing an air conditioner. 
Then, consult the product documentation to see which window sizes the unit will accommodate. Installation is made easier with air conditioners that have a slide-out chassis. 
After connecting their metal frame to the window, all you have to do is slip them in place.
 For through-the-wall installations, a slide-out chassis is required if your windows have an odd arrangement.
You can get through-the-wall installation from most appliance retailers. After cutting a hole in the wall, the installer will attach the air conditioner sleeve to the frame and then slip the unit in. 
To prevent drafts and moisture, make sure the installer caulks both the inner and outside corners of the aperture.
Does My AC Unit For 2400 Sqft Affect The Environment?
Even if the most advanced air conditioning systems are not appropriate for you, substituting any old unit would assist the environment.
Because today's heating and air conditioning equipment are more energy-efficient than those from 10 or 20 years ago, this is the case. 
Air conditioning consumes about 2,000 kilowatt-hours of energy per year in the average house, resulting in power plants emitting roughly 3,500 pounds of carbon dioxide and 31 pounds of sulfur dioxide.
Even if your existing air conditioner is just ten years old, a new unit may save you up to 40% on electricity.
Switching to a new air conditioner might be deemed a "green" movement in any case.
FAQs About The Right Size AC Unit For 2400 sqft
How long does an air conditioner last for 2400 sqft?
Though the duration of an air conditioner depends on several factors, well-maintained air conditioners should last 10 to 15 years.
Many systems may be made to last even longer by performing frequent inspections and repairs, including modal scales.
How To Calculate The AC Unit For 2400 Sqft?
When calculating the sizes of AC units, per square foot, you'll require 0.0016 tons of air conditioning.
1 ton of air conditioning is required for every 600 square feet. This is only an assumption.
Again, 1 ton is equal to 12,000 BTU. So, if you choose a 3 ton AC that means it will be 36,000 BTU for 2400 sqft room space.
For 4 and 5 tonnages, it will be 48,000 BTU and 60,000 BTU. You have to look for the model number to know the size. 
The Final Thoughts
We all enjoy those days when the weather is wonderful, but there's a factor why air conditioners are so common in our life. So getting the right size air conditioner matters.
With these recommendations insight, you'll be able to make an informed decision on the right size AC unit for a 2400 sqft and improve your quality of life.