Installing the right size dehumidifiers in a mobile home offers relief to residents of high humidity, keeping the inside dry and comfortable.
So before going out shopping, you should ask yourself, "What size of dehumidifier do I need for a mobile home?"
Otherwise, a wrong choice can lead to ineffective humidity control and increased energy consumption. 
This article will guide you through the process of determining the right dehumidifier size, exploring various types, and discussing the installation process.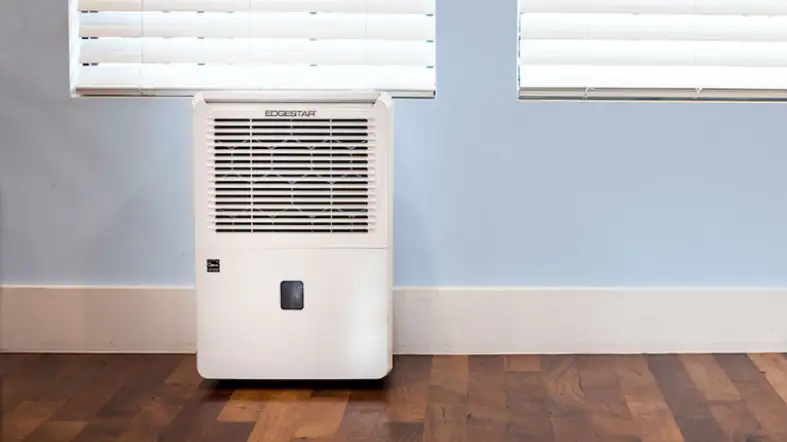 What Size Dehumidifier Do I Need For A Mobile Home?
For most mobile homes, a 30-50-pint dehumidifier should suffice. Larger homes may require a 70-pint unit. To determine the right dehumidifier size for a mobile home, consider its square footage and factors like humidity levels and insulation also impact your choice.
Mobile Home Dehumidifier Size Chart:
| Dehumidifier Size/Capacity | Suitable Area Size |
| --- | --- |
| Mini Dehumidifier (1 to 4 Pints) | Up to 200 sq feet |
| Small Dehumidifier (5 to 20 Pints) | 200 to 400 sq feet |
| 30 Pint Dehumidifier (21 to 40 Pints) | 200 to 800 sq feet |
| 50 Pint Dehumidifier (41 to 60 Pints) | 600 to 1200 sq feet |
| 70 Pint Dehumidifier (61 to 80 Pints) | 800 to 1600 sq feet |
Various Types of Dehumidifiers Suitable for Mobile Homes
Portable Dehumidifiers
Portable dehumidifiers are compact and easy to move around. They're perfect for mobile homes as they can be placed where needed. However, they may not be as powerful as larger models. A popular choice is the Frigidaire FFAD3033R1.
Refrigerant Dehumidifiers
Refrigerant dehumidifiers work well in warmer climates. They cool air to condense moisture but may struggle in cooler temperatures. The EcoAir DD122FW Classic MK5 is a reliable model.
Desiccant Dehumidifiers
Desiccant dehumidifiers use a chemical to absorb moisture. They work well in cooler climates but can produce heat. The EcoSeb DD122EA-Classic is a top pick.
Whole-House Dehumidifiers
Whole-house dehumidifiers are powerful and can control humidity in large spaces. They're more expensive and require professional installation. The Aprilaire 1850F Large Basement Pro Dehumidifier is a recommended model.
How to Determine the Appropriate Size of Dehumidifier for Your Mobile Home
Calculating Square Footage
First, measure the length and width of your mobile home. Multiply these measurements to find the square footage.
For example, if your home is 40 feet long and 20 feet wide, your square footage is 800 sq ft.
Considering Relative Humidity Levels
Determine the average humidity level in your area. You can find this information by using a hygrometer.
If you live in a very humid region, consider a larger dehumidifier. For example, if the humidity regularly exceeds 60%, go for a 50-pint dehumidifier or larger.
Assessing Occupant Impact
More people mean more moisture from activities like cooking, bathing, and breathing. For two or more people, add 10 pints per day for each additional person.
If you have four people in your mobile home, you'll need a dehumidifier with at least a 70-pint capacity.
Identifying Moisture Sources
Identify moisture sources in your home. Is there a basement or crawl space? Do you have leaky windows or doors?
For damp basements or crawl spaces, consider a dedicated unit. If you have multiple moisture sources, opt for a dehumidifier with a higher capacity.
Evaluating Home Insulation
Evaluate your mobile home's insulation. Well-insulated homes retain moisture more effectively. If your home is well-insulated, you can choose a smaller dehumidifier.
For poorly insulated homes, go for a larger capacity unit to ensure efficient moisture removal.
Defining Desired Humidity Level
Consider your preferred indoor humidity level. Most people aim for 30-50% humidity.
If you want to maintain a lower humidity level, go for a larger dehumidifier. For a 30-50% range, a standard 30-50-pint unit should suffice.
Evaluating Additional Features
Lastly, consider extra features. Some dehumidifiers have built-in pumps for continuous drainage, while others offer smart controls for remote monitoring. Choose features that align with your convenience and budget.
Other Factors That Determine The Size Of The Dehumidifier For Mobile Home
Mobile homes are the perfect solution for people who need to move around frequently and want to retain comfort.
Since mobile homes need to change their places often, they mostly come in a small and portable design for easier mobility.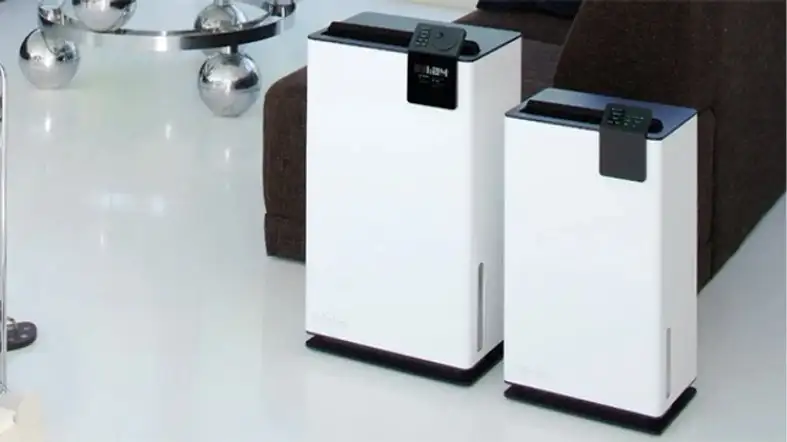 Still, it requires the right size dehumidifier to reduce humidity, wood-decaying fungi, and harmful mold spores.
Otherwise, a too-small dehumidifier will become useless while a too-large one will spike your bills.
Apart from measuring the square footage area of your mobile home to pick the right size dehumidifier, the other things you should consider are:
Water tank capacity
Till now, it's believed that the dehumidifiers are rated by the number of pints of water they draw per day.
So, while choosing dehumidifiers consider how much water they can draw from the atmosphere and whether it is enough for the area of your mobile home or not.
Airflow capacity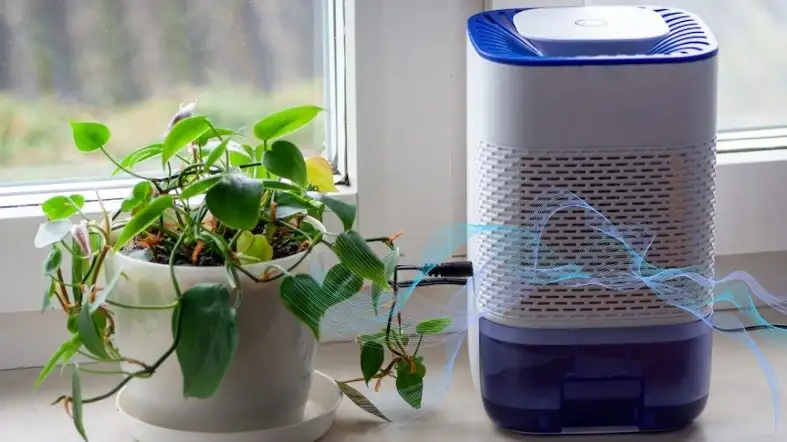 It's a rate of the amount of air a dehumidifier can move per minute.
The moisture-absorbing rate of a dehumidifier is measured depending on the amount of air it can cycle through the environment per minute.
It removes the moisture from the air while passing through the machine during the process of air circulation.
And the area of the mobile home's room dictates the number of times the dehumidifier can process the air in the space.
How to Install a Dehumidifier in a Mobile Home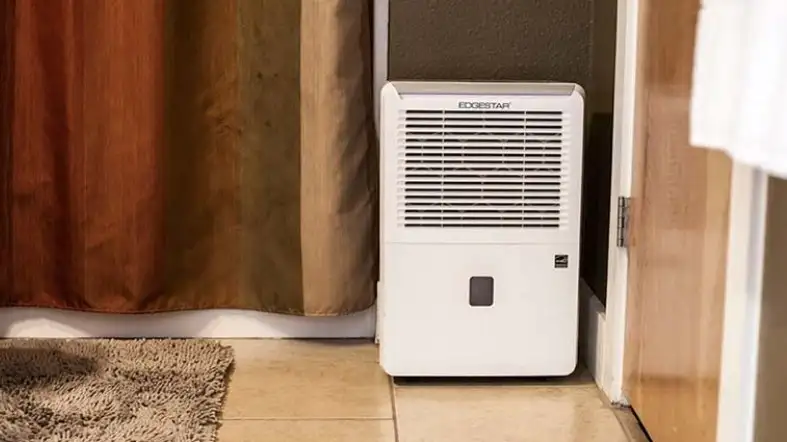 After determining what size dehumidifier you need for a mobile home, it's time to learn how to install it.
It's crucial to set up the dehumidifier in the right place and appropriately to get the most out of it.
Select the right dehumidifier
Make sure the capability of the dehumidifier matches the interior space of your mobile home.
Most dehumidifier boxes are labeled with the area they can cover to keep dry. Luckily, one unit of a dehumidifier is good enough to keep a mobile home dry.
Fix The Way To Drain The Dehumidifier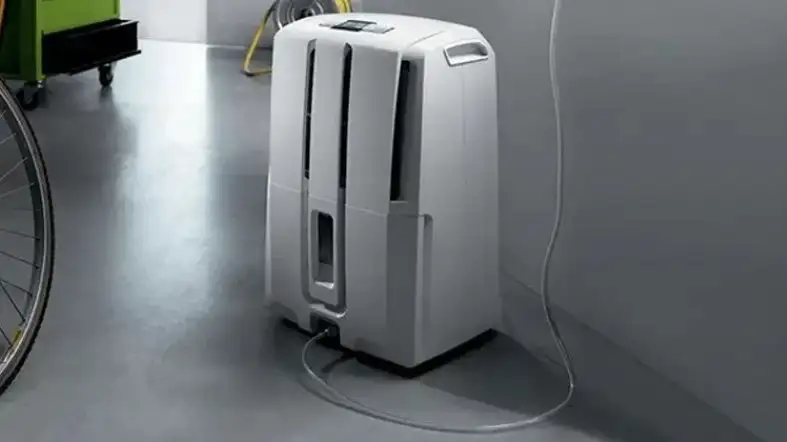 Dehumidifiers usually come with a holding bucket which needs to be drained manually every few hours based on the air moisture level.
Some models also include an outlet to attach a drain hose for nonstop draining. Choose such a type of dehumidifier and attach a 6-foot drain hose.
Place the dehumidifier and make sure it remains in the balance with the drain.
You can also put the unit on a table in the kitchen to drain the water into the kitchen sink.
Before using the sink, shut off the dehumidifier and move its hose to the other side. 
But don't direct the drain hose out of the window. Doing so will cause moisture problems on the outside because of the dripping hose and increase the risk of mold growth.
Place the dehumidifier
Position the dehumidifier toward the center of the mobile home so it can serve both sides evenly.
But if one side has greater moisture problems like noticeable mildew or mold, move the unit close to the problematic area. 
If your bathroom doesn't have proper ventilation, place the dehumidifier close to it and drain the water into the bathtub.
Take care during the cooler season
During the winter season, place the unit in the warmest area of the mobile home.
Dehumidifiers don't work well under 65 °F unless they have the advanced anti-frost option.
If you notice ice or frost building around the machine in colder weather, switch it off. Otherwise, its condenser can get damaged.
Alternatives To The Dehumidifier To Reduce Moisture In A Mobile Home
Instead of investing in a dehumidifier in the first place, the other things you can try to fix the problem are:
Check the air ducts
As an initial step, you should check the air ducks inside of the mobile home.
It's mostly placed under the mobile home in the crawl space between the floor of the mobile home and the ground.
The seal of the air duck should be airtight to block outside air from entering the mobile home.
According to the Manufactured Housing Research Alliance, loose air ducks can increase the moisture in the mobile home.
You can seal the air ducks by wrapping the duck joins with multiple layers of electrical tape. This will effectively prevent the excess air from leaking into the mobile home.
Check the insulation
If you notice excessive wall moisture, inspect the insulation in the mobile home's wall.
Sometimes the compression inside the wall insulation produces cold spots that attract moisture. 
If the interior wall elements push against the insulation, it creates air pockets and insulation compression.
If this happens, hire a professional to remove the insulation and replace it with properly cut insulation.
FAQs
What Is The Right Area To Place The Dehumidifier In A Mobile Home?
In general, you should place the dehumidifier towards the center of the mobile home to reduce moisture from all around equally. But if one side is having the most trouble, place the unit close to the affected area.
Can I Use A Dehumidifier In A Mobile Home?
Of course, there are lots of small dehumidifiers available that fit into mobile homes and reduce the moisture in the air.
These are easy to install and effectively ensure a comfortable environment inside of the mobile home.
Can I Use a Portable Dehumidifier in a Mobile Home?
Yes, portable dehumidifiers are suitable for mobile homes due to their compact size and ease of movement.
Is a 30-Pint Dehumidifier Adequate for a Small Mobile Home?
Yes, a 30-pint dehumidifier is typically adequate for small mobile homes, covering up to 800 square feet.
Are Desiccant Dehumidifiers Suitable for Cold Climates in a Mobile Home?
Yes, desiccant dehumidifiers are suitable as they perform well in colder climates, absorbing moisture effectively.
Final words
Understanding what size dehumidifier you need for a mobile home is a crucial part of picking a unit.
When you can neither go for a larger nor a smaller unit, measuring the area of the mobile home is the smart way to prevent hassles. 
Despite this, we are also aware of installing a dehumidifier and some other alternatives to keep the home cool.
So try all of these possibilities first before investing in the right size dehumidifier for your mobile home.