Are you wondering what size dehumidifier you need for your crawl space?
Dehumidifiers can be a great way to reduce the amount of moisture in your home, but choosing the right one for your space can be tricky.
In this blog post, we'll discuss the factors to consider when buying a dehumidifier for your crawl space, as well as the best size and type for your home.
We'll also provide tips on installation and maintenance, so you can enjoy a drier, healthier home.
What Size Dehumidifier Do I Need For My Crawl Space?
Typically a 300 square feet crawl space needs a 20-30pint-sized dehumidifier.
Basically, dehumidifier size depends on your crawl space. That means if your crawl space is smaller, you should buy a small-size dehumidifier and vice-versa.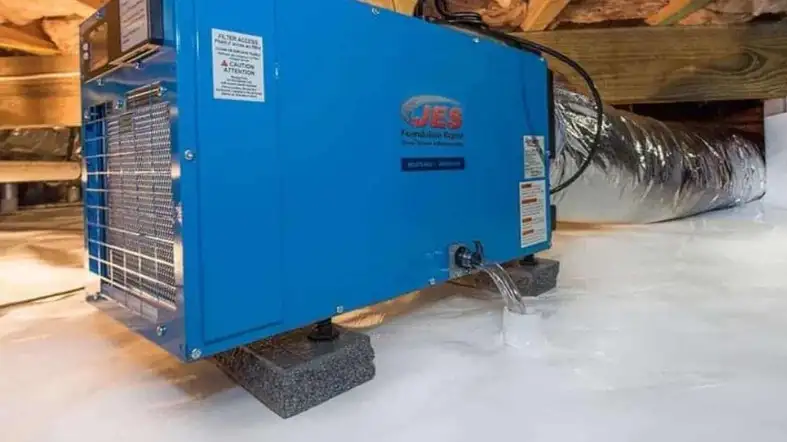 But if the space is 1200 square, then you need a 50-60+ pint dehumidifier. So, you can see depending on your crawl space, the dehumidifier size also varies. 
The dehumidifier cools down the air to ensure a comfortable indoor environment.
But if you purchase a too small or too big dehumidifier, that hampers the performance and increases the electric bill.
So it is important to pick the right size of dehumidifier for different sizes of crawl spaces.
Dehumidifier Sizes
Generally, a dehumidifier size can vary between 20-90 pints. Considering your crawl space, conditions, and needs, you need to choose the right size device.
Here's a table that can help you determine what size dehumidifier you need for your crawl space:
| Crawl Space Size (Square Feet) | Recommended Dehumidifier Size (Pints Per Day) |
| --- | --- |
| Up to 1,000 | 30-40 |
| 1,000 – 2,000 | 50-60 |
| 2,000 – 2,500 | 70-80 |
| 2,500 – 3,000 | 90-100 |
| 3,000 – 4,000 | 110-120 |
| 4,000 – 5,000 | 130-140 |
Dehumidifier Size Calculations
To find the right size dehumidifier, you can follow the below factors.
Room Volume
You can easily measure the room volume above the crawl instead of measuring the crawl space's volume. Because it is easy to calculate and give an exact size guide.
When you measure the room volume above the crawl space, it will help to get an accurate size device.
That will filter air fast and efficiently to give you breathing comfort.
You can use the volume formula to find the volume of your particular room. If the room shape is square, then use the volume formula for a square-shaped room. 
Take a measurement tape to do the calculation. After getting the room volume, simply check the dehumidifier size chart to find the right size dehumidifier according to your room's volume.
>> What size dehumidifier for 2000 square feet?
Room Space
You can also calculate your room size in square feet to choose the right dehumidifier.
Use standard tape to find the length and width of your room. That will give you the total square feet value of your room. 
Room size is more accurate and consistent in selecting dehumidifier sizes. Compare the square feet result with dehumidifier size charts. 
If your region is high humidity, then buy a bigger dehumidifier than the recommendations.
You should consider the moisture rating of a dehumidifier to know how much moisture it will subtract from indoor air within 24 hours.
Size Charts
| Room Size(sq.feet) | Dehumidifier Size |
| --- | --- |
| 300 | 20-30pints |
| 500 | 30-40 pints |
| 800 | 50-60pints |
| 1000 | 60-70pints |
| 1200 | 70-80pints |
Humidification Load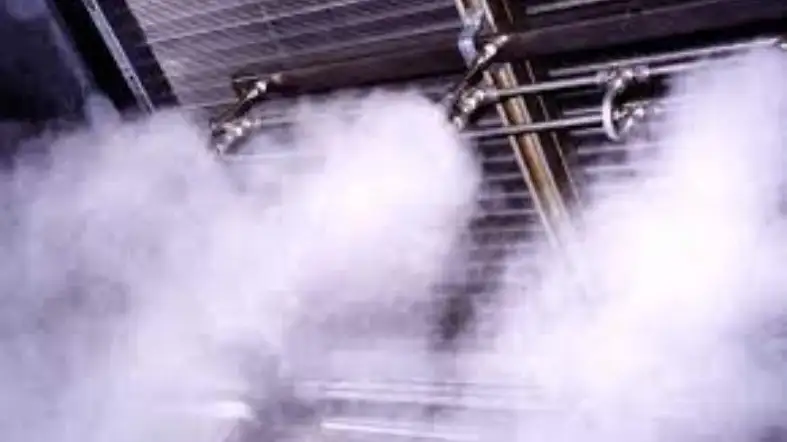 You need to maintain a particular humidity level to ensure a comfy indoor environment.
Humidification load will give you data about how much moisture you need to add to balance a healthy moisture level.
You can face humidity due to building-related factors and suffers badly from structural dampness if you don't have a dehumidifier.
The normal range of humidity is 40-60%. So buy a dehumidifier that can keep your indoor humidity within the normal range.
Type Of Dehumidifier
Though all types of dehumidifiers perform the same job, a slight difference exists.
Here we will talk about some features of a crawl space dehumidifier to know why it is a good choice.
Hygrometers
A hygrometer helps you to measure the humidity level of your room. The crawl space humidifier comes with hygrometers to give you these extra benefits. 
But you won't get this feature in a normal dehumidifier. So crawl space dehumidifier is the best choice to monitor air quality and improve air quality.
You can easily evaluate the daily performance of your device.
Gravity Drainage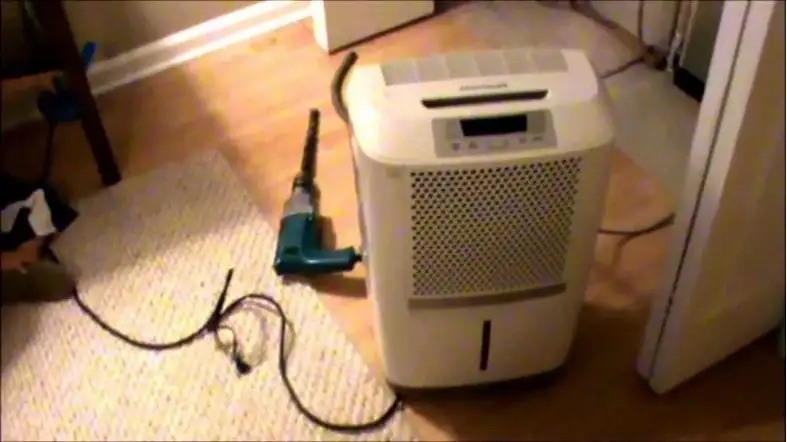 Typically dehumidifier comes with a built-in collection tank to collect old water. You need to release water from the tank to make it empty.
But small size dehumidifier provides a hose to the back portion to transfer old water into the nearest drain.
In that case, you need to attach the hose correctly so that the water flow can go to the drainage.
Condensation Pump
Some dehumidifier comes with an internal condensation pump to ensure smooth drainage.
You need to connect the condensation pump to the water drain line so that the water flows into any sink from the crawl space.
Adjustable Humidistat
Crawl space dehumidifier brings an adjustable humidistat to give you proper control. You can customize the humidifier performance using these features. 
Suppose you want to keep indoor humidity 30-40%. This device allows you to set the targeted humidity level.
After achieving a certain humidity level, the humidistat will turn off automatically.
Automatic Shut Off
The automatic shut-off feature is only available in crawl space dehumidifiers. This device can automatically turn off when the water collection tank is full.
As a result, you won't face overflow. You can easily understand when you need to clear the tank. 
Purification Method
When indoor air passes through a dehumidifier, it needs to filter the harmful particles. An efficient purification system is essential to get the best quality air. 
So buy a dehumidifier that offers an advanced purification system. It helps to maintain healthy air for your crawl space.
FAQs about what size dehumidifier is for my crawl space
How do I measure the square footage of my crawl space?
Measure the length and width of your crawl space, and then multiply those numbers to get the square footage.
For example, if your crawl space is 20 feet long and 30 feet wide, the square footage would be 600 square feet (20 x 30 = 600).
What factors should I consider when choosing a dehumidifier for my crawl space?
Factors to consider when choosing a dehumidifier for your crawl space include the size of your crawl space, the humidity level in your crawl space, the climate in your region, and the ventilation in your crawl space.
Can I use a dehumidifier with a smaller capacity than recommended for my crawl space?
Using a dehumidifier with a smaller capacity than recommended may not be effective in reducing the humidity in your crawl space.
It may also cause the dehumidifier to work harder than necessary, leading to increased energy consumption and wear and tear on the unit.
What are the benefits of using a dehumidifier in my crawl space?
Using a dehumidifier in your crawl space can help prevent mold and mildew growth, reduce musty odors, improve indoor air quality, and protect your home from moisture-related damage.
How often do I need to replace the air filter in my crawl space dehumidifier?
The frequency of air filter replacement depends on the specific dehumidifier and how often it is used.
Check the manufacturer's instructions for guidance on when to replace the air filter.
As a general rule of thumb, the air filter should be replaced at least once every 6-12 months.
Bottom Line
Hopefully, now you get the answer on what size dehumidifier do I need for my crawl space.
If you can buy the right size dehumidifier for your crawl space, then it will be a lucrative investment. You can enjoy fresh, clean, and healthy air inside the room.
When you are buying a dehumidifier for crawl space, it is better to choose a crawl space dehumidifier instead of other types.
It offers some extra features that help to balance humidity more effectively. Buy the right dehumidifier to strictly maintain indoor quality.