What Size Air Compressor For Painting?
We may earn affiliate fees for purchases using our links (at no additional cost to you).
If you buy a too small or too big air compressor, that can hamper your car painting efficiency. So what size air Compressor for painting is important to know?
Air compressor comes with a motor or engine, and it works through pressurized flow. You need to maintain consistent flow to ensure faster and perfect painting. 
That is why compressor size is important. Let's drive into the article to choose the right size air compressor for the auto industry.
What Size Air Compressor For Painting?
Generally, the air compressor size depends on your painting needs, types and coverage.
Suppose you want to paint a full car that requires a big size air compressor, such as a 50-60 gallon compressor.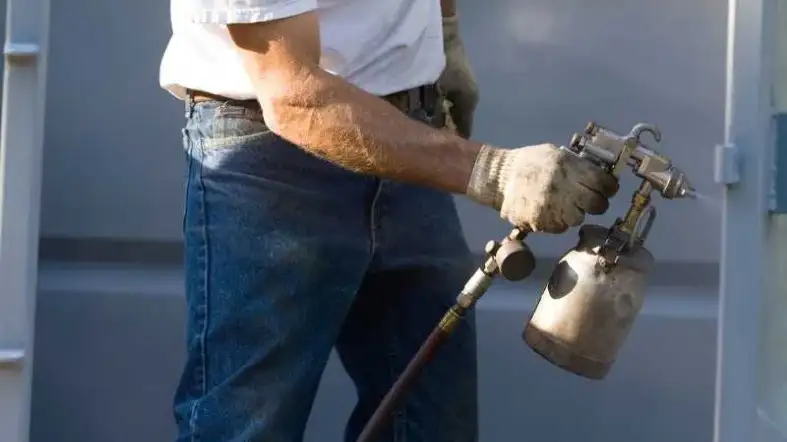 But if you need to touch up, repair, or paint a simple logo, that can be done using a smaller air compressor.
So the hobbyist painter needs a small air compressor with a 6-10CFM rating.
How To Choose The Right Air Compressor For Painting
You should consider the below factors to select the right air compressor size for vehicle painting.
Tank size
The Air compressor contains a tank that actually makes a difference in painting efficiency.
Suppose you buy an air compressor with a big tank that boosts your painting work. But smaller tanks need to refill frequently, which hampers painting flow.  
So if you want to do full car painting, then go for a big tank. A smaller tank can result in uneven coating as you are facing pressure variations.
Expert recommended tank sizes of nearly 50-60 gallons for full vehicle painting.
It will help you to finish the coating without refilling the tank, which is faster and simpler.
CFM Rating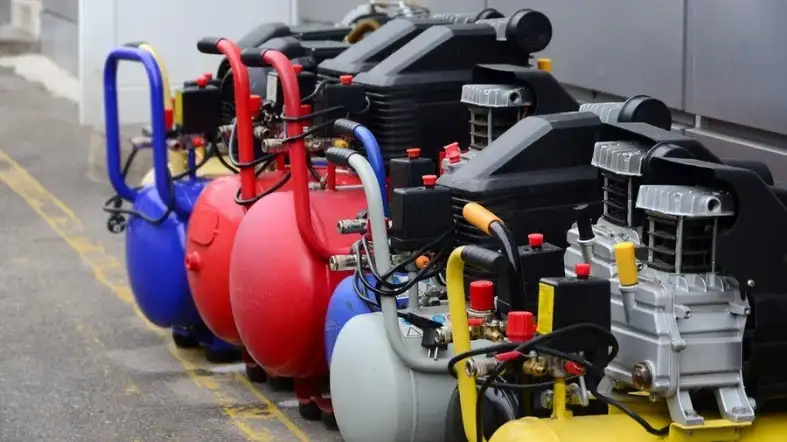 CFM rating indicates how smoothly you can finish your vehicle painting. You need to buy a higher CFM rating compressor.
It ensures high volume air, which is responsible for even coating and smooth finishing. 
If you want a consistent painting, higher CFM is also essential.
So you should buy a high-volume compressor for auto paint tasks. Typically 20CFM is enough for car painting.
Air Pressure
CFM is more vital than air pressure for a compressor. Actually, air pressure means how the paint delivers through the nozzle.
Air pressure rating is measured using PSI. This pressure is also important to achieve even paint flow like CFM rating. 
So you can go for 20-25psi with the high-volume compressor to derive a clear auto painting experience.
PSI can be low, but the volume needs to be high for even coating. But you can increase the air pressure a bit to get a crystal clear painting.
Performance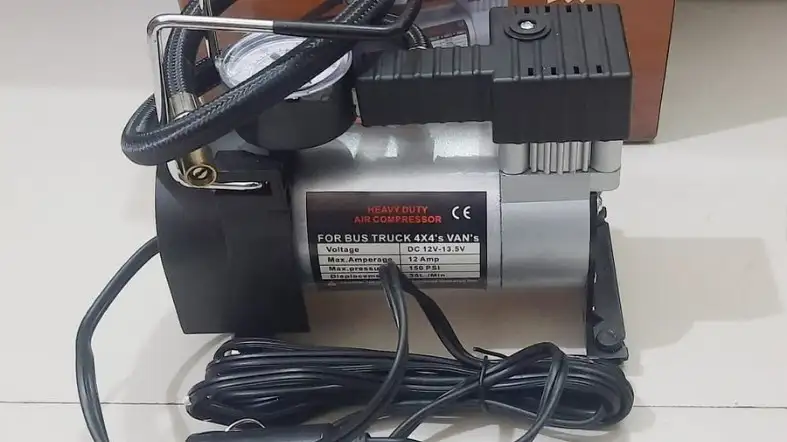 The Technology used in an air compressor decides its performance. So the compressor technology is also important to get a smooth airflow.
Two types of compressor are available on the market one is a reciprocating air compressor, and the other is a rotary screw-powered compressor. 
Reciprocating uses pistons to paint that are a bit noisy. But it is cheaper and requires less maintenance than a rotary counterpart compressor.
Reciprocating Compressor also offers a wide range of sizes. If you are a hobbyist painter or industrial painter, you can easily get the right sizes.
On the contrary rotary screw compressor are quiet and energy efficient. It comes with high-end machinery, and it is costly.
You can choose both gas-powered and electric air compressors according to your need. But I will suggest you to choose an electric air compressor to avoid fuel costs.
Horsepower
The horsepower is the key to controlling your auto painting efficiency. It defines how much painting you cam done with an air compressor.
The more powerful horsepower you choose, the more efficient painting you will get.
But better horsepower does not mean a better air compressor. Generally, 10hp is sufficient, but you can go for a more horsepower compressor to improve the painting efficiency.
Despite compressor size CFM rating, Horsepower is also important to get the best auto paint experience. So don't forget to check this rating.
Typically a 10-20CFM rating and 5HP are ideal for doing automotive painting.
FAQs About Air Compressor For Painting
What is a good Compressor for painting vehicles?
In the market, you will get a lot of compressor models. Among them, SS5 5HP 60 gallons, Rolair FC2002, etc., is the best choice for painting.
How many CFM do I need for auto painting?
You should go for a CFM rating of 10-20 for auto painting.
What size Compressor do I need?
Compressor size depends on your need. If you want to paint a full car, then go for a 50-60 gallon compressor. Otherwise, hobbyist painters can buy a smaller compressor.
Can I paint a car with a single-stage air compressor?
Yes, you can paint a car with a single-stage air compressor. But you need to check the CFM rating and go for a compressor with a minimum CFM rating of 15.
What is a better single or dual-stage air compressor?
A two-stage air compressor is efficient, cool, and faster than a single-stage compressor. So a two-stage compressor is a better choice.
What is a good size compressor for painting?
A small tank compressor creates pressure variance that hampers painting flow and creates an uneven coating. That is why larger air compressors such as 50-60gallons are perfect for vehicle painting.
Bottom line
What size air compressor for painting is a common query? Every newbie painter makes mistakes when choosing an air compressor size that hampers their painting efficiency.
Here we share detailed tips for choosing the right size air compressor according to your needs.
Follow the guide to make your car painting hassle-free and faster. For automotive painting, a smaller compressor is not that effective.
You need a larger air compressor to finish a whole vehicle painting without flows. So before buying, check the size carefully.