If you're planning to use a nail gun, it's important to know what size air compressor you need to power it. Selecting the improper compressor not only hampers project timelines but also poses potential safety risks.
This article will guide you through the process of determining the correct air compressor size, exploring different types of nail guns, and other relevant information.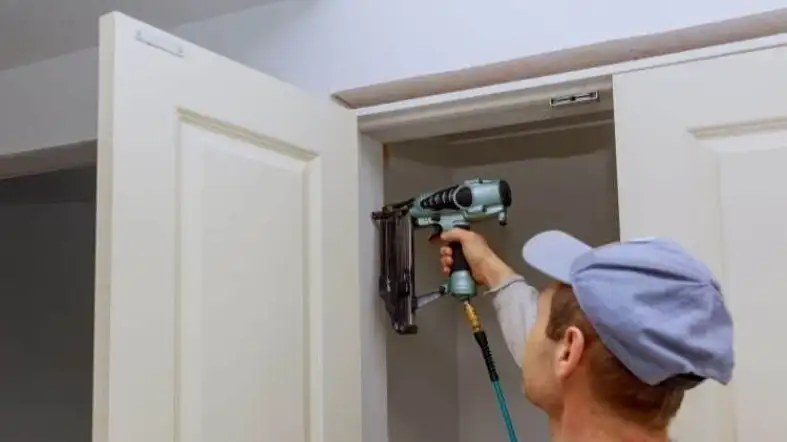 What Size Air Compressor For Nail Gun?
For a nail gun that requires 0.5 to 4 CFM at 90 PSI, you will require a compressor that has a capacity of 6 gallons. The size of the air compressor needed for a nail gun ranges from 2-4 CFM at 70 to 90 PSI. The exact size depends on the specific type of nail gun.
nail Gun Air Compressor Size Chart:
| Type of nail gun | CFM Requirements | Pressure | Min. Compressor Requirements  |
| --- | --- | --- | --- |
| Finish Nailer | 0.5 to 1 CFM | 60 to 90 PSI | 2-Gallon Compressor Capable of 2.0 CFM at 90 PSI |
| Palm Nailer | 1 to 2 CFM | 70 to 90 PSI | 3-Gallon Compressor Capable of 3.0 CFM at 90 PSI |
| Roofing Nailer | 2.2 to 2.5 CFM | 90 PSI | 6-gallon Compressor Capable of 3.0 CFM at 90 PSI |
| Brad Nailer | 0.5 to 1 CFM | 60 to 90 PSI | 2-Gallon Compressor Capable of 2.0 CFM at 90 PSI |
| Framing Nailer | 2.5 CFM | 90 PSI | 8-Gallon Compressor Capable of 4.0 CFM at 90 PSI |
Types of Nail Guns and Corresponding Air Compressor Sizes
Nail guns, essential tools in construction and home improvement, vary significantly in their uses and air compressor requirements.
Heavy-Duty Work: Framing Nailers
Framing nailers, synonymous with power and efficiency, are indispensable for heavy-duty tasks, demanding a larger air compressor, specifically around 2-2.5 CFM at 70-90 PSI.
Their ability to drive larger nails into hard materials is unparalleled, though they necessitate a heftier investment in a more robust air compressor.
Moderate Tasks: Finish Nailers
For lighter, more precise work, finish nailers are the tool of choice, requiring a moderate-sized air compressor offering 1-2 CFM at 70-90 PSI. Ideal for molding or trim work, they balance precision and power adequately.
Delicate Projects: Brad and Pin Nailers
When it comes to finesse, brad nailers and pin nailers stand out. Brad nailers, perfect for attaching thin materials, need a smaller air compressor, with 0.3-1.2 CFM at 70-90 PSI.
Pin nailers, on the other hand, handle the most delicate tasks where nail heads should remain hidden, demanding the smallest air compressors. Both excel in precision but may fall short in power for larger tasks.
Specialized Usage: Roofing Nailers
Roofing nailers cater to specific needs in roofing projects, necessitating a moderate to large-sized air compressor. While powerful, they might not be suited for more delicate, smaller-scale tasks.
Things To Consider Before Choosing An Air Compressor For Nail Gun
Choosing the right air compressor for a nail gun is essential for optimal performance and efficiency.
Here are some things to consider before selecting an air compressor for your nail gun:
Tank Capacity 
The tank's capacity is dependent on the work to be performed. If you will be using the nail gun for an extended amount of time, it is reasonable that you will need a large-tank air compressor.
The majority of air compressors meant to power pneumatic tools, such as power nailers, have tank capacities ranging from 1 to 8 gallons.
 There will inevitably be air compressors on the market with higher tank capacities.
However, 1 to 6 gallons should suffice for mobility and ease of usage, particularly if you use a nail gun.
Having a larger tank capacity is advantageous. The concept is straightforward: a greater tank capacity would allow you to use the air for a longer period of time.
 If the air compressor has a tiny tank capacity, the air pressure will drop rapidly. Prior to long, you would be forced to wait for the motor to pump air and refill the tank.
However, as stated previously, the size of the compressor would depend on the nature of the operation.
If you need the nail gun for standard household tasks, a lesser tank capacity will suffice, and vice versa.
>> What size air compressor for wall painting?
CFM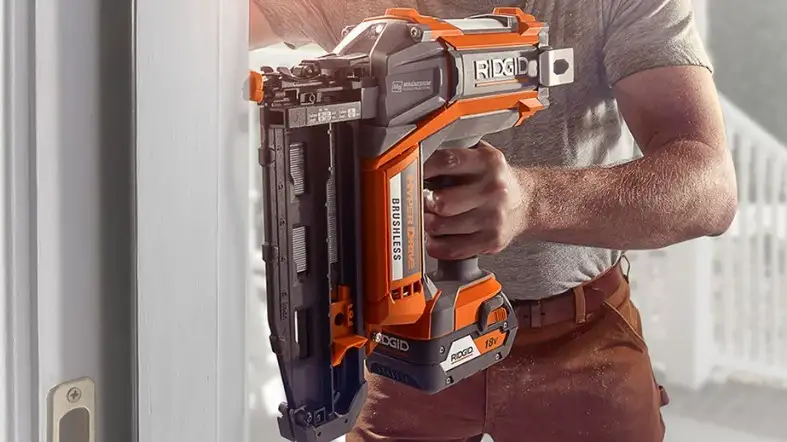 Cubic Feet per Minute is the abbreviation for Cubic Feet per Minute.
Before purchasing an air compressor, you should also examine the CFM in addition to the tank size.
If your air compressor has a CFM rating of 5, it would blow a particular amount of air at a surface area of 5 square feet per minute.
CFM represents the rate of airflow during a specific time period.
Choose an air compressor with a CFM that is somewhat greater than the required CFM for your tool.
This ensures that your tool is compatible with your air compressor and prevents your nail gun from underperforming.
Multiply the needed CFM of your nail gun by 1.5 to determine the appropriate CFM for your nail gun.
The result is the correct CFM for the air compressor required for the relevant tool.
In comparison to products such as impact wrenches and spray painters, air nail guns are among the power tools that use the least CFM. 
The finishing nailer and brad nailer can operate with only 1 CFM, however, the framing nailer requires 2 CFM to function correctly.
Since a nail gun requires short air bursts rather than continuous air bursts, an air compressor with 2 to 4 CFM would be sufficient.
PSI (Pressure)
PSI is an abbreviation for Pounds per Square Inch. PSI represents the air pressure per square inch of space.
Almost all compact air compressors from top brands have sufficient PSI to power air nail guns. 
You should be less concerned with PSI and more concerned with CFM, which is the crucial component.
Having a high PSI for your air compressor is without question advantageous. A higher pressure results in a greater amount of air in a tank of the same volume. 
For instance, an air compressor with a 1-gallon tank and 150 PSI would hold the same volume of air as a 1.5-gallon tank at 100 PSI.
CFM and PSI are complementary. Ensuring that your air compressor matches the PSI and CFM numbers will benefit your tool in the long run. 
It is also recommended that you acquire an air compressor with a higher PSI than your nail gun requires.
Multiplying the required PSI by 1.25 is an expert tip for determining the proper PSI for your tool.
>> What air compressor size for framing gun?
HP
The Horsepower of the air compressor is denoted by HP. The horsepower rating of an air compressor reflects the entire motor's power.
It indicates the amount of work the air compressor is capable of performing in a particular amount of time.
For small portable air compressors, horsepower is of little importance.
When you select a compressor with sufficient CFM, PSI, and tank capacity, it will typically have sufficient horsepower.
Other elements, such as the CFM and PSI of the air compressor, also come into play.
 In some cases, 5 HP and 10 HP air compressors can produce the same PSI at the same rate of 10 CFM.
It is apparent that the 5 HP air compressor is more efficient than the 1 HP compressor, which is losing energy.
Along with the CFM and PSI of the tools, the appropriate HP must also be considered.
>> What size air compressor for impact wrench?
Thermal Safety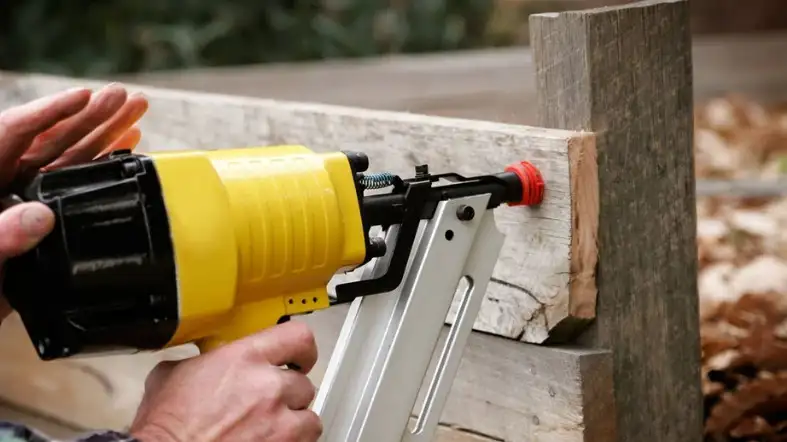 If your air compressor does not have a cooling system and you use it for an extended period of time, it is likely to overheat. 
Overheating might cause long-term damage to the machine.
With thermal protection, your unit will include an auto-off function that will turn the machine off when it becomes too hot.
Portability
A tiny air compressor will improve both your efficiency and usability.
It makes sense for a workshop or factory to have a large air compressor that can power many tools.
Portability is more vital for builders, construction workers, and home renovation projects. 
When an air compressor is overly huge and heavy, pneumatic instruments like nail guns become burdensome to use.
The topic of storage is brought up. To prevent these concerns, ensure that you choose an air compressor that meets your portability requirements.
Noise Level
Some of this equipment is extremely noisy.
You may believe that this won't matter much, especially if you just use the tool periodically for repairs or home improvement projects.
 However, this might become extremely irritating after a few uses of the compressor.
>> What air compressor size for air tools?
FAQs about air compressor size for nail gun
What Size Air Compressor For A Brad Nail Gun?
Brad nailers don't require much.
Brad's nails have a small head and are not particularly thick.  So they require less air.
Brad nailers work at 0.5 to 1 CFM and require 60 to 90 PSI.
Your compressor should provide 2.0 CFM at 90 PSI and have a minimum 2-gallon tank capacity.
What Size is Air Compressor For Framing Nail Gun?
Framing nailers are required to have a greater CFM rating than other nailers on this list.
They require about 2.5 CFM at 90 PSI. 
This indicates that a compressor capable of 4.0 CFM at 90 PSI will suffice.
A 6- to 8-gallon tank is sufficient for use with a framing nailer.
Is a bigger air compressor better for nail guns?
A bigger air compressor can be better for nail guns if it provides the necessary airflow and pressure required by the specific nail gun.
A larger air compressor may be less portable and take up more space than a smaller one.
It's important to choose an air compressor that meets the nail gun's requirements without being too bulky or cumbersome.
What happens if the air compressor is too small for the nail gun?
If the air compressor is too small for the nail gun, it may not be able to provide enough air pressure or airflow to operate the nail gun efficiently.
This can cause the nail gun to misfire or become jammed, leading to increased downtime and potential damage to the tool.
It's important to select an air compressor that meets the nail gun's requirements to ensure optimal performance and longevity of the tool.
Can I use a nail gun without an air compressor?
Yes, some nail guns are powered by batteries or fuel cells and don't require an air compressor.
These types of nail guns are more portable but may have limitations in terms of power and runtime compared to air-powered nail guns.
Final Thoughts
Now you know the answer to the question, "what size air compressor for a nail gun?" Numerous variables can affect the size of the air compressor nail gun required. 
The most significant consideration is the compressor's CFM and the equipment that will be used with it.
You'll find that a 6- to 8-gallon compressor will suffice for the vast majority of nail guns on the market.