What Size Air Compressor For Framing Nailer
We may earn affiliate fees for purchases using our links (at no additional cost to you).
Nail guns are the most frequently used instruments with compressors. People often worry about what size air compressor they need for nail guns.
That's where you need to know the correct size air compressor for the framing nailer.  
What Size Air Compressor Do You Need For the Framing Nailer?
Most farming nailer guns need 0.5 to 4 CFM at 90 PSI and may be easily operated by a 6-gallon compressor.
Various air compressor sizes and CFM ratings can be required for multiple applications.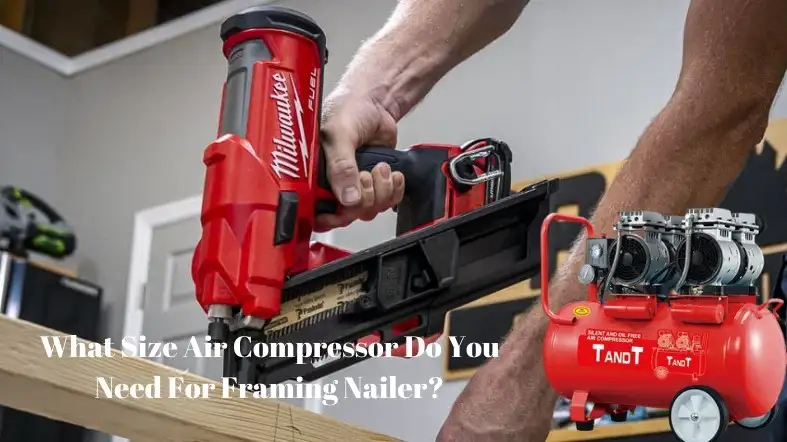 There are some sizes given below that you can check.
| | |
| --- | --- |
| Air Compressor Size | Usages |
| 2-4 gallons | For indoor, semi-professional nailing works with your pneumatic framing nailer. |
| 4-6 gallons | For a nail required quired to take outdoors for work |
| 6-10 gallons | To run 2 or more nail guns simultaneously, |
Why Do You Need The Best Size Air Compressor For Framing Nailer?
Choosing the right size air compressor for a framing nailer is crucial to ensure optimal performance and efficiency. Here are some reasons why you need the best size air compressor for framing nailers:
Provides Sufficient Airflow
A framing nailer requires a consistent flow of compressed air to drive nails into wood or other materials.
Choosing an air compressor with a sufficient CFM (cubic feet per minute) rating ensures that the nailer receives the necessary airflow to operate efficiently.
Improves Speed and Productivity
Using an air compressor with a higher CFM rating than required by the framing nailer can improve the speed and productivity of the job.
This is because the nailer can fire nails quickly and consistently, without waiting for the compressor to recharge.
Reduces Wear and Tear on the Nailer
Using an air compressor that is too small for the framing nailer can cause the nailer to work harder than necessary to drive nails.
This can lead to increased wear and tear on the nailer, resulting in a shorter lifespan and potential maintenance issues.
Saves Time and Money
Choosing the best size air compressor for framing nailer can save time and money by reducing the number of pauses and downtime during the job.
It also helps to prevent potential damages to the tool, which can lead to costly repairs or replacements.
What Type Of Air Compressor is For Framing Nailer?
When it comes to choosing an air compressor for a framing nailer, there are a few factors to consider.
Here are some types of air compressors that are suitable for framing nailers:
Pancake Compressor
Pancake compressors are a popular choice for framing nailers due to their compact size and portability.
They are lightweight and easy to move around the job site, making them ideal for small framing projects.
Pancake compressors typically have a smaller tank size and lower CFM rating, making them suitable for smaller framing nailers.
Hot Dog Compressor
Hot dog compressors are similar to pancake compressors but with a longer, cylindrical tank.
This type of compressor is ideal for framing nailers as it provides more air capacity, allowing for longer use of the nailer without having to stop and wait for the compressor to recharge.
Hot dog compressors are also relatively compact and easy to transport.
Vertical Compressor
Vertical compressors have a tall, narrow tank that takes up less floor space, making them ideal for use in small workshops or job sites.
They provide a higher air capacity than a pancake or hot dog compressors, making them suitable for larger framing nailers that require more airflow.
Two-Stage Compressor
Two-stage compressors are larger and more powerful than other types of compressors, making them ideal for heavy-duty framing projects.
They provide a higher CFM rating and larger tank size, allowing for longer use of the framing nailer without the compressor needing to recharge.
Two-stage compressors are typically more expensive and less portable than other types of compressors.
How To Choose The Right Size Air Compressor For Framing Nailer?
Once you have the suitable air compressor for your nailer, your trip has just begun. There are some facts you need to know before choosing the best one.
Set The Compressor's Pressure Appropriately
Both CFM and HP determine the strength of the compressor for every operation.
However, you don't need to give an air tool, such as a framing nailer, the highest power setting while using it.
Ensure the compressor is configured with the appropriate CFM and pressure for your frame nailer. . 
Choose The Proper Trigger
When it comes to frame nailers, the trigger is the device that releases the nails. There are typically two types of triggers: single fire triggers and bumps fire triggers.
The bump firing trigger is faster in terms of speed, but it lacks sufficient control and precision.
On the other hand, single-fire triggering works well for controlled and accurate nailing.
Nevertheless, it lacks the necessary speed for obvious reasons.
Examine The Safety Issues
Several safety measures and precautions must be considered when using an air compressor with a framing nail gun.
A nail's enormous pressure and speed may be extremely harmful if pointed in the wrong direction.
Noise Level
Nowadays, most compressors are rated in decibels. A powerful oil-filled compressor will generally be quieter than a low-cost pancake compressor.
Contractors perform the majority of remodeling work, so they want a quiet choice that is also user-friendly.
FAQs About The Best Size Air Compressor For Framing Nailer
What Is The Right Option Between Stationary And Portable Air Compressors For Farming Nailers?
We strongly advise choosing a portable air compressor for a framing nailer.
Wheelbarrow air compressors are better if you need to power two or more nailers from the same compressor.
Can A 6-Gallon Air Compressor Run A Framing Nailer?
Naturally, it can. Pancake-style air compressors are the most common 6-gallon type.
Except for a few strong pancake compressors, their air supply capability is 2.6 SCFM at 90 psi.
We advised using 2.6 CFM at 90 PSI for sporadic framing tasks.
So, it will take a while to restore tank pressure if the 6-gallon compressor's airflow capacity drops below what we advise.
What Pressure Should I Use By The Compressor For Farming Nailer?'
Typically, you'll need 90–100 PSI for your power tools. 
Search for the sizable knob next to the pressure gauge to prevent this.
The pressure regulator is seen here. To accommodate the demands of your tool, lower the pressure to 100 PSI.
CFM is often not adjustable because it is a part of the airflow.
The Final Thought
If you are entirely unused to dealing with these facts and calculations, start by doing some research.
Choosing the best air compressor from the few options might be challenging. Air compressor prices are increasing as they compete for high power and functionality.
So, keep a close watch on the price-quality ratio to get the best compressor for your needs within your price range.