Knowing what size rug for dining room table is crucial for both aesthetics and functionality. A wrong choice can disrupt harmony and cause practical issues.
This article will guide you through the process of determining the perfect rug size, exploring various types of rugs, and providing tips on maintanance.
What Size Rug For Dining Room Table?
For a dining room table, it's recommended to choose a rug that extends at least 24-36 inches beyond each side of the table. This ensures chairs stay on the rug, even when pulled out. For a standard 6-person rectangular table, an 8′ x 10′ rug is typically suitable.
Dining Room Table Rug Size Chart:
| Table Size | Minimum Rug Size |
| --- | --- |
| 4-seater (Rectangular) | 5' x 9′ |
| 6-seater | 8' x 10' |
| 36″ to 40″ (Rectangular) | 6.3' x 8.83' |
| 6.5' (Rectangular, seats 8) | 9.5' x 11.5' |
| 6' Diameter (Round) | 9' or 10' Diameter |
Types of Rugs for Dining Rooms
Persian Rugs
Persian rugs are known for their intricate designs and high quality. They add a touch of elegance to any dining room. However, they can be expensive and require professional cleaning.
Contemporary Rugs
Contemporary rugs come in a variety of modern designs and colors, making them a great choice for a modern dining room. They are usually machine-made, making them more affordable but less durable.
Natural Fiber Rugs
Natural fiber rugs, like jute or sisal, are eco-friendly and durable. They're great for high-traffic areas like the dining room. However, they can be tough to clean and may not be as comfortable underfoot.
Braided Rugs
Braided rugs have a casual, rustic appeal. They're durable and reversible, offering double the lifespan. But, they may not suit formal dining settings and can be difficult to clean.
Wool Rugs
Wool rugs are soft, durable, and naturally stain-resistant, making them a good choice for a dining room. However, they can shed fibers and might require professional cleaning.
Synthetic Rugs
Synthetic rugs are made from man-made fibers like nylon or polyester. They're affordable, easy to clean, and resistant to stains. On the downside, they may not last as long as natural fiber rugs.
The Right Rug Size for different dining tables
As a general rule, your dining room rug should be 24 to 30 inches bigger on all four sides than your dining table.
The rug should go under the dining table and be in the middle of the room so that the room feels balanced.
The chairs should go all the way to the edge of the rug and have enough room to be pulled out and still stay on the rug.
Size Of Rug For 10-Seater Dining Table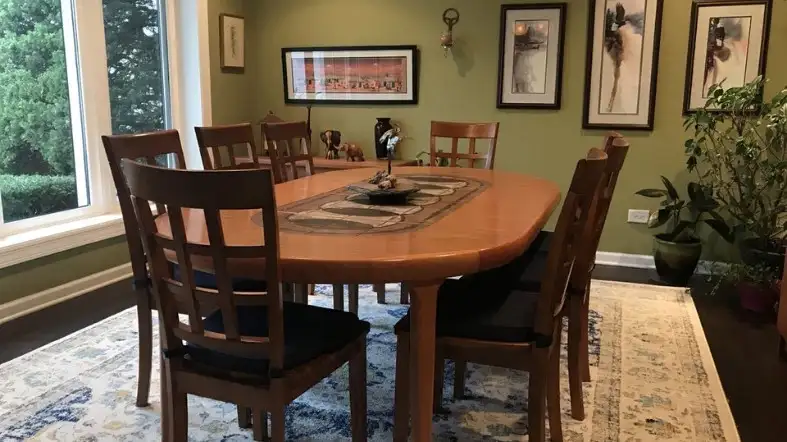 The minimum length for a dining table that can accommodate ten people is nine feet, however, some manufacturers offer tables that are as long as twelve feet.
The breadth is anywhere between 3.5 and 4 feet, which indicates that a rug with a width of between 6.5 and 8 feet would be suitable.
Depending on the actual size of the table, the length of the mat might range from as little as 12.5 feet all the way up to 16 feet.
>> What size rug for college dorm?
Size of Rug for 8-Seater Dining Table
A large dining table for eight people is about 3'x6′ or 4'x6′ and would fit best on a 9'x12′ or 8'x10′ rug.
This gives you at least 24 inches on all sides to easily move the chairs while keeping them on the rug.
Size of Rug for 6-Seater Dining Table
A dining table for six people would need to be at least 5′ by 3′ and would fit best on an 8′ by 10′ rug.
This gives you 30 inches on all sides for moving the chairs while keeping them on the rug.
Size Of Rug For 4-Seater Dining Table
A dining table for four would be about 3 feet in diameter or 3 feet by 3 feet. It would fit best on an 8-foot-round or 8-foot-square rug.
You could also put the table and chairs in the middle of a 5'x7′, 6'x9′, or 8'x10′ standard rug.
If you need a bigger rug to fit the room, you could put the table and chairs on one side and a buffet or console table on the other.
Tips on Choosing the Right Rug for your Dining Room table
When in doubt, choose the larger option
A dining room rug should have at least 24 inches of extra space on all sides of the dining table. This will ensure that guests will not trip over the rug while pulling out chairs.
An even wider border is ideal. Measure your dining table, add at least 24 inches to each side, and then use painter's tape to mark the area directly on the floor where the rug will go.
This will ensure that you purchase a rug that is the appropriate size. 
Consider sizing up if the areas that have been marked fit comfortably within your other dining room furniture (for example, a buffet or a bar cart).
Take A Rug With A Flat Weave Or A Short Pile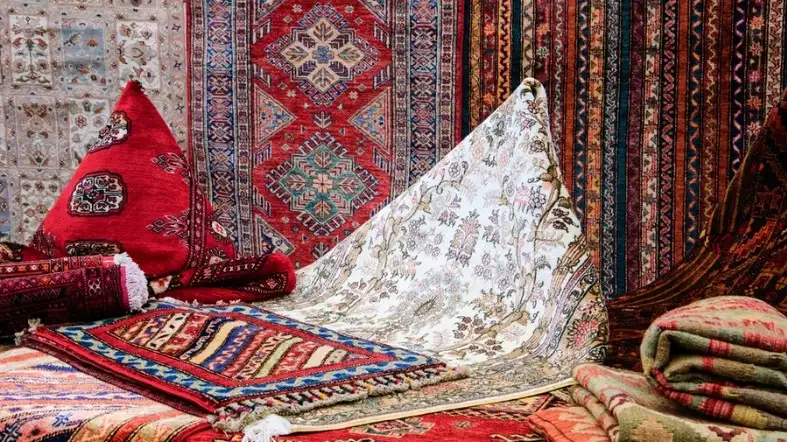 In the dining room, flat-weave or low-pile rugs are the most practical option.
Spills are almost unavoidable in this space, and it's critical to have the ability to pull chairs back and forth without difficulty.
Keep the shag rugs, Moroccan carpets, and other thick, fluffy rugs in the living room, as this is the area of the house where they will require the least amount of cleaning and maintenance.
 Start the decorating process with the rug as your point of departure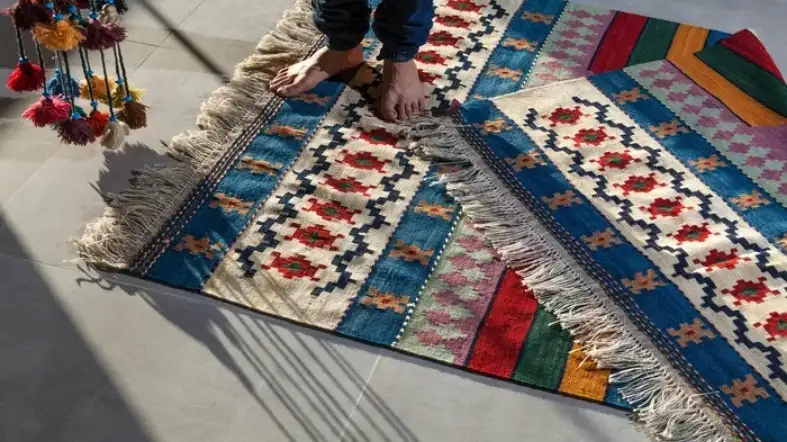 If the rug is one of the first things you buy for the dining room, you or your interior designer can use it to determine the mood of the room and create a color scheme for the room based on the rug.
Use the color from the rug that is the lightest or more of the background color to paint the walls in the room, and use a more vibrant shade from the rug as an accent color in the room, such as on chair cushions or in the artwork.
 Choose The Materials That Are Simple To Clean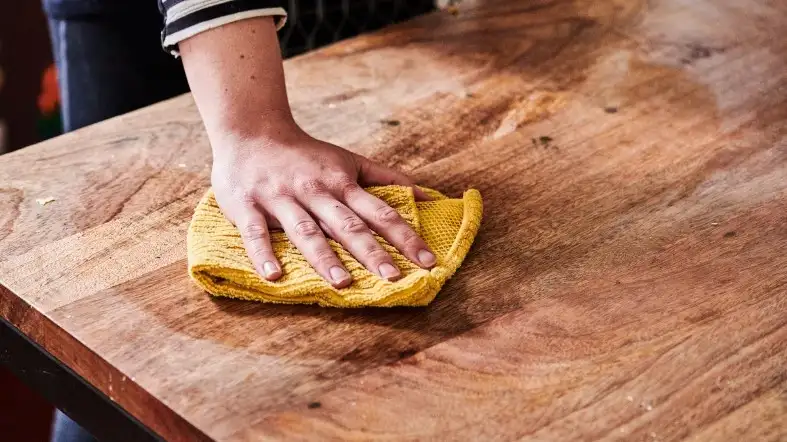 In general, natural fibers in their purest form, such as cotton and wool, are the easiest to clean at home, whereas synthetic blends present the greatest challenge. 
The only exception to this rule is rugs that are designed to be used both indoors and outdoors, as well as those that are resistant to spills and stains.
Natural fiber rugs, such as those made of sisal, jute, and sea grass, have a lot going for them, including an affordable price tag, a great texture, and a classic appearance.
 However, whereas natural fibers such as cotton and wool have a tendency to be simple to clean, natural materials like wood and stone can be more challenging.
 The texture of the rug is the most important factor to consider when determining how simple or difficult it will be to clean it. 
On the other hand, it may be very difficult, if not impossible, to remove food that has been ground into really nubby rugs made of natural fiber.
Ensure the Rug Shape Complements the Room Shape
Have a dining room that is square in shape? Consider a square or round rug instead. Square or rectangular space?
Use a rectangular rug. A pleasing and satisfying sense of order is brought to a space when the shape of the rug is made to echo the shape of the room.
Match the Rug shape and the table shape
Both round and square rugs look fantastic when placed under round dining tables. Dining tables, both rectangular and oval, pair nicely with rugs that are rectangular in shape.
 Although square dining tables tend to look best with square rugs, a round rug could work for a more playful feel and still look good with a square table.
Tips for Maintaining Your Dining Room Rug
Regular Vacuuming
Vacuum your rug regularly to remove dust and dirt. This keeps it looking fresh and extends its life. Be gentle to avoid damaging the rug fibers.
Spot Cleaning Techniques
If a spill occurs, blot it immediately with a clean cloth. Avoid rubbing as it can spread the stain. Use a mild detergent for tough stains.
Professional Cleaning Recommendations
Consider professional cleaning for your rug every 12-18 months. Professionals have the right tools and knowledge to deep clean without damaging the rug.
Prevention of Stains and Spills
Use a rug protector to prevent stains and spills. Also, avoid eating or drinking near the rug to minimize the risk of spills.
Rug Rotation and Sunlight Exposure
Rotate your rug every few months to ensure even wear. Also, keep it out of direct sunlight to prevent fading. Remember, proper care can keep your dining room rug looking great for years!
FAQs About The Size Of Rug For Dining Room Table
How Big Should A Rug Be For A Round Dining Table?
You can use the same rule of thumb for a round or square table as you do for a rectangular table. It would be better if the rug went past the short side. 
Make sure the rug is at least 18 inches wider than the table, or 3 feet. If you have a square table, you don't need a square rug. You just need to make sure the chair legs have enough room.
Can I Put A Small Rug On The Floor Under The Dining Room Table?
Yes, you can put a small rug under the dining table, but only if it fits the table's size. For example, a small 4'x6′ rug works well with a 2-seater dining table but not with anything bigger.
Can A Large Rug Be Put Under A Dining Table?
Yes, a large rug can go under a dining table. If the room is big enough, it can be twice as big. It's great for giving a dining room a baroque, super-luxurious look and usually goes well with a 10-, 12-, or larger table.
Can A Round Rug Go Under A Square Or Rectangular Table?
Yes, but it's not the best way to do it. Round rugs are small and help make a layout that is easy to understand.
Because of this, they go well with round tables. Putting them under a square or rectangular table might make your room look off, but if you're trying to make the most of a small space, go for it.
How Much Bigger Than A Dining Table Should A Rug Be?
As a general rule, the rug should be 18 to 24 inches bigger on all sides than the table. With the extra 1.5 to 2 feet of space, guests should be able to sit down and get up from their dining chairs without scuffing the floor.
Final Thoughts
In wrapping up our guide on "What Size Rug For Dining Room Table?", it's evident that the right rug size plays a vital role in both the practicality and design of your dining space.
Remember to consider table dimensions, room layout, and personal preference when choosing the perfect rug. With the insights provided, your dining room will not only be stylish but also functionally equipped.