What Size Air Fryer For A Family Of 2? Find Out Now!
We may earn affiliate fees for purchases using our links (at no additional cost to you).
The size and cooking capacity of the air fryer are important considerations when looking for the best air fryer. People often ask, " what size air fryer for a family of 2?"
To get the benefits of air fryers, the appliance must be large enough to cook enough food for the entire household while remaining small enough to fit in your kitchen.
Cooking in an air fryer takes less time than many other methods of cooking. This is due to the air fryer's small size and powerful heating element, which can get to cooking in less than two minutes.
When purchasing an air fryer, it is critical to understand how large it is and how much it can cook. 
The size of the air fryer can make or break the cooking experience. However, there is no right or wrong size; it all depends on what is best for you, your family, and your cooking.
Read the whole article to get your answer and choose the perfect one. You will also know the Measurement and Proper usage of your air fryer.
What Size Air Fryer for a Family of 2
For a family of 2, you can take a 2L-4L or medium size air fryer. You can cook about two servings of chicken or fish with a few veggies on the side in these fryers that have 3-4 quarts of space inside.
Here an air fryer size guide chart for your convenience,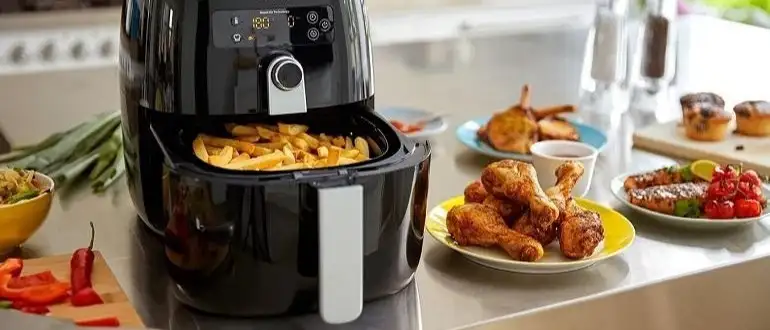 These are also great for reheating foods like pizza, bread, and food that has been air-fried from frozen.
Medium-sized air fryers are among the best on the market for balancing cooking capacity and affordability. 
These fryers are best suited to couples rather than large families, but they can also be used for parties and other snack-filled get-togethers.
They are generally far more affordable because they are smaller than large fryer models. 
This means that if you are a savvy shopper, you should be able to find a medium-sized air fryer that meets your requirements.
>> What air fryer size for 6 people?
How Is Air Fryer Size Calculated?
Air fryers are measured in a variety of ways, but the most common is in quarts. A quart is equivalent to 0.94 liters or 0.25 gallons.
This is the amount of space in the air fryer container. Some air fryer models may also be referred to in pounds. 
This is slightly less common than the standard quarts measurement, but it does occur on a few popular models, particularly European models.
>> What size air fryer for single person?
Air Fryers According to Family and Kitchen Size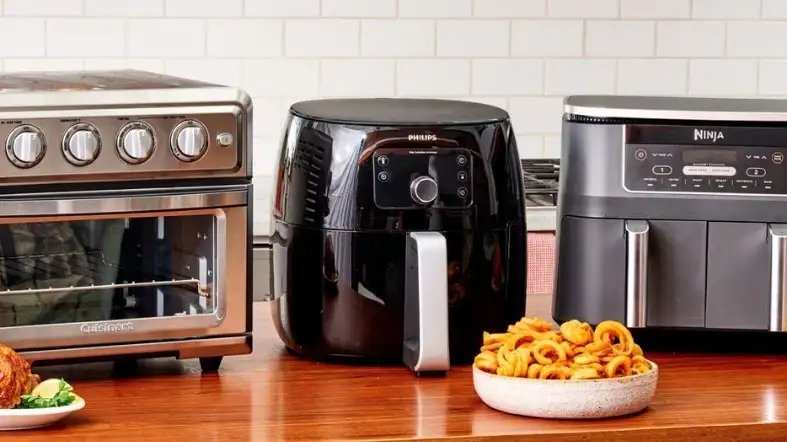 0.5L to 2L Air Fryers 
Suitable for single-person households or kitchens with little counter space, this capacity is adequate.
These models are also small enough to fit in an RV or van, making it simple to prepare meals while on the road. 
This capacity may be sufficient for small households if you cook in many batches, which is possible due to the rapid cooking capabilities of the oven.
2L to 4L Air Fryers
Couples or small families will find this capacity to be suitable. 
This is also appropriate for one-person households that will be using the appliance on a regular basis. 
If you don't want your appliance to take up too much counter space, this is a decent medium-capacity option for you.
4L to 6L Air Fryers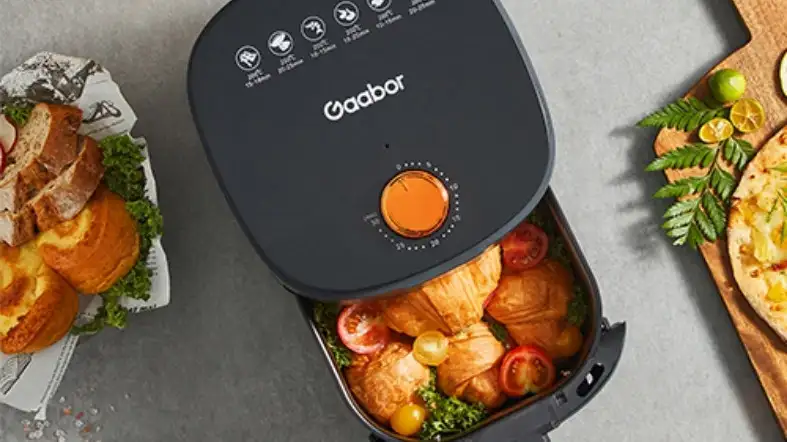 For families of three to five people, this is the best option, and it is perfect for bigger kitchens with enough of counter space. 
This is a great choice if you want to cook meals in bulk for the week ahead and freeze them. 
The size of this unit is ideal for those who enjoy entertaining because it allows you to prepare snacks or appetizers for your guests
How to use an air fryer to get the best results
Even after choosing the right sized air fryers, some people fail to get the best result for not using them properly. Here are some tips for you to use your air fryer for the long term with utmost satisfaction,
For maximum crispiness, a small amount of oil can be used. 
It is possible to spray oil directly onto the cooking basket or directly onto the food (consult your air fryer's owner's manual for specific instructions for your appliance). 
To make your chips and nuggets as low in calories as possible, you can omit the oil entirely and instead rely on hot air to do the cooking for you.
Make use of the built-in timer to ensure that your food is cooked to perfection. 
It may be necessary to flip, shake, or move the contents of the pan from time to time to ensure that your food cooks evenly.
Dry foods are the best candidates for air fryers. 
Wet batter or soggy vegetables do not fare well in an air fryer, and they should be avoided.
You can pat the food dry before air frying it to prevent marinades and sauces from splattering on the inside.
We recommend cooking in smaller batches to ensure that the hot air has plenty of room to circulate during the process.
FAQs About The Size Of Air Fryers
How Big Of An Air Fryer Do I Need For A Whole Chicken?
If you want to cook a whole chicken, you'll need an air fryer with a capacity of 6-10 quarts. Any smaller, and you'll have to cut it into smaller pieces.
Which Of The Various Air Fryer Sizes Is The Best?
The best air fryer size will be determined by your specific requirements. If you are cooking for a large family, for example, a larger air fryer will be the best size for you. 
Consider the size you require when comparing air fryer models. Use our handy size guide above to figure out what size is best for you!
Can You Tell Me What Size Air Fryer I Need For My Family Of Four?
An air fryer with a capacity of 4-5.8 quarts is ideal for a family of four people. Most of the most popular air fryer brands now offer models in this size.
What Size Air Fryer Do I Need For A Family Of Six People, Including Myself?
Families of six should opt for an air fryer with a capacity of at least 6 quarts to accommodate their needs. 
Consider purchasing a larger model, depending on the type of food that will be cooked in it. This will save you time by eliminating the need to cook in batches.
Final Thoughts
We hope you have got the answer regarding, " what size air fryer for a family of 2?" When it comes to selecting between the various air fryer sizes available on the market, there is enough variety to accommodate families of all sizes. 
Every type of fryer is available, ranging in size from 2-quart personal fryers to large commercial versions. 
Remember that you may always air fry less in a larger air fryer, or that if you choose a small capacity air fryer, you should plan to air fry in many batches to make the most of your time.
Make sure to check out our suggestions for the best air fryer models, and keep checking back for more useful guides and information.