When it comes to choosing the right ceiling fan for your room, size matters.
It's important to select a fan that is appropriately proportioned for the space it will be installed in, as this can greatly affect its performance and overall aesthetic.
In this blog, we'll be discussing how to determine the ideal size of a ceiling fan for a 10×10 room.
From blade span to airflow efficiency, we'll cover all the key factors you should consider before making your final decision.
What Size Ceiling Fan For 10×10 Room?
According to the American Lighting Association, you will require a 36 to 42-inch ceiling fan for your 10×10 room.
The exact size depends on the room height and several additional factors.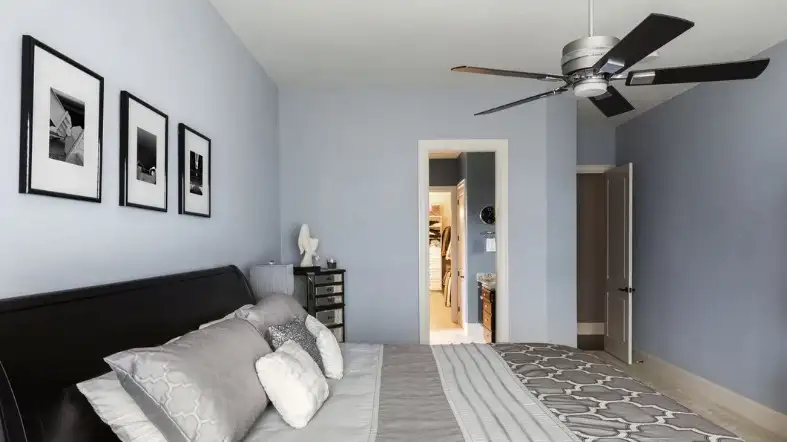 How to Size a Ceiling Fan
Ceiling Fan Sizing Based on Room Size
Measure the room
As you already know the room size, you can skip this step. You may need to determine the room size by measuring its width and length and multiplying them.
Consult a sizing guide
You can determine the ceiling fan sweep for your 10×10 sq ft room based on the guideline of the American Lighting Association. 
| | |
| --- | --- |
| Room size  | Diameter of the ceiling fan |
| 75 square feet or smaller | 36 inches or less |
| between 75 and 144 square feet | 36 to 42 inches |
| around 225 square feet | 50 to 54 inch |
Ceiling Fan Size Guide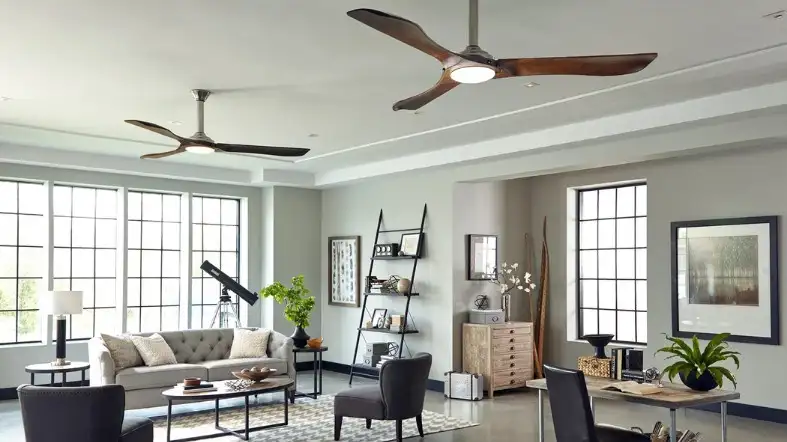 Apart from the ALS (American Lighting Association), you can also pick the right size ceiling fan from this size chart especially if you are seeking in detail:
| | | | |
| --- | --- | --- | --- |
| Dimension of the room | Volume of the room | Recommended blade size | Required CFM |
| 6×6 and 6×8 | 36 to 50 sq ft | 29 inches or less | 1000-2500 CFM |
| 8×8 and 10×6 | 50 to 75 sq ft | 29 to 36 inches | 1200-2800 CFM |
| 8×10, 10×10 | 75 to 100 sq ft | 36 to 38 inches | 1500-3500 CFM |
| 10×12, 12×12 | 100 to 150 sq ft | 38 to 42 inches | 2000-4000 CFM |
| 12×14, 14×14 | 150 to 200 sq ft | 42 to 46 inches | 2500-4500 CFM |
| 15×15, 16×16 | 200 to 300 sq ft | 46 to 52 inches | 3000-5000 CFM |
| 18×18, 20×20 | 300 to 400 sq ft | 52 to 54 inches | 4000-6000 CFM |
| 20×22, 22×22 | 400 to 500 sq ft | 54 to 56 inches | 5000-7000 CFM |
Measure the room height
A ceiling fan should be installed at a high enough height so it doesn't increase the risk of hitting the head.
Larger ceiling fans are prone to having larger drops, which you should take into consideration.
According to the American Lighting Association, you should install a ceiling fan a minimum of 7 feet above the floor.
While looking at the drop of the ceiling fan, make sure its lowest point is above 7 feet.
In general, most ceiling fans come with an additional down rod to lower the fan away from the ceiling.
It's a handy attachment to set the fan at the right level and let the air move efficiently in the room, especially in a room with a tall ceiling.
But if you have a low ceiling, flush-mount fan and consider low profile or hugger models.
>> What size fan for 3×3 tent?
Ceiling Fan Sizing With Additional Factors
Check The Ceiling For Possible Obstacles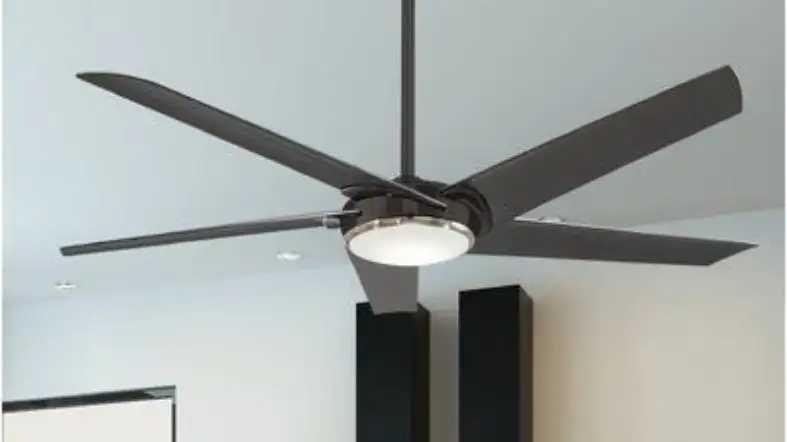 Your ceiling should not have any obstacles where paddles can hit. It also shouldn't have any lights or architectural features that can make it difficult to rotate the fan.
If the obstacle is impossible to move, downsize the ceiling fan size.
If you need to remove the light from the ceiling, choose a fan that is integrated with light, as it will function as both a fan and a light.
Determine the way of using the fan
The purpose of using a ceiling fan varies from person to person. While some people use it only to move air around, some people cool the space dramatically.
If your purpose is to get plenty of air movement, go for a larger size ceiling fan.
Imagine the scenario of using different size fans
The larger the fan, the more space it will take up and it will become more noticeable.
Though plenty of stylish options are available, appearance is also important when deciding on the right size ceiling fan for your 10×10 ceiling. 
If you are worried about the obviousness of your fan in space and are dedicated to getting a certain size, make sure its color matches your ceiling.
This will make the fan less obvious than shiny or bright colors.
Remember, the diameter of the fan must be compatible with your 10×10 or other ceiling sizes.
>> What size ceiling fan for large living room?
The type of support in the ceiling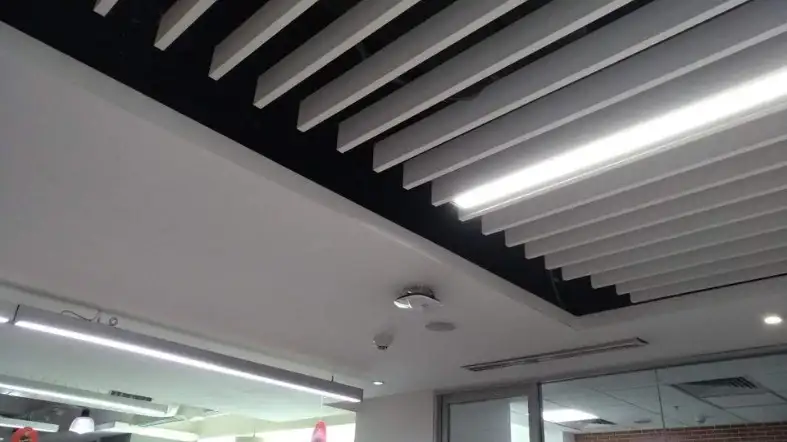 After determining the right size fan for your ceiling, you must make sure the ceiling has enough support to handle the movement and weight of the fan.
Inspect whether the ceiling has a power connection or if you have to connect the new electrical line to run the fan.
Though most ceiling fans come with additional support, larger ceiling fans are heavier and will require sturdier support to mount the fan.
Read the manual that comes with the ceiling fan to get the recommended support.
If you are confused about the support, hire an electrician to make it appropriate. The weight of the ceiling fan varies depending on its size and the size of the motor.
FAQs about what size ceiling fan for 10×10 room
Is it important to consider the ceiling height when choosing a fan for a 10×10 room?
Yes, ceiling height is an important factor to consider when choosing a fan for any room.
In a 10×10 room, a standard ceiling height of 8 feet would be appropriate for a fan with a blade span of 36 to 44 inches.
What other factors should I consider when choosing a ceiling fan for a 10×10 room?
Other factors to consider when choosing a ceiling fan for a 10×10 room include the room's layout, decor style, and the desired level of airflow and lighting.
Can I use a larger fan in a 10×10 room?
It is not recommended to use a fan with a blade span larger than 44 inches in a 10×10 room as it can overpower the space and cause discomfort.
Final words
The size of the ceiling fan determines the level of performance you will get from.
Throughout the guide, we have been aware of what size ceiling fan is for 10×10 room and all its related considerations.
Hope now you can install the right size ceiling fan at the right height in your room and increase the beauty of the room instead of damaging it.
Lastly, if you have experience in DIY work, hire an expert electrician to install the ceiling fan to avoid the risk of electrocution.