You'll need a generator if you need to run an electric air compressor without access to an electrical outlet.
This article will help with the process of determining the appropriate generator size to run a 5HP air compressor.
Click Here To Check Recommended Generators
What Size Generator Do I Need To Run A 5hp Air Compressor?
To run a 5Hp air compressor you will need a 20,000 watts generator.
Here is a list about the sizes of the generator to run a 5hp air compressor. 
| Sizes  | Watts |
| --- | --- |
| Minimum  | 17,000 Watts |
| Average  | 20,000 Watts |
| Large  | 23,000 Watts  |
Based On 220 Volts
We recommend to use two generators with a parallel system as you will not find 20000 watts generator easily.
Our recommended generator:
Why Is It Necessary To Use A Generator To Power A 5HP Air  Compressor?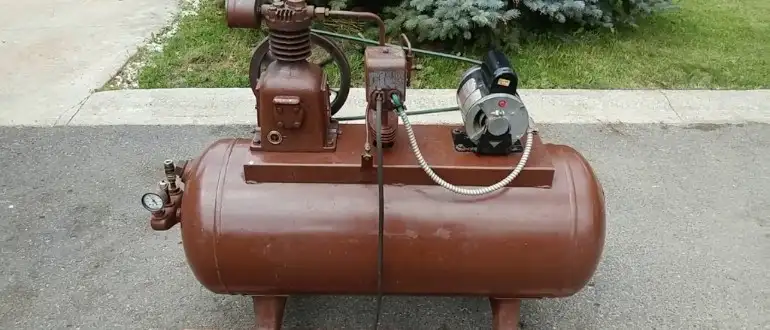 Generators are utilized to supply a power source when there are no accessible electrical outlets or to give more power when higher power demands are required.
There are several reasons to consider using a generator to power a compressor:
Outdoor work 
If you have a generator nearby, you may work on any compressor project at a job site or in a place remote from your home.
If the generator is very large, it may be necessary to transfer it to a cart.
Power Loss
In the case of a power loss, a generator will allow you to continue working with a compressor regardless of the state of the electrical power supply.
In the case of a power outage or an emergency, this is frequently employed for households.
>> What size of generator to run hot water heater?
Larger power framework 
A big generator can supply more power if you demand more watts than your electrical system can deliver.
How To Calculate The Size Of Generator To Run A 5hp Air Compressor?
To figure out how much power you will need to run a 5hp air compressor, do the following:
To determine the air compressor's voltage and amperage, specific values can be found in the handbook or in the manufacturer's specifications.
You will find wattage through amperage and volts. Your total electrical power, or wattage, is the outcome of this combination.
To get the beginning wattage, multiply the running wattage by three. Motors require a burst of power to start, which is sometimes three times the amount of power required when on and operating.
Use a generator with a higher power than your starting wattage: Make sure the generator can handle the compressor's initial power before turning it on.
The needed starting and operating wattages for running an air compressor should be included in the air compressor's instructions. The amount of energy of the generator necessary to start a compressor is at least three to five times that required to run it. Each compressor will be unique, so be sure to take notice of these variances.
How To Choose The Right Size Generator For Your 5Hp Air  Compressor?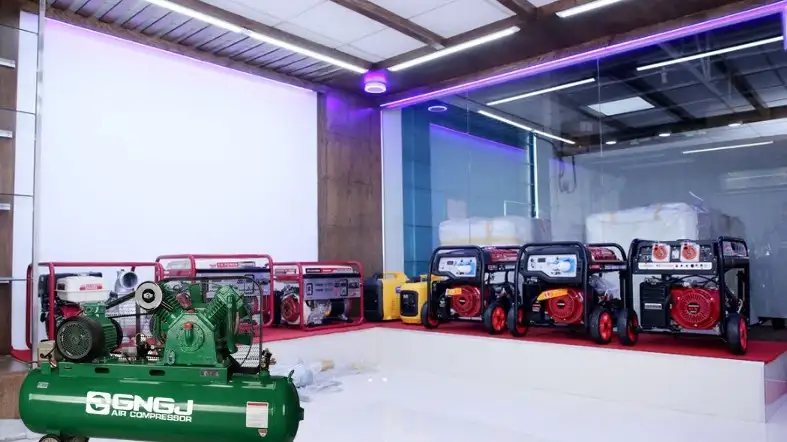 Nevertheless, a simple wattage calculation of volts and such amperages will provide you with all of the information you need to choose a generator that is the right size.
These electrical measures may be found on the air compressor and used to help you choose a generator.
Always calculate for beginning wattage. To account for a spike in power required to start the compressor, you'll need at least 3x the number of watts. It will then switch to its operating wattage, which is substantially lower.
Select a generator with considerably more wattage than the compressor needs: Always come down on the side of safety and choose a generator with slightly more wattage than the compressor required. This ensures correct startup and operation.
Unless you simply need a generator for a compressor, consider acquiring a more powerful one that will allow you to utilize future appliances or operate several devices at the same time.
>> Which generator size for living quarter horse trailer?
Standby or portable?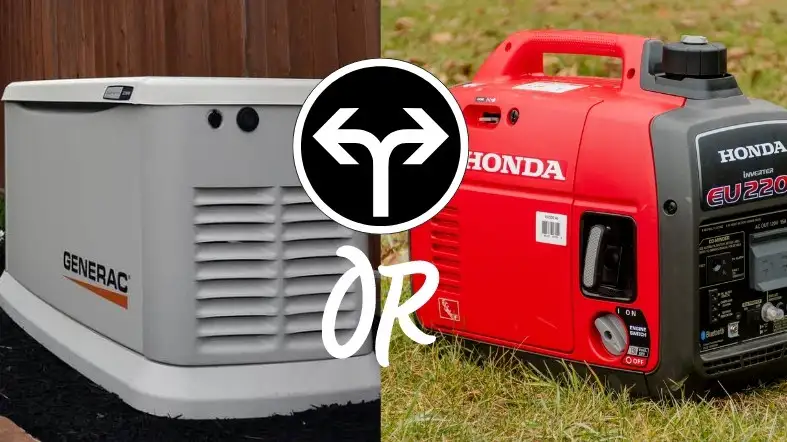 There are two types of generators you can bring for a 5hp air compressor, one is standby and the other one is portable.
Standby Generator
Standby generators are designed exclusively to provide backup power to a residence in the event of an emergency.
They have connected mechanically and also provide electricity if your main circuits fail.
Portable Generator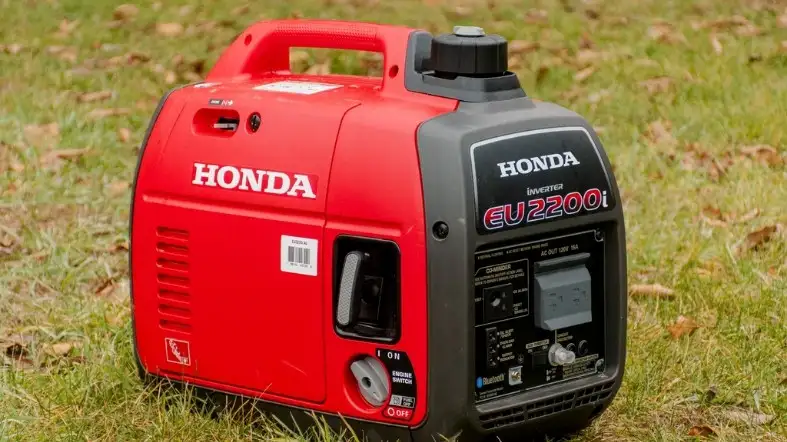 A portable generator may be used anywhere and is fueled by gas or propane. Its mobility will be determined by its size.
These are required when electrical power is unavailable, and in most circumstances, a portable generator will be used to power your compressor.
These compressors are employed in both household and business construction projects.
>> What generator size for a hurricane season?
An Alternative
A gas-powered air compressor is an alternative to utilizing a generator to drive an air compressor.
This will completely help reduce the burden on electricity and instead rely on the power of a gas-powered engine.
You'd have to weigh the advantages and disadvantages of employing a gas device over typical electric versions.
FAQs About The Right Size Generator To Power A 5Hp Air Compressor
1. Are Generators Safe To Run A 5hp Air Compressor?
Any gas-powered engine or generators should be used cautiously when running an air compressor in order to achieve the appropriate power output while avoiding any mishaps or injuries.
Each type of equipment should be used with extreme care, especially when they are used in combination with one another. 
2. What Are The Expenses Of Owning And Operating A Generator For A 5hp Air Compressor?
Portable generators often cost between a few hundred and a thousand dollars upfront. Typically, standby generators cost a few thousand dollars.
Professional installation is required for standby generators, however, this expense is frequently included in the generator price.
Furthermore, a portable generator requires a continuous supply of fuel to operate, so this is an ongoing cost to consider.
3. What Is The Average Lifespan Of A Generator?
A well-maintained generator may last for decades, which means that having one will save you money as well as restore electricity.
Usual maintenance is required for standby generators, especially when they are utilized for extended periods of time.
You'll be able to repair worn-out components, clear out filters, and keep your generator in great shape if you examine it on a regular basis.
The Final Verdict
A good generator can properly make any air compressor project accessible from all locations. So, bring the best size generator to power a 5hp air compressor.