What Size Generator To Run Hot Water Heater In 2022?
We may earn commission from links on this page at no extra cost to you. We only recommend products we back!
The water heater is a quite powerful household appliance that requires relatively higher power to be operated efficiently. Since a standard generator can't operate a water heater, you must learn what size generator to run a hot water heater.
Apart from it, choosing the right size generator for the water heater needs to go through plenty of determining factors. Later we will discuss the considerations, now start with learning the size of the generator required for the water heater.
What Size Generator To Run Hot Water Heater?
A generator with 3000-5000 watts will be a good choice for a small water heater that gets water through the town supply water system. But you will need a 5500w to a 7000-watt generator to operate a large water heater that gets water from the water tank pump.
Conversely, a gas-powered generator with 1500 watts will be good enough for running a gas-powered water heater.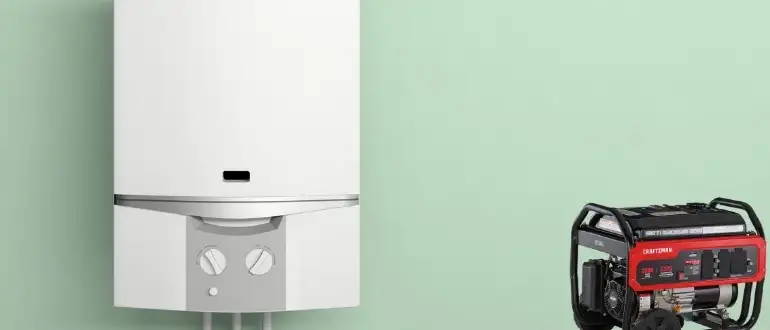 Types of water heater and required power
The power required to keep the water heater running is dependent on plenty of factors, including the number of appliances that will connect to the generator.
Other than that, the vital factor is the kind of water heater you will use. Keeping this factor in mind, let's have a look at some types of water heaters and their required power:
Gas heater
If you want to have a gas-powered generator for your gas heater, make sure it can produce 1500 watts. It means a gas heater doesn't require much power compared to other types, and a compact and portable generator will be good enough.
However, using such a generator means you won't be able to operate multiple tools at a time, except for a gas heater.
Read More: What Size Tankless Water Heater For Mobile Home?
Electric water heater
An electric powered water heater requires at least 4500 watts to be operated efficiently. A generator that can produce such power is also able to run other appliances, especially those that need hot water, like washing machines.
Smart water heater
Likewise an electric water heater, a smart water heater, also requires 4500 watts to deliver hot water conveniently.
Generator Sizes for Water Heaters by Size and water supply system
Hopefully, you have learned how much power is required for a water heater to keep running. But now it's time to concentrate on the size of the generator needed to deliver the required power. 
Following a short chart of different size water heaters, the water supply system and require power:
| Size of the water heater | Water supply system | Minimum wattage require ( gas-powered generator) | Minimum wattage require( electric generator) |
| --- | --- | --- | --- |
| Small heater | Town Supply Water | 1,500 | 3,000 |
| Small heater | Water Pump | 3,000 | 4,500 |
| Large heater | Town Supply Water | 4,500 to 5,500 | 4,500 to 5,500 |
| Large heater | Water Pump | 5,500 to 7,000 | 5,500 to 7,000 |
Note: You may need to consider a larger size generator to run a large water heater, especially if it gets water through the water pump.
Though it's rare, sometimes it requires up to 10,000 watts of power to run both the water heater and the water supply system. In most cases, the 75000-watt generator is sufficient to run a water heater without causing any trouble.
Is it okay to buy an overpowered generator for a water heater?
The minimum power requirement for a specific water heater means that you can use a less powerful generator to power the appliance.
But it doesn't mean you can't buy a overpower generator. In fact, getting an overpower generator will keep you confident in the smooth and efficient running of a water heater along with other appliances.
However, you should use a surge protector for safety concerns and make sure you aren't wasting power on frivolous tools.
But what about using a portable generator?
The main thing to consider while choosing a generator for a water heater is the required wattage. But the fact is that most of the generators that can operate water heaters aren't portable.
A portable generator comes with lower watts and is mainly used for light-duty tasks. However, there are also exceptions. Some portable generators are available that deliver enough power to operate the water heater.
Safety consideration of using a generator
It's vital to remain careful about the usage of the generator for the durability of the appliance, longevity, and to save money. In general, most large appliances use 3,500 to 4,500 watts.
So you can run a large number of the appliances using a large generator but don't run them at a time. Instead of making the home a commercial factory, determine which appliance you require most.
But if you want to run multiple appliances at once, consult with professional enthusiasts to find the right solutions.
Best Generator To Run Water Heater
1. Craftsman 3000i Inverter 50 St/CSA
Craftsman 3000i Inverter 50 St/CSA
Built in Handle – Easy mobility; carry with one hand
Steady power – Our technology makes safe, clean power for your electronics
Easy start – Start/Stop/Choke dial makes starting quick and easy
Boost of Power – 50 percent more starting capacity allows you to do more with a smaller product
Ultra Quiet Design with High Performance – Perfect for camping and tailgating
Check Latest Price On Amazon
2. Champion Power Equipment 6900/5500-Watt Dual Fuel Portable Generator
Champion Power Equipment 100231 6900/5500-Watt Dual Fuel Portable Generator with Wheel Kit
Dual Fuel – Operate your 5500-watt portable generator right out of the box on either gasoline or propane, plus the unit holds 1.2-quarts of oil and has a low oil shut-off sensor
Fuel Safety Switch – Our patented fuel selector switch allows for quick and safe switching between fuel sources
Intelligauge – Keep track of voltage, hertz and run-time hours to easily monitor power output and track maintenance intervals
Outlets – One 120/240V 30A locking outlet (L14-30R) and four 120V 20A GFCI protected household outlets (5-20R)
Champion Support – includes 3-year limited warranty with FREE lifetime technical support from dedicated experts
Check Latest Price On Amazon
3. Westinghouse WGen7500 Portable Generator with Remote Electric Start
Westinghouse Outdoor Power Equipment WGen7500 Portable Generator with Remote Electric Start 7500 Rated Watts & 9500 Peak Watts, Gas Powered, CARB Compliant, Transfer Switch Ready
7500 Running Watts and 9500 Peak Watts; Remote Start With Included Key Fob, Electric and Recoil Start; Up to 11 Hours of Run Time on a 6.6 Gallon Fuel Tank With Fuel Gauge
Features Two GFCI (Ground Fault Circuit Interrupter) 5-20R 120V Household Duplex Receptacle and One L14-30R 120/240V Twist-Lock Receptacle; All Outlets Have Rubber Covers for Added Safety
Plug-and-Play: Comes with a Remote Start Key Fob, 12V Battery Charger, Oil, an Oil Funnel, a Tool Kit, and a User's Manual to Get You Started Right Out of the Box (Minimal Assembly Required)
Powered by a 420cc Westinghouse 4-Stroke OHV Engine Featuring a Long-Lasting Cast Iron Sleeve with Automatic Low Oil Shutdown and Digital Hour Meter. Output Ready Indicator : No.
All Westinghouse Portable Generators are Functionally Tested in the Factory and May Contain Minimum Residual Oil and/or Fuel Odor; EPA and CARB Compliant; Backed by 3-Year Limited Service, Labor, and Parts Coverage with Nationwide Customer Service Network
Check Latest Price On Amazon
4. WEN GN9500 420cc Transfer Switch 120V/240V 9500-Watt Portable Generator
WEN GN9500 420cc Transfer Switch and RV Ready 120V/240V 9500-Watt Portable Generator w/Remote Electric Start, CARB Compliant, Black
Keep your family safe with 9500 starting watts and 7500 running watts of power
Remote electric start allows users to turn the generator on and off from up to 160 feet away
Transfer-switch-ready 30-amp 120V/240V NEMA L14-30R outlet perfect for emergency backup
Packed panel includes four standard 120V 15-amp outlets, one RV-ready 120V 30-amp TT-30R outlet, one 12V DC outlet, one L14-30R outlet, and a digital readout
Features an EPAIII and CARB compliant 420cc 4-stroke engine, a wheel and handle kit, a 6-gallon gas tank, a spark arrestor, low-oil shutdown, and a two-year warranty
Check Latest Price On Amazon
FAQs About Right Size Generator To Run Water Heater
What Is The Best Size Generator For A Tankless Water Heater?
If your electric tankless water heaters are hard-wired to the electrical system and supply hot water to the whole house, you should use a 7500-watt inverter generator or even higher. You can also go for a Tesla power wall.
Can A 7500-Watt Generator Run A Water Heater Efficiently?
A generator with 7500 watts is a popular choice among homeowners to heat the water. Even a 7500-watt generator is superbly capable of operating most home appliances like refrigerators, freezers, lights, well pumps, and ovens.
How To Calculate The Generator Wattage?
The wattage of a generator or other electric appliances is measured by multiplying the voltage by the load capacity of the device. In short, the formula is Watts = Volts x Amps.
Final words
A generator is a life-saving device, especially during storms or power outages, as well as in winter.
But when it comes to running a water heater, the right size generator is needed to operate this electric appliance smoothly and serve hot water to the whole house.
Hopefully, now you know what size generator to run hot water heater as well as other household appliances.