What Size Generator To Run a 2.5HP Compressor In 2023?
We may earn affiliate fees for purchases using our links (at no additional cost to you).
A 2.5 HP air compressor requires sufficient power to run efficiently, and a smaller size generator can't supply the required power.
So learning what size generator to run a 2.5 HP compressor will guide you through the process of obtaining the right size generator for consistent compressed air for successful operation.
In this guide, you will not only learn the right size generator for a 2.5 HP compressor but also some determining factors to make the right decision wise.
What Size Generator To Run a 2.5HP Compressor?
In general, you will need a 7200-watt generator to run a 2.5-hp compressor. However, you should make sure the generator has more wattage than your 2.5 HP air compressor's starting wattage and running wattage.
Determining the Right Size Generator to Run a Compressor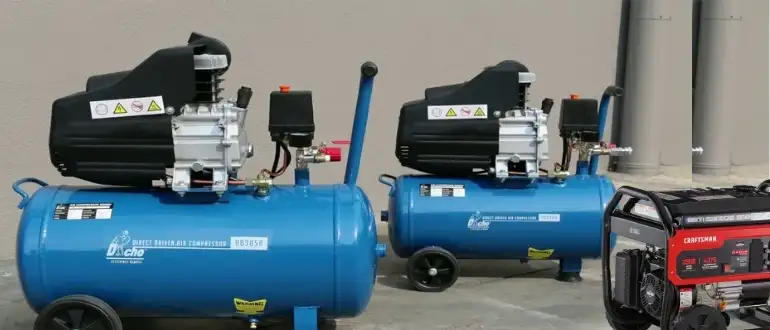 Firstly, you have to find out the required wattage to start and run a compressor, which will then decide how much power is required from a generator.
The power output of a compressor with different levels varies from 0.5 to 6.5 HP.
A right-sized generator to run a compressor means a generator that has more wattage than is required to start and run a compressor.
As the generator has no set size, calculating the power of the unit will help you pick the appropriate item for your compressor.
Find out the required wattage of your air compressor
Most of the air compressors come with a user guide that includes the required starting and running wattages.
But if your model doesn't have one, simply follow these steps to find out.
While generators are usually characterized by wattage, air compressors refer to HP.
So, finding the value of the air compressor in wattage will help you compare the requirements and lead you to the right decision.
Most home use air compressors are 2 HP and run through 110-120V outlets. But the larger-sized air compressor can be over 2 HP, which operates with 220-234V outlets.
This voltage is a key factor in determining the right size generator for an air compressor where the more horsepower, the larger the generator size is required.
Once you have got the voltage of the air compressor, find out the amperage, which can be found by checking the user manual.
The wattage of the compressor is quite easy to calculate, but it needs both starting wattage and running wattage.
If you have got the amperage and voltage of your air compressor, simply follow these steps:
Calculate the running wattage
To calculate the running wattage for your air compressor, multiply the amperages by the voltage.
Calculate the starting wattage
Multiply the running wattage by 3 and the result will be the required starting wattage to start the air compressor efficiently.
In general, the motor requires a surge of power to turn on, which is typically three times more than the power required for running. 
As we mentioned, your target is to use a generator that can deliver more wattage than the required starting wattage of your air compressor. 
The size of the generator
Choosing a generator that offers more than the required starting and running wattage will keep the generator in optimum shape.
Another advantage of picking an overpowered generator is getting the opportunity to run multiple appliances at the same time.
A larger generator can efficiently offer the required power to the appliance that needs 240 volts as well as 120 volts, although these are pricy options.
But if you need a generator to run a household compressor that needs 120 volts, a smaller-sized generator will be good enough.
Once again, HP does not only determine the power of the air compressor but also refers to how well the machine can refill the compressor tank to provide compressed air consistently.
Following the section, you will have a basic idea of the different HP air compressors and their required starting and running wattage.
Match what HP air compressor you have, keep their starting and running wattage in mind, and then go for the generator that exceeds the requirements. 
½ HP Air Compressor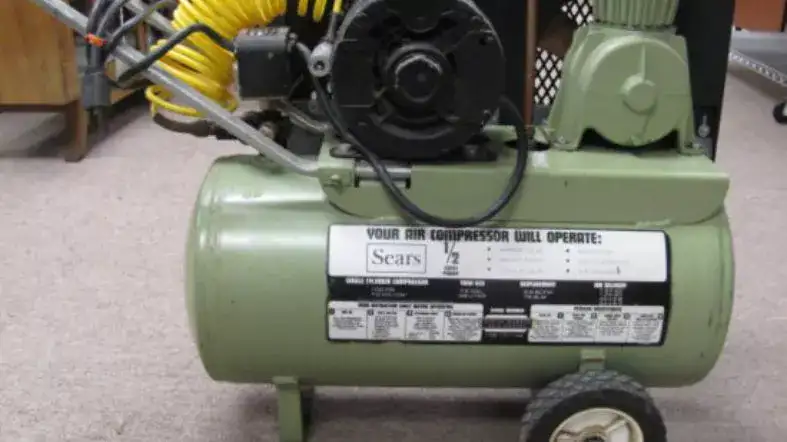 It's the smallest size air compressor available on the market today, and the required starting wattage is  2000 watts.
The air compressor also requires 1000 running watts to be suitable for renovations and home improvement projects and crafting jobs.
1 HP Air Compressor
This air compressor needs 4500 watts at the start and 1500 running watts. It's a popular choice among hobbies and the perfect item for home improvement projects.
1-½ HP Air Compressor
This size air compressor requires more power than the previous options, requiring 6000 watts to start and 2200 watts to run.
This 1-½ HP air compressor is mainly used for powerful projects.  
2 HP Air Compressor
It's a highly powerful air compressor that is beneficial for contractors and suitable for multiple pneumatic tools at a time.
The air compressor needs 7770 watts to start and 2800 watts to run efficiently.
Read More: What Size Generator To Run 5hp Air Compressor?
Benefits of using an overpowered generator for 2.5 hp air compressor
Throughout the guide, we have suggested using an overpowered generator to run an air compressor. Let's have a look at the reason behind it:
It is safe
The calculation may not be 100% correct and if the wattage of the generator doesn't exceed the requirement, it will cause plenty of difficulties.
So the compressor may not run and it may put excess pressure on the generator, resulting in reduced longevity. 
Versatility
A more powerful generator is needed to run multiple appliances at a time and even run a single larger machine like a 2.5 HP compressor.
The life span of the generator
Running a generator consistently at maximum power puts extra pressure on it, which can reduce its life span.
While using the less powerful generator will encourage you to set the output levels at maximum speed.
Using the overpowered generator will allow you to keep the output level low.
Apart from this, you shouldn't run a generator at maximum output consistently for over 30 minutes.
Best Generator For 2.5HP Compressor
1. Champion Power Equipment 9375/7500-Watt Portable Generator
Champion Power Equipment 100813 9375/7500-Watt Portable Generator with Electric Start
Ultra-Powerful: At 9375 starting watts and 7500 running watts, enjoy up to 8 hours of run time on a full tank of gasoline with a noise level of 74 dBA from 23 feet
Electric start: Trust the reliable 420cc Champion engine with its battery-included electric start featuring a reliable toggle switch, plus built-in Cold Start Technology for easy starts in cold weather
Covered Outlets: Four 120V 20A GFCI outlets, a120/240V 30A locking outlet and a 120/240V 50A outlet (14-50R), plus Volt Guard built-in surge protector prevents overloads and keeps your equipment safe
Intelligauge: Keep track of voltage, hertz and run-time hours to easily monitor power output and track maintenance intervals
Champion Support: Includes 3-year limited warranty with FREE lifetime technical support from dedicated experts
Check Latest Price On Amazon
2. Westinghouse Outdoor Power Equipment WGen7500 Portable Generator
Westinghouse Outdoor Power Equipment WGen7500 Portable Generator with Remote Electric Start 7500 Rated Watts & 9500 Peak Watts, Gas Powered, CARB Compliant, Transfer Switch Ready
7500 Running Watts and 9500 Peak Watts; Remote Start With Included Key Fob, Electric and Recoil Start; Up to 11 Hours of Run Time on a 6.6 Gallon Fuel Tank With Fuel Gauge
Features Two GFCI (Ground Fault Circuit Interrupter) 5-20R 120V Household Duplex Receptacle and One L14-30R 120/240V Twist-Lock Receptacle; All Outlets Have Rubber Covers for Added Safety
Plug-and-Play: Comes with a Remote Start Key Fob, 12V Battery Charger, Oil, an Oil Funnel, a Tool Kit, and a User's Manual to Get You Started Right Out of the Box (Minimal Assembly Required)
Powered by a 420cc Westinghouse 4-Stroke OHV Engine Featuring a Long-Lasting Cast Iron Sleeve with Automatic Low Oil Shutdown and Digital Hour Meter. Output Ready Indicator : No.
All Westinghouse Portable Generators are Functionally Tested in the Factory and May Contain Minimum Residual Oil and/or Fuel Odor; EPA and CARB Compliant; Backed by 3-Year Limited Service, Labor, and Parts Coverage with Nationwide Customer Service Network
Check Latest Price On Amazon
3. A-iPower SUA12000E 12000 Watt Heavy Duty Gas Powered Generator
A-iPower SUA12000E 12000 Watt Portable Generator Heavy Duty Gas Powered with Electric Start for Jobsite, RV, and Whole House Backup Emergency
The A-iPower SUA12000 produces 12,000 starting watts with 9,000 running watts to power your tools at the construction site, camping ground, or home appliances
Powerful 459 cc OHV 4 stroke engine with a low oil alert light and low oil automatic shutdown, helping keep your generator performing year after year
Large 7 gallon gasoline fuel tank provides average run time of 7 hours at 100% load and 9 hours at 50% load
Complete with Electric Start capability allowing you to quickly, easily, and conveniently start up your generator whenever you need it
Outlets include 4 x GFCI 120V 20A NEMA5-20R, 1 x 120V 30A NEMAL 5-30R, 1 x 120/240V 30A NEMA L-14-30R, 1 x 12V83A Multifunction Port USB Ready All outlets include Rubber Covers for an additional layer of Safety
Check Latest Price On Amazon
FAQs About Right Size Generator For 2.5 HP Compressor
How Many Watts Does An Air Compressor Need?
A 110-volt air compressor that draws 15 amps requires 1,650 watts to keep running efficiently. Conversely, if the air compressor is 220-volt and draws 15 amps, it will require 3,300 watts. 
Why Should I Use A Generator To Run A Compressor?
Some people use generators as a temporary power source during an electric power outage while some run appliances that require more power than the electrical system.
What Is The Best Generator For A 2.5HP Compressor?
The DuroMax XP8500EH Dual Fuel Portable Generator will be the best generator to run a 2.5 HP compressor. It delivers 8,500 starting watts and 7,000 running watts and can be powered by both gas and propane.
Final words
Whether you have a home garage or need to inflate a sprinkler or tire, an air compressor is a must-have device.
Above it, the right-sized generator can let you operate the compressor consistently without the worry of a power outage.
Throughout the guide, we have discussed what size generator to run a 2.5 HP compressor and how to determine it.
Hopefully, you have got the idea and are prepared to get the right one.