While the classic subway tile is the most adequate for interior design, using the right size trowel can only maximize the potential.
Learning what size trowel for subway tile is even more important as the trowel size varies depending on the subway tile size.
In the following, we will share the right size trowel for different sized subway tiles as well as some effective tips for installing the tile conveniently.
What Size Trowel For Subway Tile?
Choosing the right trowel size for subway tile is crucial. Typically, a 3/16" v-notch trowel is ideal for small subway tiles up to 3"x6", ensuring proper adhesive application. A 1/4″ square-notch trowel provides optimal adhesive coverage for subway tiles around 4″x12″.
The Right Size Subway Tile Trowel Guide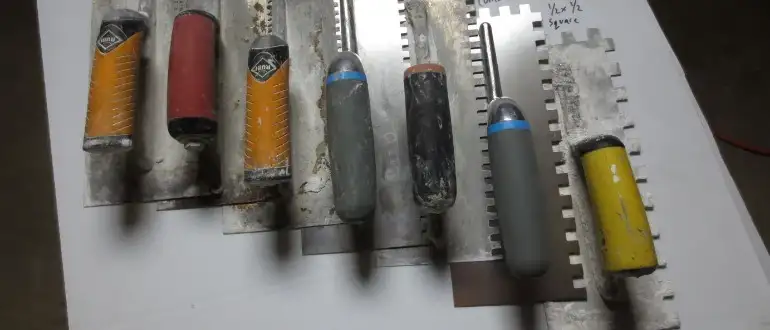 For Single Size Tile Project
Most homeowners install a single-size tile in a particular area or room.
Check the size of the tile you are going to work with. The 3″ x 6″ subway tile is the easiest size to work with and is widely available.
Focus on the trowel measurements. The trowel measurements depend on the depth and length, as well as the space between teeth or notches.
A lot of sizes and types of notches are available, but a ¼ inch square notch is an appropriate choice for 3″ x 6″ subway tile.
Another consideration is versatility. ¼ inch square notch is an improved, versatile choice that is perfect for a range of projects.
>> What trowel size for 20×20 tile?
For Multiple-Sized Subway Trowels
If the project requires multiple sizes of tiles, then you have to consider other trowel sizes.
The following are some of the different sizes of trowels that will be helpful where the 1/4'' square notch won't work.
This 1/4″ x 1/4'' U notch – perfect for uncoupling the membrane and minimizing stress between substrate and tile.
1/8'' x 1/8'' notch – this size of the trowel is mostly effective for attaching thin protective membranes instead of tile.
1/4'' x 3/8'' square notch – if you need to install larger, heavier subway tiles as well as square floor tiles, this version is preferable. You can also install 4″ x 12″ subway tiles using this size of a trowel.
1/4'' x 1/2'' square notch – it's a perfect size trowel for attaching 12″ x 12″ to 16″ x 16″ subway tiles.
1/2'' x 1/2'' square notch –this size of the trowel is preferable for installing 24″ x 24″ or larger subway tiles.
>> What size notched trowel for 12×12 wall tile?
Planning For The Tile Project
Making a good plan before starting any tile project increases the rate of success with improved convenience.
Measuring the space correctly for troweling and tiling is a better place to begin. Determine the thickness and size of the tile that you desire to install.
Carefully inspect the grooves on the opposite side of the tile to find out how deep and big they are!
Check the surface where you will install the tile, whether it is plywood, cement, or other substrates. Finally, check the consistency of the mortar that you will use.
>> What trowel size for 12×24 floor tile?
Importance of Choosing the Correct Trowel Size
Choosing the correct trowel size for subway tile is important for several reasons:
Ensuring Proper Adhesion
The main reason is to ensure proper adhesion between the tile and the surface.
If you use too much or too little adhesive, your tiles may not stick well or may come loose over time.
This can cause damage to your tiles or your surface, as well as safety hazards or aesthetic issues.
Avoiding Lippage and Irregularities
Another reason is to avoid lippage and irregularities on your tiled surface.
Lippage occurs when one tile edge is higher or lower than the adjacent tile, creating an uneven surface.
Irregularities are any flaws or defects on your tiled surface, such as cracks, chips, bubbles, etc.
Both lippage and irregularities can ruin the appearance and functionality of your tiled surface.
Facilitating Even Mortar Distribution
A third reason is to facilitate even mortar distribution on your tiled surface. Mortar is the material that fills in the spaces or joints between your tiles.
It helps to bond your tiles together and prevent water or dirt from seeping through.
To apply mortar properly, you need to have an even layer of adhesive beneath your tiles.
If you have too much or too little adhesive, your mortar may not fill in the joints evenly or may crack or crumble over time.
Extending Tile Longevity
A fourth reason is to extend tile longevity. Choosing the correct trowel size for subway tile can help prolong the life and beauty of your tiles.
By ensuring proper adhesion, avoiding lippage and irregularities, and facilitating even mortar distribution, you can prevent your tiles from breaking, chipping, staining, fading, or deteriorating over time.
>> What size notched trowel for wall tiles?
Various Types of Trowels for Subway Tile
There are different types of trowels for different purposes and situations. Here are some of the most common ones:
Notched Trowels
Notched trowels are the ones that have teeth or notches on one or both sides of the blade.
These notches create ridges of adhesive on the surface, which help to hold the tiles in place and create a uniform thickness.
There are two main types of notched trowels: square-notched and u-notched.
Square-Notched Trowels
Square-notched trowels have rectangular teeth that are evenly spaced and sized. They are suitable for most types of tiles, especially large and heavy ones.
They leave more adhesive on the surface than u-notched trowels, which means better adhesion and fewer air pockets.
U-Notched Trowels
U-notched trowels have curved teeth that are narrower at the base and wider at the top. They are ideal for thin and delicate tiles, such as glass or mosaics.
They leave less adhesive on the surface than square-notched trowels, which means less waste and easier cleanup.
Pointing Trowels
Pointing trowels are small and narrow trowels that have a pointed tip. They are used for filling in small gaps or corners where larger trowels cannot reach.
They can also be used for smoothing out excess adhesive or grout.
Margin Trowels
Margin trowels are flat and rectangular trowels that have no notches. They are used for scooping, mixing, or spreading adhesive or mortar.
They can also be used for scraping off excess material from walls or floors.
Steps to Properly Use a Trowel for Subway Tile
To properly use a trowel for subway tile, you need to follow these steps:
Preparing the Surface
The first step is to prepare the surface where you want to install the tiles. The surface should be clean, dry, flat, and stable.
You can use a level or a straight edge to check the flatness of the surface.
If there are any bumps, holes, or cracks, you need to fill them in or smooth them out with a suitable material.
You can also apply a primer or a waterproofing membrane if needed.
Applying the Adhesive
You should start from one corner and work your way across the surface in sections. You should use enough adhesive to cover the area where you will place one or more tiles.
You should not apply too much adhesive at once, as it may dry out before you set the tiles.
To apply the adhesive, you need to hold the trowel at a 45-degree angle and drag it across the surface, creating ridges of adhesive.
You should make sure that the ridges are parallel and evenly spaced. You should also make sure that the notch size and shape of your trowel match your tile size and type.
Positioning the Tile
The third step is to position the tile on the adhesive-covered surface. You should align the tile with your desired tile setting and press it gently into the adhesive.
You should leave a small gap or joint between each tile for the mortar. You can use spacers or a tile layout tool to help you maintain consistent spacing.
Pressing and Adjusting
You should use a rubber mallet or a grout float to tap the tile firmly into the adhesive, making sure that it is level and flush with the adjacent tiles.
You should also check for any excess adhesive that may squeeze out from the edges of the tile and wipe it off with a damp sponge or cloth.
You should repeat these steps for each tile until you cover the entire surface. You may need to cut some tiles to fit around corners, edges, or fixtures.
You can use a tile cutter or a wet saw to cut your tiles according to your measurements.
Best Trowel For Subway Tile
1. 6″ Mini Trowel 1/4″ Square Notch
2. Frosch Stainless Steel Square Notch Tile Trowel
3. Flooring & Tiling Notched Trowel 1/4 X 1/2 X 1/4 Usoft Grip
FAQs on what size trowel to use for subway tile
What Is The Right Thinset Thickness For Subway Tile?
You should apply a 3/16-inch to 1/8-inch thick thinset under the tile.
What Is The Right Size Grout Line For 3″ X 6″ Subway Tile?
Most professional enthusiasts apply a 1/16″ grout line to 3″ x 6″ subway tile, especially when it is covering walls. You can also apply 1/8″ for the thicker wall.
Where Is The Subway Tile Mainly Used?
Subway tiles are mainly used in interior design as a classic choice.
Final words
Subway tiles are the smart choice for lowering the remodeling cost and enjoying the most sustainable and stylish finish.
But all the benefits depend on using the right size trowel which is key for professional-grade tile installation.
Hopefully, now you know what size trowel to use for subway tile, choosing the right size for a certain subway tile won't be a demanding task.