What Size Trowel For Subway Tile In 2022?
We may earn affiliate fees for purchases using our links (at no additional cost to you).
While the classic subway tile is the most adequate for interior design, using the right size trowel can only maximize the potential. Learning what size trowel for subway tile is even more important as the trowel size varies depending on the subway tile size.
In the following, we will share the right size trowel for different sized subway tiles as well as some effective tips for installing the tile conveniently.
What Size Trowel For Subway Tile?
The size of the trowel for subway tile varies depending on the subway tile size, where a 1/4 inch square notch tile trowel is the right size for 3″ x 6″ subway tile. However, a 1/4″ x 3/8″ square notch trowel is ideal for installing 8″ x 8″ tiles, while a 1/4″ x 1/2″ square notch trowel is ideal for installing 12″ x 12″ and 13″ x 13″ tiles.
The Right Size Subway Tile Trowel Guide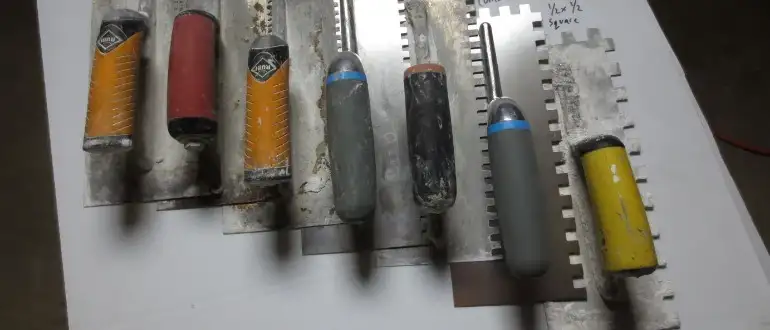 For Single Size Tile Project
Most homeowners install a single-size tile in a particular area or room. Consider these steps to get the right size to trowel for your home tile project:
Check the size of the tile you are going to work with. The 3″ x 6″ subway tile is the easiest size to work with and is widely available.
Focus on the trowel measurements. The trowel measurements depend on the depth and length, as well as the space between teeth or notches.
A lot of sizes and types of notches are available, but a ¼ inch square notch is an appropriate choice for 3″ x 6″ subway tile. Although there are U and V notches, they aren't mostly used for tile.
Another consideration is versatility. ¼ inch square notch is an improved, versatile choice that is perfect for a range of projects. So whether it is for cement flooring or home heating membranes, this one will be an all-in-one solution.
Read More: What Size Trowel For 12×24 Floor Tile?
For Multiple-Sized Subway Trowels
If the project requires multiple sizes of tiles, then you have to consider other trowel sizes. It is especially true for redoing walls and tile floors, where having multiple trowels will come in handy. The following are some of the different sizes of trowels that will be helpful where the 1/4'' square notch won't work.
This 1/4″ x 1/4'' U notch – perfect for uncoupling the membrane and minimizing stress between substrate and tile.
1/8'' x 1/8'' notch – this size of the trowel is mostly effective for attaching thin protective membranes instead of tile.
1/4'' x 3/8'' square notch – if you need to install larger, heavier subway tiles as well as square floor tiles, this version is more preferable. You can also install 4″ x 12″ subway tiles using this size of a trowel.
1/4'' x 1/2'' square notch – it's a perfect size trowel for attaching 12″ x 12″ to 16″ x 16″ subway tiles.
1/2'' x 1/2'' square notch –this size of the trowel is preferable for installing 24″ x 24″ or larger subway tiles.
Apart from these measurements, you should also consider Euro and slant notches. Though these notches are hardly available, they are perfect for having coverage and leaving the least air pockets.
Read More: What Size Trowel For 6×24 Tile?
Planning For The Tile Project
Making a good plan before starting any tile project increases the rate of success with improved convenience. Measuring the space correctly for troweling and tiling is a better place to begin. Following are a few steps to take before beginning the tile project:
Determine the thickness and size of the tile that you desire to install.
Carefully inspect the groove on the opposite side of the tile to find out how deep and big they are
Check the surface where you will install the tile, whether it is plywood, cement, or other substrates.
Finally, check the consistency of the mortar that you will use.
After checking all these things, collect the right tools based on the information. Apart from it, you must need the accurate matter maintaining tile ratio so you can install the tile in place, preventing unsightly mortar buildup.
A Few Essential Tricks For The Best Subway Tile Project
Efficient use of a trowel must be needed for applying a level layer of mortar to ensure smooth and accurate tile installation. A level surface makes the tilling task much easier.
An improved mortar bond holds the tile to the substrate for years. So follow these tips if you want a professional-grade tilling project:
Spread the mortar evenly all over the layout line. Uneven mortar can reduce the longevity of the project.
After placing the tile in the mortar, move the tile backward and forward at a right angle to the edges. Doing so will remove any voids that may exist in the mortar and ensure optimal tile support.
Carefully inspect the chalk lines between every tile to see if there is any missing mortar. If required, double-check the lines to ensure the most accurate trowel task.
If you are confused about the tile or trowel products, talk to the supplier. However, you can also check the instructions that come with the tiles to see if they have the right guidelines.
Best Trowel For Subway Tile
1. 6″ Mini Trowel 1/4″ Square notch
2. Frosch Stainless Steel Square Notch Tile Trowel
3. Flooring & Tiling Notched Trowel 1/4 X 1/2 X 1/4 Usoft Grip
FAQs
What Is The Right Thinset Thickness For Subway Tile?
You should apply 3/16-inch to 1/8-inch thick thinset under the tile. However, the 3/16-inch layer of thin-set is good enough to offer a smooth back along with a strong bond to the tile to the backer board or floor. But if the tile has a rough surface on the back, you should spread 1/8-inch thick thin-set for proper installation.
What Is The Right Size Grout Line For 3″ X 6″ Subway Tile?
The right size grout line is always essential for having a proper subway tile project. Most professional enthusiasts apply 1/16″ grout line to 3″ x 6″ subway tile, especially when it is covering walls.
You can also apply 1/8″ for the thicker wall. Remember, thinner grout lines are more effective for unsanded grout, particularly for installing ceramic tiles and delicate glass.
Where Is The Subway Tile Mainly Used?
Subway tiles are mainly used in interior design as a classic choice. These tiles are also broadly used in kitchen and bathroom backsplash corners, as well as for fireplaces, shower walls, and accent features.
Final words
Subway tiles are the smart choice for lowering the remodeling cost and enjoying the most sustainable and stylish finish. But all the benefits depend on using the right size trowel which is key for professional-grade tile installation.
Hopefully, now you know what size trowel to use for subway tile, choosing the right size for a certain subway tile won't be a demanding task.