Choosing the right nail size for installing a quarter round is more than a trivial detail; it's a crucial factor in ensuring a secure and professional-looking finish.
Get it wrong, and you risk splitting the wood or ending up with a less-than-stellar connection that could necessitate costly do-overs. So it's vital to know what size nails for quarter round.
This guide aims to demystify the process by offering actionable insights into selecting the perfect nail size for your quarter-round project.
What Size Nails Are Commonly Used?
For installing quarter-round molding, 18-gauge brad nails measuring 1 to 1.5 inches in length are commonly used. It's important to choose a nail size that ensures secure attachment without splitting the wood. Brad nails are often preferred for their smaller, less visible holes.
Here is a quick table chart:
| Type of Quarter Round | Recommended Nail Size | Ensure nails are compatible with the material |
| --- | --- | --- |
| Softwood (Pine, Fir) | 1 to 1.25 inches | Brad nails are usually sufficient |
| Hardwood (Oak, Maple) | 1.25 to 1.5 inches | Finish nails may provide a sturdier hold |
| MDF | 1 to 1.25 inches | Be cautious to avoid splitting the material |
| PVC or Composite | 1 to 1.25 inches | Ensure nails are compatible with material |
| Thin or Delicate Moldings | 1 inch | Be cautious to avoid splitting the wood |
Types of Nails Suitable for Quarter-Round
Brad Nails
Brad nails are small, which makes them a great choice for delicate woodwork. Their small size reduces the risk of splitting the wood.
For example, if you're installing a thin quarter-round made of softwood, brad nails would be a good choice.
However, their strength isn't as high as some other nail types, so they might not hold as well in harder materials.
Finish Nails
Finish nails are stronger than brad nails, which makes them suitable for thicker moldings.
If your quarter round is fairly thick or made from a harder material, finish nails could be the way to go. But be careful: their larger size means they might split thinner wood.
Pin Nails
Pin nails are very small, making them ideal for delicate work where you want the nail to be almost invisible.
They're perfect for attaching thin or delicate moldings without leaving a noticeable hole. However, they're not very strong, so they're not suitable for larger or heavier moldings.
Crown Staples
Crown staples provide excellent holding power, which makes them a good choice for larger moldings that need a stronghold.
They can secure the quarter round firmly to the wall. However, they are more visible than nails, so they might not be the best choice if you want a clean, finished look.
Factors Influencing Nail Size Selection for Quarter Round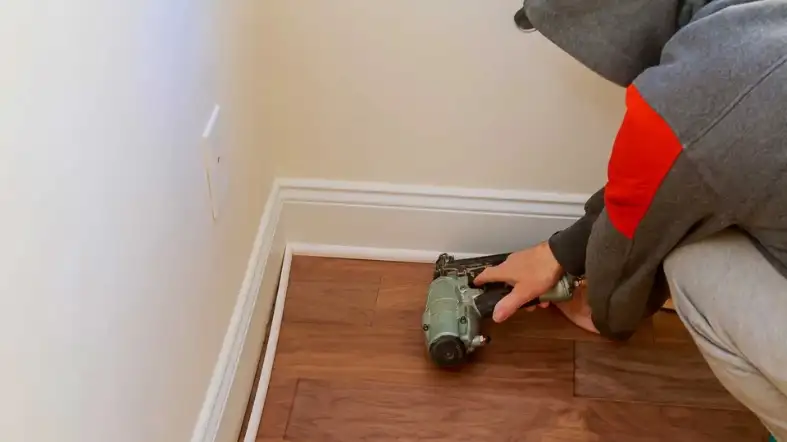 Material of Quarter Round
The material of your quarter round can influence the nail size.
For instance, wood quarter rounds might require larger nails for a secure hold, while MDF (Medium-Density Fiberboard) or PVC quarter rounds can be installed with smaller nails to prevent splitting or cracking.
Thickness of Quarter Round
The thickness of your quarter round is another important factor. Thicker moldings might need longer nails to ensure they are securely attached to the wall.
For example, a 1-inch thick quarter round might need a 2-inch nail.
Type of Wall Material
The type of wall material also matters. Drywall can usually hold smaller nails, while concrete or wood walls might require larger, stronger nails for a secure hold.
Intended Function
The intended function of the quarter round can also influence your nail size selection.
If it's mainly for decoration, smaller nails might suffice. But if it's a gap filler, you might need larger nails for a stronger hold.
Aesthetic Considerations
Aesthetics play a part too! Smaller nails are less visible and can give a cleaner look, while larger nails might be more noticeable.
Budget Constraints
Lastly, your budget can influence your choice. Larger nails tend to be more expensive than smaller ones, so if you're on a tight budget, you might opt for smaller nails.
Step-by-Step Guide: How to Choose and Install Nails for Quarter-Round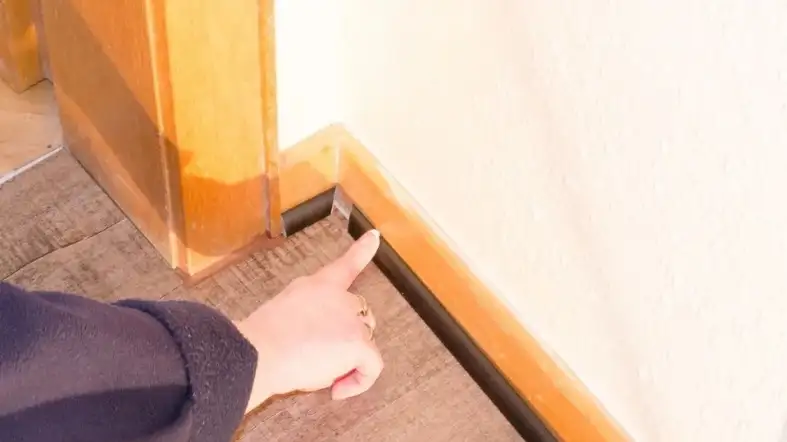 Measure the Quarter Round and Space
Grab your tape measure and find out how thick your quarter round is. Also, measure the distance between the floor and the baseboard.
You need these measurements to pick the right nail length. For example, if your quarter round is ¾-inch thick, your nail needs to be longer than that.
Select the Material
Decide what your quarter round is made of. The material could be softwood, hardwood, MDF, or even PVC. Softwood is easier to nail into, while hardwood requires more sturdy nails.
Choose Nail Type
You can pick between brad nails and finish nails. Brad nails are thinner and make smaller holes. Finish nails are thicker and offer more hold.
Think about what you need. If you have softwood like pine, brad nails might be better.
Nail Length Matters
Based on your measurements, choose a nail length. Usually, 1 to 1.5-inch nails are good for most quarter-rounds. If your quarter round is ¾-inch, a 1.25-inch nail would be ideal.
Gauge Size
The gauge refers to the thickness of the nail. An 18-gauge nail is a good size for most quarter rounds. It's thin enough to make a small hole but sturdy enough to hold well.
Check for Coatings
Look for nails that are galvanized or have a special coating. This prevents rusting. Imagine you used a regular nail, and it rusted. That rust could stain your beautiful quarter-round!
Nail Gun Compatibility
Ensure your nails are compatible with your nail gun. The last thing you want is to be all set to start and find out your nails don't fit your nail gun. So double-check before you buy.
Test Drive
Before you install all the nails, test a few first. Nail one piece of quarter round into place. Make sure it holds well and looks good. If the nail splits the wood, you'll know you need to adjust.
The Right Angle
When you're nailing, angle the nail slightly upwards. This helps the nail grip better into the wall or baseboard.
For example, if you nail straight, the nail might not hold as well. Angling it just a bit gives it a stronger grip.
Final Touches
After you've nailed the quarter round, fill any visible nail holes with wood filler. Choose a color that matches your quarter round. This makes everything look neat and professional.
Popular Nail Sizes for Quarter Round and Why They Work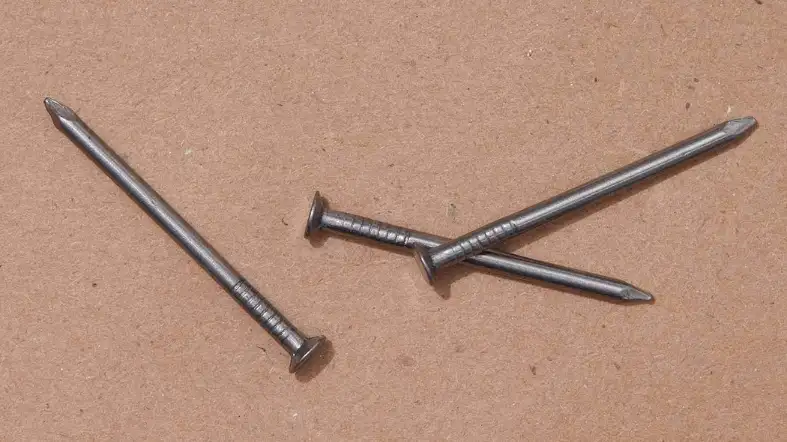 1-inch Nails
1-inch nails are popular for quarter round installations because they're just the right size for most standard quarter rounds, which are typically 1/2 inch thick.
These nails are long enough to secure the quarter round to the wall, but not so long that they risk damaging anything behind the wall.
1.5-inch Nails
For slightly thicker quarter rounds, 1.5-inch nails are often used. These nails provide a stronger hold for quarter rounds that are between 1/2 inch and 3/4 inch thick.
They're also a good choice if you're installing quarter-round on a thicker or more durable wall material, like wood or concrete.
2-inch Nails
2-inch nails are typically used for larger, heavier quarter rounds. If your quarter round is more than 3/4 inch thick, a 2-inch nail will provide the necessary hold to keep it securely attached to the wall.
Important Tips
Remember, the key is to choose a nail that's long enough to secure the quarter round to the wall, but not so long that it risks causing damage. Always measure your quarter round and wall before choosing a nail size.
FAQs
Can I use regular nails instead of brad nails for softwood quarter round?
Regular nails can be used for softwood, but brad nails are preferable for their smaller holes and reduced risk of wood splitting.
Is it necessary to have a nail gun for installing quarter-round?
A nail gun is not strictly necessary but can make the installation faster and more efficient.
Are galvanized nails a must for quarter-round installation?
Galvanized nails are not a must but are recommended to prevent rusting and potential staining of the wood.
Does the wall material affect the type of nails used?
Yes, the wall material can influence your choice; stronger nails may be needed for walls made of wood or concrete compared to drywall.
Are finish nails suitable for all types of quarter rounds?
Finish nails are generally more suited for thicker or harder types of quarter rounds, as they could split thinner or softer materials.
Conclusion
Choosing the right nails for your quarter round doesn't have to be complicated. With this guide, you'll be well-equipped to make an informed decision and tackle your next DIY project with confidence. Happy nailing!