Are you planning to install a hot tub at home? One of the most important things to consider is what size wire for hot tub. The wire size is determined by the maximum current draw of the hot tub, the length of the wire run, and the local codes.
In this blog post, we will discuss the recommended wire size for hot tubs, safety tips for hot tub wiring, and factors that influence wire size selection. Read on to learn more about what size wire you need for your hot tub.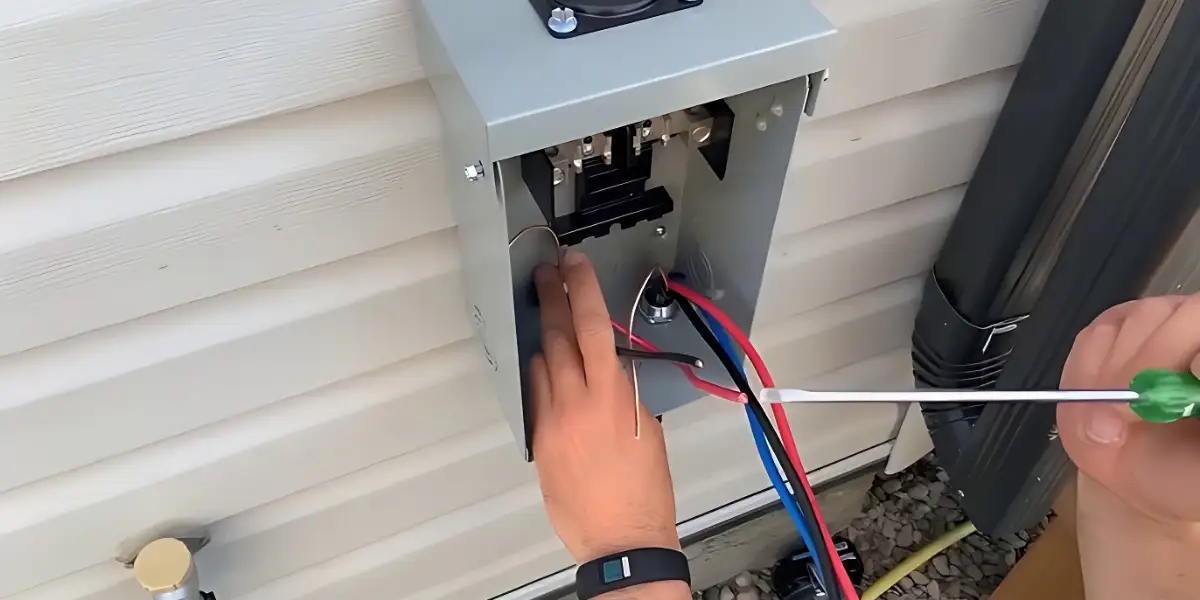 What Size Wire Do You Need for a Hot Tub?
Most hot tubs require a 6-gauge or 8-gauge wire. However, the exact size depends on several factors.
Here's a comparison of different wire sizes:
| | | |
| --- | --- | --- |
| Wire Gauge | Max Current (Amps) | Max Length (Feet) |
| 14 | 15 | 50 |
| 12 | 20 | 70 |
| 10 | 30 | 85 |
| 8 | 40 | 100 |
| 6 | 55 | 125 |
Different Types of Wires Suitable for Hot Tubs
Copper Wires
Copper wires are a popular choice for hot tubs. They are known for their high conductivity, which means electricity can flow through them easily. This makes your hot tub heat up quickly and efficiently.
Copper wires are also heat resistant. They can handle the high temperatures generated by your hot tub without melting or breaking down. This makes them a reliable choice for long-term use.
However, copper wires do have some drawbacks. The main one is their cost. Copper is a valuable metal, and this is reflected in the price of copper wires.
They are more expensive than other types of wires. Copper wires are also not very flexible. This can make them harder to install, especially in tight spaces or complex hot tub designs.
Aluminum Wires
Aluminum wires are another option for hot tubs. They are cheaper than copper wires, which can make them a good choice if you're on a budget.
Aluminum wires are also lightweight. This makes them easier to handle and install.
However, aluminum wires have a lower conductivity than copper wires. This means they don't carry electricity as efficiently. Over time, this could make your hot tub less efficient and increase your energy bills.
Aluminum wires are also less durable than copper wires. They can break down over time, especially in harsh weather conditions.
Stranded Wires
Stranded wires are made up of several small wires twisted together. This design makes them flexible, which can make them easier to install in your hot tub.
Stranded wires are also durable. They can withstand bending and twisting without breaking.
However, stranded wires are usually more expensive than solid wires (wires made up of a single piece of metal). This is because they require more material and more complex manufacturing processes.
How to Determine the Right Wire Size for Your Hot Tub
Wire Gauge
The wire gauge is the thickness of the wire. It's like the size of a pipe: the bigger the pipe, the more water can flow through it.
Similarly, the thicker the wire (which means a lower gauge number), the more electricity it can carry. For most hot tubs, you'll need a wire gauge of 6 or 8.
Length of Run
The length of the run is the distance from your home's electrical panel to your hot tub. The longer this distance, the larger the wire gauge you'll need.
This is because, over long distances, electrical current can lose energy, a phenomenon known as voltage drop. To prevent this, you'll need a thicker wire.
Voltage and Amperage
Finally, consider the voltage and amperage of your hot tub. These are the electrical requirements that your hot tub needs to operate correctly.
The voltage is like the water pressure in a pipe, and amperage is like the amount of water flowing through it. Most hot tubs require 240 volts and can draw between 30 to 50 amps. The higher these numbers, the thicker your wire will need to be.
Factors Influencing Wire Size Selection for a Hot Tub
Hot Tub Model and Specifications
Every hot tub is unique. The model and specifications of your hot tub will determine the electrical requirements, including the wire size.
Always check the manufacturer's instructions or consult with a professional.
Electrical Codes and Regulations
Your local area may have specific electrical codes and regulations. These rules are designed to ensure safety and must be followed when installing your hot tub.
Environmental Conditions
The environment where you install your hot tub can also influence the wire size. For indoor installations, standard wires are usually sufficient.
However, for outdoor installations, you might need wires with special weather-resistance features to withstand elements like rain and snow.
Distance from Electrical Panel
The distance from the electrical panel to your hot tub can affect the wire size. The longer the distance, the larger the wire gauge needed to prevent voltage drop.
Safety Considerations
Safety should always be your top priority. Using the correct wire size is crucial to prevent electrical fires and ensure the safe operation of your hot tub.
Budget and Cost
Your budget and cost considerations might also influence your choice. While safety and functionality should never be compromised, there are usually multiple wire options that fit within different budgets.
Availability of Installation Equipment
Finally, the availability of installation equipment can influence your decision. Some wire types may require special tools or connectors for installation.
Safety Tips for Hot Tub Wiring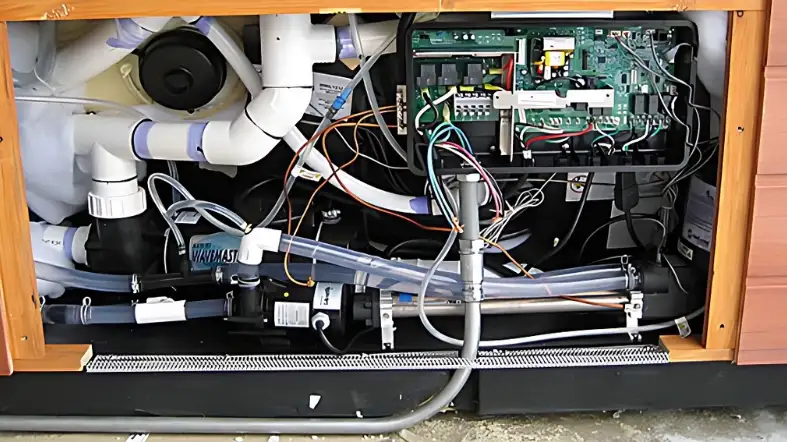 Always Turn Off the Power
Before you start any wiring work, always turn off the power at the main electrical panel. This will help prevent accidental electrocution.
Use the Correct Wire Size
Using the correct wire size is crucial for safety. A wire that's too thin can overheat and cause a fire. Always refer to your hot tub's manual for the recommended wire size.
Install a Ground Fault Circuit Interrupter (GFCI)
A GFCI is a device that shuts off an electric power circuit when it detects that current is flowing along an unintended path, such as through water or a person. It's a crucial safety feature for any hot tub.
Keep the Wiring Dry
Water and electricity are a dangerous combination. Make sure all wiring and electrical components stay dry. Use weather-resistant wires for outdoor hot tubs.
Hire a Professional If Needed
If you're not confident in your ability to safely wire your hot tub, don't hesitate to hire a professional electrician. It's better to be safe than sorry.
FAQs About Wire Sizing for Hot Tubs
Is aluminum wire suitable for hot tub wiring?
Aluminum wire is generally not recommended for hot tubs. Copper wire is the preferred choice due to its better conductivity and resistance to corrosion.
Can I use an 8-gauge wire for my hot tub?
The 8-gauge wire may be insufficient for most hot tubs, which usually require 6-gauge wire. Always check your hot tub's manual and consult an electrician for specific requirements.
What type of electrical circuit is needed for a hot tub?
A dedicated 240V GFCI-protected circuit is typically required for most hot tubs.
How many amps does a hot tub typically require?
Most residential hot tubs require a 50-amp circuit, but some smaller units may operate on a 40-amp circuit. Check your hot tub's manual for specific requirements.
Do I need a permit to install a hot tub?
In most jurisdictions, a permit is required for installing a hot tub, and the installation must be inspected for compliance with local electrical codes. Always check with your local authorities.
Conclusion
Choosing the right wire size for your hot tub is crucial for both safety and performance. Most residential hot tubs require 6-gauge copper wire and a dedicated 240V GFCI-protected circuit.
Don't cut corners; consult your hot tub's manual and hire a licensed electrician to ensure you meet all local codes and requirements.