Selecting the right size propane tank is crucial for ensuring a steady supply of propane for your appliances. Whether you're using propane for heating, cooking, or hot water, knowing what size propane tank do I need is vital.
In this blog post, we'll guide you through the process of determining the ideal propane tank size for your needs.
We'll cover the determining factors, various types of propane tanks, and the installation process.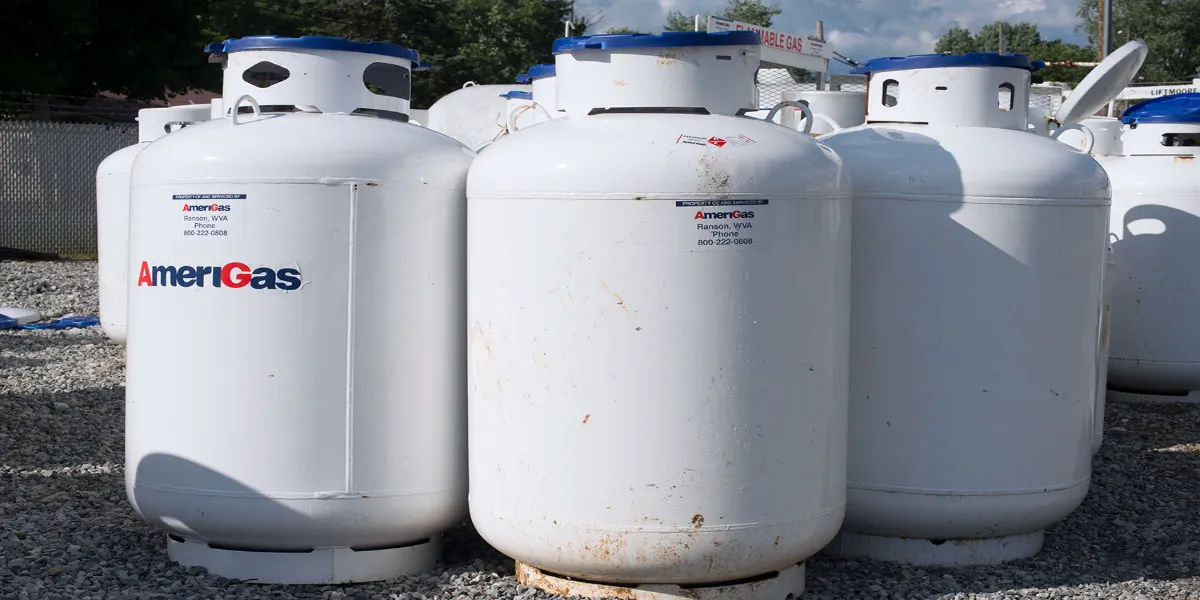 What Size Propane Tank Do I Need?
For residential use, a 500-gallon tank is often suitable for an entire home, while a 20-pound tank may suffice for grilling. The size of the propane tank you need depends on your usage requirements and the appliances you'll be powering.
Propane Tank Size Chart:
| Tank Size (Gallons) | Typical Use Case | Estimated Duration of Use |
| --- | --- | --- |
| 20-Pound (5 Gallons) | Grilling, small cooking appliances | A few hours to several days |
| 33-Pound (8 Gallons) | Forklifts, temporary heating | A week for moderate use |
| 100-Gallon | Supplemental residential use, seasonal heating | 1-2 weeks |
| 250-Gallon | Residential heating, cooking, hot water | 1-2 months |
| 500-Gallon | Whole-home use, small commercial settings | 3-6 months depending on usage |
| 1000-Gallon | Large commercial applications | 6-12 months depending on usage |
Types of Propane Tanks
Residential Propane Tanks
Residential propane tanks are a common sight in many homes. They're used for a variety of purposes, such as heating your home during the cold winter months, cooking your favorite meals on the stove, or even heating water for your shower.
These tanks come in different sizes, typically ranging from 100 to 1,000 gallons. The size you need will depend on your usage and the number of propane appliances in your home.
Commercial Propane Tanks
Commercial propane tanks are larger than residential tanks and are designed to meet the demands of businesses and commercial operations.
These might include restaurants that use propane for cooking, farms that use propane-powered equipment, or industrial facilities that use propane as part of their manufacturing process.
Commercial tanks can hold several thousand gallons of propane to ensure that businesses have the fuel they need to operate efficiently.
Portable Propane Tanks
Portable propane tanks are small and lightweight, making them easy to carry around. They're often used for outdoor activities like camping or tailgating.
You might use a portable propane tank to fuel a camp stove, a portable heater, or a small grill. These tanks are usually quite small, often holding just 20 pounds (about 5 gallons) of propane.
Underground Propane Tanks
Underground propane tanks are a great option if you want to keep your tank out of sight for aesthetic reasons or to comply with local regulations.
These tanks are buried underground with only the top part visible. This type of tank is popular in residential settings where homeowners don't want a large tank visible in their yards.
They're also used in areas with severe weather conditions since being underground protects the tank from damage.
Factors Influencing Propane Tank Size Selection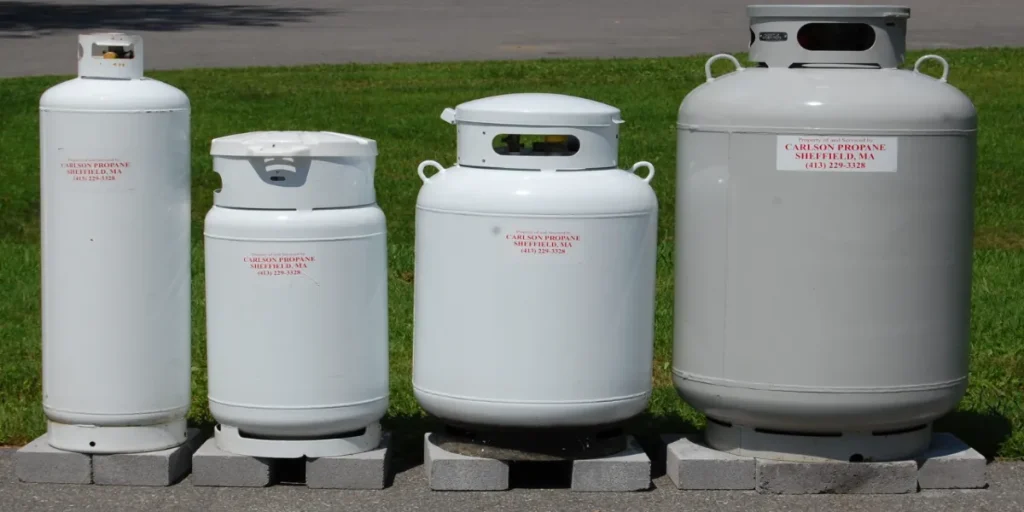 Usage Requirements
The size of your propane tank should match your usage. If you have many appliances or use propane for both heating and cooking, you'll need a larger tank.
For example, a family using propane for a water heater, furnace, and stove might need a 500-gallon tank.
Frequency of Refill
Think about how often you want to refill your tank. If you'd rather not worry about it often, go for a larger tank.
A 250-gallon tank might need refilling every two months if it's the primary energy source.
Propane Appliances
Different appliances use propane at different rates. A furnace might use 1-3 gallons per day, while a stove might only use 0.2 gallons per day.
Add up the usage of all your appliances to determine the right tank size.
Budget Considerations
Larger tanks cost more upfront but can save money in the long run because propane is often cheaper when bought in larger quantities.
A 1000-gallon tank could be a smart investment for high-usage situations.
Safety Regulations
Check local safety regulations before choosing a tank size. Some areas have restrictions on where tanks can be placed and how large they can be.
Installation Constraints
Your property might not have room for a large tank. In this case, multiple smaller tanks could be a solution. Two 250-gallon tanks take up about the same space as one 500-gallon tank.
Energy Efficiency
A properly sized tank can improve energy efficiency. If a tank is too small, appliances might not run effectively. On the other hand, an oversized tank could lead to wasted energy.
Local Climate and Weather Conditions
If you live in a colder climate, you'll use more propane for heating and may need a larger tank. A 500-gallon tank could be suitable for a small home in a cold climate.
Tank Material and Durability
Choose a tank made from durable materials to reduce replacement costs. Steel tanks are common and can last up to 40 years with proper maintenance.
How to Calculate the Right Propane Tank Size
Determine Your Propane Needs
First things first, figure out why you need propane. Is it for grilling? Heating your home? Cooking? This is crucial for choosing the right size.
For example, if you only use propane for grilling, a small 20-pound tank will probably be enough.
Calculate BTUs for Each Appliance
BTU stands for British Thermal Unit. It's a measure of energy. Each appliance you plan to power with propane will use a certain amount of BTUs. Look at the labels or user manuals for each one.
Write down the BTUs they use. Let's say your grill uses 20,000 BTUs per hour, and you use it for 2 hours a week. That's 40,000 BTUs per week just for grilling.
Add Up Total Weekly BTU Usage
Take the BTU numbers from all your appliances and add them up. This total number gives you your weekly BTU needs.
So, if you have a grill and a water heater that also uses 50,000 BTUs a week, you'll need 90,000 BTUs per week in total.
Convert BTUs into Gallons
To find out how many gallons of propane you'll need, divide your total weekly BTUs by 91,502. This number is the amount of BTUs in one gallon of propane.
If your total weekly BTU is 90,000, you'd do 90,000 divided by 91,502. The answer is roughly 0.98 gallons for a week.
Consider Tank Capacity
Now you have to think about tank size. Propane tanks are often labeled by their weight in pounds. A common size is a 20-pound tank, which holds about 4.7 gallons.
You'll want a tank that can hold at least two weeks' worth of propane to be on the safe side.
In our example, 0.98 gallons per week means you'll need about 2 gallons for two weeks. A 20-pound tank would be more than enough.
Factor in Emergency Needs
Always prepare for the unexpected! What if there's a really cold week and you need extra heat? Or maybe you decide to have a big barbecue party.
In situations like these, more propane might be needed. It's good to have a buffer, so add an extra 20% to your calculated needs. In our example, 2 gallons for two weeks would become 2.4 gallons.
Check Local Codes and Regulations
Before you buy your tank, make sure it meets all safety codes and rules in your area. Some places might have restrictions on how big a tank you can have.
For instance, your apartment complex might only allow tanks up to 40 pounds.
Choose the Right Tank
Now you're ready to pick your tank! Remember, the numbers you calculated are a guide. It's okay to round up to the nearest common tank size.
In our example, a 20-pound tank would be perfect, but if you wanted more room for emergencies, you could go for a 30 or 40-pound tank.
Safety Precautions When Choosing a Propane Tank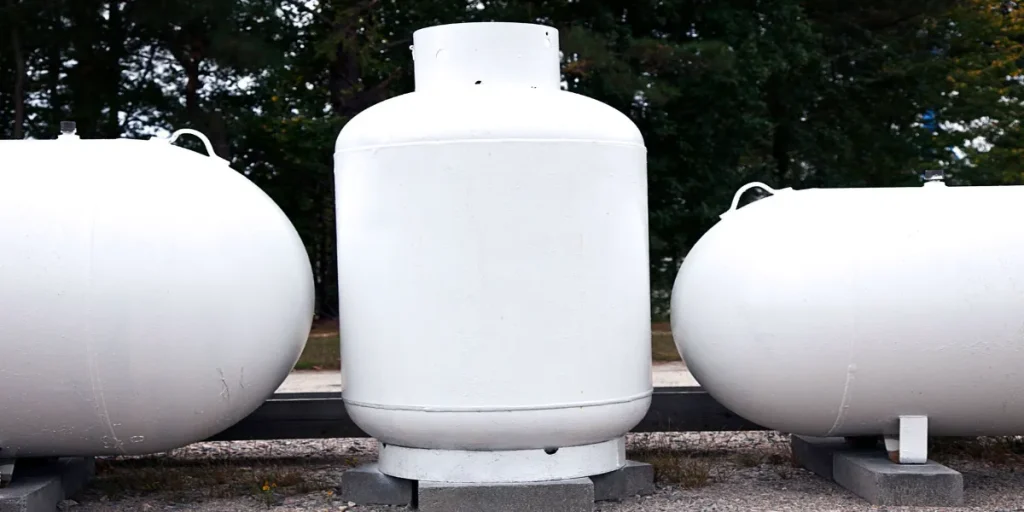 Propane Tank Location
Choose a location for your propane tank that is away from windows, vents, and air conditioning units.
This reduces the risk of propane entering your home. For example, don't place the tank directly under a bedroom window.
Safe Distance from Ignition Sources
Keep your propane tank at least 10 feet away from any potential ignition sources, like electrical equipment or an open flame. This means you shouldn't install the tank next to your barbecue grill.
Regular Inspections
Inspect your propane tank regularly for any signs of damage or leaks. This includes checking for rust, dents, or a smell of gas.
For instance, if you notice a strong smell of rotten eggs, it could indicate a gas leak.
Professional Installation
Always have your propane tank installed by a professional. They know how to properly set up and connect the tank to ensure it's safe and efficient. Remember, incorrect installation can lead to serious safety risks.
Proper Ventilation
Ensure there's proper ventilation around your propane tank. Propane tanks can overheat if they're not properly ventilated. So, don't put your propane tank in a small, enclosed space like a shed or garage.
Emergency Shut-Off Valve
Know where the emergency shut-off valve on your propane tank is and how to use it. In case of a leak or fire, you'll need to shut off the gas supply quickly. It's usually a large, round knob on the top of the tank.
Follow Local Regulations
Follow all local regulations and guidelines when installing and using a propane tank. These rules are designed to keep you safe.
For example, some areas require propane tanks to be a certain distance from buildings or property lines.
Use Propane-Safe Appliances
Only use appliances that are designed to be used with propane. Using the wrong appliances can cause malfunctions and safety hazards. So, don't try to hook up your natural gas stove to a propane supply.
FAQs
Can I use a 20-pound propane tank for heating my home?
No, a 20-pound tank is generally too small for heating an entire home; it's usually used for grilling or small cooking appliances.
Is a 1000-gallon tank suitable for residential use?
A 1000-gallon tank is typically used for large commercial applications, not for residential use.
Are underground propane tanks safe in severe weather conditions?
Yes, underground propane tanks are generally safer in severe weather conditions because they are buried and protected from the elements.
Do all propane appliances list their BTU usage?
Most propane appliances should list their BTU usage in the user manual or on a label; check these sources for accurate information.
Does a larger propane tank always mean better energy efficiency?
No, energy efficiency depends on proper sizing; an oversized tank could lead to wasted energy.
Conclusion
Choosing the right propane tank size is more than just a matter of convenience—it's essential for efficient energy use and safety.
This guide has walked you through the various types of propane tanks, factors influencing size selection, and how to calculate your specific propane needs. Make an informed decision to ensure a seamless, energy-efficient experience.