The soundbar is a must need device to accompany today's modern TV whether it is 65 inch or other sizes for the best surround sound.
But if you are conscious about the living room appearance and epic soundtracks you must know what size soundbar for 65 inch TV so you can buy accordingly.
So let's start with learning what size soundbar you should buy for your 65 inch TV and later you will learn some other helpful tips to consider making the investment worth it.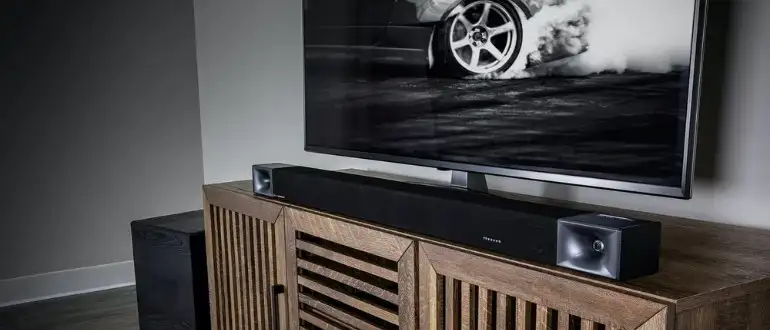 What Size Soundbar For 65 Inch TV?
For a 65 inch TV, an ideal soundbar would be between 50 and 60 inches in width. This size ensures the soundbar is proportional to the TV, avoids any awkward appearance, and delivers optimal sound quality, encompassing the viewing area effectively.
Chart for the best soundbars for 65 inch TVs:
| TV Size | TV Width | Recommended Soundbar Size |
| --- | --- | --- |
| 32″ | 28″ | 20-30″ |
| 40″ | 35″ | 30-40″ |
| 43″ | 38″ | 30-40″ |
| 50″ | 44″ | 40-50″ |
| 55″ | 48″ | 40-50″ |
| 60″ | 52″ | 50-60″ |
| 65″ | 57″ | 50-60″ |
Different Types of Soundbars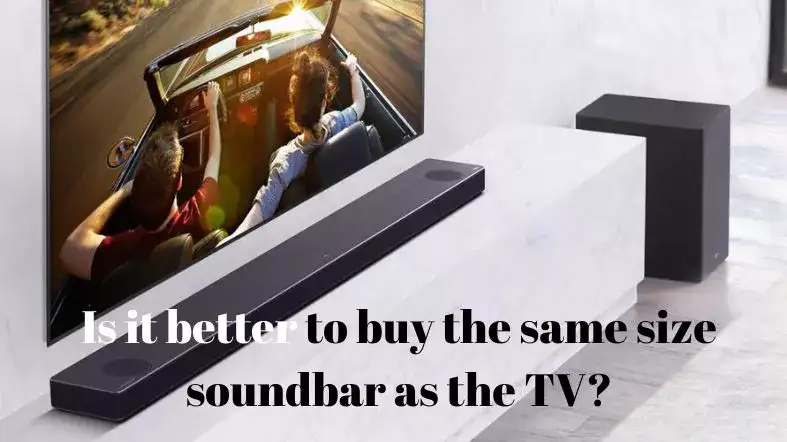 Different Types of Soundbars
Soundbars come in three main types: standard soundbars, soundbases, and all-in-one soundbars.
Standard Soundbars
Standard soundbars are slim and sleek devices that can be placed on a table or mounted on a wall below or above your TV.
They usually have two or more channels (speakers) that deliver stereo or surround sound effects.
Some standard soundbars also come with a separate subwoofer, which is a speaker that produces low-frequency sounds (bass).
A subwoofer can enhance the depth and impact of the sound, especially for action movies and music genres.
Soundbases
Soundbases are similar to standard soundbars, except that they are thicker and wider.
They are designed to act as a base for your TV, meaning that you can place your TV on top of them.
They usually have more powerful speakers and built-in subwoofers that deliver louder and deeper sound than standard soundbars.
Soundbases are ideal for people who have limited space or do not want to deal with multiple devices and wires.
They also have the same connectivity options as standard soundbars, so you can stream music from various sources.
All-in-One Soundbars
All-in-one soundbars are the most advanced type of soundbars.
They combine the features of standard soundbars and soundbases with additional speakers that create a more realistic surround sound experience.
Some all-in-one soundbars have upward-firing speakers that reflect the sound off the ceiling, creating an overhead effect.
This is known as Dolby Atmos or DTS:X technology, which are formats that add height information to the audio signal.
>> What size screw for tv mounting?
features to consider while buying soundbar for 65 inch TV
Subwoofers
Undoubtedly, a soundbar offers better sound quality compared to the internal speakers of the TV.
But when it comes to the best soundbar for 65 inch TVs, it should integrate subwoofers to ensure premium quality sound.
Due to the function, the sound system can also reproduce low-frequency stereo.
Other advantages are that the subwoofers can add rumbling bass to the movies and create an all-inclusive sound through the whole room.
You should upgrade the speaker with the subwoofer, especially if you are an action movie lover, even with epic soundtracks.
Functions
The soundbar for the 65 inch TV should support Dolby Atmos, DTS Virtual: X.
These features will still offer a better quality sound even if the soundbar doesn't include dedicated speakers.
Apart from that, these functions will upgrade the TV speaker impressively and ensure virtual surround sound, resulting in a better audio experience.
No. of channels
A 65 inch TV is mostly suitable for a medium-sized or large living room, and you should opt for a 5.1 or 7.1 soundbar to ensure room-filling audio.
But when it comes to the number of channels, the soundbar should have a 2.1 channel configuration as it can be expanded by adding rear speaker kits or subwoofers.
Extra features 
Along with the sound quality and appearance, the design of the soundbar also matters. The connection options and the build quality are also vital.
Some modern soundbars have an HDMI connection, but you should check the compatibility with the TV before considering it.
For ease of use, you can prefer a voice control system, but don't avoid a TV control system.
Best Souindbar For 65 Inch TV
1. Polk Audio Signa S3 Ultra-Slim TV Sound Bar and Wireless Subwoofer
Polk Audio Signa S3 Ultra-Slim TV Sound Bar and Wireless Subwoofer with Built-in Chromecast | Compatible with 8K, 4K & HD TVs | Wi-Fi, Bluetooth | Works with Google Assistant
ULTRA-SLIM SOUNDBAR WITH WIRELESS SUBWOOFER – Features 2.1 channel performance-tuned drivers – (2) 1.25" x 4.4"oval mid-range drivers & (2) 1" Tweeters, and the included 5.25" subwoofer delivers INCREDIBLE ROOM-FILLING SOUND WITH DEEP BASS
POLK'S EXCLUSIVE VOICE ADJUST TECHNOLOGY & Dolby Digital 5.1 Decoding helps maximize sound clarity & reduces voice delays. Hear clear, crisp dialogue of your favorite movies, TV shows and sporting events with three distinct settings
EXCELLENT SOUND AND VALUE on par with any mid- to high-range sound bars available in the market. At 2″ tall, the Signa S3 fits most spaces — easily wall-mount it or place in front of your TV. It won't block your TV's bottom edge or IR remote sensor
UPGRADE YOUR HOME THEATER SURROUND SOUND SYSTEM – Watch your favorite shows on your 4K and 8K HD Smart TV with exceptional picture quality & clear sound. With numerous connection possibilities, plug in any audio source via HDMI ARC, optical input & 3.5mm audio jack
WIRELESSLY STREAM MUSIC from your favorite streaming apps like Pandora, Spotify, TuneIn, and more from your smartphone, tablet or other compatible devices via Bluetooth, or use Google Chromecast to listen to music over Wi-Fi with your Google Home speaker
SET UP YOUR SOUND BAR IN MINUTES — the included HDMI and optical cables quickly connect your TV and subwoofer to the sound bar
Check Latest Price On Amazon
2. Sony Z9F 3.1ch Sound bar with Dolby Atmos and Wireless Subwoofer
Sony Z9F 3.1ch Sound bar with Dolby Atmos and Wireless Subwoofer (HT-Z9F), Home Theater Surround Sound Speaker System for TV Black
Ultimate Home Theater Upgrade with 3.1ch Dolby Atmos DTS: X and Vertical Sound Engine
Seven sound modes for enhanced movies, music, gaming, news and sport
4K HDR compatible
Voice enhancement for greater clarity
Built-in Wi-Fi and easy BLUETOOTH streaming
High-resolution Audio capable
Stream music, online radio, and podcasts from your Amazon connected device directly to your Z9F soundbar. Just ask Alexa.
Stream and control audio content with your favorite smart devices
In the box: Remote (RMT-AH400U), Batteries for remote, HDMI Cable, Wall Hanging Bracket (with screws x 2), Wall Mount Template
Wireless Subwoofer included
Check Latest Price On Amazon
3. SAMSUNG 3.1.2ch Q700A Q Series Soundbar
SAMSUNG 3.1.2ch Q700A Q Series Soundbar – Dolby Atmos/ DTS: X (HW-Q700A, 2021 Model), Black
DOLBY ATMOS / DTS:X – Theater-quality sound that fires from the front, side and above for true audio immersion.
TRUE 3.1.2CH SOUND – The complete audio entertainment experience with 3 channels, 1 subwoofer and 2 up-firing channels.
Q-SYMPHONY – Perfectly synchronized, fully immersive QLED TV and soundbar audio.
SPACEFIT SOUND – Automatically calibrated sound and enhanced clarity to adapt to your space.
WORKS WITH – Enjoy your Soundbar hands-free using voice control through your Alexa-enabled device.
Check Latest Price On Amazon
4. Hisense HS218 2.1ch Sound Bar with Wireless Subwoofer
Hisense HS218 2.1ch Sound Bar with Wireless Subwoofer, 200W, Powered by Dolby Audio, Roku TV ready, Bluetooth, HDMI ARC/Optical/AUX/USB, 3 EQ Modes
Enjoy Better Tv Sound: Hisense HS218 Sound Bar comes with 4 spearkers and a wireless subwoofer, which gives you a total of 200 Watts superior audio, together with Dolby Audio technology and a professional master-level sound effect tuning. It will upgrade your TV sound instantly.
Wireless Subwoofer: A dedicated, wireless 80 Watt subwoofer delivers the robust low-end frequencies that punctuate your favorite movies, music, and games, without any messy wires. You'll feel the "boom" while the two front-facing speakers project bright, clear high- and mid-range frequencies.
Roku TV Ready: As Roku TV Ready device, the Hisense HS218 Soundbar is fully compatible with any Roku Tv through the HDMI (ARC) connection. You can even use the Roku Tv remote to control both the Tv and soundbar for easier setup and better navigation experience.
Easy Connectivity: With HDMI (ARC), the Hisense HS218 can connect to your Tv through a single HDMI cable (included), connect wirelessly via Bluetooth to smart device, and control both with one remote. You'll be enjoying better TV sound in minutes.
Quick Touch EQ Modes: Get the best audio performance from music, movies, and news with a simple touch of the remote with multiple preset EQ settings.
Accessories included: Includes the Hisense 218 Sound Bar, HDMI cable, optical cable, and a wall mounting kit to make sure that you have what you need to make the most of your Hisense audio experience right out of the box.
Check Latest Price On Amazon
FAQs on What Size Soundbar For 65 Inch TV
Should I Need An Extra Soundbar With A 4K TV?
You don't need a soundbar with your 4K TV.
What Should Be The Ideal Distance For A 65 Inch 4K TV?
You should sit at least 1.2 meters, or 3.94 feet, away from the 65 inch TV in terms of safety of the eyes and perfect viewing experience.
What Size Soundbar Is Perfect For A 55 Inch TV?
You should choose a soundbar with a diameter of 40 to 50 inches.
Final words
A soundbar is an integrated appliance to build a home theatre system in the living room as well as enjoy a more reliable audio source connected to your 65 inch TV.
Hopefully, now you know what size soundbar for 65 inch TV for enjoying the premium quality sound experience with the most delicate look.
Apart from this, the buying tips we have shared will help you get the most appropriate and worthwhile soundbar for your 65 inch TV.