What Size TV Stand For 75 Inch TV In 2022?
We may earn commission from links on this page at no extra cost to you. We only recommend products we back!
A 75 inch TV can be a natural part of the space if placed on the right size TV stand that matches the style and décor of the room. Here, the journey starts with learning what size TV stands for 75 inch TV and ends with matching the style, décor, and preferred design.
Luckily, we have covered all those queries, discussed the right size TV stand for a 75-inch TV, and revealed a formula to choose the best TV stand for any size TV.
What Size TV Stand For 75 Inch TV?
The original width of the 75 inch TV is 65 inches. So you should choose a TV stand that is at least 72 inches wide in terms of safety, aesthetic balance, and comfortable viewing experience.
How To Choose The Right Size TV Stand For 75 Inch TV?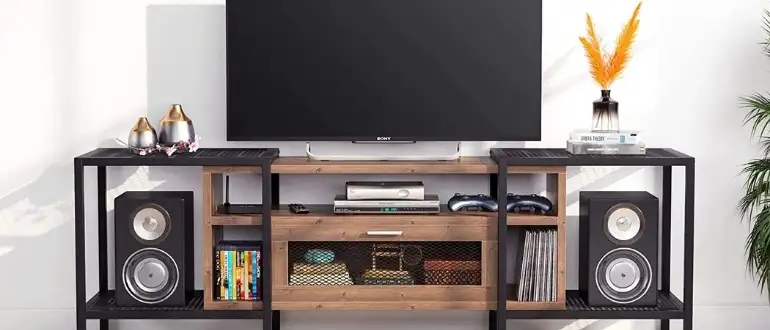 Even though model flat-panel TVs aren't as heavy as classic CRT models, measuring the TV is essential for getting the best viewing experience. Manufacturers measure the TV diagonally, and they don't include the bevel.
But their measurements won't help you while looking for a TV stand for your 75 inch TV. So take your measuring tape and follow these tips to get the original size of the TV:
1. Measure the height and width of the TV for an exact number. Some people suggest multiplying the diagonal screen size by 0.87 and adding the frame size as a shortcut solution.
2. By placing the tape front to back, you can measure the depth of the flat TV panel. This consideration will prevent any possible overhang during integrating the TV into the console.
3. Now measure your living room. Determine how much space is available for your TV stand.
4. Consider the distance between you and the TV, as you won't sit too close to it. A general rule of thumb is, you should maintain a 3-4 foot distance from the TV if the TV is 29 inches. But if the TV is a 39-inch TV, you should keep a distance of about 4-5 feet, while 5-6 feet is preferable for a 46-inch TV. Finally, if your TV is larger than 46 inches, you should stay 7-8 feet away from it.
5. When it comes to the TV height, make sure the lower half of the TV screen is level with your sightline and not less than 12 inches below that calculation. It will ensure a perfect and comfortable viewing experience.
After measuring the TV's size, match it properly with your required TV stand. Experts recommend choosing a TV stand that is a minimum of two inches wider than the width of the screen.  Below is a chart of some TV sizes and their suggested TV stand width:
| | | |
| --- | --- | --- |
| TV size ( diagonally) | Original TV screen size | Minimum width of the TV stand |
| 75 inch | 65 inch | 72inch |
Selecting a TV Stand Style
Among a huge array of choices, you should find a TV stand that matches your room's décor as well as your preferences. Below are a few types of TV stands with features:
Transitional style
A transitional style TV stand will create something sophisticated as well as simple. This style of TV stand usually comes in neutral tones and welcomes the atmosphere.
Traditional models
Made of solid wood or MDF, this traditional model TV stand is constructed with crown molding. The TV stand also has carved or turned legs that add a decorative touch to the room.
This style of the TV stand is compatible with a large number of home furnishings and allows you to upgrade the décor whenever you want.
Modern TV stands
Some modern-style TV stands are made of glass or metal. This brings a sleek look to the living room. This matches perfectly with a state-of-the-art TV and looks quite cool. A floating TV stand is also among those modern options that you can opt for.
Rustic
This type of TV stand is made of lighter wood and comes in cottage-inspired designs. An antique TV stand brings an antiqued appearance.
Industrial TV stands
This type of TV stand is mainly intended to make a statement. This style of TV stand doesn't hide anything while highlighting everything about its construction for an eye-catching appearance.
With a combination of abrupt mechanical collections and thought-provoking sharp lines, this type of TV stand looks visually interesting.
Mission-inspired
It's a preferable style of TV stand for those homeowners who are interested in hardy oak, carpentry, and a rich stained finish.
Best TV Stand For 75 Inch TV
1. Walker Edison Georgetown Modern Farmhouse Double Barn Door TV Stand
2. SIMPLIHOME Artisan SOLID WOOD Universal TV Media Stand
3. Tribesigns 75 Inch TV Stand for TVs Up to 85 inch
Tribesigns 75 Inch TV Stand for TVs Up to 85 inch, Console Table Entertainment Center with Storage Cabient and Shelves for Living Room, Industrial Brown
HOLDS UP TO 85" TV: Measuring 74.8" L x 15.8" W x 24.4" H, this lengthened tv console can accommodate TVs up to 85 inches / 115 lbs, making it ideal to gather around for watching movies or playing video games with your friends, or using it as a console table in your living room
AMPLE STORAGE SPACE: This entertainment center has metal mesh shelves on both side for showing your books, decorations or speakers; While a center open shelf and 2 cabins provide room for cable boxes, video games and other A/V essentials, behind the mesh door is a semi-hidden space for media accessories
STYLISH TV STAND: Blurring the lines between mid-century modern design and rustic industrial appeal, this 75" tv stand with storage brings a double punch of style and function to your live room, and take your entertainment space to the next level with its symmetrical aesthetics
MADE TO LAST: Thanks to the sturdy metal frames (20mm thickness) and durable MDF board (15mm thickness) with rustic wood grain, this TV cabinet has a high stability and good load-bearing capacity. Just add a TV and your space will instantly feel updated
EASY ASSEMBLY & 100% SATISFACTION: All parts and detailed instruction are included for easy assembly. Have questions before or after your purchase? No heartburn! This media console comes with a 18-month warranty and our professional customer service.
Check Latest Price On Amazon
4. MEBLE FURNITURE & RUGS Miami 200 Modern 79-inch TV Stand White
FAQs About TV Stand For 75 Inch TV
How Wide Should A TV Stand Be For 75 Inch Samsung TV?
The original width of the Samsung 75 inch TV is 66 inches. So you should choose a TV stand that is 68 inches wide.
Can I Use A Shorter TV Stand Than The TV?
Putting a wider TV on a shorter TV stand will look worse. Even it won't increase the risk of the TV falling from the stand. Therefore, you should have A TV stand that is a minimum of two inches wider than the TV. 
What Is The Right Width For A TV Stand?
A right-sized TV stand means a stand that offers enough protection for the TV, looks good and maintains balance.  In this case, experts recommended choosing a TV stand that is at least an inch wider than the TV, as it doesn't take up unnecessary space while offering a balanced look and safety.
Final words
Getting a 75 inch TV is incredibly exciting as it is bigger, better, and offers a realistic experience. But placing your 75 inch TV on the right size TV stand is equally important for having the best viewing experience while keeping the TV safe and well organized.
That's the advantage of learning what size TV stands for 75 inch TV. Hopefully, you have got the idea and the way to track down the right size TV stand to place your best entertaining source.