Are you in the market for a TV stand for your 85 inch TV but unsure of what size to choose? Don't worry, we've got you covered!
In this blog post, we'll discuss the different sizes of TV stands available and explain how to choose the right one for your 85-inch TV. We'll also discuss the influencing factors and tips to maintain the TV stand.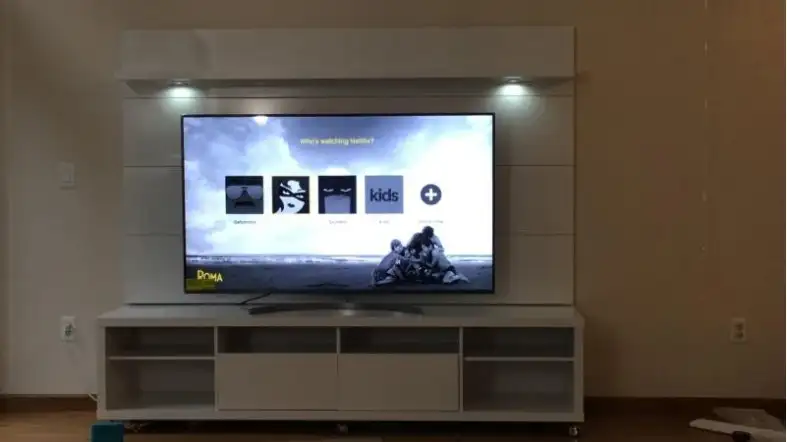 What Size TV Stand For 85 Inch TV?
For an 85-inch TV, you'll require an 80-inch long, 15.75-inch wide, and 24.21-inch high TV stand. This ensures stability and provides ample space for the TV to fit comfortably, preventing any overhang, and it also allows room for additional accessories and components on the stand.
85 Inch TV Stand Size Chart:
| TV Size (inches) | Minimum Stand Width (inches) | Ideal Stand Width (inches) |
| --- | --- | --- |
| 55 | 48 | 50-60 |
| 65 | 57 | 60-70 |
| 75 | 66 | 70-80 |
| 85 | 75 | 80-90 |
| 95 | 84 | 90-100 |
Different Types of TV Stands Suitable for an 85 Inch TV
Wooden TV Stands
Wooden TV Stands are sturdy and durable, making them a great choice for an 85-inch TV. They come in various finishes, allowing you to match your decor.
However, they can be heavy and prone to scratches. The Walker Edison Farmhouse Wood Stand is a good option.
Metal TV Stands
Metal TV Stands are strong and can support heavy TVs. They have a modern look and are easy to clean. But, they can be prone to rust if not properly treated. The VIVO Mobile TV Cart is a popular metal stand.
Glass TV Stands
Glass TV Stands offer a sleek, modern look. They're easy to clean and can make a room look spacious. However, they can show fingerprints and smudges easily. The Ryan Rove Ashton Multi-Level Media Stand is a top pick.
Mixed Material TV Stands
Mixed Material TV Stands combine different materials like wood and metal. They offer the benefits of both materials and can fit various decor styles.
But, the quality can vary based on the materials used. The DEVAISE 3-in-1 TV Stand is a recommended model.
How to Measure the Perfect TV Stand Size for an 85 Inch TV
First Things To Consider
The TV stand for 85 inch TVs comes in a larger yet sleeker design. These also have extra storage space like shelving, drawers, and compartments.
Large TV stands are fantastic for displaying both the television and your personal style.
Larger TVs, such as 85-inch models, are best suited for placement in living rooms due to their size and viewing distance.
Measure The Width Of Your 85 Inch TV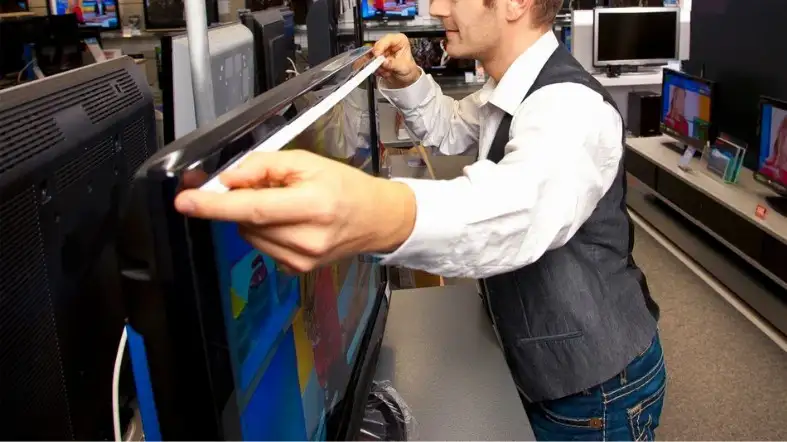 When you are talking about a TV stand for your giant 85-inch TV, it's vital to determine its size first. Anything too small or large can damage your TV over time.
To figure out the right size TV stand for your 85-inch TV, you have to start by finding its actual width rather than its height.
Measure the distance between the left and right edges of your 85-inch TV using a measuring tape to find it out
If you prefer an effortless process, check the specifications of your TV on the packaging from the manufacturer's official website.
The average width of an 85-inch TV is 74.1'' which can vary depending on the brand.
>> What size tv stand for a 65 inch tv?
Measure The TV Stand Height
You should position the TV screen just below eye level to enjoy a comfortable view.
Luckily, you can measure the comfortable position of your TV by following simple math.
All it needs to do is determine the average sightline of your family members and then measure the distance from the floor and divide the result by two.
Remember that the center of the TV should be at eye level or slightly below. 
The resulting number is the right height of your TV stand, where you can consider one or two inches of difference.
>> What size tv stand for 55″ tv?
Measure The Right TV Stand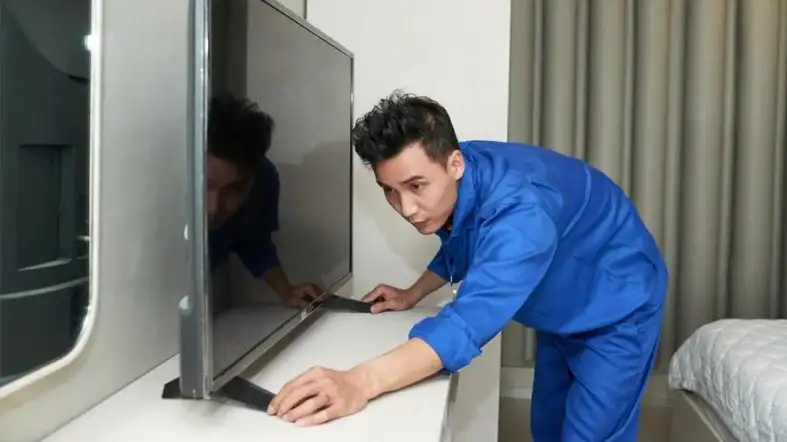 After getting the original width of the TV, you can then pick the perfect TV stand for your 85-inch TV to fit perfectly in the living room.
To ensure perfect support and enjoy the best viewing experience, choose a TV stand that is a minimum of 3 inches wider than the edge of your TV.
This way, you can keep your 85-inch TV safe, in the center, and well balanced. It means if your 85-inch TV is 74.1″ wide, then your TV stand should be 80 inches wide.
>> What size tv stand for 82″ television?
Tips To Remember While Choosing A TV Stand For 85 Inch TV
If the TV stand becomes too short for your TV, it will pose a safety risk. Conversely, if the TV becomes too short, the TV stand, will look imbalanced and throw out the décor of the bedroom or living room.
Choosing a wider TV stand isn't necessarily bad. You can decorate the overhang space with travel trinkets or picture frames.
If you prefer a corner TV stand, you have to measure the distance between the edge of the TV and the wall to avoid brushing the wall.
>> What size tv cabinet for 75 inch tv?
Other Things To Consider While Choosing A Large-Sized TV Stand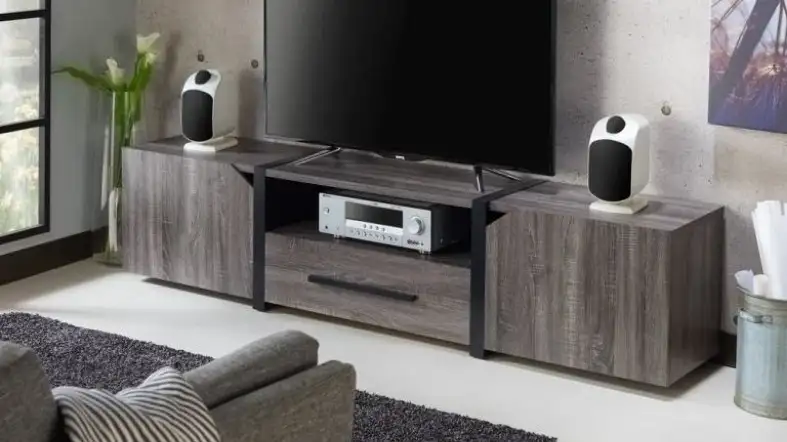 The large TV stand is an all-around entertainment center in the spacious office or living room. it offers some essential room to store devices, wires, and cords.
It means you can consider it as a large piece of furniture to showcase your style and taste.
Considering these factors will help you get extra benefits from your large TV stand:
Ample Storage Space
The stand should come in a space-saving design yet offer enough storage space.
For multi-functional use, make sure the TV stand has shelves to you can store books, speakers, or decorations.
Despite this, it should also keep the stuff neatly organized and have a router antenna slot for installing a media console.
But if you are concerned about the floor space, you can go with a wall-mounted floating TV stand. This will save you valuable space in the living room.
>> What size tv stand for 50 inch flat screen?
Stylish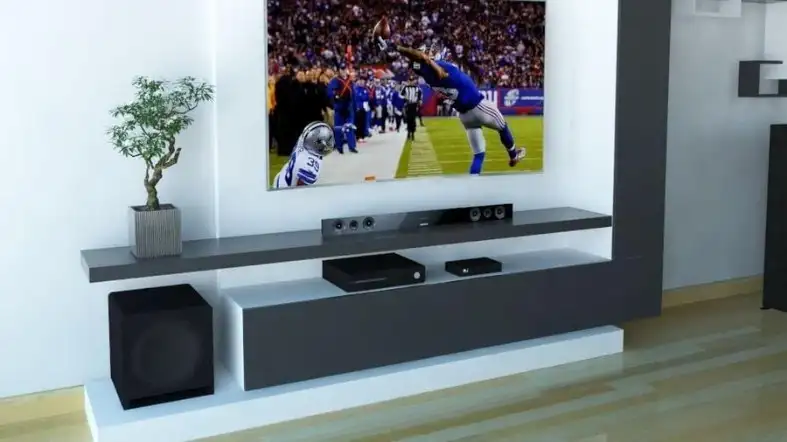 Since the TV stand for the 85-inch TV is quite large, it will surely affect the overall decoration of the room.
To retain or boost the room décor, choose a TV stand that can make your entertainment space modern and luxurious with its symmetrical aesthetics. 
In this case, choose a highly glossy TV stand with rustic industrial appeal or an RGB LED lighting system.
Durable
An 85 inch TV is quite heavy, and a typical large TV stand costs hundreds of dollars. In both cases, you can compromise the durability of your TV stand.
When it comes to the material; you can either go with a sturdy metal frame with MDF board or thicker panel materials. 
You can also choose a TV stand made of gray wood grain finish, which can withstand up to 250 lbs in total.
Room Size and Layout
The size of your room is crucial. A large TV stand in a small room can make the space feel cramped, while a small stand in a large room might look out of place.
The layout is also important. You need to consider where the doors, windows, and other furniture are located. The TV stand should not obstruct pathways or block natural light.
TV Stand Height and Width
The width of the stand should be wider than the TV base for stability. The height is also important for comfortable viewing.
A common rule is that the center of the TV screen should be at eye level when you're seated. This reduces neck and eye strain.
Material and Durability
The material of the stand not only affects its look but also its durability. Wood and metal stands are sturdy and can support heavy TVs.
However, they have different care requirements. Wood stands need to be kept away from moisture, while metal stands should be treated to prevent rust.
Style and Aesthetic Preferences
Your personal style will greatly influence your choice. If you prefer a modern look, you might opt for a sleek metal or glass stand. If you like a traditional or rustic style, a wooden stand might be more to your liking.
Storage Requirements
Consider what items you need to store. If you have a lot of media equipment or DVDs, you'll need a stand with enough shelves or drawers.
Some stands also offer cable management features to keep cords neat and organized.
Cable Management
Speaking of cable management, this is especially important if you have multiple devices connected to your TV. Stands with built-in cable management features can keep cords hidden and prevent them from tangling.
Budget Constraints
Your budget will naturally influence your choice. While it's important to find a stand within your budget, remember that a higher-quality stand can be a good investment in the long run.
Assembly and Mobility
Consider whether you're comfortable assembling the stand yourself or prefer one that comes pre-assembled. If you plan to move the stand frequently, look for one with wheels or consider a lighter model.
Evaluating Extra Amenities
Some stands come with additional features like built-in speakers or fireplaces. While these can add cost, they might offer added convenience or enhance your viewing experience.
Brand and Warranty
Finally, consider the brand's reputation and the warranty offered. Brands with good reputations often offer better customer service and product quality. A good warranty can provide peace of mind.
>> What soundbar size for 55 inch tv?
FAQs
Can I place a smaller TV on a TV stand meant for an 85 inch TV?
Yes, you can place a smaller TV on a larger stand, allowing extra space for decorations or other items.
Is it essential for the TV stand to be wider than the TV?
Yes, having a TV stand that is wider than the TV provides stability and prevents overhang.
Are metal TV stands more durable than wooden ones?
Metal and wood both offer durability, but metal stands might be more resilient to wear and tear while wood might be prone to scratches.
Does the type of material affect the durability of the TV stand?
Yes, the material directly impacts durability; for instance, well-treated metal and quality wood are more durable.
Are there TV stands available with wheels for easy mobility?
Yes, some TV stands come with wheels to facilitate easy movement and repositioning.
Final Words
Now that you have found out what size TV stands for 85 inch TV. Remember, 85 TV is a giant size and is pretty heavy too.
So you won't have enough change for a shirt or move your TV stand frequently.
It means the TV stand you'll choose is easy to assemble, operate, and durable enough to fulfill your demands.
And make sure it remains stable, avoiding any kinds of wobbles.