What Size TV Stand For 85 Inch TV?
We may earn affiliate fees for purchases using our links (at no additional cost to you).
Are you in the market for a TV stand for your 85 inch TV but unsure of what size to choose? Don't worry, we've got you covered!
In this blog post, we'll discuss the different sizes of TV stands available and explain how to choose the right one for your 85 inch TV.
From selecting the right size to finding the perfect style, we'll help you find the perfect TV stand for your home.
What Size TV Stand For 85 Inch TV?
In general, you'll require an 80-inch long, 15.75-inch wide, and 24.21-inch high TV stand for your 85 inch TV.
This will ensure safe support for the TV and offer your best viewing experience, boosting the room's décor.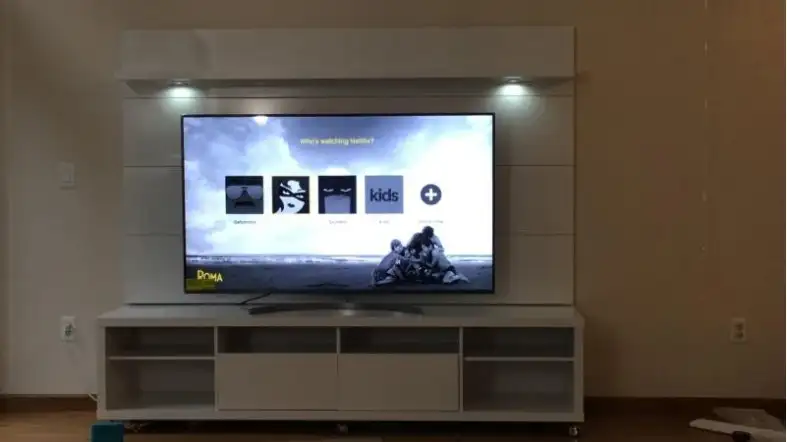 First Things To Consider
The TV stand for 85 inch TVs comes in a larger yet sleeker design. These also have extra storage space like shelving, drawers, and compartments.
Large TV stands are fantastic for displaying both the television and your personal style.
Larger TVs, such as 85-inch models, are best suited for placement in living rooms due to their size and viewing distance.
>> What Size TV Stand For 75 Inch TV? All You Need To Know!
Measure The Width Of Your 85 Inch TV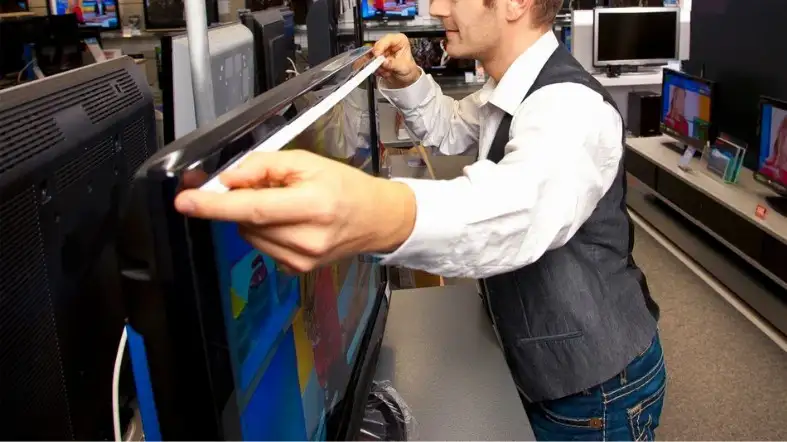 When you are talking about a TV stand for your giant 85 inch TV, it's vital to determine its size first. Anything too small or large can damage your TV over time.
To figure out the right size TV stand for your 85 inch TV, you have to start by finding its actual width rather than its height.
Measure the distance between the left and right edge of your 85 inch TV using a measuring tape to find it out
If you prefer an effortless process, check the specifications of your TV on the packaging from the manufacturer's official website.
The average width of an 85-inch TV is 74.1'' which can vary depending on the brand.
Measure The TV Stand Height
You should position the TV screen just below eye level to enjoy a comfortable view.
Luckily, you can measure the comfortable position of your TV by following simple math.
All it needs to do is determine the average sightline of your family members and then measure the distance from the floor and divide the result by two.
Remember that the center of the TV should be at eye level or slightly below. 
The resulting number is the right height of your TV stand, where you can consider one or two inches of difference.
>> What Size TV Stand For 65 Inch TV?
Measure The Right TV Stand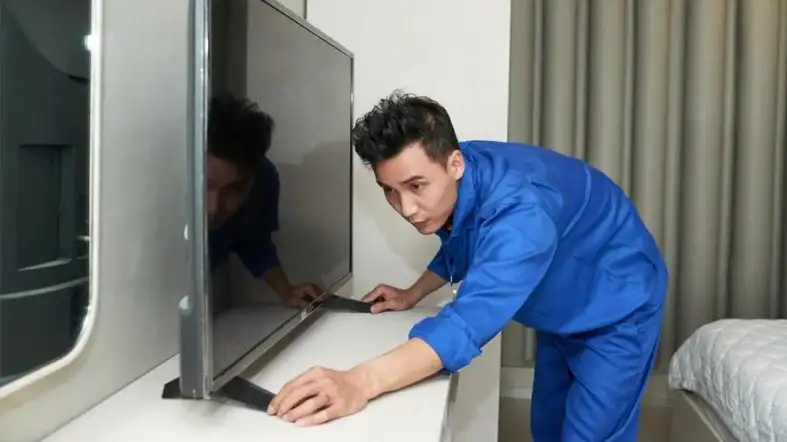 After getting the original width of the TV, you can then pick the perfect TV stand for your 85 inch TV to fit perfectly in the living room.
To ensure perfect support and enjoy the best viewing experience, choose a TV stand that is a minimum of 3 inches wider than the edge of your TV.
This way, you can keep your 85 inch TV safe, in the center, and well balanced. It means if your 85 inch TV is 74.1″ wide, then your TV stand should be 80 inches wide.
Tips To Remember While Choosing A TV Stand For 85 Inch TV
If the TV stand becomes too short for your TV, it will pose a safety risk. Conversely, if the TV becomes too short, the TV stand, will look imbalanced and throw out the décor of the bedroom or living room.
Choosing a wider TV stand isn't necessarily bad. You can decorate the overhang space with travel trinkets or picture frames.
If you prefer a corner TV stand, you have to measure the distance between the edge of the TV and the wall to avoid brushing the wall.
>> What Size TV Stand For 55 Inch TV?
Other Things To Consider While Choosing A Large-Sized TV Stand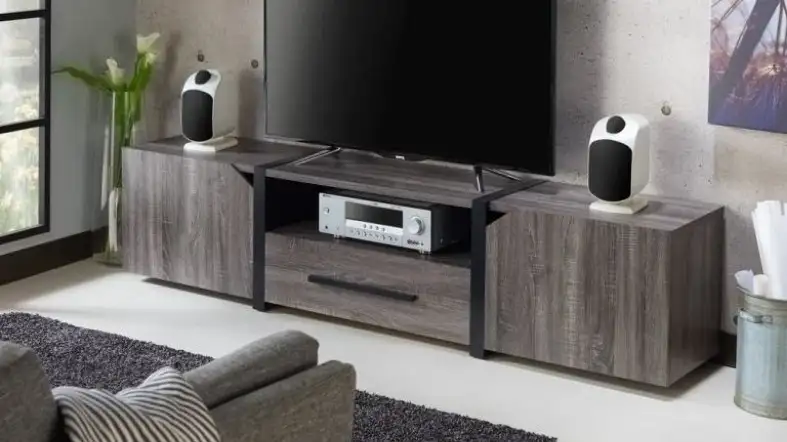 The large TV stand is an all-around entertainment center in the spacious office or living room. it offers some essential room to store devices, wires, and cords.
It means you can consider it as a large piece of furniture to showcase your style and taste.
Considering these factors will help you get extra benefits from your large TV stand:
Ample Storage Space
The stand should come in a space-saving design yet offer enough storage space.
For multi-functional use, make sure the TV stand has shelves to you can store books, speakers, or decorations.
Despite this, it should also keep the stuff neatly organized and have a router antenna slot for installing a media console.
But if you are concerned about the floor space, you can go with a wall-mounted floating TV stand. This will save you valuable space in the living room.
Stylish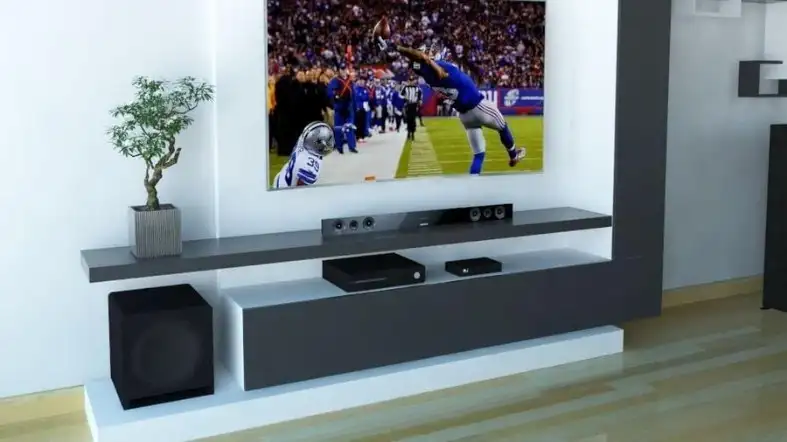 Since the TV stand for the 85-inch TV is quite large, it will surely affect the overall decoration of the room.
To retain or boost the room décor, choose a TV stand that can make your entertainment space modern and luxurious with its symmetrical aesthetics. 
In this case, choose a highly glossy TV stand with rustic industrial appeal or an RGB LED lighting system.
Durable
An 85 inch TV is quite heavy, and a typical large TV stand costs hundreds of dollars. In both cases, you can compromise the durability of your TV stand.
When it comes to the material; you can either go with a sturdy metal frame with MDF board or thicker panel materials. 
You can also choose a TV stand made of gray wood grain finish, which can withstand up to 250 lbs in total.
Final Words
Now that you have found out what size TV stands for 85 inch TV. Remember, 85 TV is a giant size and is pretty heavier too.
So you won't have enough change for a shirt or move your TV stand frequently.
It means the TV stand you'll choose is easy to assemble, operate, and durable enough to fulfill your demands.
And make sure it remains stable, avoiding any kinds of wobbles.