What Size Dutch Oven For Pot Roast?
We may earn affiliate fees for purchases using our links (at no additional cost to you).
The Dutch oven pot roast is an excellent recipe for feeling warm and cozy in the winter or for enjoying mouthwatering bites of roast beef on Sunday.
But for this, you must know what size Dutch oven for pot roast Along with knowing the Dutch oven pot roast recipe.
This can only give you food that is tender and will fall apart beautifully while delivering rich flavors. 
Read more to learn the right size Dutch oven to cook a delicious pot roast.
This post will also inform you of the related considerations and some exciting benefits of using a Dutch oven to prepare a pot roast.
What Size Dutch Oven For Pot Roast?
Use a 4 or 5-quart Dutch oven to prepare a pot roast. Though you can choose smaller or larger, these sizes work well while the meat is covered by wine and broth.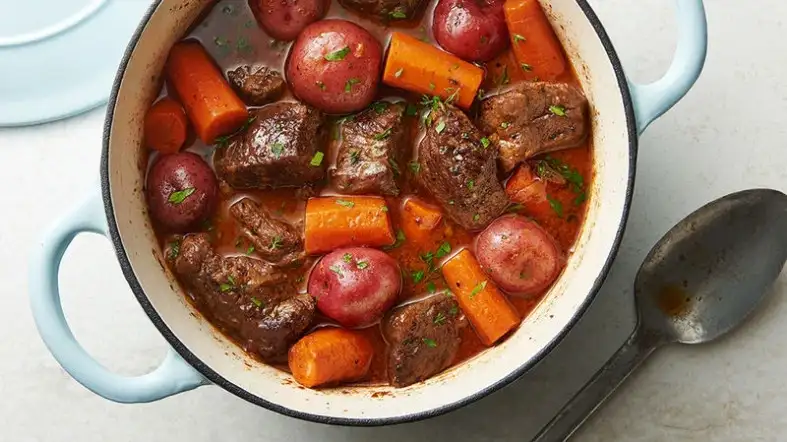 Oval Vs. Round: Which Is Better For Pot Roast?
In general, the Dutch oven comes in an accurate round circle shape and an oval shape. Both the shapes are best designed for unique purposes.
But between these, the round-shaped Dutch oven is more popular among chefs compared to the oval-shaped one.
The reason is that round-shaped Dutch ovens fit more efficiently on a burner and get heated evenly.
Conversely, if you need to cook lots of roasts, an oval-shaped Dutch oven will be more beneficial for you.
The reason is that some cuts of meat, like the leg of a lamp, fit more efficiently in an oval shape.
In terms of cooking pot roast, a round-shaped Dutch oven is preferable as it delivers even heat to make the pot roast more delicious.
A round-shaped Dutch oven is also a versatile choice for various tasks.
>> What Size Dutch Oven For Sourdough Bread?
Other Features To Look For In A Dutch Oven For Pot Roast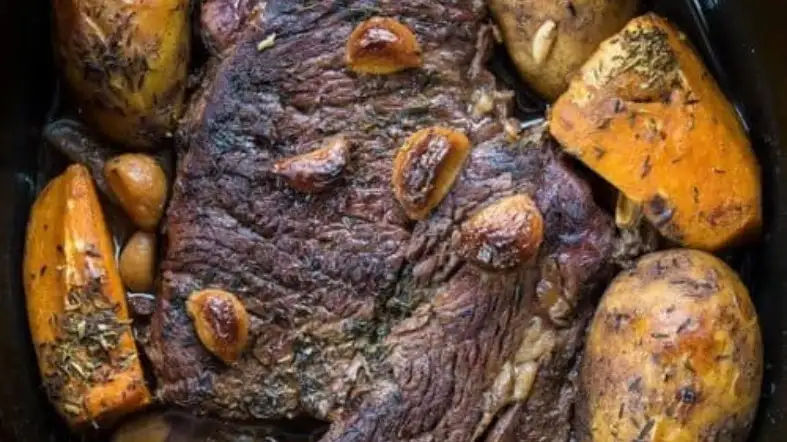 Shopping for the best Dutch oven for t roast, make sure it is made of heavy-duty cast iron.
As talked about earlier, this will retain the heat for a long time and distribute it all over the surface to maintain the tenderness of the pot roast. 
The Dutch oven should also have a tight-fitting lid so it can keep the moisture inside of the pot and deliver the flavor and texture you are looking for. 
Another convenient feature to look for is heavy oven-safe so you can heat the pot roast whenever you want without damaging the Dutch oven.
A heavy-duty Dutch oven may cost you slightly more, but it is worth it for its convenience.
But don't compromise with the budget and buy a Dutch oven that is simply covered with aluminum foil. This won't give you the unbeatable taste of pot roast.
>> What Size Dutch Oven For Whole Chicken
Why Should You Use A Dutch Oven To Cook A Pot Roast?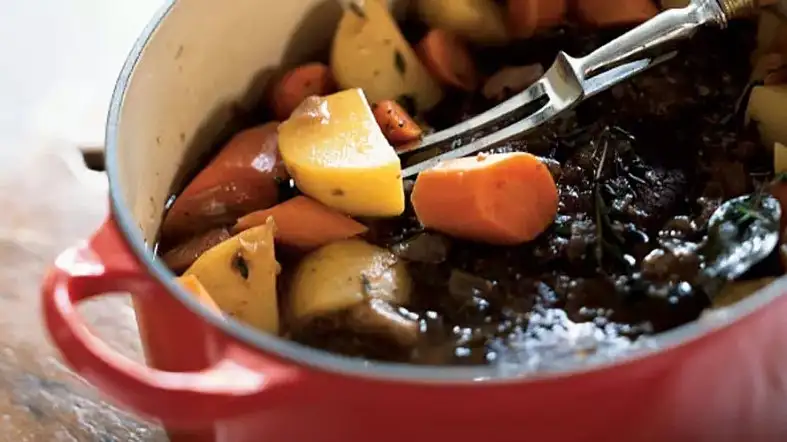 A Dutch oven is a first and foremost appliance for pot roast. Made of cast iron, this kitchen appliance can cook up a chuck roast within five hours.
If you use vegetables, this appliance will make the food crispy and tender and make the vegetables amazing while they are simmering in the wine and beef broth. 
The Dutch oven makes the pot roast crispy outside and tenders inside, making the cooking slower yet perfect.
Unlike the crock pot, the Dutch oven makes the skin of the vegetable crispy. 
Though many people prefer the convenience of the crock pot, slow cooker, and instant pot, the Dutch oven will give you the best taste of pot roast every time you cook.
Another exciting benefit of the cast iron Dutch oven is that it retains and distributes the heat evenly all over.
Its tight-fitting lid also traps the moisture inside the oven pot. Therefore, the consumer tastes the juiciest pot roast every time.
Rather than dry out the beef piece by cooking it in a slow cooker for a long time, the Dutch oven lets the cooker control the cooking time of beef and potatoes.
This way, the Dutch oven improves the convenience of the pot roast cooking task.
>> What Size Dutch Oven For Beef Bourguignon?
Final words
Dutch oven pot roast with potatoes and carrots are juicy and fork-tender to entertain company or establish a weekend.
But before concentrating on the recipe or collecting ingredients, understanding what size Dutch oven pot roast is very much essential. 
This can only let you can handle them on the pot efficiently and complete cooking perfectly. Hope you find this guide informative enough to shop for the best size Dutch oven for pot roast.