What Size Dutch Oven For Camping?
We may earn affiliate fees for purchases using our links (at no additional cost to you).
When you are camping as a large group, a couple, or a family of four, the size of the Dutch oven matters.
Because dutch ovens are ideal for preparing large meals for groups of people.
That is why we'll go through each of those solutions to figure out the best size dutch oven for camping.
What Size Dutch Oven For Camping?
If you are planning camping with a large group of people then a 12-quart Dutch oven is the best size. The sizes may vary with the number of people camping. 
Let's have a look at a list of some sizes of dutch ovens depending on the number of people. 
| Sizes | Number of People |
| --- | --- |
| 6-8 quart | 4-10 |
| 8-10 quart | 10-16 |
| 10-12 quart | 16-20 |
Do I Need A Deep Or Classic Dutch Oven For Camping?
The type of cuisine you prefer to eat will determine whether you should acquire a deep or classic depth Dutch oven. 
Deep Dutch Oven
Baking food in a deep Dutch oven without overheating the bottom before the top begins to brown is quite difficult.
This is due to the heat being too far away from the food's surface.
Because of the towering walls, deep Dutch ovens are ideal for cooking huge pots of stew, soup, chili, and other similar dishes. They're also fantastic for barbecuing ribs.
Classic Dutch Oven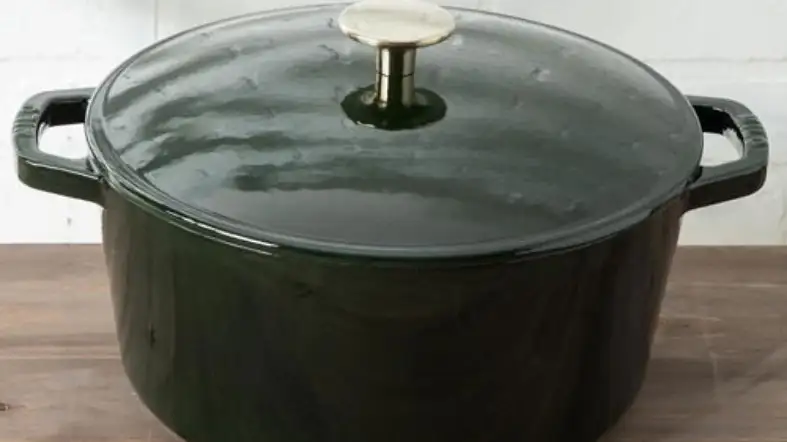 Simmering any stews or soups in a standard or classic Dutch oven is practically difficult since it is extremely likely to splash or boil over the top.
There is just not enough oven wall to prevent this. Although, it is a good choice for cooking in a regular Dutch oven.
How To Determine The Size Of A Dutch Oven For Camping Based On People?
It is very confusing to decide the size of a Dutch oven based on the number of people. For large groups, couples, and small families, we recommend the following sizes.
Couples
Most dishes serve at least four people, so a few folks will already be up against it.
A 4-quart Dutch oven is ideal for a couple, especially if you want to prepare quality meals in lesser quantities.
Four-Person Families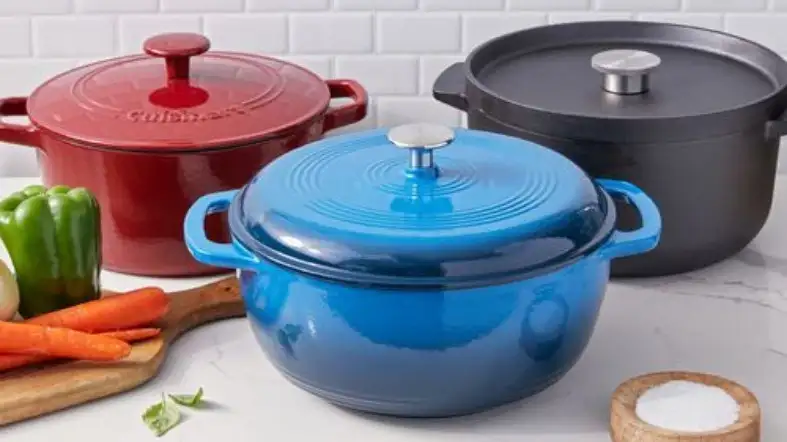 For a family of four, a basic 6-8 quart Dutch oven is ideal.
Because most camping recipes feed parties of 4-6 people, this is the most typical size for a Dutch oven, making transporting it a breeze.
A Whole family
An 8-10 quart Dutch oven is the best for a whole family camping adding 10-16 people. It is more common and suitable for camping.  
A Large Number Of People
If you're camping with a large group, a 10-12 quarts Dutch oven is great. It weighs roughly 30- 33 pounds and serves 16-20 people.
Despite being one of the largest sizes available, it is still easy to move and cook with.
What To Look For In A Right Size Dutch Oven For Camping?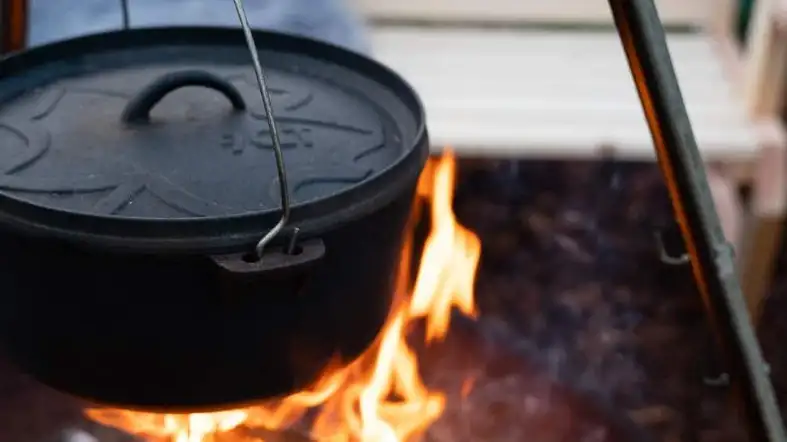 There are many things to consider when choosing the right size Dutch oven for camping.
Here is our suggestion of how you will choose your best size camping Dutch oven. 
Material  
Dutch ovens are made of 2 types of metal. They are,
Cast Iron Dutch Oven
Cast iron is especially hard and long-lasting. It can endure high temperatures and, when properly seasoned, may provide a long-lasting non-stick surface. 
If you wish to cook at a lower temperature at times, heat retention is an excellent feature to have in a dutch oven.
With a cast iron dutch oven, you may take it off the fire and it will continue to cook or reheat your meal for a long time. 
Dutch Ovens Made of Aluminum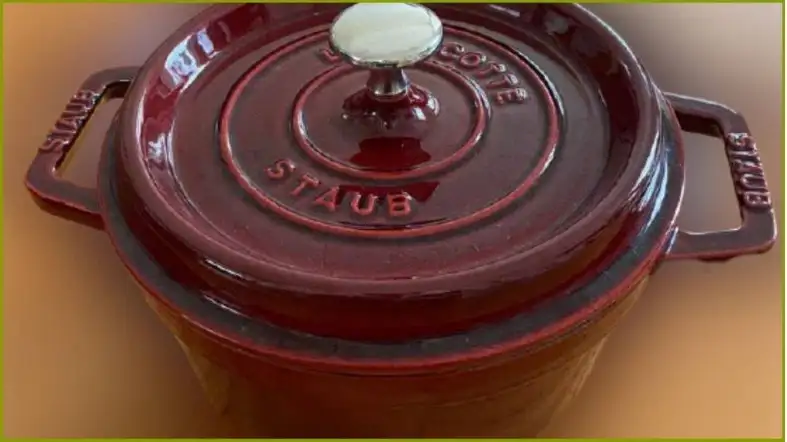 Aluminum has several advantages, the most important of which is that it transmits heat effectively, resulting in more equal heating.
Another inside track is that aluminum dutch ovens are light. Likewise, the dutch oven retains heat painlessly.
Because aluminum has an inferior melting temperature to steel.
Lid
You do not want curved lids on your camping dutch oven. You may not be placing coals on the lid of your dutch oven, but you should!
As a result, you'll want to go for a flat lid with a lip. If you use heat from both the top and bottom of the dutch oven, your food will be cooked equally.
Many dutch ovens also feature reversible lids, allowing you to griddle your food on the underside of the lid.
Legs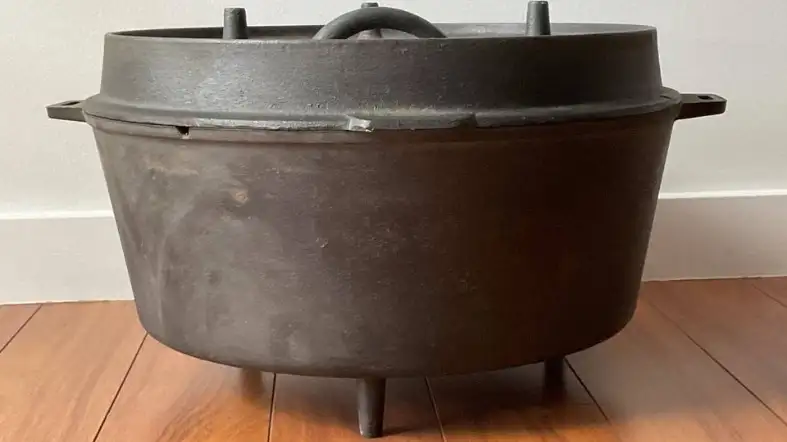 To make use of your dutch oven You'll need to arrange it such that the legs pass through the grates in your oven. So, for camping, you'll need legs for a dutch oven.
If your dutch oven doesn't have legs, you'll have to rely on cooking grates, tripods, or swings to keep it suspended over a heat source.
You may lay coals just beneath your cast iron dutch oven and cook separately from the rest of your cookfire if you have legs.
How Can I Use A Dutch Oven For Camping?
Camping Dutch oven, place hot briquettes below or on the lid of the oven to heat. An oven can also be sat or hung over a campfire.
To operate the camp Dutch oven securely, you'll also need the right equipment, utensils, and accessories.
After each meal, clean the oven with a scourer and water, dry well, and season gently if necessary.
FAQs About The Best Size Dutch Oven For Camping
Is It Possible To Cook In A Regular Dutch Oven For Camping?
Ans: On a camp stove, a Dutch oven is used If all you want to do is use your Dutch oven as a pot, you can probably do it on any basic two-burner camp stove.
The legs of the Dutch oven can dangle down since most camp stoves have a raised grate.
What can be cooked in a Dutch oven for camping?
Ans: In camping, a reasonably good Dutch oven is the most vital dynamic utensil. They're wonderful for braising meat, preparing soups, stews, and sauces, boiling water for pasta, frying meat and fish, and even baking bread on the stovetop in the oven.
The Bottom Lines
It's a wonderful opportunity to unwind and take pleasure in planning and cooking substantial, nutritious meals with family and friends.
Enjoy your choice of a Dutch oven and be ready for numerous feasts while camping in the open air.