To prepare delicious no-knead bread, you only need a few ingredients and a Dutch oven.
You should learn what size Dutch oven to use for no-knead bread so you can use it accordingly and enjoy no-knead bread.
The guide includes some tips to prepare soft and fluffy no-knead bread with a golden crust and clean the oven properly for longer service.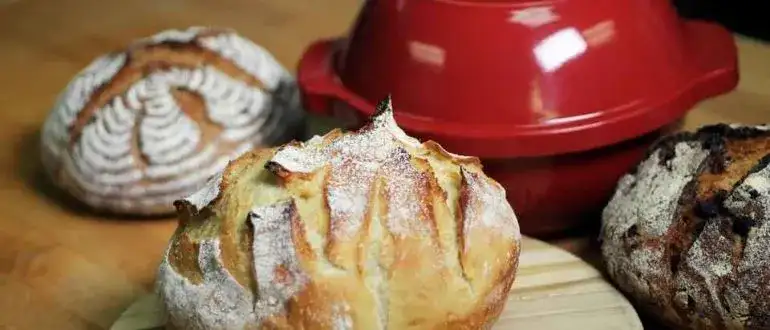 What Size Dutch Oven For No Knead Bread?
For no knead bread, a Dutch oven of 4 to 7 quarts is ideal, allowing ample space for the dough to rise and form. For round loaves, round Dutch ovens are ideal, whereas oval and rectangular ones adapt to various recipes and tastes.
Dutch oven size table for no-knead bread:
Different Types of Dutch Ovens for Baking Bread
Here are some common types of Dutch ovens for baking bread:
Cast Iron Dutch Ovens
Cast iron is one of the oldest and most traditional materials for making Dutch ovens. It is strong, durable, and heavy-duty.
It can withstand high temperatures and retain heat well. They are great for baking bread because they create a nice crust on the bottom and sides of the loaf.
They also distribute heat evenly and prevent hot spots or burning. Cast iron Dutch ovens are usually black or dark gray in color.
They have a simple and classic look that goes well with any kitchen style.
Enamel-Coated Dutch Ovens
Enamel-coated Dutch ovens are cast iron Dutch ovens that have a layer of enamel on the outside and sometimes on the inside.
Enamel is a type of glass that is fused to the metal at high temperatures. It adds color, shine, and protection to the cast iron.
Enamel-coated Dutch ovens are also great for baking bread because they have the same benefits as cast iron Dutch ovens.
They create a nice crust, distribute heat evenly, and retain heat well. Enamel-coated Dutch ovens come in many colors, such as red, blue, green, yellow, white, or cream.
They have a bright and cheerful look that adds a splash of color to your kitchen.
Aluminum Dutch Ovens
Aluminum is another material that is used to make Dutch ovens. Aluminum is light, cheap, and easy to work with. It can also conduct heat well and heat up quickly.
Aluminum Dutch ovens are good for baking bread because they can reach high temperatures fast and bake the bread evenly.
Aluminum Dutch ovens are usually silver or gray in color. They have a plain and simple look that is not very attractive or stylish.
Stainless Steel Dutch Ovens
Stainless steel is another material that is used to make Dutch ovens. Stainless steel is strong, shiny, and resistant to rust and corrosion.
It can also withstand high temperatures and last for a long time. Stainless steel Dutch ovens are good for baking bread because they are durable and easy to clean.
They can also handle acidic foods without reacting or leaching chemicals. Stainless steel Dutch ovens are usually silver or chrome in color.
They have a sleek and modern look that suits contemporary kitchens.
>> What size dutch oven for outdoor cooking?
Factors to Consider When Choosing the Size of a Dutch Oven for No Knead Bread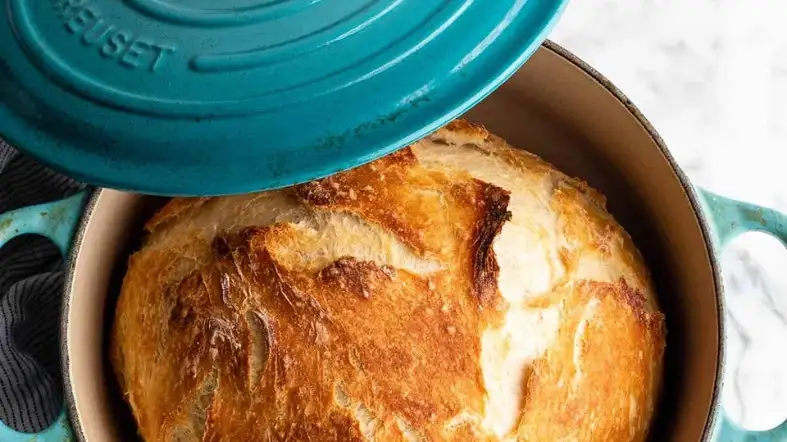 >>5 qt Lodge cast iron Dutch oven
Bread Volume
Bread volume determines Dutch oven size. Match the Dutch oven to the dough volume. A small oven will cause the bread to overflow.
An oversized one will make the bread thin and shapeless. Two-thirds full is a good general rule. This leaves room for the dough to rise.
Oven Size and Capacity
The Dutch oven should fit in your oven. It should not touch any oven parts.
A minimum of one inch of space around is necessary. This prevents damage and allows even heating.
Lid Fit and Type
A snug-fitting lid prevents steam from escaping, keeping bread moist. A heavy and sturdy lid traps heat effectively, promoting fast rising and crisp crust formation.
Lid type affects bread's appearance and shape, so choose according to preference.
Material and Heat Retention
Material and heat retention affect baking time and bread quality. Cast iron and enamel-coated Dutch ovens are optimal.
They retain and distribute heat evenly. Aluminum and stainless steel are less ideal. They do not retain heat well, leading to longer baking times.
Budget and Price
Dutch ovens vary in price, ranging from $20 to $400. A balance between affordability and quality is crucial.
Opt for a Dutch oven that offers good value for money.
Brand and Warranty
Choosing a reliable brand with a substantial warranty is important. Research brands like Lodge, Le Creuset, and Staub, and read user reviews.
Warranties give peace of mind, so choose one with ample coverage and clear terms.
User Reviews and Ratings
User reviews and ratings provide honest feedback. Reading them carefully helps in making an informed decision.
Look for consistent patterns in reviews. Opt for Dutch ovens with positive and reliable feedback.
Ease of Cleaning and Maintenance
Consider the ease of cleaning and maintenance. Easy maintenance affects the longevity and performance of the Dutch oven.
Follow the manufacturer's cleaning instructions meticulously and opt for dishwasher-safe options when available. Regular and proper cleaning is a must.
>> What is the ideal size dutch oven for pot roast?
Tips on Using Dutch Oven for Baking No Knead Bread
Preheating for a Perfect Crust
Set your oven to 475°F (245°C). Place your Dutch oven in the center rack. The lid should be on. Let it heat for at least 30 minutes.
This method ensures a crusty loaf. Preheating sets the stage for the baking magic to begin. It's like warming up before a run!
Managing Dough Size
Use a 3-quart (2.8-liter) Dutch oven for a 3-cup (375-gram) flour recipe. This size ensures a good shape and texture.
A bigger pot makes the dough spread too much. It can make the loaf flat. Use a 6-quart (5.7-liter) Dutch oven for a 6-cup (750-gram) flour recipe.
Managing the dough size avoids flat and shapeless bread.
Monitoring Baking Time
Bake with the lid on for 30 minutes. Then, remove the lid. Continue baking until you achieve the desired crust color.
It can take 10 to 20 more minutes. Check the bread's internal temperature with a thermometer. It should be around 200°F (93°C) when done.
Monitoring time helps achieve the desired texture and color.
Ensuring Even Heat Distribution
Use a heavy-duty cast iron Dutch oven. It retains and distributes heat evenly. Avoid parchment paper and oil the pot.
These can cause scorching and interfere with crust formation. Instead, dust the dough with flour or cornmeal before placing it in the pot.
Even heat distribution ensures that every part of your bread cooks uniformly.
Observations and Summary
They can make your bread-baking journey a success. From preheating to managing dough, every step is crucial.
Monitoring time and ensuring even heat make your loaf perfect. Keep practicing, and you'll master the art of baking no kneaded bread in a Dutch oven!
Best Dutch Oven For No Knead Bread Review
1. LE TAUCI 3 Quart Dutch Oven Pot with Lid for No Knead Bread
LE TAUCI 3 Quart Dutch Oven Pot with Lid, for No Knead Bread, Sourdough Loaves, Bread Clothe Baker, Ceramic Casserole Dish, Stove to Oven, Non-Coated, Use as Bread Pan, Soup Pot, Stew Pot, Blue
【Expert in Bread Making】 Dimension: Inside diameter: 7.5 inches, height: 4.8 inches. Lighter than a cast iron dutch oven, with no scratch, and no rust, the clay pot for cooking is more suitable for daily use. Specialize in making sourdough bread.
【Thermal Shock Resistance】 The high fired ceramic cooking pot is made to withstand temperature shock from -4°F up to 930 °F. It's also a campers enthusiast's favorite cooking pot to use, even safe to use over an open fire or on a BBQ grill! Made of natural material, it's also free of chemicals for healthy cooking.
【Extra-Even Heat Distribution】 Thick walls and heavy lid create a steamy environment while stewing and keep food warmer for longer. The self-basting spikes of the lid collect and return all moisture back into the dish – nothing dries out and the food stays moist. So it can bring out the best flavor and conserve nutrition. High temperature is usually unnecessary for the energy-saving pot.
【Easy to Clean & No Odors】The non-porous surface does not give out flavors nor does it absorb odors or moist, and is slick enough to be nonstick without any maintenance. Most messes just need a gentle soak and scrub to wipe away. Our dutch oven is also dishwasher-safe!
【Stovetop-Safe Ceramic Cookware】 Made of high-quality ceramic. It's safe to go from the freezer to the oven or stovetop right to the table.
Check Latest Price On Amazon
2. Crock Pot Artisan 5 Quart Enameled Cast Iron Round Dutch Oven
Crock Pot Artisan 5 Quart Enameled Cast Iron Round Dutch Oven, Slate Gray
Crock Pot Artisan Round Enameled Cast Iron Dutch Oven, 5-Quart, Slate Grey w/Lid
Hand wash recommended
Perfect for slow-cooking, simmering, braising, baking, and more
Durable cast iron construction retains and distributes heat evenly
Porcelain enamel finish is easy to clean and naturally nonstick
Vibrant finish adds a pop of color to any kitchen or dining room
Self-basting lid ensures effective steam retention
Wide handles allow easy transport
Suitable for use of gas, electric, ceramic, and induction stovetops
Oven safe up to 500°F
Check Latest Price On Amazon
3. Calphalon 7 Quart Classic Nonstick Dutch Oven With Cover
4. Le Creuset Enameled 8 Quart Cast Iron Signature Oval Dutch Oven with Lid
Le Creuset Enameled Cast Iron Signature Oval Dutch Oven with Lid, 8 Quart, Deep Teal
Enameled cast iron delivers superior heat distribution and retention
Ready to use, requires no seasoning
Easy-to-clean and durable enamel resists dulling, staining, chipping, and cracking
Light colored smooth interior enamel allows easy monitoring of the cooking progress
Tight-fitting lids are specially designed to circulate steam and return moisture back to the food
Ergonomic knobs and handles are designed for easy lifting
The stainless steel knob is safe at any oven temperature
Compatible with all cooktops and oven-safe up to 500°F
Safe for dishwasher and metal utensils
Check Latest Price On Amazon
FAQs About Right Size Dutch Oven For No Knead Bread
Can I use a smaller 3-4 quart Dutch oven instead?
It may be too small, causing dough to hit the lid while rising. Stick with 5 quarts and above for best results.
Is a larger 8 quart Dutch oven too big for no-knead bread?
An 8 quart may be oversized depending on your dough size, taking up oven space. But it can work well.
Does the Dutch oven material matter?
Enameled cast iron or ceramic works best to provide great heat retention and steam for crusty bread.
Should my dough ball fill the Dutch oven fully when baking?
No, the dough should only fill the pot about 2/3 full to leave room for rising.
Final words
The main goal of no-knead bread is to have an easy-to-make loaf. 
The no knead bread isn't so healthy, but it allows you to make a meal that needs a supplementary slice of crusty bread.
And all the happiness depends on what size Dutch oven you use for no knead bread.
You have got the right size Dutch oven recommendation to prepare the no knead bread and some tips to maintain the oven properly and make the recipe even easier.