Are you looking to create the perfect bathroom ambiance with a round mirror? Wondering what type of vanity light would complement it best?
You need to find the right lighting for your round mirror to enhance its overall look.
Here are some options for round mirror vanity lights that complement them beautifully. Explore your bathroom lighting options to find the right one.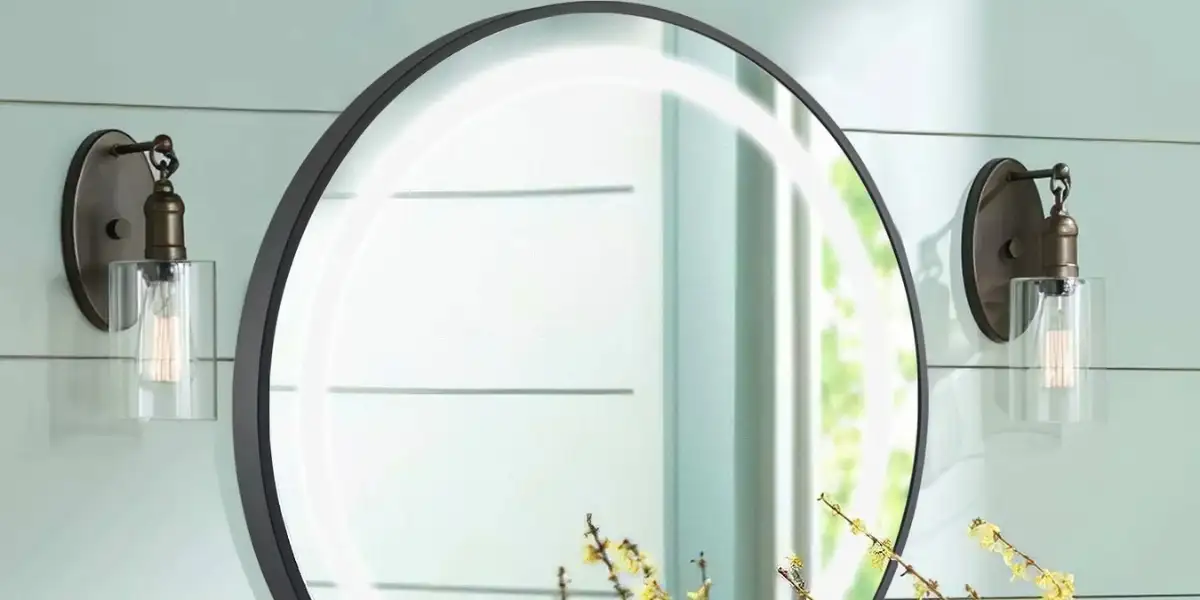 What Type of Vanity Light Goes with a Round Mirror?
For a round mirror, a wall-mounted vanity light with a circular design complements its shape best. Opt for LED lights with warm tones to provide a soft and flattering glow, enhancing your reflection and adding a touch of elegance to your space.
Here's a table chart with different types of vanity lights that can work well with a round mirror:
| Vanity Light Type | Description | Suitable Mirror Styles |
| --- | --- | --- |
| 1. Round Vanity Lights | These lights mimic the mirror's shape and create harmony. | Minimalist, Modern, Scandinavian mirrors |
| 2. Wall Sconces | Sconces on either side of the mirror for an elegant look. | Classic, Vintage, Traditional mirrors |
| 3. Horizontal Bar Lights | A horizontal light bar above the mirror for even lighting. | Modern, Industrial mirrors |
| 4. Pendant Lights | Hanging pendant lights on each side for a unique touch. | Bohemian, Eclectic mirrors |
| 5. Hollywood Lights | A row of globe or tubular lights for a glam Hollywood look. | Hollywood Glam, Retro mirrors |
| 6. LED Backlit Mirrors | Mirrors with built-in LED lighting for a modern look. | Contemporary, Futuristic mirrors |
| 7. Adjustable Lights | Lights with movable arms for customizable illumination. | Versatile for various mirror styles |
| 8. Edison Bulb Fixtures | Exposed filament bulbs for a vintage and industrial feel. | Vintage, Industrial, Rustic mirrors |
Different Types of Vanity Lights
1. Round Vanity Lights
Round vanity lights are fixtures with circular designs that complement round mirrors perfectly.
They offer a balanced and cohesive look, adding elegance to any bathroom.
These lights come in various sizes, from small single-bulb options to larger fixtures with multiple bulbs.
Round vanity lights are suitable for modern, minimalist, and Scandinavian mirror styles.
2. Wall Sconces
Wall sconces are classic and versatile vanity light options. Mount them on either side of the mirror to create an elegant and symmetrical appearance.
Wall sconces provide focused lighting that enhances facial features and makes grooming tasks easier.
They work well with traditional, vintage, and even contemporary mirrors.
3. Horizontal Bar Lights
For a sleek and modern look, consider horizontal bar lights.
These fixtures have a row of lights positioned above the mirror, providing even illumination across the reflective surface.
Horizontal bar lights are excellent choices for modern and industrial-style mirrors.
4. Pendant Lights
If you want to add a touch of uniqueness to your vanity area, pendant lights are an excellent option.
Hang them on each side of the mirror to create a visually appealing arrangement.
Pendant lights work well with bohemian, eclectic, and contemporary mirror styles.
5. Hollywood Lights
Hollywood lights evoke a glamorous and retro ambiance reminiscent of old Hollywood dressing rooms.
These lights feature a row of globe or tubular bulbs, providing bright and flattering lighting.
Hollywood lights suit Hollywood glam and vintage-style mirrors.
6. LED Backlit Mirrors
For a modern and futuristic appeal, consider LED backlit mirrors.
These mirrors have built-in LED lighting along the edges, providing a soft and energy-efficient glow.
LED backlit mirrors are ideal for contemporary and minimalist mirror styles.
7. Adjustable Lights
For maximum versatility, choose adjustable vanity lights with movable arms or swivel heads.
This allows you to customize the lighting direction and intensity to suit your needs.
Adjustable lights are suitable for various mirror styles, providing ample illumination where needed.
8. Edison Bulb Fixtures
Edison bulb fixtures are perfect for adding a touch of vintage and industrial charm to your vanity area.
These fixtures feature exposed filament bulbs that emit warm and nostalgic lighting.
Edison bulb fixtures work well with rustic, industrial, and vintage mirror styles.
Considerations for Choosing Vanity Lights
Brightness:
Choose lights with the appropriate brightness level for your needs.
Consider the activities you'll be performing in front of the mirror and ensure the light output is sufficient.
Adequate brightness is crucial for tasks like applying makeup or shaving, as it helps you see clearly and avoid any mistakes.
Opt for LED bulbs with a higher lumen count for brighter illumination, ensuring a well-lit and functional vanity space.
Color Temperature:
The color temperature of the light affects the ambiance and the accuracy of color representation.
Lower color temperatures (around 3000K) provide warm, cozy lighting, perfect for creating a relaxing atmosphere.
On the other hand, higher color temperatures (around 4000K) mimic natural daylight, making them ideal for precise tasks like makeup application.
Striking a balance between warmth and accuracy is key to achieving the right mood and functionality for your vanity area.
Fixture Size:
Consider the size of your mirror and vanity area when choosing the size of the vanity lights.
You want them to be proportionate and properly spaced to achieve optimal lighting.
For a round mirror, a wall-mounted vanity light with a circular design complements its shape best.
Larger mirrors may require longer fixtures or multiple lights to evenly distribute the illumination.
Properly sizing the fixtures ensures they not only provide ample light but also aesthetically enhance your vanity space.
Style and Design:
Select vanity lights that align with your overall bathroom decor.
Choose a style that complements the aesthetic, whether it's modern, traditional, or transitional.
Popular design options include sleek, chrome-finished fixtures for a contemporary look, or classic sconces with decorative details for a more traditional vibe.
Consider the finishes, shapes, and shades that match your bathroom's theme and personal preferences to create a cohesive and visually pleasing environment.
By combining functionality with style, you can elevate your vanity area into a chic and inviting space.
How do Place and Size Vanity Lights on Round Mirrors?
The placement of vanity lights in relation to round mirrors is crucial for optimal lighting. Follow these steps to position the lights correctly:
Measure the mirror diameter:
Begin by measuring the diameter of your round mirror. This measurement will help determine the spacing and placement of the vanity lights.
Divide the mirror into quadrants:
Imagine dividing the mirror into four equal quadrants. Visualize the placement of the vanity lights and make sure they are balanced and symmetrical.
Identify the ideal height:
Vanity lights should be installed at the right height to minimize shadows. A general guideline is to mount the lights at eye level or slightly above.
For most people, this means placing the lights approximately 60-66 inches from the floor.
Mark the positions:
Make marks on the wall or the mirror sides for the vanity lights, depending on the lighting style you select.
Place the marks within the quadrants you identified earlier, evenly spaced apart.
Consider the spacing:
The spacing between the lights is crucial for achieving a balanced look. Wall sconces or vertical vanity lights should be spaced 36-40 inches apart.
Adjust the spacing as needed to suit the size of your mirror and personal preferences.
Sizing the Vanity Lights For A Round Mirror
Follow these steps to determine the appropriate size:
Consider the mirror size:
Take into account the diameter or width of your round mirror when selecting the size of the vanity lights.
The lights should be proportionate to the mirror, neither overpowering nor too small.
Find Out The Actual Mirror Size From Here: Bathroom Mirror Size Calculator
Calculate the appropriate size:
If possible, choose vanity lights whose width approximates 75% of the mirror's size.
Calculations ensure that the lights provide adequate illumination without overwhelming the mirror.
Multiple lights or a single fixture:
You can choose between multiple smaller or larger lighting fixtures depending on the size of your mirror.
For a balanced look, consider using two or three smaller fixtures evenly spaced on either side of the mirror.
Ensure clearance:
Check that the lights are far enough from the mirror edge when choosing vanity lights.
To prevent the light from merging with the mirror or casting shadows, leave a 2-3-inch gap on each side.
Consider the bathroom size:
The overall size of your bathroom should also be taken into account when sizing the vanity lights.
Larger fixtures work well in larger bathrooms, while smaller fixtures work well in smaller bathrooms.
Installation Tips for Vanity Lights with Round Mirrors
For a successful installation, follow these tips:
Gather the necessary tools:
Before starting the installation process, gather all the required tools. Screw drivers, measuring tapes, levels, and wire strippers (if necessary).
Determine the mounting location:
Decide where you want to position the vanity lights above the round mirror. The lights should be centered and symmetrically aligned with the mirror.
Use a measuring tape and level to ensure accurate placement.
Measure and mark the mounting points:
Measure the distance between the mounting holes or brackets on the back of the vanity lights.
Mark the mounting hardware spots on the wall based on these measurements. Use a level to ensure the markings are straight and aligned.
Install the mounting brackets:
If your vanity lights come with mounting brackets, attach them to the wall at the marked locations.
Screw or anchor brackets to walls with appropriate anchors and screws (e.g., drywall, studs). Make sure the brackets are level and aligned with each other.
Connect the wiring:
If the vanity lights require wiring, carefully follow the manufacturer's instructions. Turn off the power to the circuit before proceeding.
Attach the wire ends to the electrical box wires after removing the insulation. Carefully tuck the wires into the electrical box.
Attach the vanity lights:
With the mounting brackets in place and the wiring connected, it's time to attach the vanity lights.
Using the provided screws or fasteners, secure the lights to the brackets. Double-check that the lights are level and evenly spaced.
Test the lights and make adjustments:
Test the vanity lights after installation and restore power to the circuit. If necessary, make any adjustments to the positioning, alignment, or tightening of the fixtures.
Consider professional assistance:
Consider hiring a professional installer or licensed electrician if you are unfamiliar with electrical work. Ensure safety first and also the proper installation.
FAQs about Vanity Lights and Round Mirrors
How Should I Position The Vanity Light With A Round Mirror?
To achieve the best visual impact, position the vanity light directly above the round mirror.
Ensure that it is centered and symmetrical with the mirror. It creates a balanced and well-aligned look, which enhances the mirror's overall appearance.
Are There Specific Height Guidelines For Vanity Lights With Round Mirrors?
Yes, there are general height guidelines to consider when installing vanity lights with round mirrors.
Mount the lights at eye level or slightly above, approximately 65-70 inches from the floor.
Grooming tasks are illuminated effectively while shadows are minimized.
Is Spacing Important When Choosing A Vanity Light?
Spacing is an important aspect to consider when selecting vanity lights for a round mirror.
Aim for a gap of 12-15 inches between each light and the edge of the mirror.
As a result, the lights appear balanced and symmetrical without overwhelming the mirror.
Can I Use Any Fixture Type For A Vanity Light With A Round Mirror?
Choose designs that complement the mirror's round shape.
Look for vanity lights with circular or curved designs to echo the contours of the mirror.
Lighting and mirror are visually linked with this cohesive design.
What is a Vanity Light?
A vanity light is a lighting fixture specifically designed for bathroom vanities or dressing tables.
For grooming tasks like applying makeup, shaving, or styling hair, it provides ample illumination.
A vanity light ensures even and well-distributed light, eliminating harsh shadows and creating a flattering appearance.
Conclusion
The right vanity light for a round mirror is essential to creating a harmonious and well-lit bathroom.
Consider style, size, and placement when choosing wall sconces, vertical vanity lights, pendant lights, backlit mirrors, or strip lights.
Using the guidance provided, you can find the perfect vanity light that complements your round mirror and enhances the overall ambiance of your bathroom.
Transform your space into a stylish sanctuary with the perfect vanity light.