Have you ever wondered if flickering lights can start a fire? Let's uncover the truth and shed light on this fascinating topic. 
We'll delve into the world of electricity and learn how flickering lights work.
Discover the safety measures you need to know and become an expert in keeping your home bright and fire-free.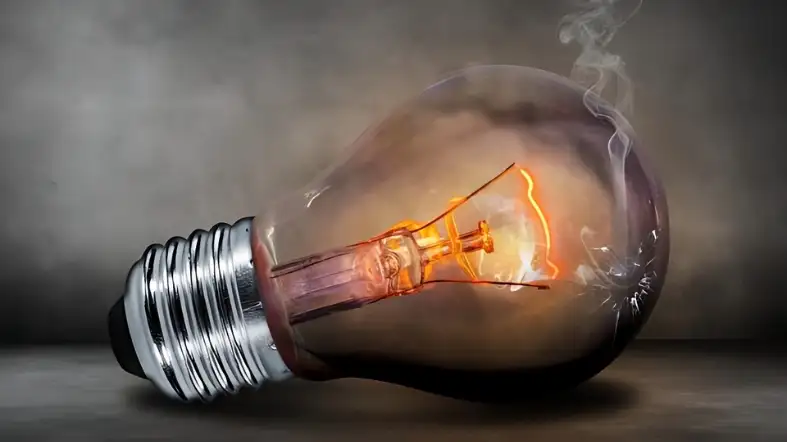 Can Flickering Lights Cause A Fire?
Yes, flickering lights can signal a fire hazard in your home. If lights flicker without a major appliance running, it may indicate a wiring problem that could lead to a fire. Studies show flickering light strains eyes and can cause symptoms like eye strain. Don't ignore flickering; it could be a serious electrical issue that poses a fire risk.
Potential Fire Hazards Associated With Flickering Lights
Check the Bulb: 
Begin by inspecting the light bulb. A loose or improperly screwed-in bulb can cause flickering.
Turn off the light and carefully twist the bulb to ensure it is securely in place. If the flickering persists, proceed to the next step.
Examine the Light Switch: 
Faulty or worn-out light switches can contribute to flickering lights. Turn off the power to the affected light at the circuit breaker.
Remove the switch plate cover and examine the switch for any signs of damage or loose wiring.
If you notice any issues, consider replacing the switch with a new one or consult a licensed electrician for assistance.
Assess the Wiring: 
If you are comfortable working with electrical components, turn off the power to the affected circuit.
Inspect the wiring connected to the light fixture for signs of frayed or damaged wires, loose connections, or overheating.
Address any identified issues by repairing or replacing the wiring. If needed, seek professional assistance.
Consider Voltage Fluctuations: 
An inconsistent voltage supply can also cause lights to flicker. Contact your local utility company to determine if voltage fluctuations are a common issue in your area.
If you identify voltage irregularities, you can inquire about possible solutions. For instance, you can consider installing voltage stabilizers or surge protectors.
Evaluate the Light Fixture: 
Defective or incompatible light fixtures can contribute to flickering lights. Ensure that the fixture is suitable for the type and wattage of the bulb being used.
Consider replacing the fixture if it is old, damaged, or incompatible with the bulb.
Address Overloaded Circuits: 
Overloading circuits by connecting too many devices or appliances can lead to voltage drops, resulting in flickering lights.
Avoid plugging multiple high-power devices into the same circuit. If the flickering is persistent, redistribute the load by connecting the light to a different circuit.
Examine the Circuit Breaker: 
Inspect the circuit breaker panel for any tripped breakers. Tripped breakers can result in an inadequate power supply and cause lights to flicker.
If you find a tripped breaker, firmly reset it into the "on" position.
Evaluate Dimmer Switches:
If you have dimmer switches installed, they could be a potential culprit. Improper installation or compatibility issues can cause flickering in lights.
Dimmer switches regulate the amount of electrical voltage supplied to the lights. Verify that the dimmer switch is compatible with the type of bulbs being used.
If the issue persists, consider replacing the dimmer switch with a compatible one.
8 Steps To Address And Troubleshoot Flickering Lights To Prevent Fires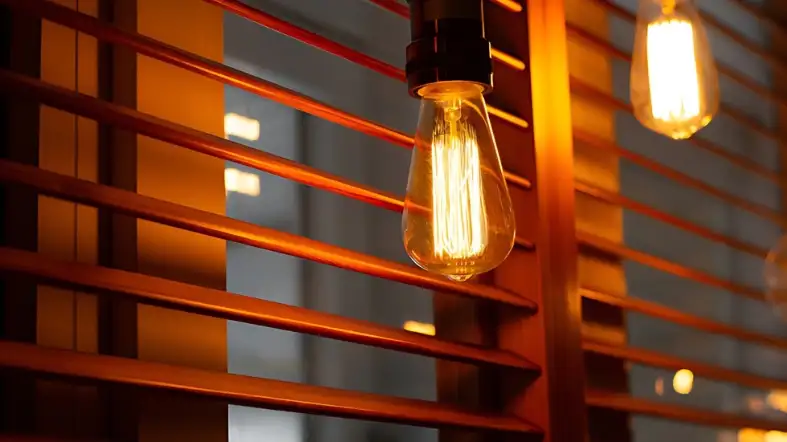 Step 1: Check the Bulb
To start, closely examine the flickering bulbs. Check if they are properly screwed into their sockets.
Loose connections can cause flickering, so make sure the bulbs are securely fitted.
If you notice any signs of damage, such as cracks or blackened areas, replace the bulb immediately. Damaged bulbs are more likely to overheat and start a fire.
Step 2: Replace the Bulb
If tightening the bulb doesn't resolve the issue, try replacing it with a new one. Sometimes, flickering lights can be caused by a faulty or aging bulb.
Choose a bulb that matches the wattage and type recommended for the fixture.
Step 3: Examine the Light Switch
Next, examine the light switch that controls the flickering light. Turn off the power to the switch at the circuit breaker to ensure safety.
Remove the cover plate and inspect the wiring connections. If any wires appear loose or damaged, consult a licensed electrician to repair or replace the switch.
Step 4: Inspect the Electrical Panel
Flickering lights can also indicate problems within your electrical panel. Locate the panel in your home and carefully remove the cover.
Look for any loose wires, burnt marks, or signs of overheating. If you notice any of these issues, immediately turn off the main power switch and contact a professional electrician to assess and rectify the problem.
Step 5: Test Other Lights and Appliances
Determine whether the flickering issue is isolated to a single light fixture or if it affects other lights and appliances in your home.
Turn on and off various switches to observe their behavior. If multiple lights or appliances are flickering, it may indicate a more significant electrical problem.
In such cases, it is vital to contact a qualified electrician promptly.
Step 6: Verifying the Voltage
Next, confirm that the voltage of the bulbs matches the recommended voltage for the lighting fixture.
Using bulbs with a higher voltage than recommended can overload the circuit, leading to flickering and potentially causing electrical fires.
Check the packaging or consult an electrician if you're unsure about the appropriate voltage.
Step 7: Ensuring Stable Wiring
Inspect the electrical cords and outlets connected to the flickering lights. Look for frayed or damaged wires, as they can create a hazardous situation.
Replace any compromised cords or cables promptly. Ensure that the outlets are in good condition and not overloaded with too many devices.
Overloading can strain the electrical system and increase the risk of fires.
Step 8: Regulating the Electrical Load
Another crucial step is to manage the electrical load within your space. Avoid connecting too many appliances or devices to a single outlet or power strip.
Overloading the circuit can lead to overheating and electrical fires. Spread out your devices across multiple outlets or use surge protectors to safeguard against power surges and prevent flickering lights.
Comparison: Flickering Lights Vs. Stable Lighting Systems In Fire Safety
| Feature | Flickering Lights | Stable Lighting Systems |
| --- | --- | --- |
| Cause | Loose connections, overheated wiring, overloaded circuits, etc. | Well-maintained electrical system |
| Effect | Can be a sign of a fire hazard | Provide a safe and consistent source of light |
| Impact on fire safety | Can increase the risk of fire | Can help to prevent fires |
| Recommendations | Have flickering lights checked by an electrician | Keep lighting systems well-maintained |
9 Maintainance Tips To Avoid Fire Hazards From Flickering Lights
1. Check and Replace Bulbs Regularly
Flickering lights can be caused by faulty bulbs nearing the end of their lifespan.
To prevent fire hazards, inspect your light fixtures regularly and replace any flickering bulbs promptly. Ensuring bulbs are properly fitted and with the correct wattage can prevent overheating.
2. Address Voltage Imbalance
As discussed earlier, voltage imbalance can lead to flickering lights and pose fire hazards. Any voltage imbalance in your electrical system may cause persistent flickering.
Consult a qualified electrician. Properly balanced voltage levels across all phases will reduce the risk of overheating and electrical fires.
3. Keep Light Fixtures Clean
Dust and dirt buildup on light fixtures can trap heat and reduce ventilation, increasing the risk of overheating and fire hazards.
Regularly clean your light fixtures to maintain proper airflow and prevent potential issues.
4. Check for Loose Wiring
Loose wiring connections can lead to intermittent power supply, causing lights to flicker and potentially create fire hazards.
Inspect all wiring connections regularly and tighten any loose connections to ensure a secure electrical connection.
5. Use High-Quality Dimmer Switches
If you have dimmable lights, ensure you are using high-quality dimmer switches compatible with your bulbs. Low-quality or incompatible dimmers can cause flickering and lead to overheating issues.
Invest in dimmer switches designed for your specific lighting setup to maintain a safe and reliable lighting system.
6. Avoid Overloading Circuits
The excessive electrical load on a circuit can cause flickering lights and increase the risk of fire hazards. Avoid plugging too many devices into a single outlet or circuit.
Distribute the load across multiple circuits to prevent overloading and ensure a balanced electrical system.
7. Perform Regular Electrical Inspections
Schedule periodic electrical inspections conducted by a qualified electrician.
Identifying faulty wiring, damaged fixtures, or outdated electrical components will help prevent fires. Addressing issues early can prevent dangerous situations from arising.
8. Install Surge Protectors
Power surges resulting from electrical load imbalances can damage your lighting system and pose fire risks.
Protect your lights and other electronic devices from voltage fluctuations and sudden surges with surge protectors.
9. Educate Household Members
Everyone in your household should know to report flickering lights or other electrical anomalies promptly.
Know the location of fire extinguishers and emergency exits and educate family members about fire safety.
Fires can be prevented and damage minimized by responding quickly to potential hazards.
FAQs About Flickering Lights And Fire Hazards
What Should I Do If I Notice Flickering Lights At Home?
If you notice flickering lights, it's essential to investigate the cause.
First, check if the light bulbs are properly screwed in and functioning correctly.
If the problem persists, it's best to consult a qualified electrician to inspect your electrical system and ensure it is safe.
Are LED Lights Less Likely To Cause Fires Compared To Other Types?
LED lights are generally safer than other types of lighting. They produce less heat and consume less energy, reducing the risk of fire.
However, even LED lights can become a fire hazard if they are damaged or improperly installed, so it's crucial to maintain them properly.
Can Flickering Lights Be A Sign Of An Electrical Problem?
Yes, flickering lights can be a sign of an underlying electrical issue.
It could be due to loose connections, overloaded circuits, or damaged wiring.
If you experience persistent flickering, it's important to have a professional electrician investigate and resolve the problem.
Is It Safe To Continue Using Lights That Flicker Occasionally?
Occasional flickering might not pose an immediate threat, but it's advisable to address the underlying cause.
Continued flickering could indicate an underlying issue that could worsen over time, potentially increasing the risk of a fire hazard.
It's best to have it checked by an electrician.
Can Power Surges Cause Lights To Flicker And Potentially Cause A Fire?
Power surges can cause lights to flicker momentarily, but they are unlikely to cause fires.
Repeated power surges can damage electrical components and increase the risk of electrical hazards.
Installing surge protectors can help safeguard your electronics and prevent damage.
Conclusion
Flickering lights can indeed be a fire hazard. They state issues such as loose connections, damaged wiring, or overloaded circuits.
It's crucial to take action when you notice flickering lights to prevent fire risks. Regularly inspecting bulbs, light switches, wiring, and electrical panels.
Also Maintaining a well-regulated electrical load can significantly reduce the chances of fires. Following these maintenance tips ensure a safe and well-lit home environment.