Can You Run Generator While Sleeping?
We may earn affiliate fees for purchases using our links (at no additional cost to you).
Our generators put utmost effort all day long to make our work easy. Here you may ask, "can you run generator while sleeping?"
Excessive usage of your generator can pressurize its function. So, you must be aware of its proper usage.
This article will answer your question as well as give you some tips about running your generator while sleeping.
Can you run generator while sleeping?
It is certainly possible to run a generator while you sleep. There are a few things to think about first, though.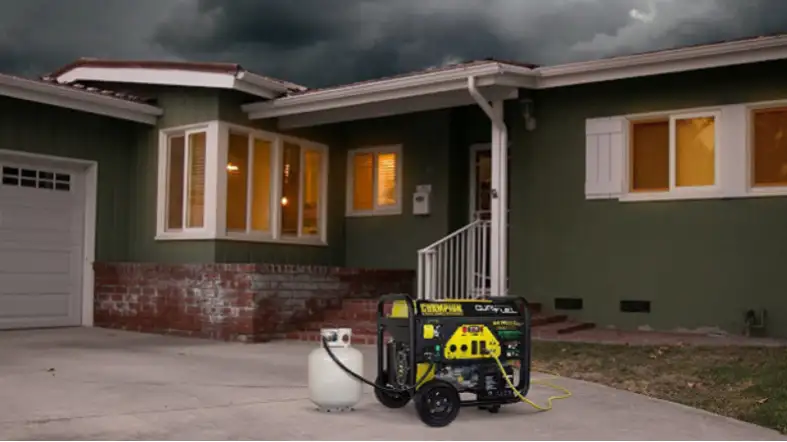 First, make sure your campsite isn't in a place that has quiet hours, which are usually between dusk and dawn.
Second, you should close the windows of your RV so that you don't have to breathe in exhaust fumes.
And finally, if your campsite is close to other generators, be aware that they may want to be quiet at certain times. No one wants to sleep while a loud motor is running.
Tips for Running generator while Sleeping
Before you start up the generator in your RV, be sure that all of the doors, windows, and vents are firmly closed. In addition to this, retracing the slides in your RV will make the RV more airtight.
 position your portable generator at a distance of at least 15–20 feet away from your recreational vehicle and with the exhaust pointed toward the direction of the wind On days with no wind, you may also choose to operate a portable fan behind your unit in order to expel the odors further away.
Be sure to check the exhaust pipe of your onboard generator for any cracks or blockages, since these will cause the exhaust gases to be forced into the generator compartment.
If you are parked close to your neighbor's house, you should be cautious of the pollution from their generator.
To avoid accidentally poisoning yourself with carbon monoxide, move the generator outside. You can even place it beneath a tiny container that has vents, but it must always be kept outside.
There should be no less than 15 feet between the generator and the buildings in which people work or live.
Determine when you will need to refuel the generator by calculating when the fuel tank will run out. Running the generator without fuel is harmful to the machine.
In order to avoid the generator breaking down after only a few months of use, you need to ensure that it is well lubricated and that it is properly maintained.
Take care not to put too much strain on the generator. First, determine the number of watts that is required by each device that you intend to run, and then connect to the generator only what it is able to handle.
If you are able to, turn it off after it has been running for a few hours; doing so will bring the temperature down, which will prevent the failure of any internal components.
>> Can A 2000 Watt Generator Run A Refrigerator?
Do I Need To Use Good Power Cords To Run My Generator While Sleeping?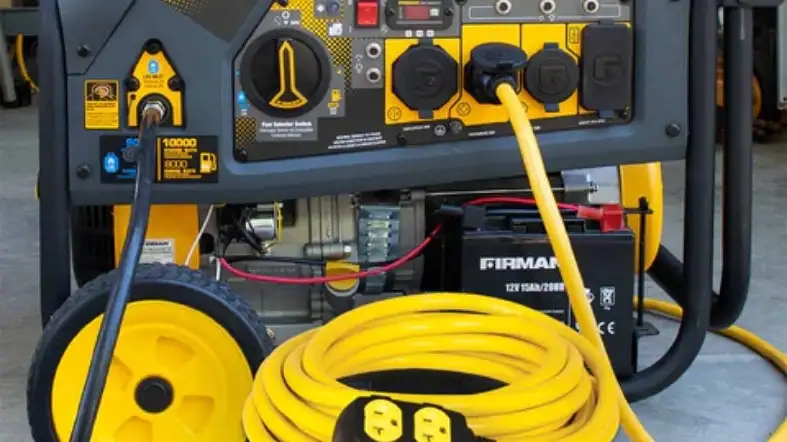 Yes, the only thing that connects your portable generator to your RV is a power cord. It moves the power from the generator to the things in your RV.
If you use the wrong or low-quality generator power cord, it could put your RV and the appliance it's connected to in danger.
Find out if your RV has a 30 amp or 50 amp electrical system. This will help you choose the right power cord.
If your generator isn't RV-ready, which means it doesn't have a dedicated 30 or 50-amp receptacle, you'll need the right adapter to connect the cord to your generator.
Does Bad Weather Make Problems With Using Generators While Sleeping?
If your RV has a generator built-in, you don't have to worry about the weather before you turn it on. However,  portable generators are not the same.
Running a generator in the rain, snow, or a damp environment is not only bad for the machine, but it also makes electrocution more likely.
For your portable generator to work safely in bad weather, you should put it in a place where water is less likely to pool.
Next, you'll need a good, weatherproof generator tent that fits your unit.
FAQs about Running Your generator while sleeping
Is It Safe To Keep A Generator Running All Night In An RV?
Yes, it's perfectly safe to use your generator, but there are a few important safety steps you should take. Before you use the generator, close all of your windows and vents.
Also, make sure that your carbon monoxide detector is working. If you plan to run the generator all night, fill up the gas tank of your motorhome or keep extra fuel for your portable generator on hand.
Can You Hear Your Generator At Night?
Even the quietest generators can easily make you and your neighbors disturbed.
So, please be kind and only run it during the hours your campground suggests or when you're boon docking in a place where other campers can't hear it.
Will My Generator Last All Night, And How Much Gas Will It Use?
Depending on what fuel you use, your generator can run all night. At full power, a good rule of thumb for how much fuel your generator uses is to figure that it will use a gallon per hour.
Generators that run on their own, like those in 5th wheels and travel trailers, may use a bit more gas.
Final Thoughts
Now you know the answer to the question, " can you run generator while sleeping?" You can run the generator on your RV at any time, day or night.
But there's more to worry about when you sleep with a generator running.
If you do what I've told you above, you should be able to run your generator all night without any trouble.
If you're still not sure, you can run the generator all night to power your camper's air conditioner on the roof.
So, you won't have to worry about your generator running while you sleep.