Curious if you can safely run a generator while sleeping? It's a common concern for many homeowners, especially during power outages or camping trips.
Safety and convenience are paramount when it comes to using generators in residential settings.
In this article, we'll explore the dos and don'ts of running a generator while you sleep, ensuring you have a peaceful and worry-free night's rest.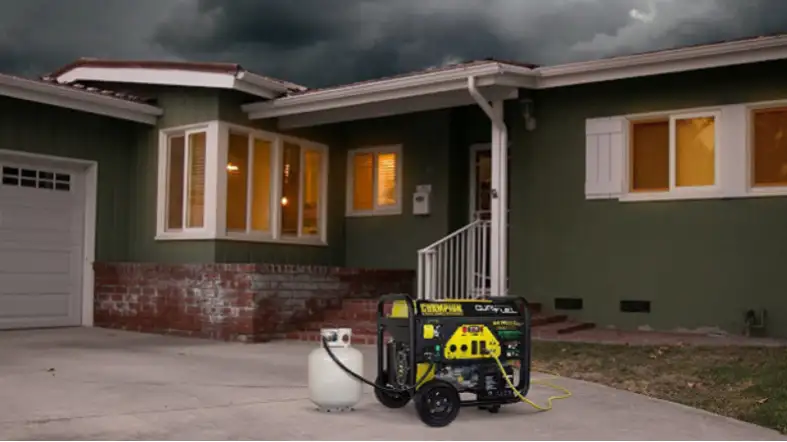 Click Here To Check Recommended Generators
Can You Run The Generator While Sleeping?
Running a generator while sleeping is highly discouraged due to the risk of carbon monoxide poisoning. Always place the generator at least 20 feet away from your home or sleeping area and never inside enclosed spaces. Install a carbon monoxide detector for added safety.
Risks and Running a Generator While Sleeping
Running a generator while sleeping can be a dangerous practice, as generators can emit harmful fumes and pose several risks.
Some of the risks associated with running a generator while sleeping include:
Carbon Monoxide Poisoning:
Generators emit carbon monoxide which can be deadly inhaled in high concentrations.
Carbon monoxide can quickly accumulate in enclosed spaces like homes, tents, or other sleeping areas.
Breathing in carbon monoxide can be extremely dangerous and cause symptoms like dizziness, nausea, headaches, and even death due to poisoning.
Fire Hazard:
Generators use flammable fuels and generate heat, which can pose a fire hazard if not used properly.
Placing a generator too close to combustible materials, such as bedding or furniture, can increase the risk of fire.
Noise Pollution:
Generators can be noisy, especially if they are not properly maintained or are used at high loads.
The noise generated by a generator can disturb sleep and cause irritation and stress.
Mechanical Failure:
Generators are machines and can break down, malfunction, or overheat if not properly maintained or used within their operating capacity.
Mechanical failure can cause damage to the generator, as well as pose safety risks to people in the vicinity.
>> Are whole house generators tax deductible?
Precautions for Running a Generator While Sleeping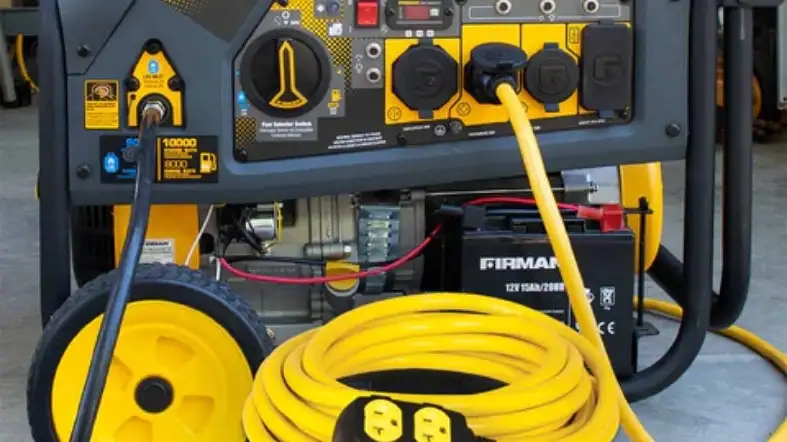 Running a generator while sleeping can be dangerous, as it can lead to carbon monoxide poisoning and other potential hazards.
If it is necessary to run a generator while sleeping, it is important to take the following precautions:
Ensure proper ventilation:
Generators emit carbon monoxide, a colorless and odorless gas that can be lethal if inhaled in high concentrations.
It is crucial to run the generator in a well-ventilated area to prevent carbon monoxide buildup.
This can be achieved by opening windows and doors, or by running the generator outside, away from any enclosed spaces.
>> How to construct a 220 volt extension cord for generator?
Locate the generator at a safe distance:
Generators should be located at least 20 feet away from any sleeping areas, as well as any doors, windows, or vents that could allow carbon monoxide to enter the building.
This will help ensure that any carbon monoxide that is emitted is dispersed safely.
Reduce noise:
Generators can be noisy, which can disturb sleep and cause other problems.
To reduce noise, it is important to use a generator that is designed to be quiet or to place the generator as far away from sleeping areas as possible.
Perform routine maintenance:
Regular maintenance can help ensure that the generator is running safely and efficiently.
This can include checking and changing the oil, cleaning or replacing air filters, and checking for any leaks or other potential hazards.
Alternatives to Running a Generator While Sleeping
If you need to power essential devices while sleeping, there are several alternatives to running a generator that can help you stay safe and comfortable.
Here are some options to consider:
Battery-powered devices:
You can use battery-powered devices such as flashlights, lanterns, and fans to provide lighting, cooling, and air circulation without the need for a generator.
Solar power:
Solar-powered devices such as solar panels and chargers can provide a renewable source of power during the day that can be stored in batteries and used at night.
This can be a more environmentally friendly option that doesn't rely on fossil fuels.
>> How to link portable generator to house without transfer switch?
Wind power:
Wind turbines can generate electricity to power your devices, but this option requires a consistent and strong wind source.
It may not be a practical option for everyone, but can be worth considering if you live in a windy area.
Propane or natural gas:
You can use propane or natural gas to power a gas stove, heater, or other appliances.
Make sure to use them safely and follow all manufacturer guidelines.
Energy-efficient devices:
Using energy-efficient devices and appliances can help reduce your energy consumption and the need for external power sources.
Look for devices with Energy Star ratings, which indicate they meet energy efficiency standards.
FAQs about Running Your generator while sleeping
Is It Safe To Keep A Generator Running All Night In An RV?
Yes, it's perfectly safe to use your generator, but there are a few important safety steps you should take.
Before you use the generator, close all of your windows and vents. Also, make sure that your carbon monoxide detector is working.
If you plan to run the generator all night, fill up the gas tank of your motorhome or keep extra fuel for your portable generator on hand.
Can You Hear Your Generator At Night?
Even the quietest generators can easily make you and your neighbors disturbed.
So, please be kind and only run it during the hours your campground suggests or when you're boon docking in a place where other campers can't hear it.
Will My Generator Last All Night, And How Much Gas Will It Use?
Depending on what fuel you use, your generator can run all night.
At full power, a good rule of thumb for how much fuel your generator uses is to figure that it will use a gallon per hour.
Generators that run on their own, like those in 5th wheels and travel trailers, may use a bit more gas.
Final Thoughts
Now you know the answer to the question, " can you run generator while sleeping?" You can run the generator on your RV at any time, day or night.
But there's more to worry about when you sleep with a generator running.
By following the above writing, you will be able to run your generator all night without any trouble.
If you're still not sure, you can run the generator all night to power your camper's air conditioner on the roof.
So, there is nothing to worry about your generator running while you sleep.