Shaggy rugs are a popular addition to any home, but they can quickly accumulate dirt, dust, and pet hair.
While vacuuming can help, it may not be enough to get your shaggy rug completely clean.
You may be wondering if it's safe to put your shaggy rug in the washing machine.
In this blog post, we'll explore whether or not you can wash a shaggy rug in the washing machine and provide tips to help you do it safely and effectively.
Can You Put A Shaggy Rug In The Washing Machine?
It depends on the type of shaggy rug you have. Some shaggy rugs are washing machine safe, while others are not.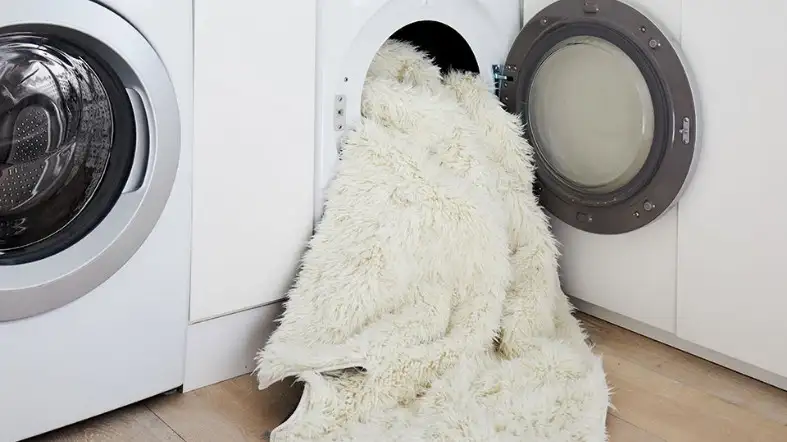 If your shaggy rug is machine washable, be sure to use a gentle, cold-water cycle and a mild detergent.
Avoid using fabric softener or bleach, as these can damage the fibers of your rug. After washing, hang or lay flat to dry, or put it in the dryer on a low heat setting.
If your shaggy rug is not machine washable, spot clean any stains with a mild detergent and cold water.
You can also use a carpet cleaner specifically designed for shaggy rugs. Additionally, brushing your shaggy rug regularly can help remove dirt and debris.
>>is it ok to put a rug on a heated tile floor
How To Clean A Shaggy Rug In The Washing Machine: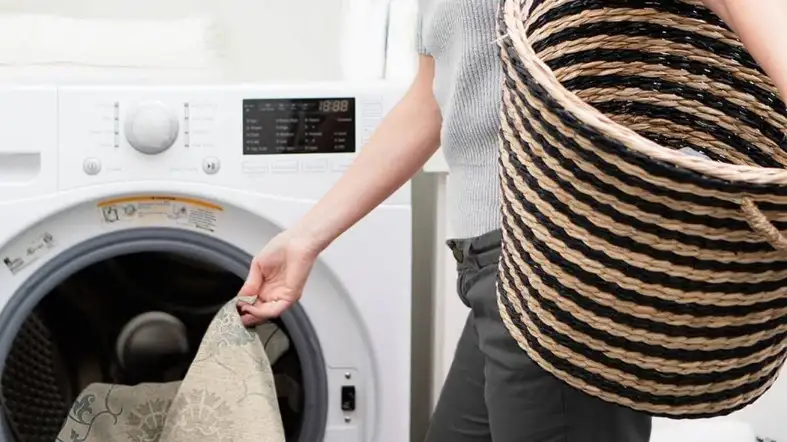 Step 1: Check if the rug is colorfast
Before you start washing the rug, you need to make sure that the colors won't run.
To check the colorfastness, dampen a cotton swab or a piece of cloth with warm water and rub it on a small, inconspicuous area of the rug.
>> What size carpet to layer over 8×10?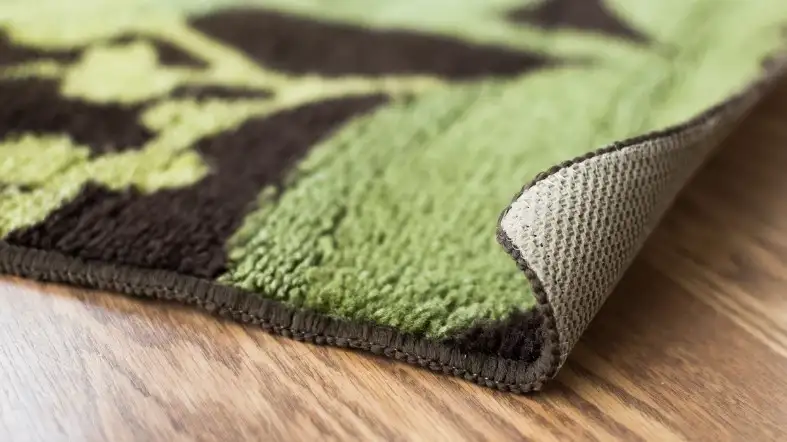 If the color rubs off onto the cotton swab or piece of cloth, the rug isn't colorfast and could potentially stain other clothing you own. In this case, it's best to hand wash the rug.
>> How to remove creases from polypropylene rug?
Step 2: Vacuum the rug
Take the rug outside and give it a good shake to remove any loose dirt and debris.
You can also use a wooden paddle to beat the rug while it's strung up on a line.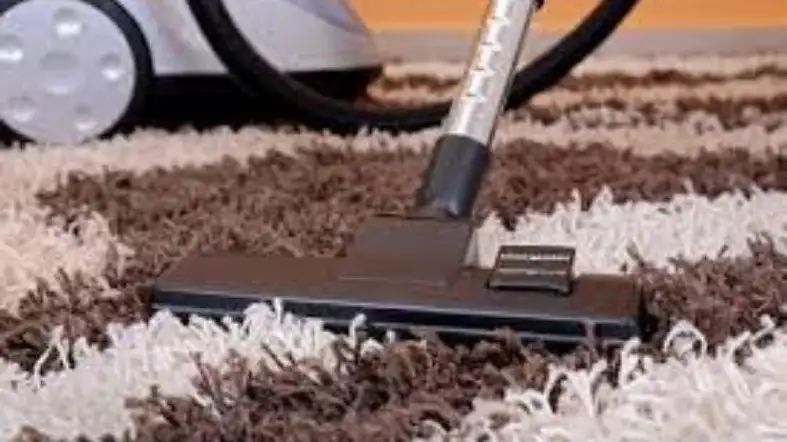 Once you've removed the excess dust and debris from the rug, lay it flat on the ground and vacuum it. If you have an upholstery nozzle for your vacuum, use that for best results.
Step 3: Treat any stains
If there are any stains on the rug, treat them before washing them. Follow the instructions on your chosen stain remover, or wet the stain with a little bit of water and apply a small amount of dish soap or a homemade cleaner.
Use a brush with soft bristles to work the cleaner into the stain, then let it sit for 15 minutes before rinsing it off.
Step 4: Wash the rug in the washing machine
To prevent the load from becoming unbalanced, add two more regular towels to the front-loading machine or place the rug over the top of the agitator in a top-loading machine, with a towel on either side to prevent the agitator from tipping over.
Add a mild laundry detergent to the dispenser or the drum of the machine, and select the gentle cycle to wash the rug in cold water. Let the machine do its job.
>>can you wash a fluffy rug in the washing machine
Step 5: Air dry the rug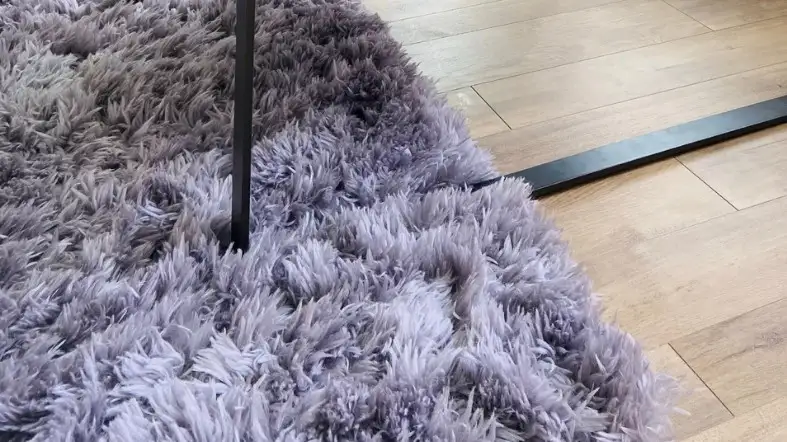 Rugs should never be dried in the dryer. After the wash is complete, use dry towels to blot the rug and remove as much water as possible.
Then, roll up the rug in towels to squeeze out any remaining water. Lay the rug flat to dry in a well-ventilated area.
It's best to hang the rug outside to dry, using a tarp or clothesline as a base if needed.
It may take a whole day for the rug to dry completely, so be patient and resist the urge to use it immediately.
Pro tips:
Take your rug to a laundromat for cleaning if it's too large to fit in your household washing machine.
Test the colorfastness of the rug before washing to prevent any color transfer to other clothing.
Use a gentle cycle and cold water to avoid damaging the rug.
Don't dry the rug in the dryer; air drying is best.
>>can you put a circular rug under a rectangular table
How Often Do You Have To Wash Your Shaggy Rug?
Rugs should be washed about once every 15-18 months, at the absolute least. But you have to clean them more often if they grow really filthy.
It's still recommended that you vacuum your rug once a week. If stains appear, clean them as soon as possible.
Finally, if it is steam-clean compatible, steam-clean it once every several weeks. 
Using this method can eliminate odor-causing bacteria and germs while preserving your rug to smell great.
>>can you place an outdoor rug on grass
What Rugs Can Be Cleaned In A Washing Machine?
Certain types of rugs can be safely cleaned in a washing machine, while others cannot.
Generally, rugs made from cottons and synthetic fibers such as nylon and polyester are safe to wash in a machine. However, rugs made from natural fibers such as wool, silk, jute, sisal, and seagrass should not be washed in a machine as they can be easily damaged.
It is important to always check the care label that comes with the rug to see if it is safe to clean in a washing machine.
The label should provide guidance on the materials used in the rug, recommended cleaning methods, and any potential risks or damage that could occur from washing.
If the label doesn't clarify if the rug can be machine washed or not, it's best to err on the side of caution and avoid machine washing.
| Rug Type | Washable in Washing Machine? |
| --- | --- |
| Nylon | Yes |
| Polyester | Yes |
| Cotton | Yes |
| Faux fur | Yes |
| Olefin | Yes |
| Viscose | Yes |
| Linen | Yes |
| Polypropylene | Yes |
| Natural fibers in general | No |
| Wool | No |
| Animal skins and fur | No |
| Sisal | No |
| Jute | No |
| Seagrass | No |
FAQs About Putting A Shaggy Rug In The Washing Machine
How Do I Clean A Polyester Shaggy Rug?
The process is almost the same as the other type of shaggy rugs.
The embedded dirt may be vacuumed out together with the rest of the dirt.
Just make sure that when the timer goes off, you give the granules a good, long vacuum.
Can I Use A Steam Cleaner For A Shaggy Rug?
Yes, that's probably the best method for cleaning a shaggy rug that one can opt for. But steam cleaners aren't a household thing.
So, for this, you have to hire a steam cleaner. It isn't that much costly, yet not cheap like hand cleaning or machine washing.
How Can I Clean A Big Shaggy Rug?
The ideal method for cleaning a big shaggy rug is by hand. It will not fit in a washing machine.
If it does, it will mess with the machine. The steam cleaning cost is high. So, pick a shampoo, and do it with your hands.
How Big Of A Rug Can I Put In The Washing Machine?
Rugs that are too big (more than 8×10) to fit in a standard washing machine may end up being damaged.
So, the rug you put inside has to be adequately accommodated. There should be enough space for it to function efficiently.
Don't also put 2-3 small rugs together.
Final Words:
So, can you put a shaggy rug in the washing machine or not? You know the answer very right.
There are no perquisites and no considerations, just vacuum it, and put it in the machine. And give it time to dry out.
Without zero complications you can get a superbly cleaned shaggy rug done by your washing machines. The comment box is yours for any further questions.