Can You Put A Rug On A Heated Tile Floor?
We may earn affiliate fees for purchases using our links (at no additional cost to you).
Can you put a rug on a heated tile floor? Or, to put it another way, is the presence of underfloor heating harmful to my rug in any way? 
This is a big question on many people's minds who are planning to buy a rug for their heated tile floor. 
In this article, we will discuss the possibility of using rugs on floors with underfloor heating, as well as the practicalities of doing so.
Can You Put A Rug On A Heated Tile Floor?
Well, it really depends on a lot of factors.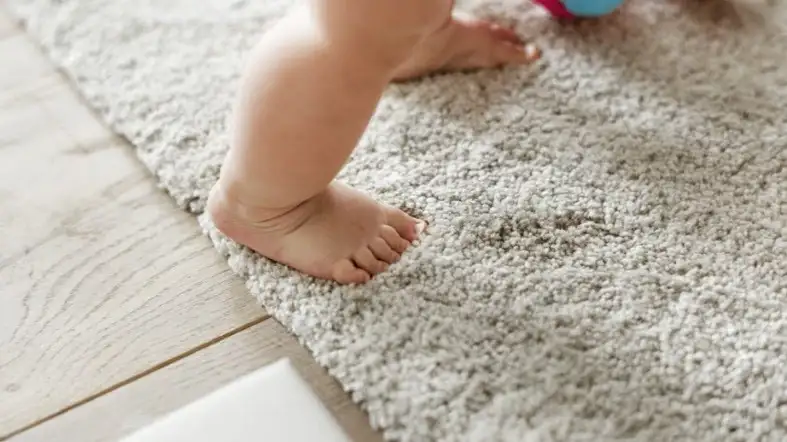 As long as you use the right types of rugs and flooring and double-check the compatibility with flooring specialists, it is generally safe.
You should be aware that there is some danger involved with this renovation. It is not easy to ensure that the radiant heat won't hurt the rug.
What Actually Is This Heated Tile Floor?
Utilizing a heating system that is installed beneath the flooring of your home is quickly becoming one of the most common and well-liked ways to heat a home, especially in the current era. 
The benefits of underfloor heating include reduced energy consumption compared to conventional heating techniques.
Also, the elimination of the need for radiators in the rooms where this type of heating is installed.
How Does This System Work?
To know if it is safe for a rug to be on the heated tile floor, you have to know how this heating system functions.
We are all taught in our primary-level science classes that installing your heating system underneath your floor is going to automatically provide an equitable distribution of heat.
This works well, particularly in the colder months of the year.
So, an equal distribution of heat is created by an underfloor heating system.
This is one of the primary reasons why so many people prefer to heat their homes with one of these systems.
In terms of its operation, it makes use of something called a "subfloor".
The "subfloor" is often made out of wood or concrete and is integral to the system's functionality. 
In order to ensure that heat doesn't harm the subfloor, an insulation board sits just on top of this subfloor system.
Then, for an added layer of safety, a mat of heating foil is installed on top of the insulation board. 
The warmth in your house is radiated by this. The heating pad is often utilized with a wooden floor placed on top. Quite a sophisticated installation process, isn't it?
There Could Be Downsides:
Naturally, there will always be some cases in which underfloor heating is probably not a viable choice. Take prices as an example. 
However, we have reached the stage today where the benefits of utilizing underfloor heating in your house trump the downsides by a significant margin.
Is It Possible To Place A Rug On Top Of The Underfloor Heating?
The "meat and potatoes" of the essay are about to be discussed in this section. There is some cheering information to report here.
The vast majority of rugs that are currently available for purchase are safe for installation over heated tiles floor.
Nevertheless, before you lay a rug, there are a few things that you need to think about first.
When you put a rug over underfloor heating, the system has to work more than before to warm the room.
The heat has to travel through an extra layer before it can warm the floor and the people standing on it.
Taking all of this into consideration, it's wise to choose a rug with a low to a nonexistent pile.
When placing a rug on top of a heated floor, the rule of thumb is that the thinner or finer the rug, the better.
You may enjoy a beautiful rug in a warm environment since a thinner rug will enable heat to move through it more easily.
With an underfloor heating system working at peak efficiency and a fantastic rug on the floor; what could be better?
Will The Rug Itself Have Issues With The Underfloor Heating?
Only rugs made of low-quality materials, e.g., synthetic fibers can be damaged by underfloor heating. This is not the case when the rug is of natural fiber. 
Low-Quality Rugs Will Not Last:
In situations when the rug is of synthetic fiber or any law-grade material, it induces a degradation in the material's quality.
And in extreme circumstances, the rug starts to melt.
A synthetic rug will melt if you leave it on the floor for too long because of the radiant heat coming up from underneath.
Synthetic materials may easily lose their integrity by heat and can melt or rip under these conditions. 
Because of this, if your rug is well-made, the underfloor heating system will not damage it.
Molding Problem:
Low-quality material often has a thick texture at the same time.
Both of these characteristics together make the rug too vulnerable to heat. Especially, if the rug has no resistance to heat.
Moreover, if the rug is in a location that allows it to absorb a lot of moisture, the molding problem will not let you rest!
You have to make certain that the rugs you purchase come highly recommended for use with the type of flooring surface you have and the strategy of heat energy supply. 
To summarize, making an investment in rugs of good quality can provide you with enhanced warmth and comfort.
The Right Rugs For Underfloor Heating:
Rugs may function as a 'blanket' over underfloor heating. They can block floor heat from entering the room.
This can reduce the effectiveness of your underfloor heating.
But some rugs work well with underfloor heating. So, choosing the right size, material and thickness ensure effective heating.
The Thickness Of The Rug:
The tog rating of your rug shouldn't exceed 2.5. Less tog, less 'blanket' effect. Underfloor heating carpets should be 25mm thick.
A low thermal resistance implies that heat will radiate more freely into the rug and out into the room.
The Rug Material:
Hessian should back your rug. Felt may block heat from the floor to the rug.
Natural-fiber carpets are superior to synthetic ones for underfloor heating. Synthetic rugs can melt under extreme temperatures.
Heat-resistant wool carpets are great for underfloor heating.
Polyurethane rug underlays transmit heat poorly and block heat.
The Size Of The Rug:
Avoid extra-large rugs. Large rugs diminish the efficacy of underfloor heating. If you have underfloor heating, choose small or medium-sized carpets.
Also, rug placement is crucial.  Keep your rug out of direct sunlight.
Is Underfloor Heating Affected By The Presence Of Rugs?
In the first place, you have to buy that type of rug, which is suitable for both the floor surface and the underfloor heating system you have in place.
Otherwise, your underfloor heating may not be as efficient as it should be.
If you purchase a rug for your house without giving careful consideration to its suitability, it may wind up having the effect of a blanket.
It will impede the flow of heat and prevent it from coming up to warm the space.
In every situation, the first consideration is the flooring's natural temperature and heat conductivity.
It is different for every flooring system. Utilizing a rug type that is incompatible with those properties may not be the best solution for you.
Rugs with materials that have a low thermal resistance should be considered the most suitable for use with underfloor heating systems.
In order for the rugs to be efficient in heating the room as a whole, they need to be of a size and thickness that is substantially optimum.
So, the simple trick is to stay miles away from the heavy or thick rugs. Essentially, they come with an extremely high level of thermal resistance.
As a result, there will be mold at the very least and heat spots will ruin the heating system.
When shopping for your heated tile floor rug, you should also keep in mind the various types of flooring and the options available for rugs that are compatible with each other.
Lastly, when it comes to under-floor heating systems and flooring, you should only choose rugs that have a thermal conductivity level that is compatible with the system and flooring.
The rug will then work even better with the room's current heating system.
FAQs about putting a rug on a heated tile floor:
Can You Put Rugs On Electric Underfloor Heating?
It is possible to place a rug on top of electric floor heating. Make sure the rug you're considering isn't too big and of good quality since this might lower the heating system's efficiency.
Do You Think Adding Rugs Would Improve The Comfort Level?
The use of rugs in high-traffic areas can reduce the strain on your knees and feet while also maximizing the room's potential as a radiant heating source.
Which Floor Is Bad For Placing Rugs?
Underfloor heating and wood flooring may be a bad combination, therefore it's best to avoid the two if possible. Boards might distort and rise due to the floor's temperature.
Final Words:
Overall, rugs can be used with underfloor heating; you simply need to think more carefully before making your choice. 
They may lessen the efficiency of your underfloor heating. But if you shop carefully, you may minimize this effect and still benefit from a gorgeous rug.