Can You Put A Round Rug Under A Rectangular Table?
We may earn affiliate fees for purchases using our links (at no additional cost to you).
 A perfectly shaped rug under table helps to decorate your interior. Here a common question is, " can you put a round rug under a rectangular table?"
You may buy the best-looking rug from the market. However, if you do not know which type of rug shape you need according to your furniture, it will look weird.
So, picking the right shaped rug is necessary,  In this article, we will let you know about this.
Can You Put A Round Rug Under A Rectangular Table?
In general, your rug's shape should match the shape of your table. So, a round rug under a round table or a long, rectangular rug under a long, rectangular table is your best bet.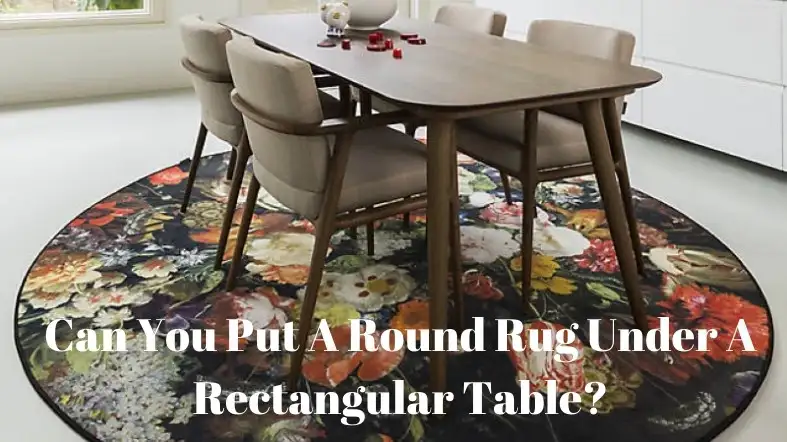 By having your rug match the shape of your table, it will make a nice frame around the furniture and give the room a sense of visual unity.
Some people will choose to have the table and rug have different shapes.
For instance, you could put a rectangular rug under a round table or the other way around.
This method works best on smaller tables, like those in a kitchen or breakfast nook, and in styles that aren't too similar to each other.
7 Pointers To Keep In Mind When Styling Your Round Rug
When styling a round or circle rug, there are numerous elements to consider, just as there are when styling any other home project. 
The first and most fundamental question to ask yourself is whether or not a round rug works with the layout of your room and your overall aesthetic. 
The remaining questions concern the specifics, such as the arrangement of your furniture, the amount of floor space you want the rug to cover, as well as where and how to center it.
 Spending some time going over your layout(s) and design goals will help you sort things out and determine the best course of action.
When it comes to accessorizing a round area rug, there are a few things you should and should not do.
Prepare Carefully.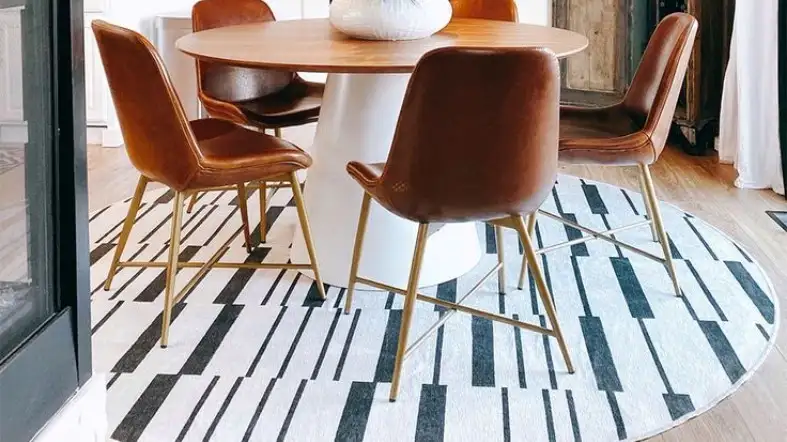 Before you go out and buy a round rug, you should first take measurements of the room you intend to use it in and position your existing furniture over the spot where the rug will go.
 After you have arranged your furniture as desired, take some tape that is simple to remove and outline the space that you want your rug to cover. 
To denote the many alternatives for the size of rug to use, you might use tape in a variety of colors.
This phase is simple, can be completed in a short amount of time, and improves the accuracy of both visualizing and measuring.
Do Not Cram Too Many Pieces Of Furniture Onto The Circular Rug
This will create visual tension and give the impression that your room is cluttered.
When you choose a larger rug, the rug itself becomes into a feature that enhances the look of the furniture and the entire room. 
Additionally, it has the potential to make the area appear more spacious and visually appealing.
You can draw attention to a certain area of your living room by utilizing the round rug.
A round rug can help define the space in your living room, so creating a vignette or a focal point, particularly if your living room has an open floor plan or is large enough to accommodate an additional furniture grouping.
Put your round rug down underneath the piece of furniture that you want people to notice the most.
Do Not Purchase A Small Rug For The Dining Room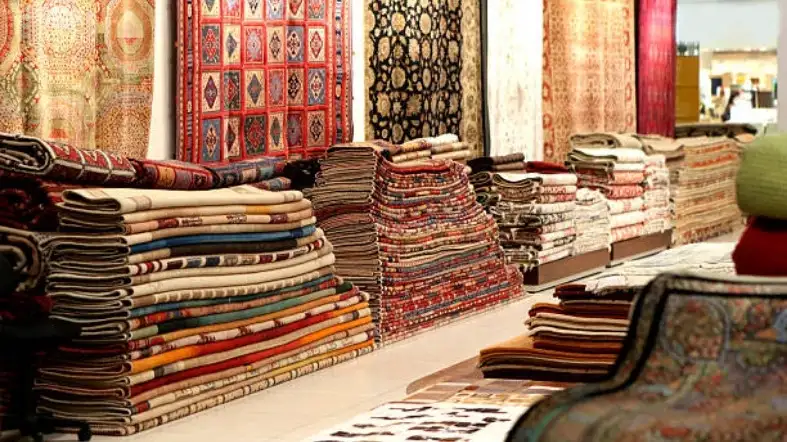 A good rule of thumb is to select a rug that is at least 30 inches larger all the way around your round dining table if you plan to place a round rug underneath the table. 
You will want to take precautions to ensure that the carpeting does not cause your chairs to topple over. It should not be difficult to move chairs to and from the table.
Align Your Spherical Elements.
If you are going to use your round rug with a round chandelier or architectural detail, you should position your rug so that its center is aligned with the centre of the round element in either the chandelier or the architectural detail. 
Creating symmetry and a sense of balance in your design can be accomplished by aligning your spherical pieces.
Do Not Stick To Only Circular Decorations
Visual harmony is achieved when a round table is centred on a round rug; however, you can achieve visual harmony with a round rug even if your table is rectangular.
 Make sure that the round rug is big enough so that the different shaped pieces don't compete with each other.
 It is recommended that there be at least 30 inches of space all the way around the table, but a larger round rug would benefit the two shapes playing off of each other even more.
Make Your Rug More Visible
When you place lighter furnishings on top of a round rug, it allows more of the rug to show and maintains the elemental equilibrium.
For instance, as opposed to entirely upholstered boxy furniture, choosing furniture made of wood or metal that has exposed legs enables you to see and appreciate more of the curved outline of the rug.
Don't Ignore The Rest Of The Rooms In The House
Even while it looks fantastic in the dining room, living room, and bedroom, a round rug may also be used successfully in the following areas of your home: the foyer, the nursery, a breakfast nook, and even the bathroom. 
You may also place it on top of another rug to create a layered look. To tell you the truth, the options for round rugs are virtually limitless.
FAQs
What Is The Rule Of Thumb For Using A Round Rug?
If you want to put a round rug under a rectangular dining table, you need to make sure that the rug will go past the chairs as well as the edges of the table.
 Chairs in the dining room that are used a lot need to stay on top of the rug, even when they are pushed in. A good rule of thumb for dining room rugs is that they should be 30 inches wider on each side than the table.
How To Set A Round Rug Under My Rectangular Table?
First, move the table away from where you want to put your round rug.
Put your round rug on the floor next. If the round rug is going in a big square room, measure from the room's edges to make sure the rug is in the middle.
Last, measure your rug and table on their own. So, you can be sure to put your rectangular table in the exact middle of the rug.
If your rectangular table is more for decoration or storage, like console tables, coffee tables, or vanities, you don't need to worry about chairs. Just measure the table itself. 
When you put a rectangular table on a round rug outside the dining room, you don't even have to put the table in the middle of the rug. You can make a stylish vignette by putting just a few pieces of furniture on the rug.
What Are The Most Appropriate Use Of Round Rugs?
Circular rugs are great for small rooms or rooms where you want to add a playful, cozy, or whimsical touch. They are good choices if you want to make a small room feel bigger, and they also work well in round rooms. Combine a round rug with round furniture or light fixtures. To be particular, they are best for,
Creating imaginative, fun, cozy, and soft atmosphere
Making a small room feel bigger.
Shapes that go well together (furniture, chandelier)
Offset rectangles
Final Thoughts
Now you know the answer to the question, " can you put a round rug under a rectangular table?"
You can, but you will have to take the rug size, type, table size, and room size into consideration.
Even though all of these rugs are round, they are not all exactly the same shape.
Still, they serve the same purpose as other round rugs, but they have a little more style.
Keep the tips given above before using your round rug under the rectangular table.