Can You Put An Outdoor Rug On Grass?
We may earn affiliate fees for purchases using our links (at no additional cost to you).
Outdoor rug has become a beautiful part and parcel of decorating your patio which is full of fresh grasses. Many people ask, "can you put an outdoor rug on grass?"
Suppose you are planning to beautify your patio for any celebration or the normal look with some beautiful outdoor rug.
If you want to keep the beauty of the outdoor grasses, you must know if your outdoor grass will be harmed by the outdoor rug or not.
In this article, we will answer your question as well as let you know the relevant information. Scroll till the bottom.
Can You Put An Outdoor Rug On Grass?
It is acceptable to place a rug directly on the grass.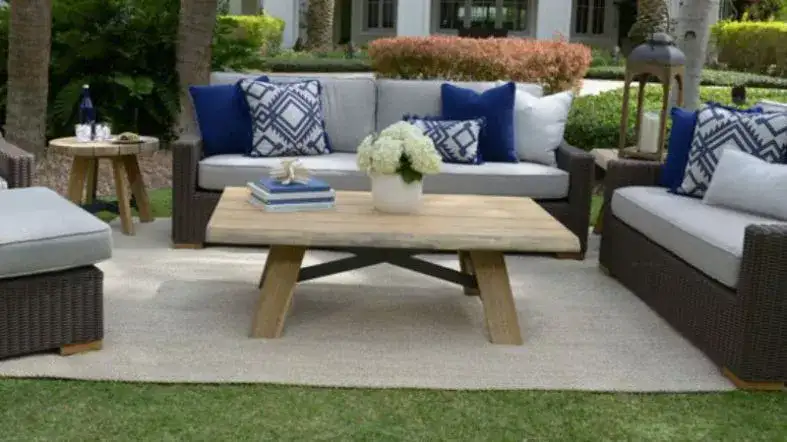 Outdoor rugs can offer colour and functionality to your yard or patio, but some of them lack protective qualities for the grass beneath.
Therefore, doing so may destroy the grass beneath. And if the sun is unable to shine on the soil, it can become a breeding ground for mildew and mold.
Also, it is not a good idea to install outdoor rugs on permanently moist grass. Examine the placement and condition of your drainage system.
Then, ensure that it pulls sufficient moisture away from the area where you intend to install the carpeting. 
To ensure that your outdoor rug does not harm the grass, you must choose one that is not only made of a durable material but also has sufficient airflow to release the moisture that collects underneath.
Things To Consider Before Putting Outdoor Rug On Grass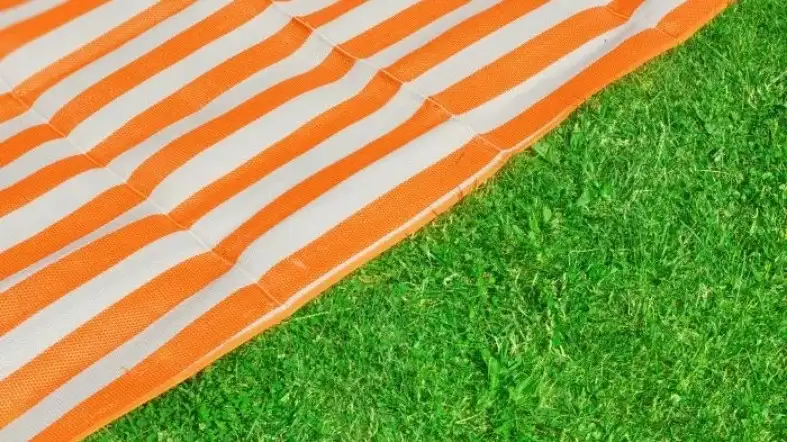 Before you decide whether to put or buy an outdoor rug, here are some things to think about in terms of setting it up on your lawn,
Grass
You may be here because you are actually concerned about the effect that placing an outdoor rug on top of your grass will have on it.
 Water, sunlight, and air are some of the things grasses require to thrive. Think about the length of time that your grass will be buried beneath an outdoor lawn. 
If you choose the wrong outdoor rugs, you could end up ruining your grass. Choose a rug that will allow air to circulate through it for your lawn.
Outdoor Rug Material
Natural or synthetic fibers can be used to make the materials for outdoor rugs that can be placed on grass.
Artificial Fiber
Polypropylene. Polypropylene is one of the most well-known types of synthetic fiber.
As a result of its resistance to liquids, mold, mildew, and stains, rugs woven from this material require very little upkeep.
Choosing polypropylene carpets that are manufactured in whole or in part from recycled plastics is one way to reduce one's impact on the natural environment.
Polyester is resistant to fading as well as stains.
It will mat down if it is placed in an area that is walked on by people for the most of the time. In addition to that, it tends to shed.
Nylon.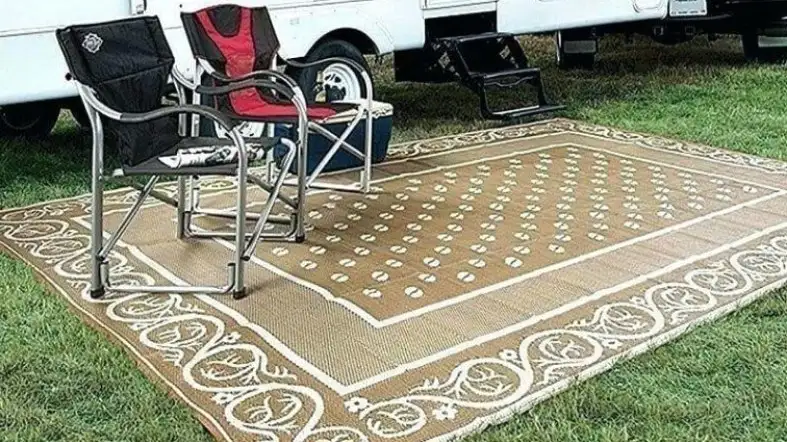 When exposed to sunlight, this particular type of fabric is capable of absorbing a significant amount of heat.
Although walking on nylon fibers can cause a buildup of static electricity in your body, nylon is a very durable material.
Because they do not absorb stains and last for a long time, nylons require little to no upkeep. In contrast to polyester, it does not tangle or tangle up as easily.
Acrylic
Mold, mildew, and stains don't have a chance against acrylic fibers. Walking there is a reassuring experience.
On the other hand, it does not have the same level of durability as polypropylene or nylon.
Purely Organic Materials.
Use a rug made of natural fibers outside on the grass if you want to have a minimal impact on the surrounding ecosystem.
The beauty of the outdoors is easily complemented by natural fibers. However, there are some drawbacks associated with being produced from natural materials.
Rugs created from natural fibers do not have the same resistance to mildew, mold, and fading as those made from synthetic fibers.
Seagrass, jute, hemp, bamboo, and sisal are some examples of natural fibers. Other examples include sisal.
 VOC
Polypropylene and other high-volatile organic compounds are the source of synthetic fibers (VOC). 
Carpets made from natural fiber or recycled plastics have lower levels of volatile organic compounds (VOC).
It's possible for volatile organic compounds to have no odor at all or to emit an odorous and hazardous gas.
Pets
Be wary of anything that your pets could possibly shed onto your rugs, including feces, urine, hair, and even ticks, especially if you have pets in your home.
Usage Of Outdoor Rug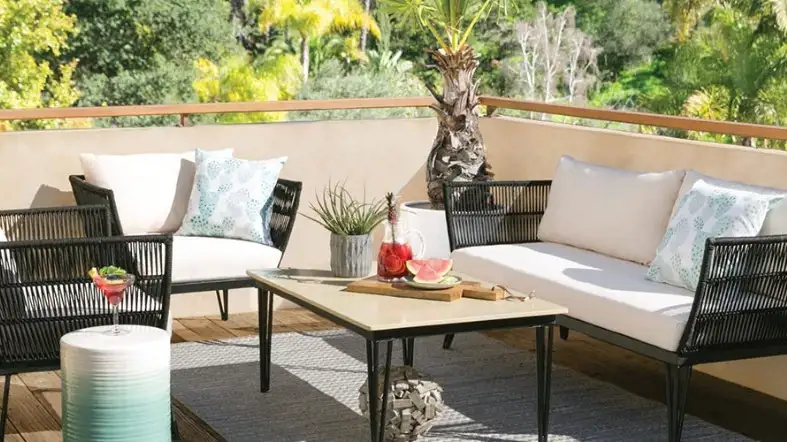 Keeping the furniture, the floor, and the pathway clean throughout the house.
If you put an outdoor rug down on your grass, dirt won't get tracked into your shoes and feet like it would otherwise.
As a result, it will lessen the amount of soil or filth that is found inside your home.
A place of ease and relaxation.
Rugs provide a comfortable seating option and a place to place your belongings, regardless of whether you are spending your time by yourself, with friends and family, or all three.
How To Put An Outdoor Rug On Grass
After you've thought about the above, you can put your outdoor rug over grass. Here are the steps to follow:
Start by putting the rug on a flat surface and making sure it's still in good shape. Before you can use the rug, you will need to fix any tears or holes.
Next, get a garden hose and spray the area where the rug will go. This will keep the grass from dying from being too dry.
When the area is wet, place the rug where you want it and start to smooth it out. Work from the middle of the rug outwards to keep from making wrinkles.
You can use heavy furniture or outdoor rug weights to keep the rug in place. Make sure to place furniture evenly around the rug so that the weight is spread out.
Check the area one last time to make sure everything looks good once everything is in place. You might have to move the rug or the weights a few times before you are happy with the results.
You now know how to put an outdoor rug over grass.
Even though there are a few things to keep in mind, the process is pretty easy and can be a great way to give your yard a little more style.
So, if you want to add an outdoor rug to your home, keep these things in mind.
How To Take Care Of An Outdoor Rug On Grass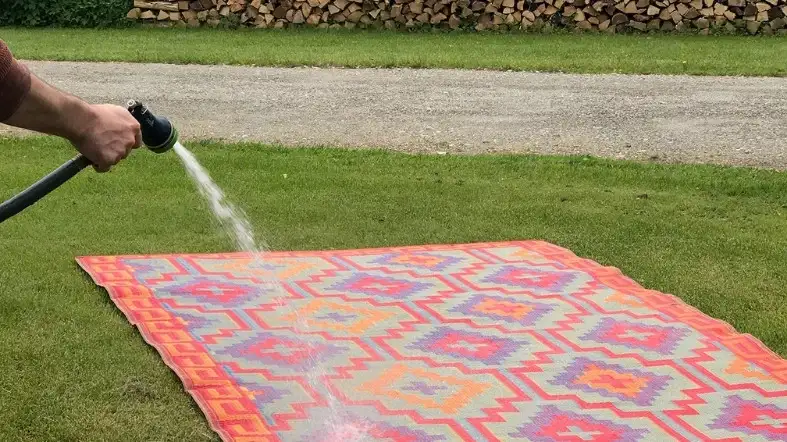 There are several ways to increase the durability of an outdoor rug laid on grass:
1. If you are eating or drinking on the rug and an unintentional spill occurs, ensure that you clean it immediately using the appropriate cleaning tools.
2. Do not use a generic approach to cleaning and maintaining outdoor rugs. Before using any cleaning procedure, you must closely adhere to the cleaning instructions on the rug's tag.
3. Even if your outdoor carpeting is water-resistant, prolonged exposure to moisture will cause it to become damp and promote the growth of mold and mildew. Therefore, constantly maintain a dry rug.
4. Winter and bad weather conditions necessitate storing the rug carefully indoors.
5. Do not let dirt and debris accumulate on the rug before giving it a thorough cleaning. You can clean it using a carpet cleaner or a broom. Numerous leaves may land on your rug if it is placed near a tree; use a leaf blower and vacuum to remove the leaves.
6. Grass can be little slick, therefore you can use a rug cushion to prevent slippage when walking on a rug. You must, however, discard the past as soon as you finish using the rug. Click-lock tiles can also serve the same function by providing a basis for the rug and expediting its drying time when it becomes wet.
FAQs
Will Outdoor Rugs Damage Grass?
Generally, outdoor rugs do not cause damage to grass since they are constructed of permeable materials and are designed to allow oxygen to reach the grass underneath. However, bulky things covering the rug for an extended period of time may impede airflow and damage or kill the grass beneath.
Therefore, while purchasing an outdoor rug for your grassy area, you should pick one composed of breathable materials and branded as an outdoor rug. This will also benefit the grass in extreme conditions, such as high heat or heavy rainfall.
How Long Can Outdoor Rugs Remain In The Grass Before The Grass Begins To Die?
As long as you utilize permeable outdoor rugs, the grass will not be damaged. It improves airflow and ventilation to help keep the grass alive. Therefore, it can be utilized eternally without the grass dying.
Can Grass Destroy Your Outdoor Rug?
The grass could destroy your outdoor rug. To preserve your rug in pristine condition, take easy precautions to prevent damage from grass. Too many footsteps can often degrade a rug placed on grass outdoors. 
Therefore, it is recommended to place the rug on the grass, where there is relatively less foot traffic. Also, overgrown grass can damage the rug, so have someone frequently cut the lawn. It is essential to protect the grass from trampling so that it will endure longer.
Final Thoughts
Now you know the answer to the question, " can you put an outdoor rug on grass?
"When it comes to outdoor carpets, you may worry whether they may be placed on grass. Obviously, the answer to this question is yes.
 As long as you select a rug meant for outdoor usage and made of a breathable material, you should be able to place it on grass without damaging your turf.