We may earn affiliate fees for purchases using our links (at no additional cost to you).
Over time, wool rugs start to shed and lose their natural shape and feel. When it happens, it can be one of the most annoying things about them. 
Now, what if you have a pure wool rug? You may wonder does 100% wool rug shed or not.
Well, it doesn't matter even if the rug is 100% wool. You will have to face the shedding problem to some extent.
The next question that haunts you is why shedding occurs and what you can do to prevent the shedding. Let's help you out.
Does 100% Wool Rug Shed?
Yes, it sheds. However, pure wool rugs don't shed much and don't emit any chemicals that could be harmful to your health.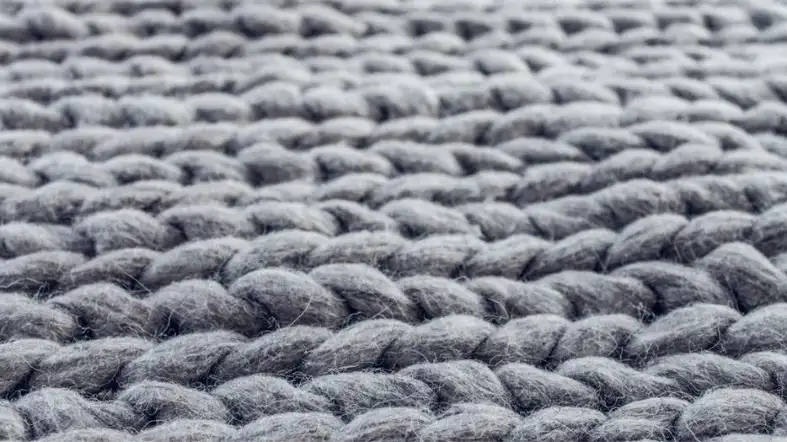 The majority of the wool rugs sold today, however, are not made entirely of wool. They rather use a combination of wool and top-grade synthetic fibers.
Why Does A Wool Rug Shed?
Now that you know your wool rug will shed no matter what you do. But what could be the reason behind this?
Well, there are a few reasons. Knowing them can help you prevent your rug from shedding.
When talking about wool, the first thing you should know is that you are dealing with natural fiber. 
Rugs made of wool tend to shed due to the fiber's propensity to tear and break when irritated.
If you let your facial hair grow longer without conditioning it, you will get split ends. Eventually, your facial hair will fall off. 
In the same way, the fiber in a rug produced from dryer wool is much more fragile. So, it will shed much earlier and very poorly.
On the other hand, A higher lanolin percentage means the wool will not be fragile. So, it will shed slowly and not terribly.
The Material Is The First Thing To Be Blamed: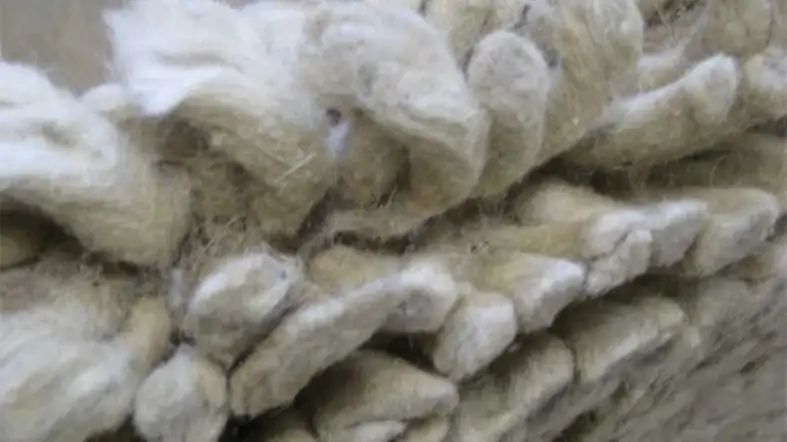 The durability of your wool rug, including how long it will last and how much it will shed, can vary depending on the materials used to make it. 
The quality of your wool rug can range from excellent to subpar, depending on where you shop and what kind of wool you wind up with.
Sheep's wool, for instance, can vary greatly in quality depending on where the sheep were raised.
Wool from sheep in the mountains is typically more reliable and of notably superior value. But wool from sheep raised in the lowlands is tougher and not reliable.
The Adhesives Are Notorious:
As you know already, you don't usually get a 100% wool rug. In order to get a fuller, cozier feel, the manufacturers prefer to use glue to bond and strengthen the surrounding wool.
Unfortunately, the presence of adhesives brings with it the possibility of shedding. 
With the passage of time, the glue deteriorates and the little bits come loose from the wool rug.
So, the conclusion here makes it imperative to buy a 100% wool rug. If you don't get a pure wool rug, at least buy one that has the highest percentage of wool at least.
Your 100% Wool Rug Will Shed Too: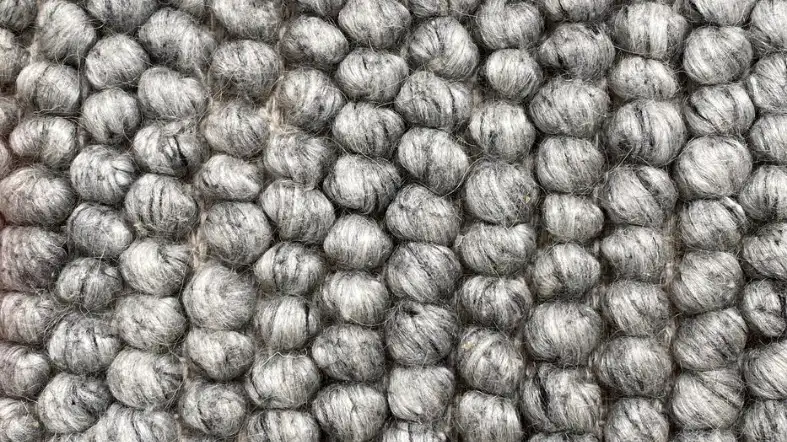 You have a rug made of 100% wool. So, you can now sit for a moment and breath in comfort. But, wait!
Unfortunately, the irony is that you cannot have a wool rug that won't shed. Your 100% wool rug will shed eventually.
The failure of adhesive is the main reason for a rug to shed. But there are other factors like no vacuuming, no cleaning, lots of stress on the rug, etc.
All of them cause the rug to shed a little. Eventually, the rug ends up shedding even after being 100% wool.
But on the plus, a 100% wool rug won't shed much. It won't shed as badly as the ones with adhesives.
In fact, it will take much higher time to shed compared to thee the other types of rugs on the market.
The Making Of The Rug Causes The Rug To Shed:
The material alone is not to be blamed here. The construction method of the rug is an additional important consideration. 
How the manufacturer prepared the rug, how they utilized the material, and many other substantial factors speed up or slow down the process of shedding.
The following are the primary manufacturing processes that are used to create rugs:
Rugs Made Manually (Hand-Made):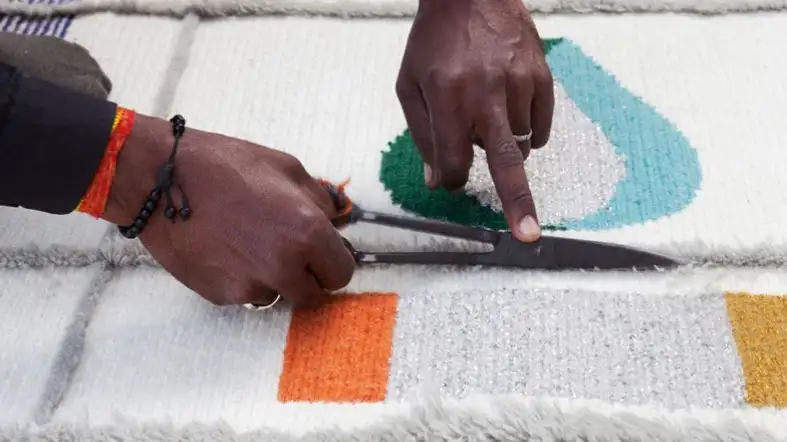 Almost all manufacturers employ individuals to make a rug by hand. Rugs that are manufactured by hand are crafted with a higher level of structural integrity.
Human care and attention go into their creation. So, you can reliably buy these rugs no matter the price point. Obviously, the price is higher here.
The Hand-Tied Rugs: 
This type of rug is simply known as the hand-knotted rug.
Here the rug's integrity possesses hundreds of thousands, and even millions of individual threads, each of which is knotted individually to the rug's foundation.
Depending on the size and complexity of the rug, the number of threads changes.
The Hand-Woven Process: 
To create these rugs, across the weft of the carpet, runs a warped. 
Since the weft of a hand-woven rug is passed over the warp, the entire rug contributes to the rug's capacity to survive wear and tear.
So, these rugs can withstand heavy stress and be walked on effortlessly.
Apart from these traditional methods, nowadays we have many contemporary methods, which typically include using machines to make carpets.
Hand-Tufting Method:
This is one of the most prevalent procedures, and it involves the use of a tufting gun. On the rug pad, this tufting gun slowly places fabric "tufts".
Although the tufts are held in place by the adhesive, this method is not particularly long-lasting or sturdy since the glue may eventually come free.
So, you will end up with your rug shedding badly over time.
It cannot even withstand much pressure. Heavy foot stepping for a day can compromise its integrity. 
To sum up, a lot of foot traffic will cause these rugs to shed faster than the other types discussed above.
The most significant advantage of machine-made rugs is that the buyers can have them at an affordable cost.
Wool rugs of good quality, meaning the hand-made ones, can be rather pricey, and indeed pricey to a great extent.
However, you get the obvious benefits here with a hand-made rug. This rug will shed less.
There will be no to few loose fibers. So, the quality is obviously high and you get significantly more comfortable at the same time.
The Budget Is A Big Factor Here: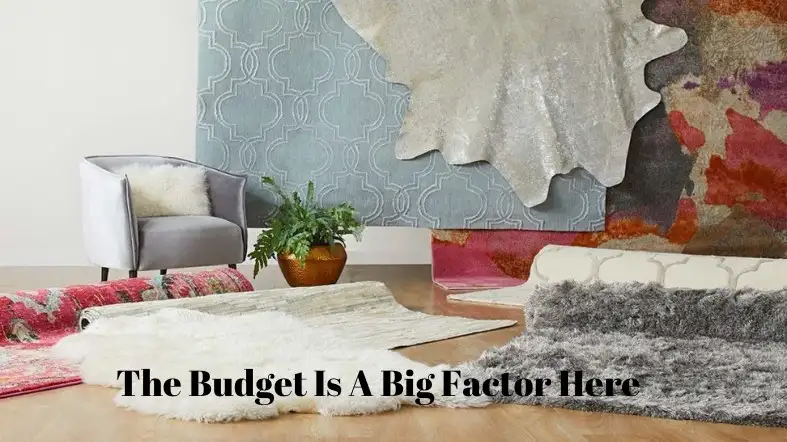 You know already how important the price point is. Yet, to make it clearer, we emphasize on the budget.
Be it a 100% wool rug, or not, the budget will affect the shedding.
To put it another way, your rug is more likely to experience faster wear and tear, as well as the loss of its fibers, if it is of lower quality.
For instance, the machine-made ones.
The structural integrity and longevity of a rug of the wool pile, meaning a hand-made rug, is significantly reliable.
So, always choose high-quality wool rugs from trusted retailers pertaining to your budget.
You Can Stop The Rug From Shedding:
Let's say you have already invested in a wool rug, be it 100% wool or not. Here are some crucial pointers to assist reduce the shedding:
The First Step In Caring For Your Wool Rug Is To Purchase A Brush Or Rug Rake.
Take your beloved and lovely wool rug outside. Then use the brush or rug rake to brush and eliminate any stray fibers.
Every week, shake out your rug to remove dust, dirt, and stray fibers and keep it looking its best.
Secondly, Take Care Of The Tufts:
In order to get rid of the fuzzy appearance, you may cut the tops of any tufts of wool that are poking out from the surface of the rug. Here, utilize a pair of sharp scissors. 
Light fraying of the pile is normal for wool rugs; trimming the tops will make your rug seem neater and cozier while also improving its feel.
Because the shedding process includes the frayed ends, trimming these might also aid in the process.
Go over the carpet with your hand to pick up the stray threads and throw them away.
Third, Rug Cleaning Is A Must:
This was a great and simple one! To prevent excessive shedding, vacuum your rug often.
When the rug is relatively new and hence more likely to shed, vacuum it at least 2 times a week.
Avoid using heavily loaded vacuums on the rug since they have the potential to shred and harm the rug.
FAQs about 100% wool rug shedding:
Are There Any Wool Rugs That Don't Shed?
Contrary to popular belief, even 100% wool rugs tend to shed. While the machine-made ones shed more, there is no wool rug that doesn't shed.
How Much Shedding Is Normal For A New Rug?
It should not shed so much that it looks weird and you have to hide it. Actually, the new ones will shed a little and should not be that much attention-drawing.
Do Wool Rugs Smell?
Keep in mind that you are dealing with literally sheep fibers. So, it may smell and it may smell bad. So, regular cleaning, and safeguarding from moisture and water is important.
Conclusion:
Shedding can ruin your wool rug's beauty, and make a mess. It may even become deadly in some cases if it is ingested by children or dogs. 
So, from this very moment on, instead of wondering does 100% wool rug shed or not, take the needed measure to prevent it from shedding. 
From buying the original material to vacuuming the rug-everything is important to maintain a healthy rug.