Adding a fire pit to your outdoor living area can enhance your relaxation and create a cozy ambiance.
However, if you're considering placing a fire pit on an outdoor rug, safety should be a top priority.
While some outdoor rugs are flame-retardant and can withstand the heat generated by a fire pit, others may be hazardous.
In this blog, we'll explore the factors to consider when deciding if it's safe to put a fire pit on an outdoor rug.
Can You Put A Fire Pit On an Outdoor Rug?
It depends on the rug. Flame-retardant outdoor rugs can be placed under a wooden fire pit or propane fire pit. However, non-fireproof rugs pose a fire hazard when exposed to hot embers.
Always exercise caution and check if your rug is flame-retardant before placing a fire pit on it.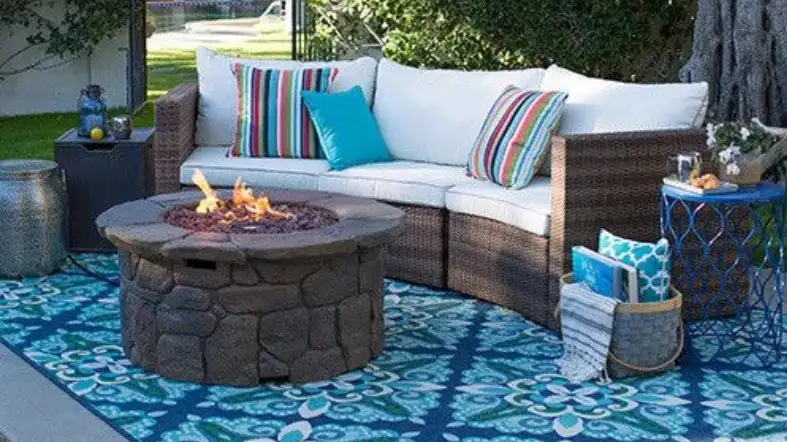 What Should Put Under an Outdoor Fire Pit?
A solid base for your fire pit is required. As with most things not all rugs, mats, and shields are made equal. 
You want to ensure that your chosen product can protect your patio or decking and withstand intense heat. 
In this part, here is the most satisfactory fire pit surface cover:
Firepit mat
Firepit heat shield
Brick surface
With these in hand, we'll go through the distinctions so you can make the best decision.
Fire Pit Mat
A fire pit mat is a layer of material placed between the fire pit and the surface below it.
The primary use of a fire pit mat is to safeguard the deck or patio from heat damage and sparks. 
Fire pit mats also make cleanup more straightforward as they will catch any debris that falls through the grate.
Not only does the ember mat prevent sparks from contacting the ground, but it is also adept at being flame-retardant.
You don't have to be concerned about them melting or exploding.
Although fire pit mats offer many advantages, they also have some disadvantages. Of course, there are a few disadvantages.
One downside to the ember mat is that it doesn't provide a solid foundation. This could be problematic if your fire pit topples over on uneven ground.
The ember mat isn't only for aesthetics. As a result, if you want to create an inviting outdoor fire atmosphere, this is probably not your best option.
>>can you machine clean a shaggy carpet
Fire Pit Heat Shield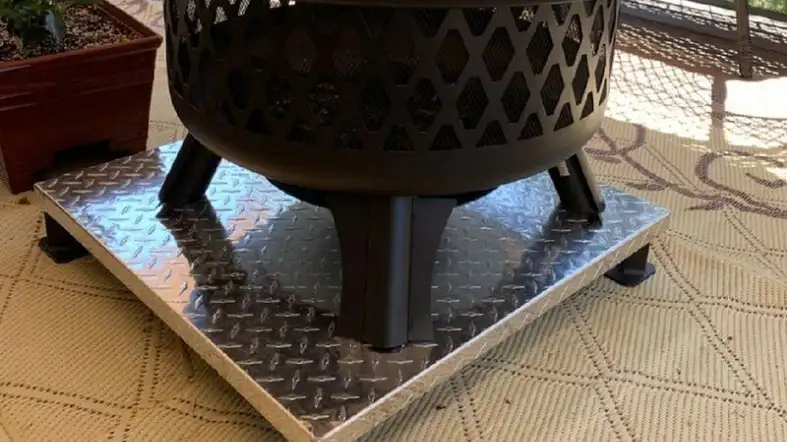 Heat shields for fire pits typically contain steel and aluminum.
By having a heat shield, you're giving your fire pit a stronger foundation and also protecting the ground or rug below it from high temperatures.
Though the heat shield has some benefits, such as improved protection from the environment and increased durability, there are a few cons:
Bulky
More expensive
Less decorative
The heat shield will be bulky during travel if you need to put it underneath your fire pit and do a lot of camping.
They are more expensive than other types of foundation materials. Not as visually appealing as other options.
Finally, while the heat shield is sturdy than a mat, it isn't the most attractive to the eye.
>>can you put a carpet on a heated tile floor
Brick Fire Pit Surface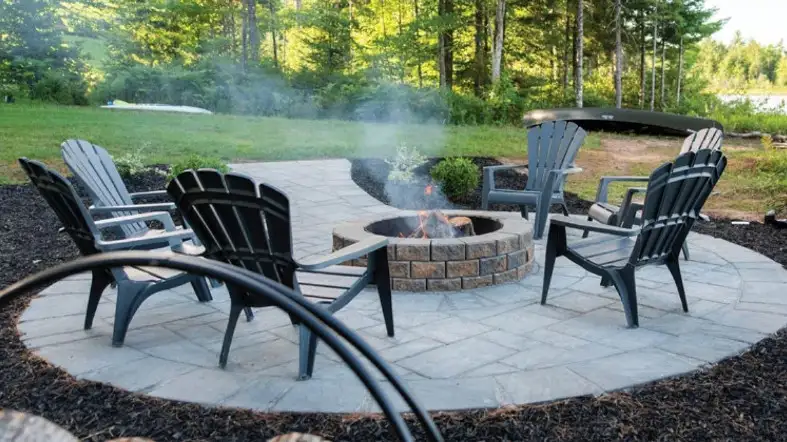 A fire pit construction made of bricks or pavers may be pretty satisfying for the handy and inventive.
Here's a list of some of the advantages over other alternatives:
Strong foundation
Decorative
Fire resistant
The tile and cement surfaces are much stronger than the heat shield.
You get a durable surface that is also very versatile creatively. You can make your own design with the bricks.
Another advantage is that the fire pit will be very resistant to heat. This means you don't have to worry about damaging the fire pit's surface below it.
One of the main disadvantages of this method is the cost. Bricks are not cheap, and you will need many of them to make a fire pit.
Another disadvantage is the time it takes to construct the fire pit. This isn't a quick process, to say the least.
As you can see, there are many things to consider when choosing a suitable surface for your fire pit.
Consider the benefits and drawbacks of each option to help you determine which one is ideal for your individual needs.
>>can you use a circular rug under a rectangular table
How to Safely Use a Fire Pit on an Outdoor Rug
Here are detailed steps for safely using a fire pit on an outdoor rug:
Choosing the Right Position
Place the fire pit near the edge of the rug, not in the center, for safest heat dissipation.
Keep the fire pit at least 2 feet from the rug perimeter and any surrounding furniture to prevent scorching.
Avoid flammable overhangs or materials above the fire pit area.
Using Protective Barriers
Use a non-flammable base or protective hearth pad under the fire pit.
Layer a heat-resistant silicone mat or metal sheet between the fire pit and rug for added insulation.
Choose a fire pit with built-in bottom heat shields to prevent direct contact burns.
Monitoring the Fire
Attend the fire at all times and extinguish completely before leaving the area.
Check that sparks or embers are not landing on the rug surface periodically.
Keep children and pets safely away from the hot fire pit area.
Ensuring Proper Ventilation
Position the outdoor rug in an open, unenclosed area for airflow.
Allow ample clearance above and around the fire for smoke ventilation.
Avoid prolonged use in wet conditions where smoke lingers near ground level.
How to Prevent a Fire Pit From Ruining an Outdoor Rug?
With the approach of summer, fire pits will undoubtedly become more popular.
Not only can dogs damage your belongings, but they also are a hazard to rugs and furniture when left outside.
Following are some ideas for preventing fires from damaging your outdoor rug:
Fire needs oxygen to burn, so good ventilation is key to a roaring fire. Install a screen grate on your pit.
Do not place any flammable objects like a gas grill or propane tank within 6 feet of the fire pit.
To ensure your wood-burning stove is effective, check that the chimney opening is large enough for excess smoke to escape. If your chimney isn't smoke-free, install a cap. It will prevent smoke from seeping into the wood structure's cracks.
Keep the fire pit clean and debris-free after each usage. Sweep wood chips and remains of the fire pit once you've used it. This way, they won't get stuck in the carpet or rugs.
Fire safety is of the utmost importance in any home, so it's essential to keep an eye on children and pets at all times. Unfortunately, kids often see playing with fire as a fun game and might leave matches or lighters near open flames.
So, it's best to take some safety precautions to make sure your fire pit doesn't ruin your outdoor rug.
How to Select the Best Outdoor Rug for Fire Pits?
On the patio, you should use a waterproof rug. Traditional wool rugs are not the best option because of their ability to attract and hold moisture.
Consider using a synthetic cloth instead. In particular Synthetic materials are ideal for usage in outdoor rugs and include the following:
Vinyl
Vinyl rugs, often known as polyvinyl chloride (PVC), are strong, long-lasting, and waterproof.
They're also easier to maintain than most carpets because of these characteristics, making them ideal for patios and other outdoor living spaces.
Polyester
Polyester is one of the most popular and readily available fabrics for rugs. This fabric is both inexpensive and accessible. The only disadvantage is that it's not enduring like nylon or vinyl.
It may not be an issue if your patio doesn't have much foot traffic. If you use your deck frequently, you'll want to think about another material for the rug.
Nylon
Outdoor use of nylons is a great idea. Nylon is a flexible, long-lasting, and simple-to-handle artificial material used to create a wide range of products, including carpets.
Nylon rugs are stain- and moisture-resistant. They also hold their color better when exposed to direct sunlight, which is why property owners like using them outside.
Polypropylene
Polypropylene is a synthetic material used to make outdoor rugs. It's durable, waterproof, and made of a solid plastic polymer.
As a result, polypropylene rugs have a rougher and more rugged appearance. Despite this, they are still an attractive alternative for porches and outdoor living areas.
So, when selecting an outdoor rug for your deck, think about the specific location and choose a material that will be best suited for that area.
>>can you put a shag rug in the washing machine
FAQs
Does A Fire Pit Need Special Floor Protection?
You can use various materials to line the floor around your fire pit, including gravel, sand, or pavers.
Although fire pits may be lovely additions to your backyard, they may also hurt the environment.
If you do not take the appropriate measures, your fire pit's ground could be damaged.
Are Outdoor Rugs Flammable?
Most outdoor rugs are made of synthetic materials, which are not as explosive as wool or other natural fibers. 
It's still important to take precautions and keep an eye on the fire if you use a rug.
Ensure the carpet is big enough so it doesn't get too close to the flames.
Can You Put A Propane Fire Pit On A Rug?
Yes, you can put a propane fire pit on an outdoor rug.
It's essential to make sure the rug is big enough so that it doesn't get too close to the flames.
Also, make sure the rug is made of a synthetic material that won't catch fire easily.
Final Thoughts
When planning to use a fire pit on your patio, be sure to take the necessary precautions to protect your investment. 
Select an appropriate location for the fire pit, line the floor with sand, and choose a durable, synthetic rug that won't catch fire easily.
We hope after reading this article, you feel confident and equipped to enjoy your fire pit safely.